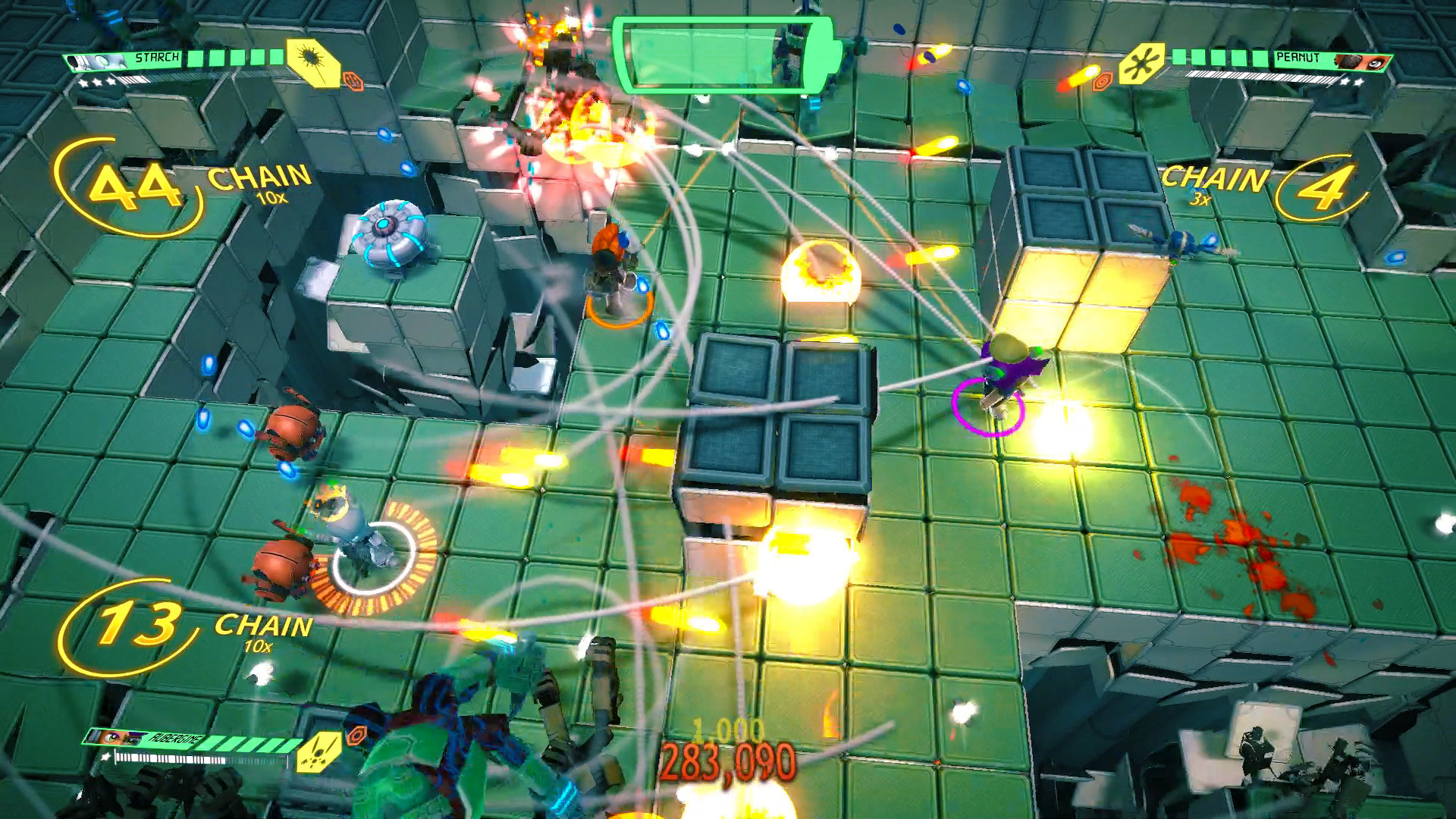 Assault Android Cactus is a arcade style twin stick shooter game developed by 'Witch Beam Games'. It's coming to the Xbox One the 7th of November but already out for PC and PS4. This game does look fun but let's take a look.
In the Assault Android Cactus universe players control junior constable Cactus who takes on a task bigger than herself. Basically she responds to a distress call but ends up stranded on a space freighter. It gets worse. The worker robots on the crippled space freighter are after her as in going to attack her. She needs to reach the brain of the ship. She might find other fellow androids along the way.
Instead of lives Cactus uses a mechanical device that works like a battery. Like a battery it loses power over time. So Assault Android Cactus forces players to move fast, think fast and whatever you ned to do, do it fast. The battery drains very quickly over time. So expect bullets and explosions everywhere.
There are 9 playable characters or should we say Androids. Each one has different play styles and personalities. So maybe stats like speed, damage etc. There are 25 stages in the campaign and they are split into 5 areas which are different parts of the ship. There is a mode called 'Infinity drive' where you can take on daily challenges and test your skills and might. It's also here where you can get competitive with the rest of the Assault Android Cactus community.
We know this game has been out for a long time now but we at X35 Earthwalker have never heard of Assault Android Cactus. We checked out some gameplay and Assault Android Cactus does look like a fun game. It is fast paced and the bullets are definitely everywhere which is what you would expect from a twin stick shooter game. Best of all about this game is that there is co-op action up to 4 player.
Overall this game has a good amount of cool stuff to offer. Assault Android Cactus did not get our interest or attention but we can see that it is a good game. The developers 'Witch Beam Games' did a good job with this game. Assault Android Games might be worth checking out. Now androids may run out of batteries but guess what never runs out… the 'Earth Walk!'
For more information check out the link below: