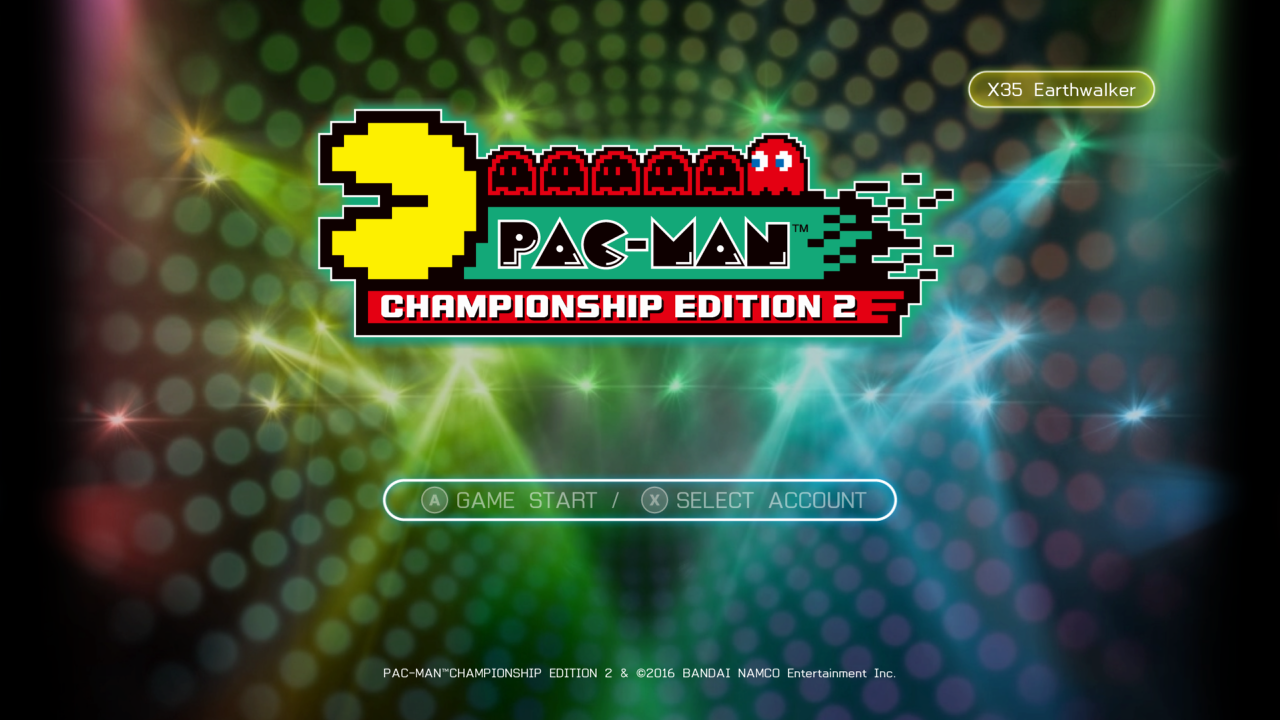 Pac-Man Championship Edition 2 was developed by Konami is one of those games that we at X35 Earthwalker love. After all it is Pac-Man and that's almost about as classic as it gets. A simple game where you eat dots and avoid ghosts. So what has Pac-Man Championship Edition 2 done? Let's take a look.
Pac-Man Championship Edition 2 is fun and something for the family and friends to enjoy but that doesn't mean this game is a joke. In fact this game can actually be very difficult. It's the truth. If you are playing to just beat the levels and get a nice score then that's all good. If you want a real challenge then… well we will get to that later. From the start you have to complete the tutorial. This is important as Pac-Man Championship Edition 2 is quite different in terms of gameplay. Through the tutorial you will learn that there is a path formed by the dots to follow instead of just random eating which when followed will most of the time minimise the amount of encounters you have with the ghosts and complete each level faster. You will also learn that there are ghost minions, ghost trains and even moving fruits and power pellets. It truly does prepare you for what you will face but the only negative here is that you are forced to play the tutorial in order to unlock the rest of the game which is annoying. Gamers should be given the choice to skip tutorial if we want.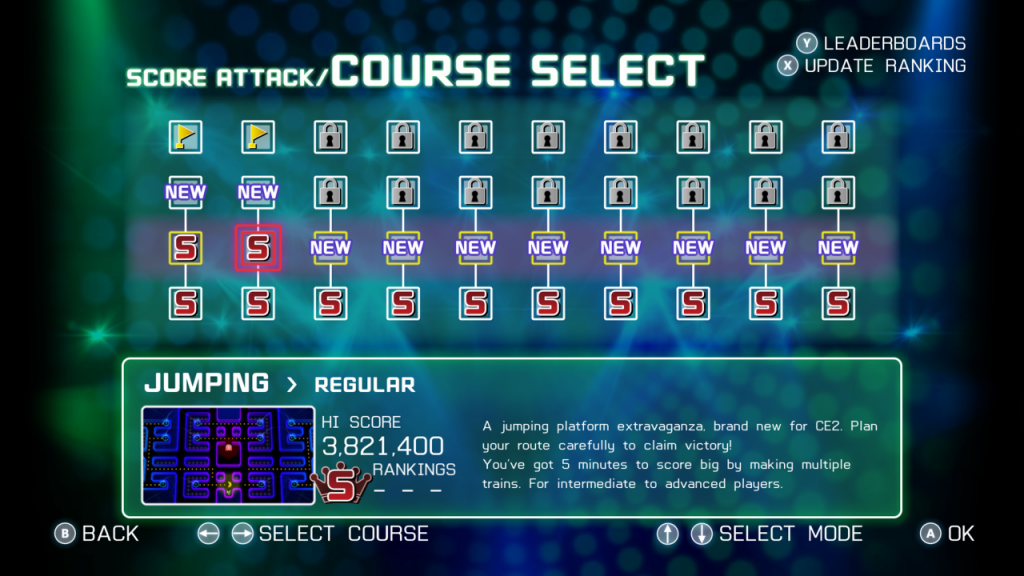 Score attack comes next and it's all about getting the best score you can possibly get. The scores are ranked from 'E' to 'S'. By the way if you get an 'E' rank then put down the controller and never pick it back up again. There are multiple levels with different structure designs and focuses. Each level has four modes to get a high score on: Single Train, Regular, Extreme and practice. In Single train you only have to deal with one coloured in ghost who's ghost train alone grows when you wake up minions. It's the only train you can score on and the other main character ghosts move around and their only threat is that they get in the way because they can't be knocked completely out of the way like the minions. Players could end up being slowed down considerably because they had to continuously bump a ghost all the way out of their path in a straight line which is the most frustrating thing in the whole game. In regular it's all the same except that you have to deal with all four ghosts coloured in and have their own trains which means four trains for players to chase down after getting the power pellet. Extreme mode is deadly. Ghosts get angered after one touch and act just like in the original Pac-Man as in Blinky (red) will chase you down, Pinky (pink) tries to cut you off and trap you, Inky (blue) at times chases, other times cuts you off and Clyde (orange) does whatever he wants. Also Extreme always have moving fruits and dots and grants no extra lives. Practice is the easiest and just there for casual fun really.
In Pac-Man Championship Edition 2, Score attack is also where the difficulty really shows. If you are one of those crazy gamers who want to prove that you are above other Pac-Man players then the only way is to get the 'S' rank. S rank forces players to make very little to no mistakes in order to get it. If you die once, chances are you won't get the S. If you miss an extra life, chances are you won't get the S. If you take too long with the ghost trains, chances are you won'\t get the S either. So to get the S, make sure to find and follow the path that the dots make, wake up all the minions keep bomb jumping to a minimum catch ghost train really fast by predicting where they are going, and know when to get the fruit early or not. Some levels will never give you the S if you follow the whole path of dots then get the fruit. There are times when you have to leave the level early to save yourself some time. One of our best tips from X35 Earthwalker is that when attempting the S rank finish the level and take a good look at the graphs and numbers displayed at the end as it can help you realise what you need to focus on more. For example maybe you have enough time but need more dots to be eaten or maybe you need more time and just need to get one more ghost train. Find out. X35 Earthwalker himself has already gotten S ranks for all single train levels and even ranked within the top 50 of Pac-man players for some levels. Getting the S rank can be so brutal at times attempting multiple times and each time seeing that you are off by a couple of thousand points. Frustration.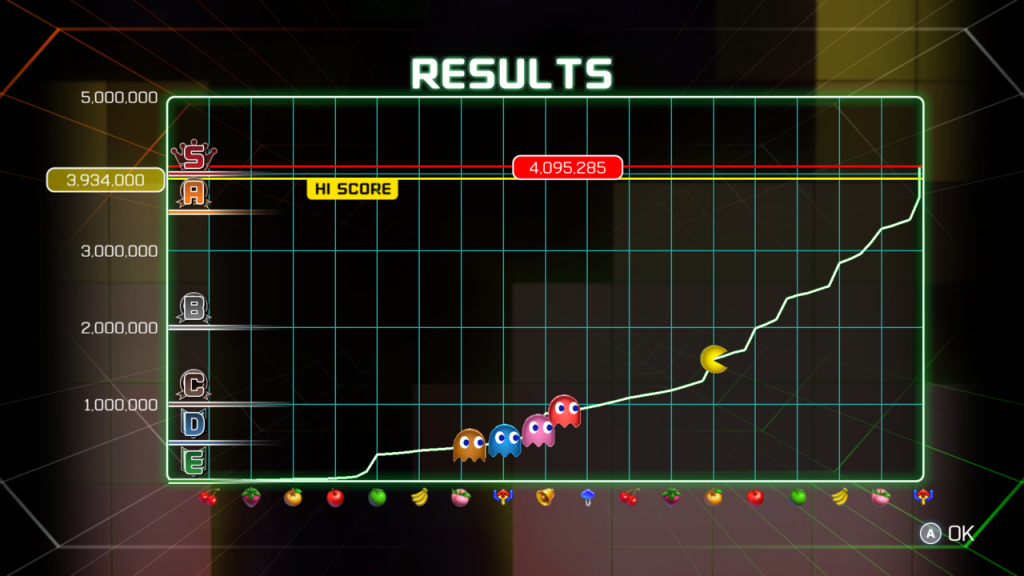 We believe it is easier to get the S rank in Regular mode but it's not that much easier. It still takes a lot out of gamers. The next game type to unlock is Adventure. Here players will take on a series of challenges like eat 6 fruits. Sounds easy but everything has to be done within a time limit. Now if you play in the hardest difficulty like we did then the time you have is really cutting it close at times. It gets worse as some levels in between end with a power pellet meaning you must chase and eat ghost trains and then reach the fruit within those short times and if you have played Score attack then you know how dodgy things can get with them. Depending on how well you complete a level you get stars with full completion giving you three stars, kind of like Gears of war Judgement with how you can only get four stars by completing the Onyx missions which are considerably harder. If you have enough stars then you can challenge the boss. Boss battles feels like the easiest part of the game which is a shame. The boss just stays in the background and only chomps down on stages if you move on to the next one or you run out of time. The boss can chomp in the back ground to make all ghosts present, very angry meaning they can take you out. After getting all the fruits to move forwards you will eventually reach the even more super, super pellet which allows you to take a bit out of the huge ghost boss and defeat it once and for all (hopefully). The boss fights should be more exciting if you ask us and more things thrown in their instead of the usual chase fruits and avoid ghost but hey it's still fun.
Pac-Man Championship Edition 2 has a lot of features and options. Before the start of each level players can choose what character design they want the ghosts and Pac-Man to be. They can choose what stage style they want as in how the walls and colours and design looks. We do like the design that the spiral level had. You can choose what background you want, whether it's strobe lights, a hexagon. rings or even pitch black it's up to us. Lastly we can pick the music and we must say that the music is one of the best things about this game. Lots of music and all have quite the beat. Have a party while playing Pac-Man, especially when you use the 'Jump Pac-Man' song.The graphics and design are excellent. it makes Pac-Man Championship Edition 2 look ahead off it's time. Beautiful game with awesome music. There are times when the beat will help you stay in rhythm and the path of the dots. This is something you have to try for yourself.
Our only real complaint about Pac-Man Championship Edition 2 is that especially on Regular Score attack levels the ghost trains at times come off the paths that they are suppose to follow. We remember completely cutting a ghost off and was guaranteed to eat it when all of a sudden it just came completely off track and doubled back on it's self which completely threw us off and ruined our time. X35 Earthwalker would have ranked much higher if it weren't for that. The game even says that they follow the paths so then why is it coming of the path? That's just cheating! It actually gets to us. So the top three most annoying, frustrating things in Pac-Man Championship Edition 2 are:
Having a ghost get in your way and refuses to move, blocking and slowing you down running your chances of getting the S rank
When the ghost trains come of the paths making you miss and waste time
Taking so long to get the ghost trains that they actually slow down for you to get them
So the game isn't perfect but definitely near it though.
So overall Pac-Man Championship Edition 2 is an awesome game that's for everyone. Casual modes for fun Pac-Man action but tougher harder modes for those who want a real challenge. This game is worth getting even now and having a go. you won't be disappointed.
For more information check out the link below: