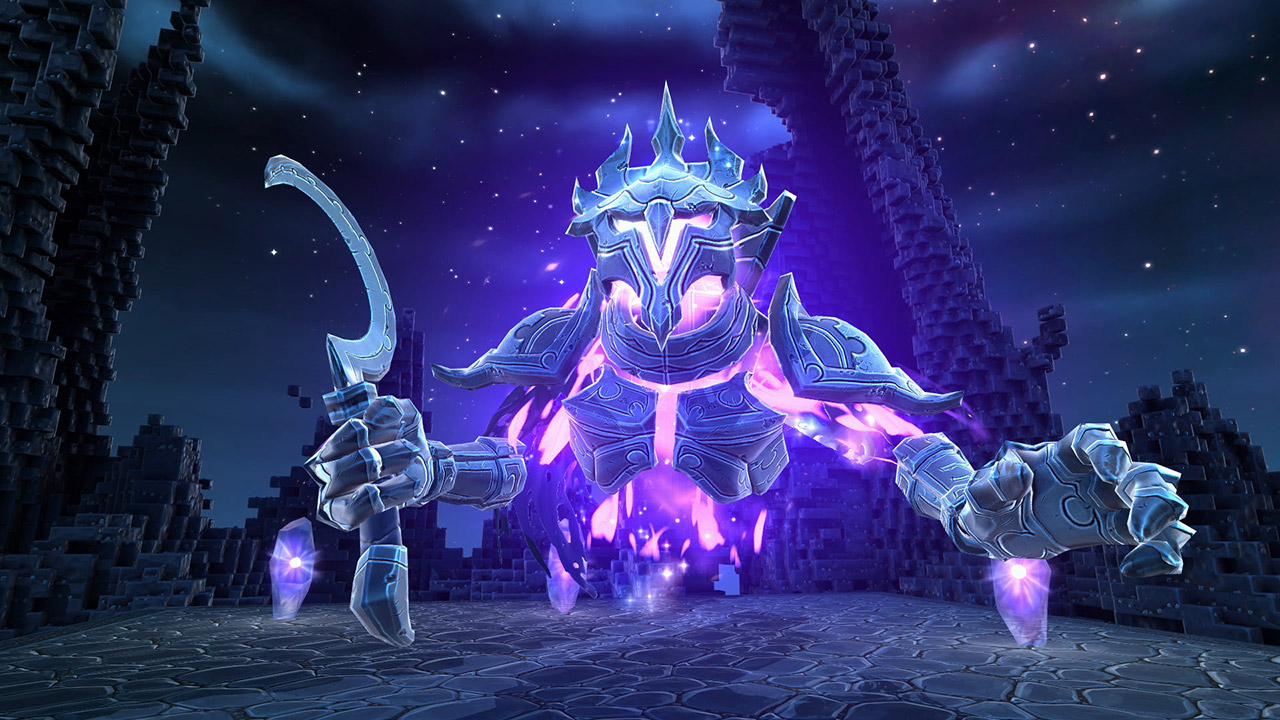 Portal knights is a sandbox action-RPG adventure developed by 'Keen Games' coming out May 19th for the Xbox One and PS4 but already out on PC. Some have described this game as minecraft but more RPG and adventure. Let's see for ourselves.
The story in this game is that the world was peaceful but something happened and tore it apart by 'The Fracture' which plummeted the world into darkness. No one remembers how it has been since that happened. You, the player must be the hero and unite the shattered world. Be the portal knight. That's basically it. Nice simple and that means we will have to craft out own adventure.
Now yes, straight away you as soon as you see the game, Minecraft will pop into your head, which is a good thing. This means crafting is a feature here. You can build your own base, castle, lair, hideout, it doesn't matter. Just build yourself a mighty and spacious fortress to call your own. Level up your character as you go through the lands to become stronger and more of a force to be taken seriously. Your character has attributes like strength, wisdom, agility and more so decide what kind of character you want, whether tanky or mobility.
There are many lands to explore and traverse. There are caves, lakes and dungeons. As you travel, collect resources for crafting. Battle many enemies with different weapons and spells. Study your enemies and learn when to attack and when to dodge. We heard the movements have been stepped up from the initial released game. Traditionally you can pick between: Mage, Ranger and Warrior. Customise your gear, appearance and abilities while also unlocking new abilities as you level up. Collect portal stone shards to build portal stones and build the portals which allow you to reach and travel to different areas.
Give your character some character (see what we did there?) with emotes like the one which shows your portal knight charging up with fire which does look cool. There's another emote which makes your portal knight wave and do a little jump around. If that wasn't enough then get your portal knight a pet. That's right. Pet's like a cat for example are ready to be owned. There are over 100 items to craft and you can even build furniture so why not get a fine couch to get lazy on after a hard fought battle. Just saying.
The biggest threats are the portal guardians. They are said to be huge, powerful epic bosses. We have seen a ice dragon, a giant ground catepillar like thing and more. The bosses are definitely huge indeed and look interesting. This shouldn't be a problem though as Portal Knights is all about playing with your friends. as it's 4 player co-op. You can team up with mates and work together to destroy the portal guardians, collect resources and build fortresses and giant structures together.
We have checked out some gameplay and from what we have seen the game looks real cool. The worlds look very big and has a lot to explore. The attention to detail is very good. There is so much stuff in each world. Even the vegetation have a lot going on. The skies could look better though as they seem a bit grainy but that's minor. The portal knights should move faster in our opinion. They are too slow. The environments have variety and look great. The battles seem easy to control and flows quite nicely. This is one of those games that you need to check out and see gameplay for yourself. The graphics are very good and some areas look nice and colourful. The sounds of the weapons, attacks, actions and enemies are all good.
Overall this is definitely a good game and many gamers have good things to say about the original PC release. It looks fun and you can't get mad at co-op. More games need this. Very glad that it's now going to be available to console gamers, this means we can actually try the game ourselves. The developers 'Keen Games' did a very good job with this game. Portal Knights is worth checking out. Whether you like to craft or not… just make sure you do the 'Earth Walk!'
For more information check out the link below: