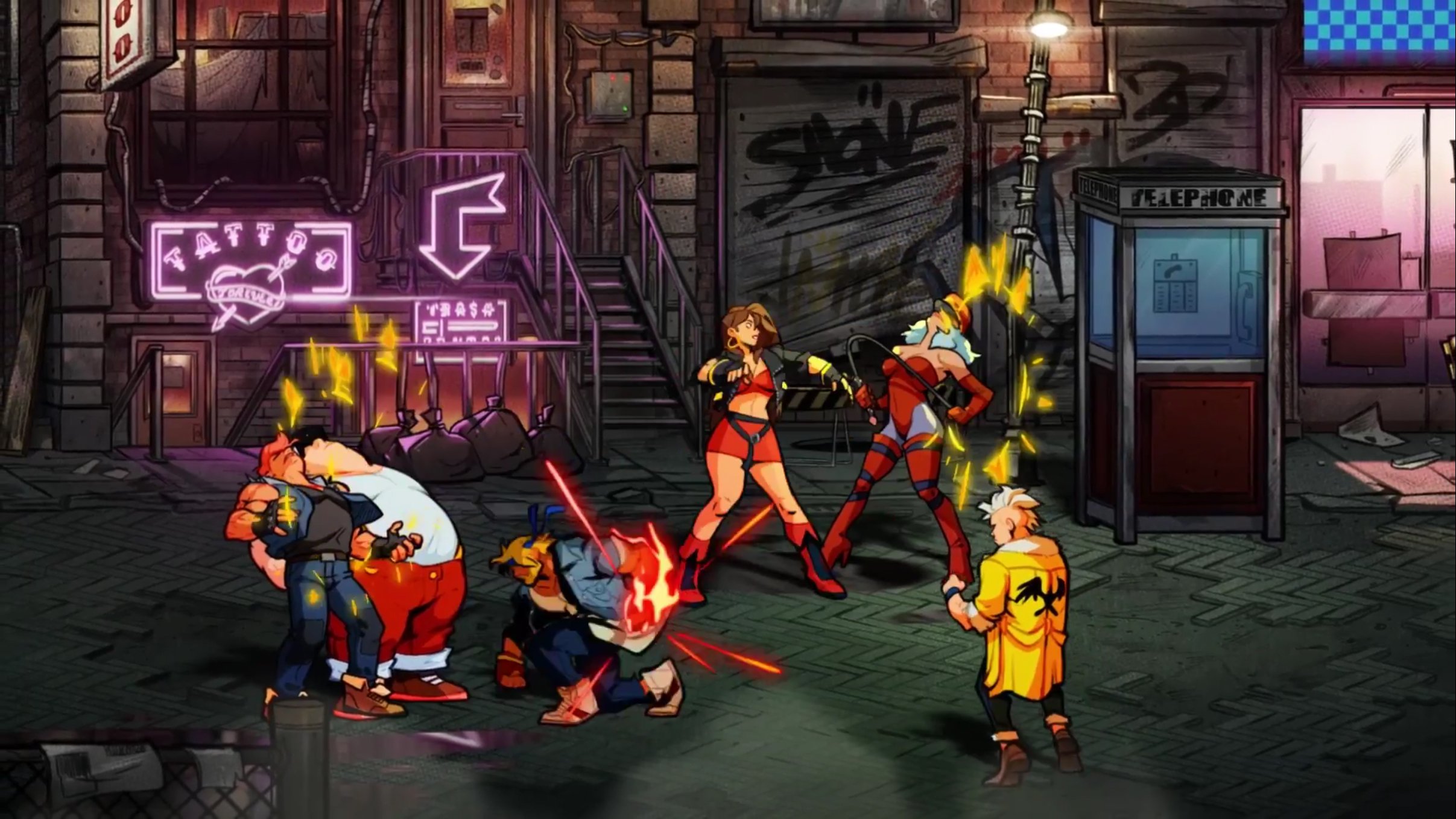 Streets of Rage 4 is the new action beat em up game developed by 'Lizardcube, Guard Crush Games, Dotemu' and published by 'Dotemu and Yooreka Studios'. Streets of Rage 4 is said to be coming out the 30th April 2020 on the Xbox One, Nintendo Switch, PlayStation 4 and PC. We are definitely looking forward to this game. Let's take a look.
Streets of Rage is one of, if not the best beat em up game and now we are getting Streets of Rage 4. We knew about this game along time ago but didn't write on it. There's a lot to say but we keeping this one short.
Firstly we have no information concerning the story. Mr X's brain was destroyed in Streets of Rage 3 so you can assume he's actually dead dead this time. So maybe a new face has taken over the area. You know how it is, when the boss it down, other gangs want to take their shot or maybe a relative or child of Mr X. Who knows? What we do know is that there's lots of bad guy faces to punch in, combo and swing at with a pipe… just like the good ol days.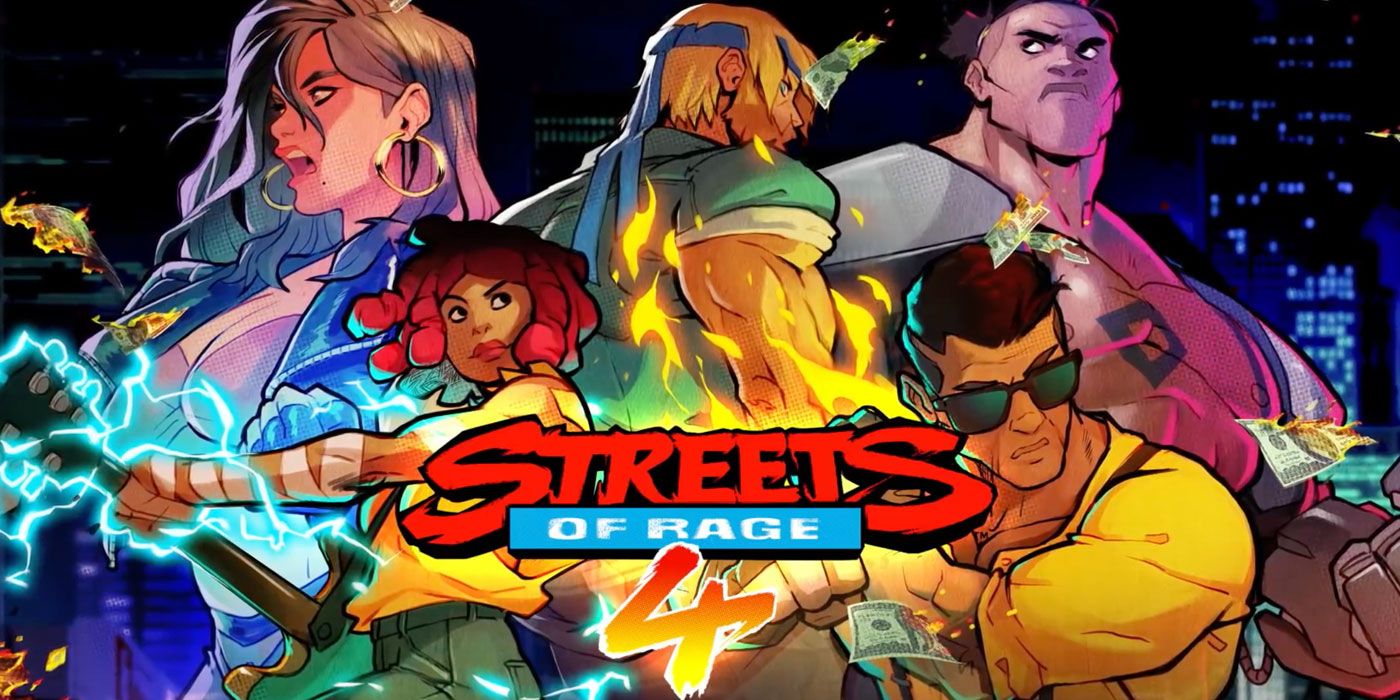 Firstly we like the Streets of Rage 4 art style as it's clearly going for a more flowing modern look. The animations are definitely good. Each attack and move looks smoother and clearly than before. Unlike that one move Max had in Streets of Rage 3 where he's suppose to be punching the head of a barbed enemy but looks and sounds like he's breaking their necks. The special attacks and abilities have more special effects and flare making all the moves look powerful but off course we have no idea how strong or weak yet. The game is definitely colourful and we like colours. Who doesn't like colours?… you grandpa.
We got straight into the visuals this time because it's Streets of Rage, you know what to expect by now. It's straight up beat em up. Move through the level and trash the enemies that come your way, find, pick up and use weapons to defeat your enemies and off course, work with a friend as it's always been 2 player co-op. There's even new characters, as there should be. Yes the main characters Axel, Adam and Blaze are all here (they better be) but we know have two new characters: Floyd Iraia (the big dude with mechanical arms) and Cherry Hunter (the cool black girl with an electric guitar). Both definitely stand out and got their own style and tricks. Something is different though.
There is now a Battlemode. It's in the name but it's against each other. Take on your friends and see who is the best fighter or who has the most rage in the streets. It's four player co-op! Not only can you play as the main characters of Streets of Rage 4 but you can also play as past characters from previous Streets of Rage games and even better the past versions of them. For example you can take control of Axel from Streets of Rage 1 and fight with his moves from that game. You can play as an from Streets of Rage 3 or as Max or Skate from Streets of Rage 2, or Adam from the first game etc. So in a battle mode you can have four friends or family fight against each other but each player is a Blaze from each Streets of Rage game: 1,2,3 and 4 to see which Blaze is the queen of fighting. Now that's an excellent idea. Smart move by the developers as they knew fans would want to see the past too.
There's more! The developers of Streets of Rage 4 have not just brought the characters and designs from the past but also the music. Players can play levels and stages to the old music. Remember those banging tunes from Streets of Rage 1 and 2? You can hear them while you play now. We are sure there's some cool ones from Streets of Rage 3 but we weren't a big fan of the music from that one. This shows the developers are aware and paid attention to what has been said about the past games and applying that information to this new design. If they play it smart like this all the way through then Streets of Rage 4 will be one of the best games so far easily.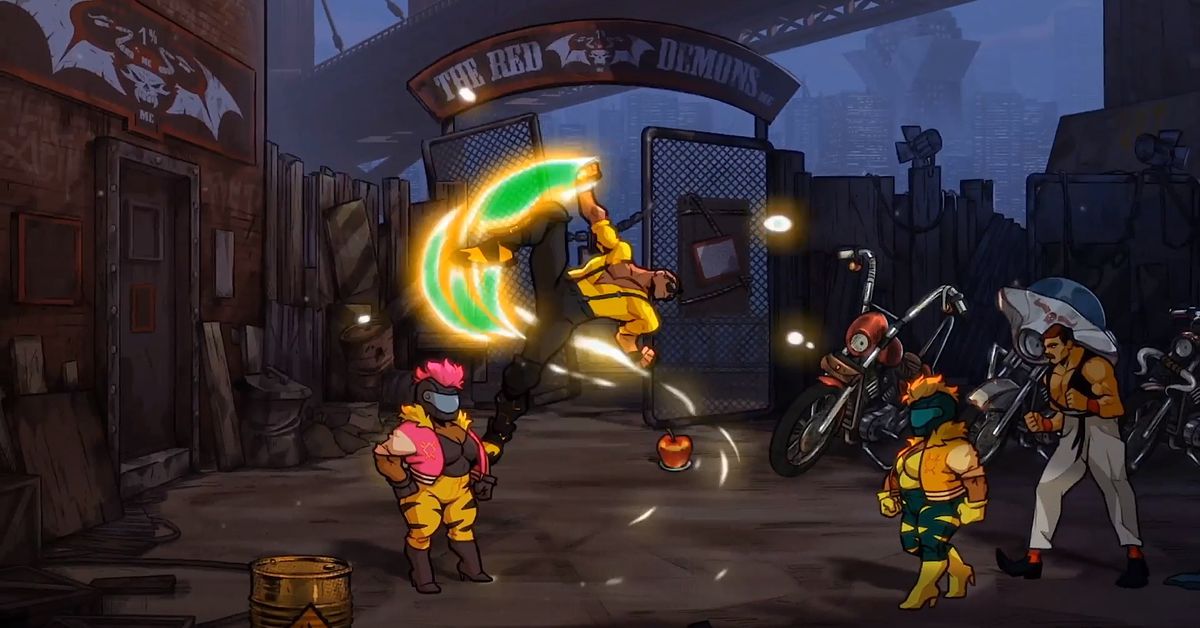 We are so glad they brought Adam Hunter back into the battle. When he wasn't there for Streets of Rage 2 we were annoyed but we understood as he was captured but there was no excuse for Streets of Rage 3. We missed that character and so did fans. Now he's back and has real power. There are counters, explosive moves, ultimate like attacks, flashy acrobatic movement and more. Also in case you couldn't tell from the names Adam Hunter is Cherry Hunter's dad. Father and daughter fighting side by side and kicking butt. Nothing can make a dad more proud than seeing his little girl drop kick big dudes. That's better than a graduation any day.
We checked out some gameplay and it's not what we thought it would be initially but it's better this way for sure. The combat is looking real good, the levels have variety, the battle mode brings another layer of gameplay and fun, the variety of music including the music from past will get shoulders moving while fighting. The many many chapters you can unlock allowing you to play as the past game versions of these characters is an excellent idea. We haven't seen anything concerning bosses but we know with all these moves, abilities, characters, help and combos with co-op partners we know the bosses have to be a big threat. They must match the hype. Lastly we aren't a huge fan of Axel's design. Why does he look so much older than the others and so out of shape. He's really broad and looks like he sort of has a tummy. Does he still have his mobility? Wished he looked more in shape like the others. Blaze is looking beautiful and dangerous and she made the smart move to wear a jacket this time as she will need the extra protection from these dangerous thugs.
Overall Streets of Rage 4 is looking like an awesome game so far. We like the visuals, the gameplay, the characters and even the designs. Looks like there is content to last for a good time too. We hope there is no health bar or number of uses for pipes and bats like there was in Streets of Rage 3 (bad mechanic). The developers 'Lizardcube, Guard Crush Games, Dotemu' have done an amazing job so far.
For more information check out the link below: