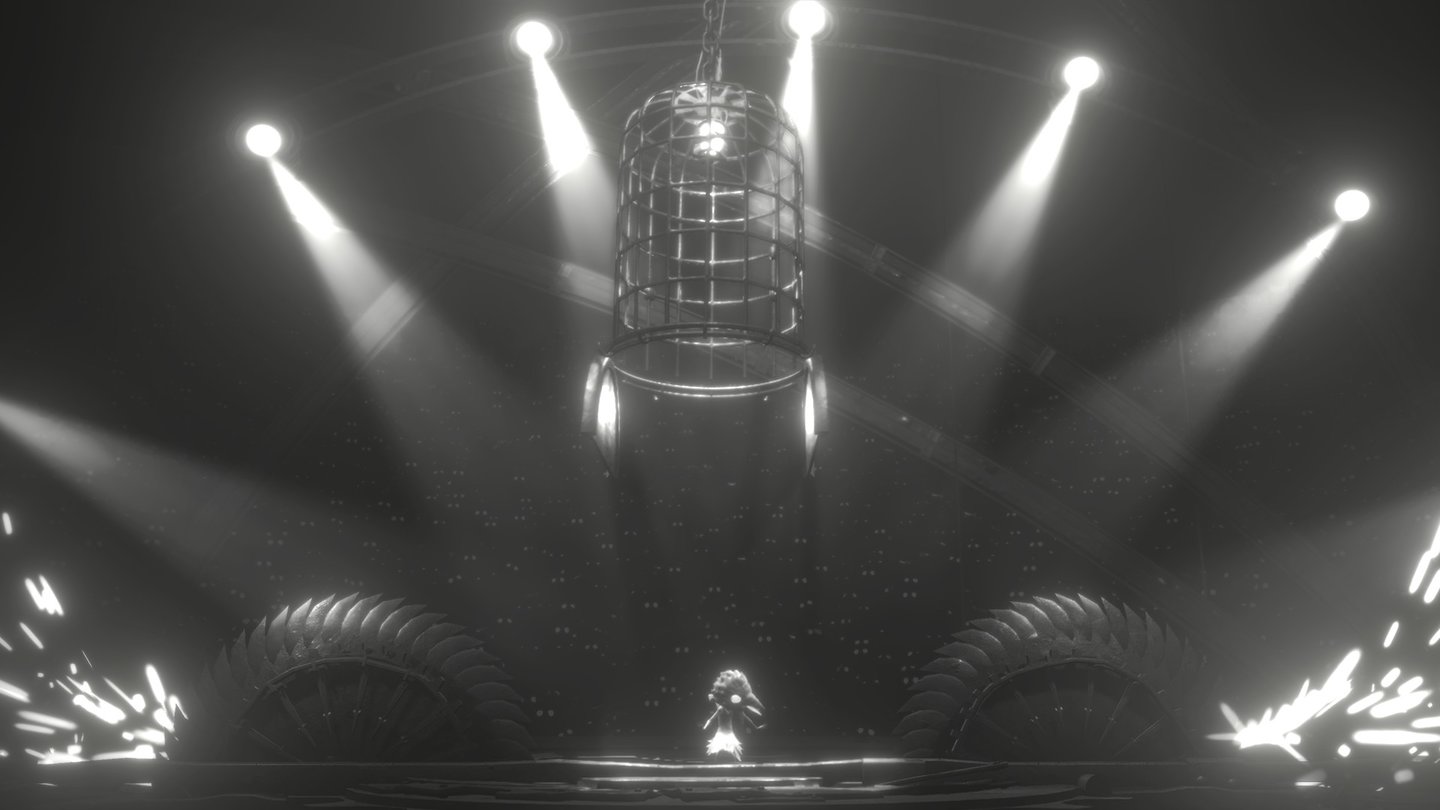 White Shadows is a new adventure platformer game developed by 'Monokel' and published by 'Headsup Games'. White Shadows is said to be coming out in the year 2021 on the Xbox Series X, PS5 and PC.
White Shadows is set in a weird, dark and apparently at times funny world. It's the last city of earth and there's nothing but half human, half animal inhabitants. Basically there was great war which caused a plague which destroyed almost all living things on the planet. Matter of fact, how the developers worded it is excellent. Here's a direct quote: "the great war led to a plague which wiped almost all living things from the face of the earth. Or so they say. Nobody is safe outside the White City, and the birds are to blame for the plague. Or so they say. Only a shining coat of fresh white color will protect you from the plague, and you must earn your ration of color by staying obedient. Or so they say. But Ravengirl stopped listening."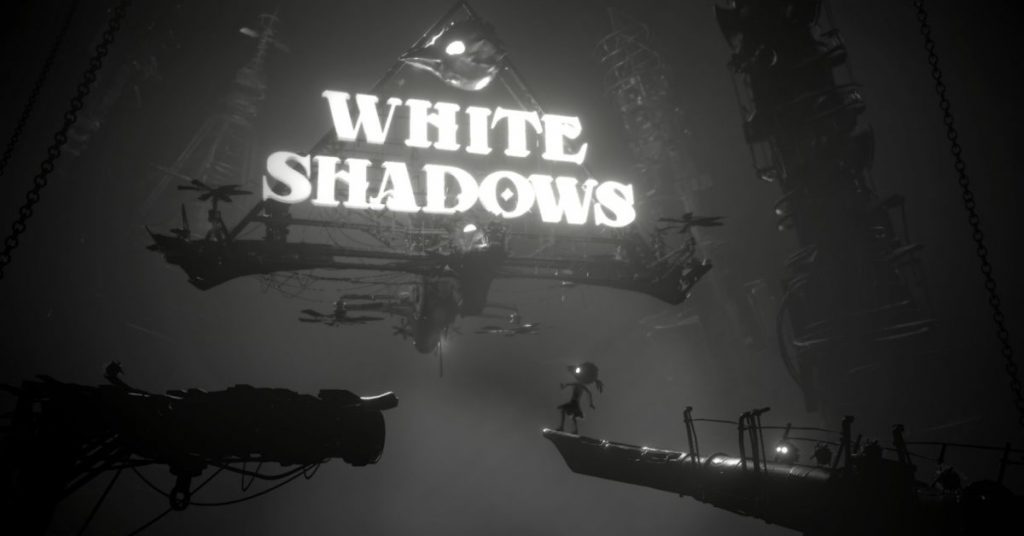 Did you get all that. This game White Shadows I supposed to be a "distorted" mirror of our world. A modern fable if you must. So you can imagine there's going to be representations of character or events from real life in the game. This also means that White Shadows might contain some real life lessons for the gamers or giver the players something to think about. Beware of those as it's the developers ideas and not always the best advice or lessons but it's a game so you guys have to decide for yourself. In case you haven't realised yet but White Shadows should straight away remind you of a certain game. Also black and white, with simple controls and messed up world. The answer is Limbo. We don't need to say why.
Like with Limbo, the controls for White Shadows are simple and some times simple is very good, especially for games of this style. Players need to focus on what's going on around them in the world in White Shadows. You will see other beings actions taking place and even possibly vehicles moving around. Everything is black and hits with a strangely huge emphasis on the colour white. You are being told by the wolf overlords, who are the leaders, that you must be obedient to earn your color. apparently though the colour white has a horrible truth about it. This makes sense historically as in ancient times the colour white had a very bad meaning and represented negative stuff. So maybe this is a historical thing but definitely symbolic.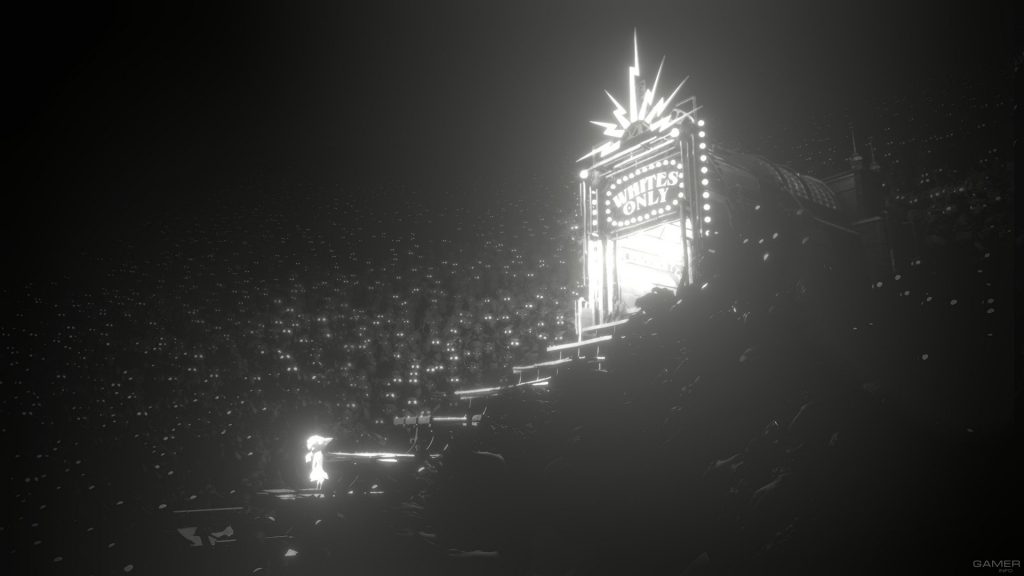 This world has all sorts around here. There's rats, wolves, birds, pigs and sheep. These are all beings like you. They are also buying into what the society and overlords say. This is an obedient you must obey brainwashed kind of world. Ravengirl (you) decides to not listen anymore and escape. The more you continue on the journey you learn more about your characters past and off course the world around you. You also gain the attention of the other half human, half animals around here. Who knows, they might follow you. Oh, we didn't even mention the goal. Apparently there's a resistance hidden in the belly of the city. Maybe that is also a lie made by the wolf overlords to lure in those who rebel for an easy capture and kill. Think about it. Look at the image above with a doorway saying 'whites only'. If white was such a great thing then why aren't those obeying citizens there trying to be white and get in. Why is the only one white our main character who's trying to escape. We believe it's a trap like being the chosen one in that weird movie about cat people. The chosen got sent away on a hot air balloon thing where they will eventually die. Getting rid of the doubter. If this is suppose to be a mirror of our world and the wolf overlords present the government leaders (maybe) then wouldn't the real lose as they are going against a whole government who an army. We believe this is a trap.
We checked out some White Shadows gameplay and it's exactly what we though it would be. It's Limbo. Off course trying to do it's own thing and it does stand out with a different type of atmosphere. It's simple controls, obvious objectives s in it's clear what you have to do. The main information and story is from what you see happening around you. There is going to be interactions though. What kind? We aren't sure but that's something for players to think about. It's said that it's the interactions that drive the story forwards. Well gamers, are you going to change the fate of this city or are you going to fall right into a trap? What about the world outside of the city? Questions are here.
Overall White Shadows looks like it's going to be an alright game. Heavy symbolic and representative games tend to try too hard but maybe this one will be pulled off very well. You even wonder how is this little Ravengirl going to stand up to, be a threat or change anything in this city. Maybe she fails in the end and falls back in line with no hop.e We hope something big happens. The developers 'Monokel' have done a good job here. The game looks very good and heavily detailed. It has to be with this black and white design. Now White Shadows may have dark secrets but this darkness fades when it comes to… the 'Earth Walk!'
For more information check out the link below: