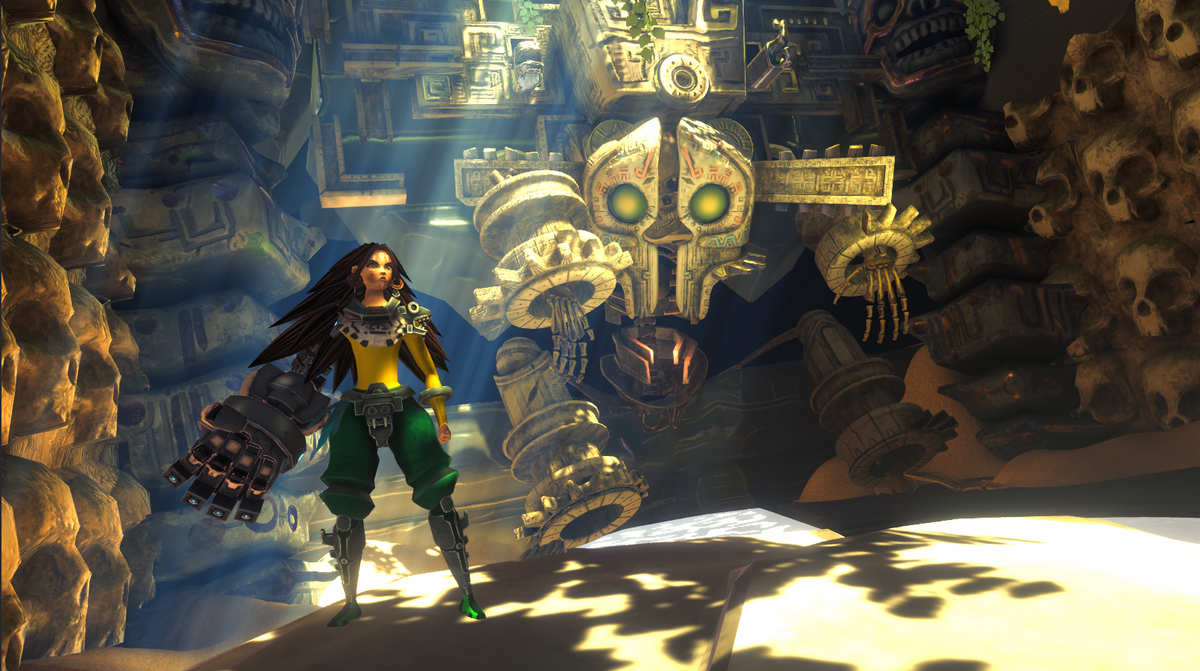 Aztech: Forgotten gods is an action adventure game developed and published by 'Lienzo'. Aztech: Forgotten gods is said to be coming out the 10th of March 2022 on the Xbox Series X/S, Xbox One, Nintendo Switch, PS5, PS4 and PC. Aztech: Forgotten Gods has that look and style that brings back some memories for X35 Earthwalker. Let's take a look.
The story of Aztech: Forgotten gods is very simple. You control a young lady called Achtli, who will battle the forgotten gods. the game is set in an alternate reality. A what if scenario. Basically America wasn't conquered but instead the aztec empire grew and really prospered. Aztech: Forgotten gods is described as a cyber-stone game. This "mesoamerican" place has really cool technology. Advanced technology, stone cities, ancient tradition and off course… forgotten gods. This is a big adventure with lots of action and big battles.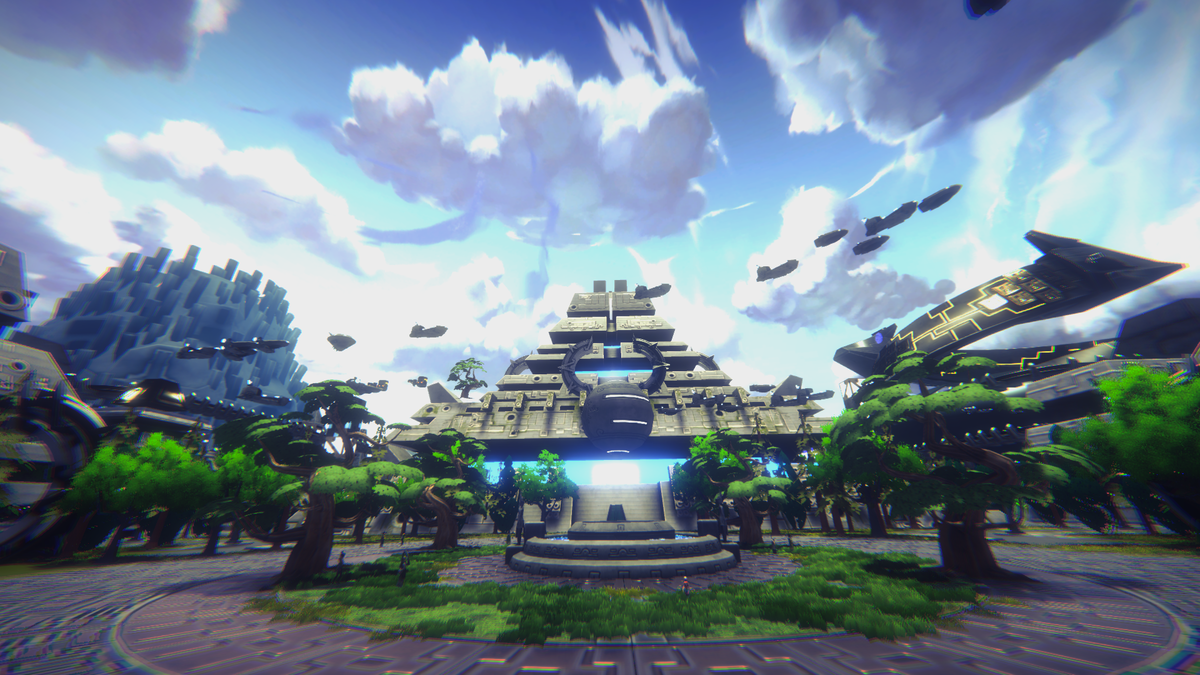 Aztech: Forgotten gods instantly interested us because it's style and graphics reminds us of a serious game from the past. That came is also set in a strange but special world. That game is Vexx. Old game on the gamecube. Big adventure, young main character, got their hands literally on special devices/technology and relies on that to beat the big bad bosses.
So how did this happen? Here's the description on the website, "Achtli joins her archeologist mother Nantsin on an unsanctioned dig. Inadvertently, they forcefully discharge an ancient energy cell that awakens stone colossi hellbent on destroying the city." There you go. Like Vexx, Achtli finds her powerful stone artefacts in a dig. This stone artefact changes everything.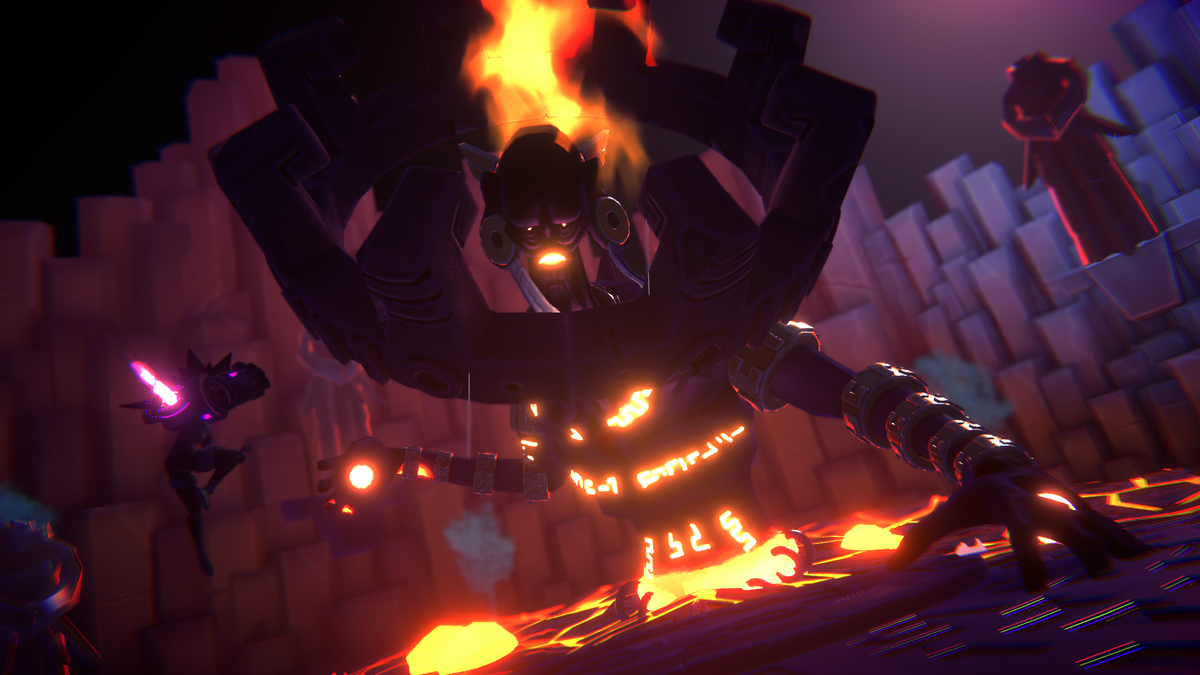 The big bad bosses are the main attraction here in Aztech: Forgotten gods. These forgotten gods resemble the beings from the aztec pantheon. They are massive beings with huge strength and power. Achtli doesn't stand a chance. With her new weapon she does. With it Achtli can soar through the air, gain massive airtime, dash around with speed and deliver a punch like no other. Some say Achtli can punch with immeasurable strength. These are the battles you will live for in Aztech: Forgotten gods.
We checked out some Aztech: Forgotten gods gameplay and it's what we expected. Achtli is an intense person. She really goes in with her attacks. There's also more to this game than just boss fighting. There's a whole story going on. There's twists and events that take place. It has been described as an emotional journey. So expect something deep to happen or some type of struggle. Expect aztec lore like no other that we can think of right now. The city is a big place that you definitely need to explore.
Overall Aztech: Forgotten gods seems like a good game with a more old style but off course with modern factors. Good to see something like this. The graphics aren't great but it's going for that more cartoony graphic style, not a serious near real style. It's intentional. We like that it's a straight up action game. We like Achtli herself and the what if factor of the mesoamerican setting. We hope the artefact weapon brings multiple abilities to the battles. The developers 'Lienzo' have done a good job with this game so far. We at X35 Earthwalker will keep an ear open for this game. Now Aztech: Forgotten gods may have powerful giant beings but those things are just insects compared to… the 'Earth Walk!'
For more information check out the link below: