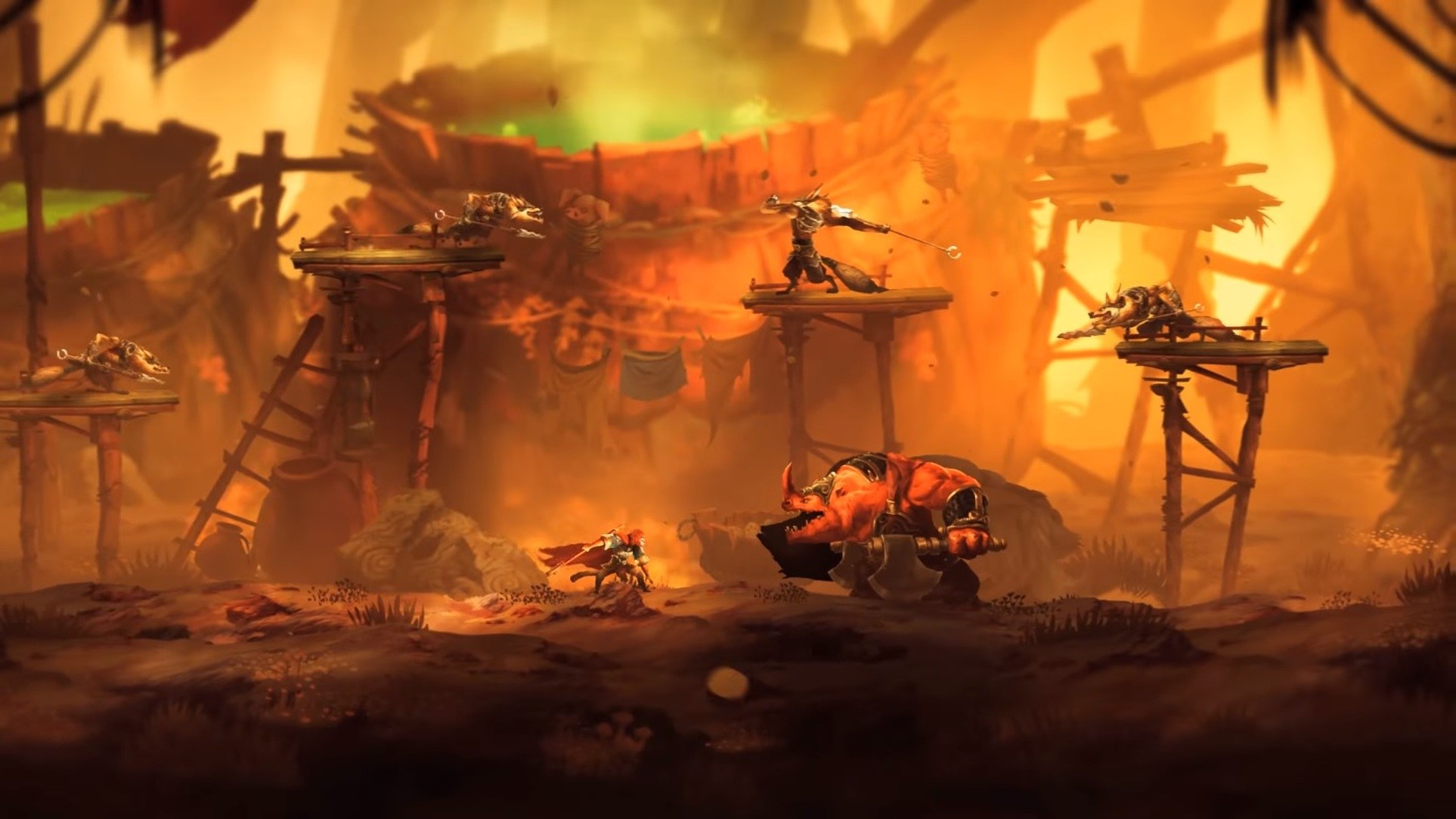 Unruly Heroes is a new 2D action adventure game developed by 'Magic Design Studios'. It's coming out later this quarter of the year on the Xbox One, Nintendo Switch, PS4 and PC. This game has quite the story to tell. Let's take a look.
Let's start from the very beginning. Unruly Heroes was inspired by a famous Chinese legend which we are sure many have heard of. It's called 'A journey to the West'. The Monkey king legend. So straight away there are some expectations in terms of the story, it's depth, music and messages for the gamers. Already we at X35 Earthwalker are interested.
The developers claim that Unruly Heroes will be an epic adventure and that it will be an unforgettable experience. We can see this being true. The concept behind the game and inspiration should make that easier to accomplish. There are four characters and straight away the creativity is shown. there is a human who seems to be spiritual based and is surrounded by light, maybe to symbolise a moral or holy nature. The next is a fat pig (KiHong) who appears to laugh a lot, suggesting that he's the most laid back and relaxed one. The next is a large blue monster but humanoid, having knowledge and uses martial arts. The last is a monkey (WuKong) who has a staff and looks a bit too cool to be a regular staff wielding monkey.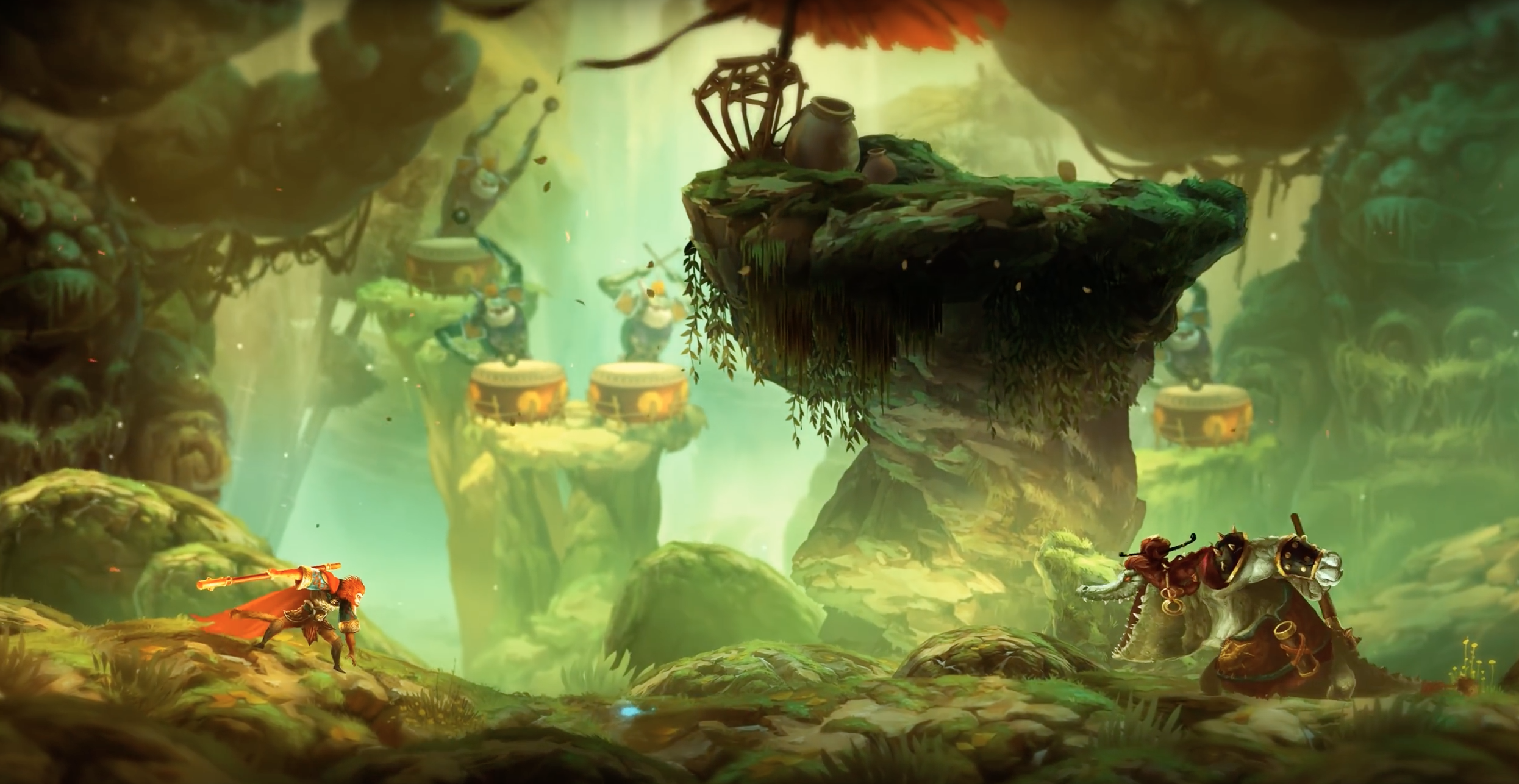 Not much information is given concerning game but we have checked out some gameplay and it reminds us of 'Rayman Origins'. The gameplay looks awesome. Dash, run, jump, and off course lots of combat. Their are bosses to defeat and each of the four characters have different fighting styles. KiHong is very agile and relies a lot on strength tactics as well. The monkey is heavily reliant on his weapon which can change size and he can even turn into a bird. The large blue monster is martial arts hand to hand combat heavy with mighty strikes. The human who acts too graceful has mystical powers and uses light to strike enemies whether in balls of light or worse. So yep it's quite clear who our favourite character is already.
From what we have already seen Unruly heroes looks awesome. KiHong has some awesome looking aerial moves and serious combos. There is a giant monster who looks like it's going to become a problem. This game off course supports four player co-op which sounds awesome by the way. There is also a PvP mode which sounds even cooler. Hopefully none of the characters are OP. The bosses seem to have their own characteristics and styles which we certainly appreciate. The graphics and style are excellent indeed. Hand drawn art work and it looks amazing so far. Maybe if we saw more it might make our top 5 list.
Overall Unruly Heroes looks awesome. The concept is there, the graphics are amazing and the music is what we wanted. When you hear it, you think of Chinese legends which is what it should have. The developers 'Magic Games Studios' did an awesome job so far. We at X35 Earthwalker are looking forward to Unruly Heroes and what this game has to offer. Now the Unruly Heroes may been skilled fighters but even them combined aren't a match for… the 'Earth Walk!'
For more information check out the link below: