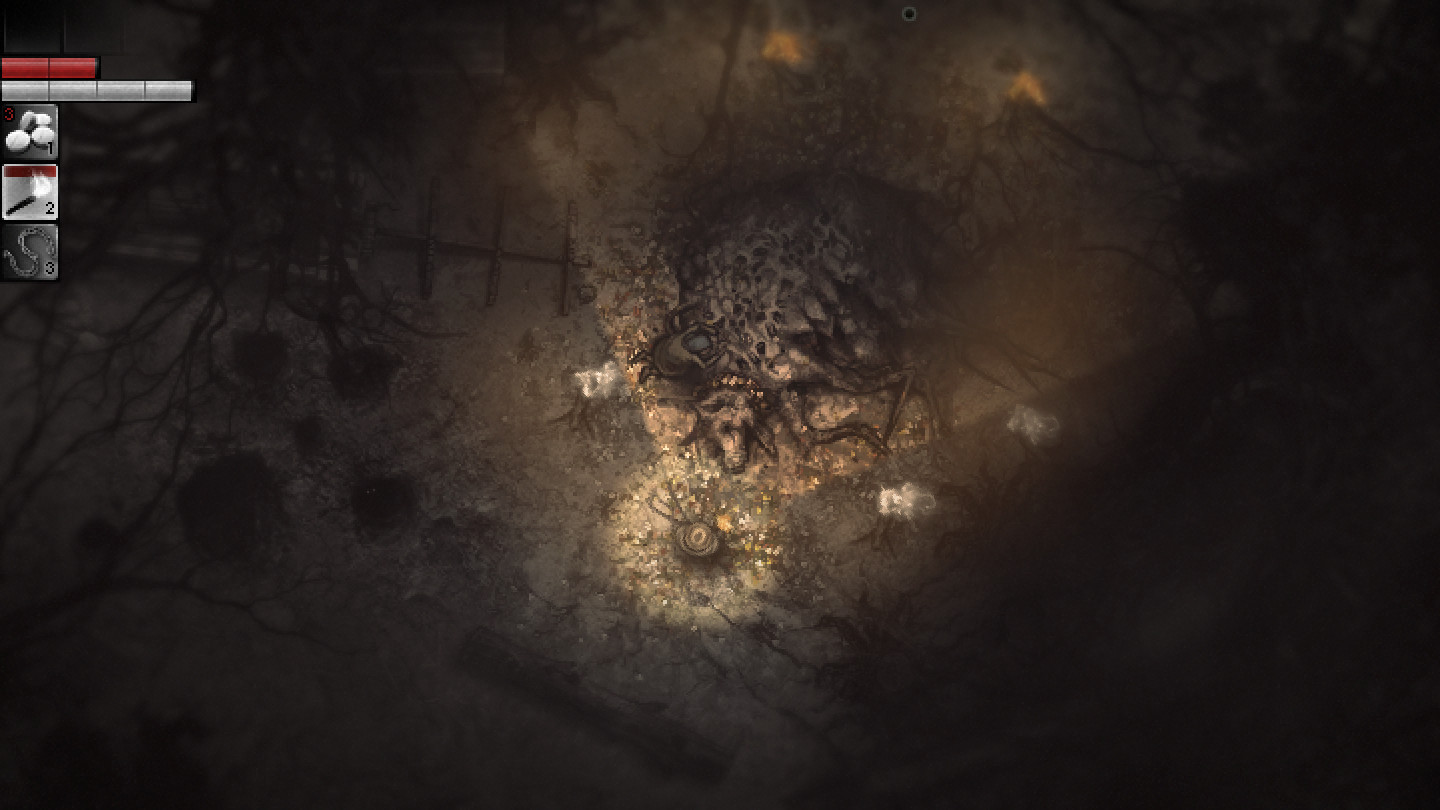 Darkwood is a survival horror adventure game developed by 'Acid Wizard Studio' and published by 'Crunching Koalas'. Its is coming out May 17th on the Xbox One, May 16th on Nintendo Switch and May 14th on PS4. It's already out on PC but we don't care. Now Darkwood is said to be quite the serious experience. Let's take a look.
In Darkwood, players will have to explore, travel and survive in the unforgiving world of Darkwood. There is danger everywhere and survival isn't guaranteed. The game basically starts with a doctor. He keeps going on and on about how this forest (that we are in) has trapped everyone and that the exits are gone. He also mentions how he failed to get rid of a certain plague. This doctor will stop at nothing to escape this place. Even if it means kidnapping a person and torturing them for information concerning the exit. Things are quite dark as you can see already. Oh and no, you cannot just simply chop down al the trees. They grow back faster than you can chop them all down.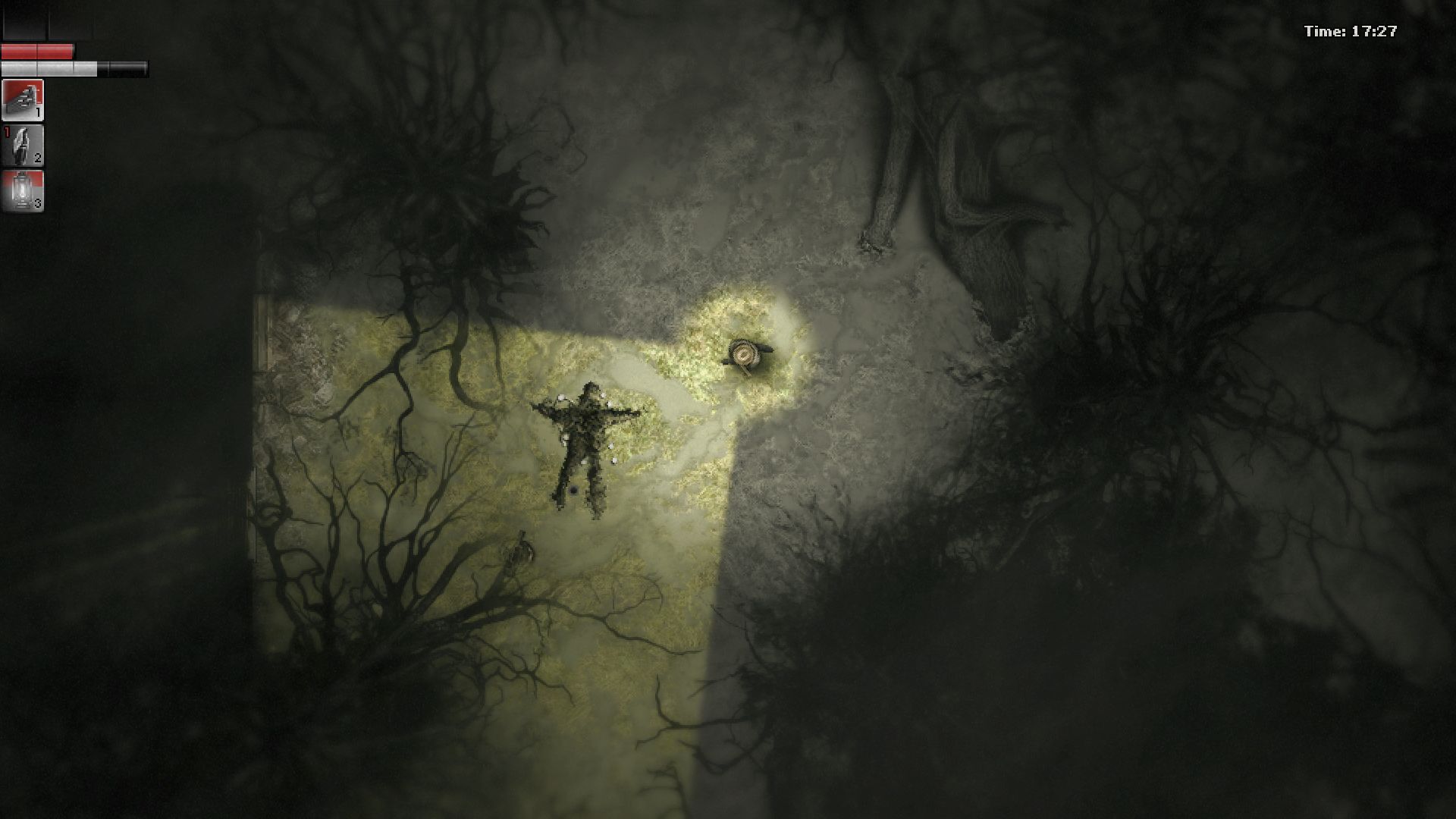 Players will primarily control a character known as the stranger. Now Darkwood should remind some players of a certain game because of a certain in game mechanic. Minecraft. Why? Simply because during the day is the best time to explore the world and off course scavenge and find supplies. At night time it isn't safe to go outside. Players must stay in doors and defend themselves and their hideout. Also like Minecraft, players will need to find the resources, lots of crafting, upgrading through a workbench and combat. There are different biomes too for players to explore and each one will have different supplies too. Use a stove to cook certain things too and believe us when we say the cooking is important as players can also get different skills that way.
So defending yourself is more than just a swinging a diamond sword. Players in Darkwood need to come up with strategies. You can lay traps and make sure they are good ones that can actually slow down or even stop whatever comes for you. Barricade those doors and the windows too because danger isn't always just a dude with a knife you know. Some things in the woods are scarier and more dangerous than that. Ever seen a wolf standing on two feet with a long trench coat? Well we have and it's not good at keep it's saliva under control. No, we won't explain more. It's up to you if you want to trust a wolf man or not.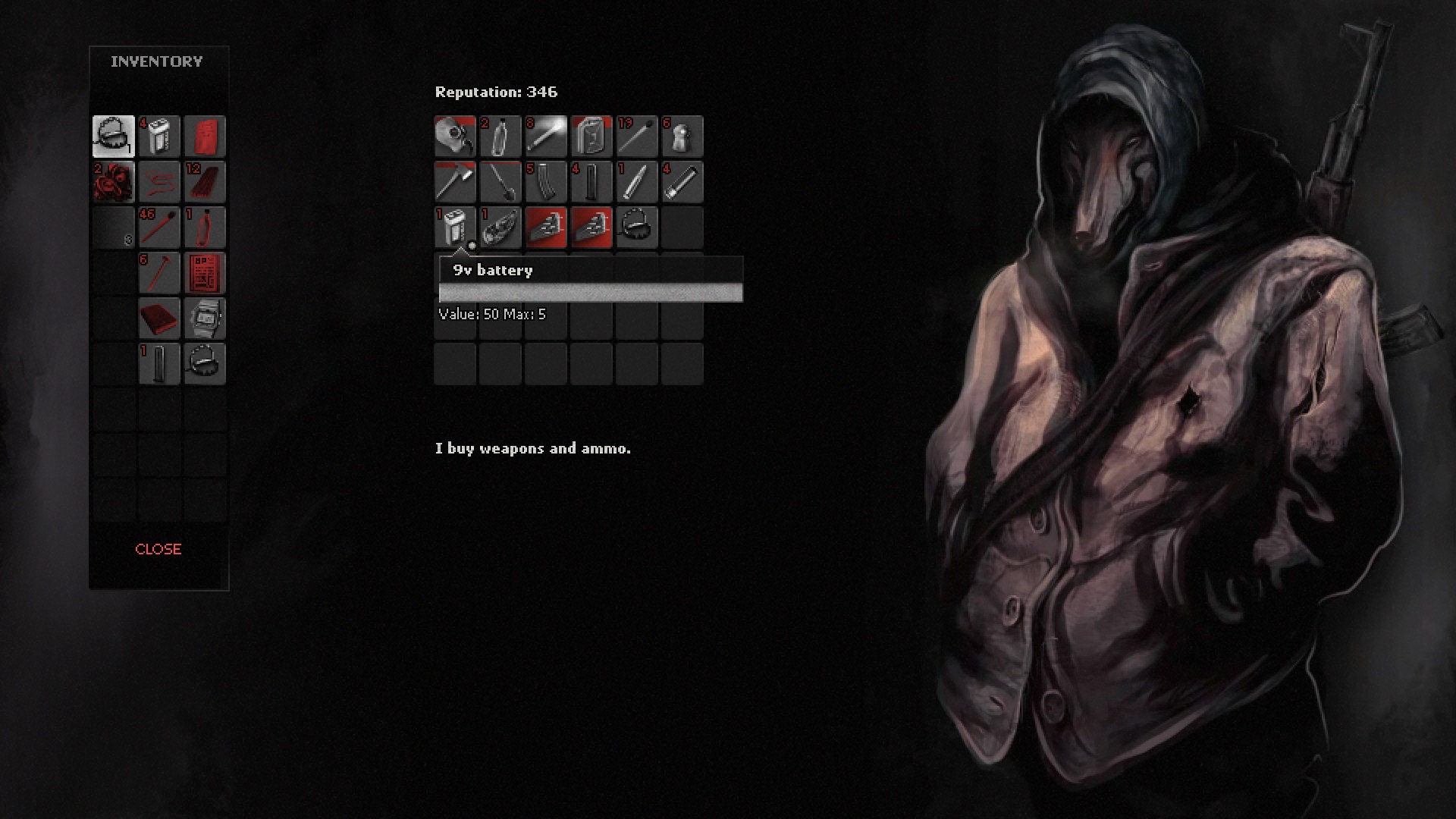 Now the game doesn't end if you fail to survive the night but do your best to survive because there is something to gain, just as there is something close for dying. What you gain for surviving is reputation with the trader. Allowing you to get more expensive and new items. Now if you die, then you wake up in the morning without any bonuses at all. Worse, if you die while out during the day then you lose half of your inventory. Don't worry though as you have a chance to get it back. Your lost stuff will be marked on the map, so you can collect it later. That's just the easy mode though. If you play in the harder difficulties then expect worse consequences like losing lives and even permanent death.
It's also one of those games where your decisions, actions and reactions shapes the storyline. It effects even the other characters in the game will get affected and their actions are different too. It's all about progression though. There are multiple chapters to Darkwood and as you get further, the map changes too. The story here isn't that simple at allemande players will need to think and take things into account during the whole duration of Darkwood.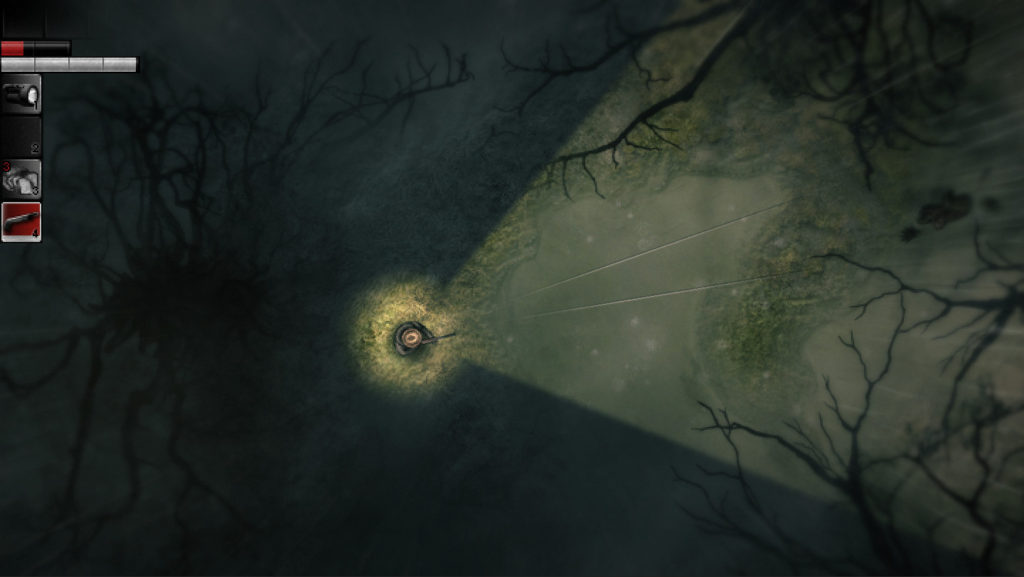 We checked out some Darkwood gameplay and it's not what we thought it would be. It's not like Minecraft and certainly isn't for children. The sounds are very well done. You can hear the footsteps, stepping on grass, the rain, noises in the woods, lightning strikes and more all for setting the atmosphere and getting players nervous. The visuals are good too. The woods, shadows are very well done but the characters themselves aren't as good. The lighting is the best, especially when it comes to your flashlight, just don't get scared of your own shadow. That's right. Bet you forgot this is also a horror game. Things can be waiting in the dark for you… remember that. We like that you have to stay on guard and keep your eyes open pretty much always. The different characters and item management allows for multiple ways of doing things and getting different results. It's top down so you may need to get closer to something to check it out and when you find a certain item, you have to decide if you'll need it or not.. Check out gameplay for yourself to understand more.
Overall Darkwood seems like something that gamers will try for themselves and many will get really scared from playing. We checked this out and it's gameplay was quite different. Darkwood is a interesting game but once again it's a limited game audience type. It doesn't seem like many gamers would get into this but the ones who do will run a mile with it. The developers 'Acid wizard Studio' did good job with this game. We at X35 Earthwalker will just have to see how this goes with others. Now Darkwood might have some dangers in the night but those cannot scare… the 'earth Walk!'
For more information check out the link below: