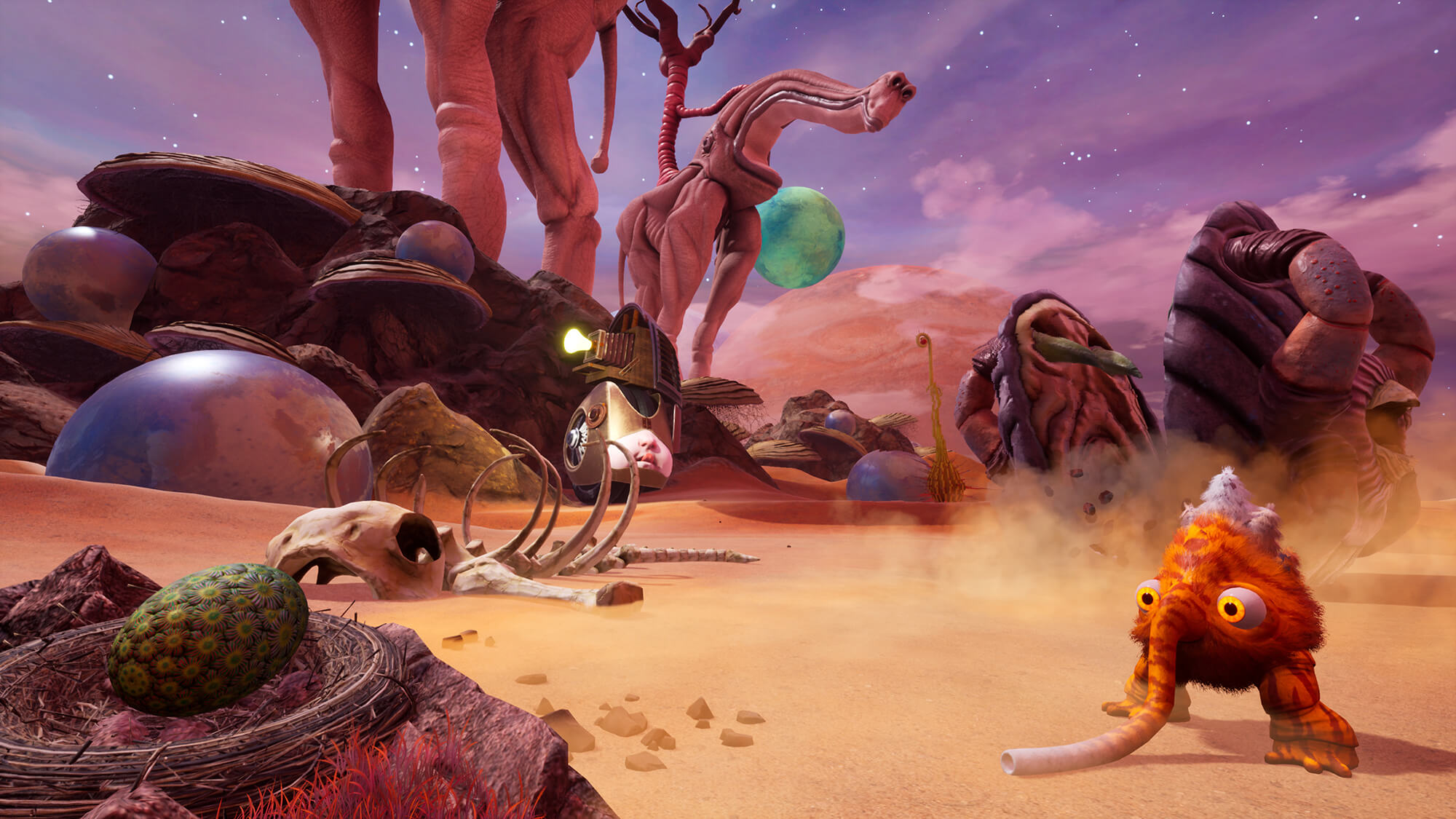 The Eternal Cylinder is a adventure survival open world game developed by 'ACE Team' and published by 'Good Sheherd Entertainment'. The Eternal Cylinder is said too be coming out the 13th of October 2022 on the Xbox Series X/S, PS5 and PC. It was already out on previous generation consoles like the Xbox One. The Eternal Cylinder is definitely a unique game. X35 Earthwalker knows what's good. Let's take a look.
We will try to keep this quick. We knew about The Eternal Cylinder a long time ago. This game is unique for sure. No questions asked. The eternal Cylinder is set in cool but strange alien universe. In this world, players control creatures called Trebhums. These creatures are definitely late bloomers as they start of at the very bottom of the food chain barrel. they are weak, fragile and easy to hunt and kill. Trebhums do have the unique ability to evolve and mutate based on flora and fauna they eat. This leads to new physical properties and abilities. So yeah… eat up.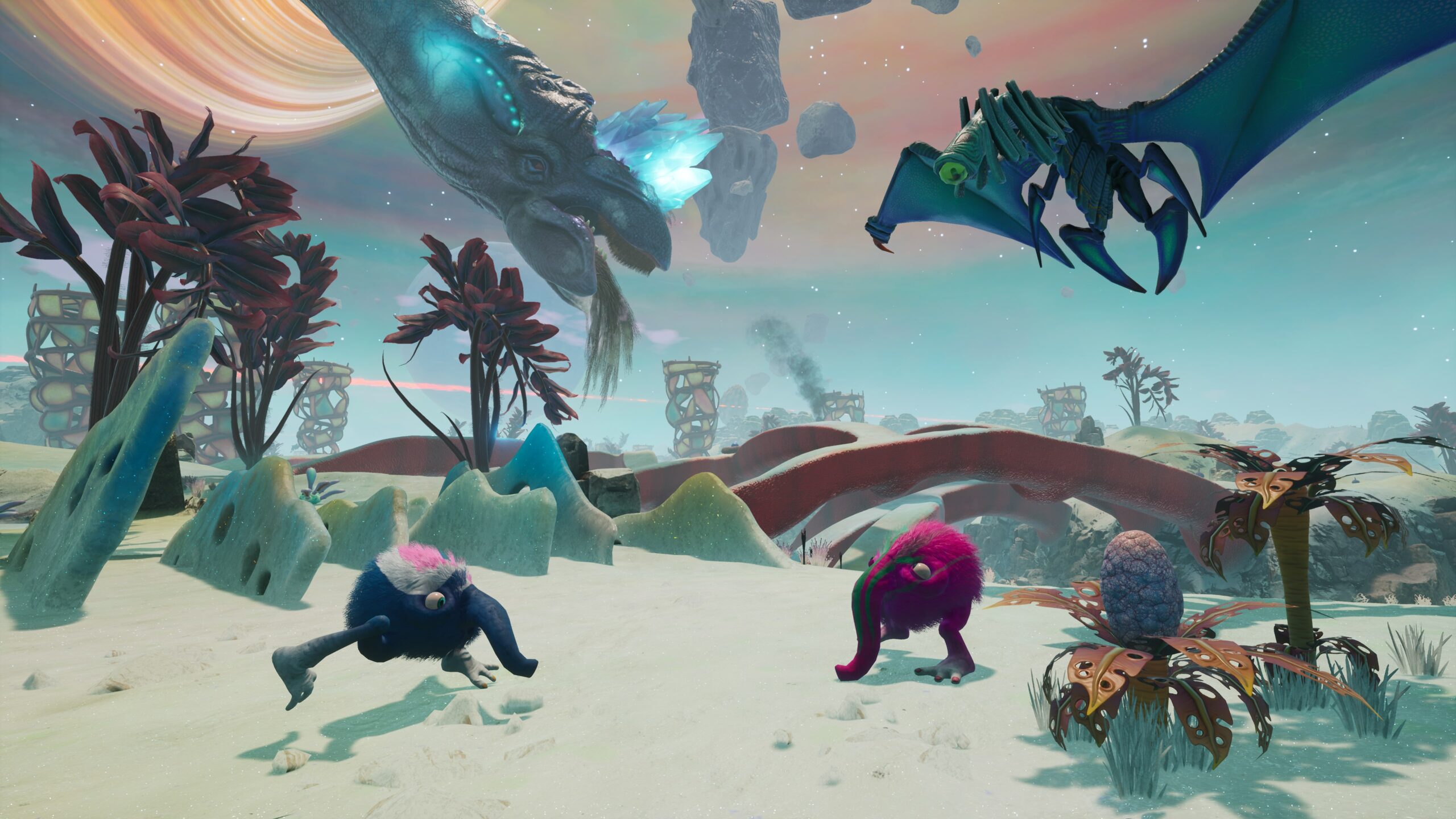 Oh, lets not forget about the other star of the game… the massive cylinder which keeps on rolling and crushing EVERYTHING in its path. With all your exploring, eating and strategising, make sure to keep on the move to avoid death by crushing cylinder. The Eternal Cylinder is has replayability value. Listen to this description, "This unique ecosystem is a massive, procedurally generated land with unique animal AI, real-time world destruction, and organic exploration and puzzle design to create emergent gameplay that ensures no two playthroughs are ever the same." This is a massive thing to say.
We have seen a number of unique aliens who are also inhabiting this world. There's actually quite a lot going on. The Eternal Cylinder is also open world. This means exploration is needed. There's even puzzles that players may need certain mutations to make certain things possible. Do not forget that it's a herd, soo you need to manage a group of creatures, keep them safe and make decisions for the group. What's also real good are the aliens. These creatures have some unique designs for sure. Just look at them other website. The Buddugh Gropp, Gharukuk, Tongledroplet and Celestial Trewhaala are all strange but do look dangerous. So players must learn the different alien species to know what's aggressive, what eats meat and what's docile.
We checked out some The Eternal Cylinder gameplay and it's what we expected. The Eternal Cylinder has lots going on which makes players want to look around and explore… but there's also a factor forcing the player to sort of act quickly. This in a way reminds us off a fantastic one of a king game called Pikmin. You can't just mess around. You have to always be progressing and pushing towards a goal. There's a carroty of biomes which makes sense as this is a whole planet. There's desert, tundra, infected and savannah. Each has different threats and aliens. Good job.
Overall The Eternal Cylinder is an excellent game from what we can see as of now. We do wonder about just how active there world is in this game and how good the so called 'unique animal AI' actually is. We have questions but that will have to do for now. The developers 'ACE Team' have done a fantastic job so far. We at X35 Earthwalker will be looking out for the action in this game. Now The Eternal Cylinder may have an unstoppable element crushing things but it's not even a problem for… the 'Earth Walk!'
For more information check out the link below: