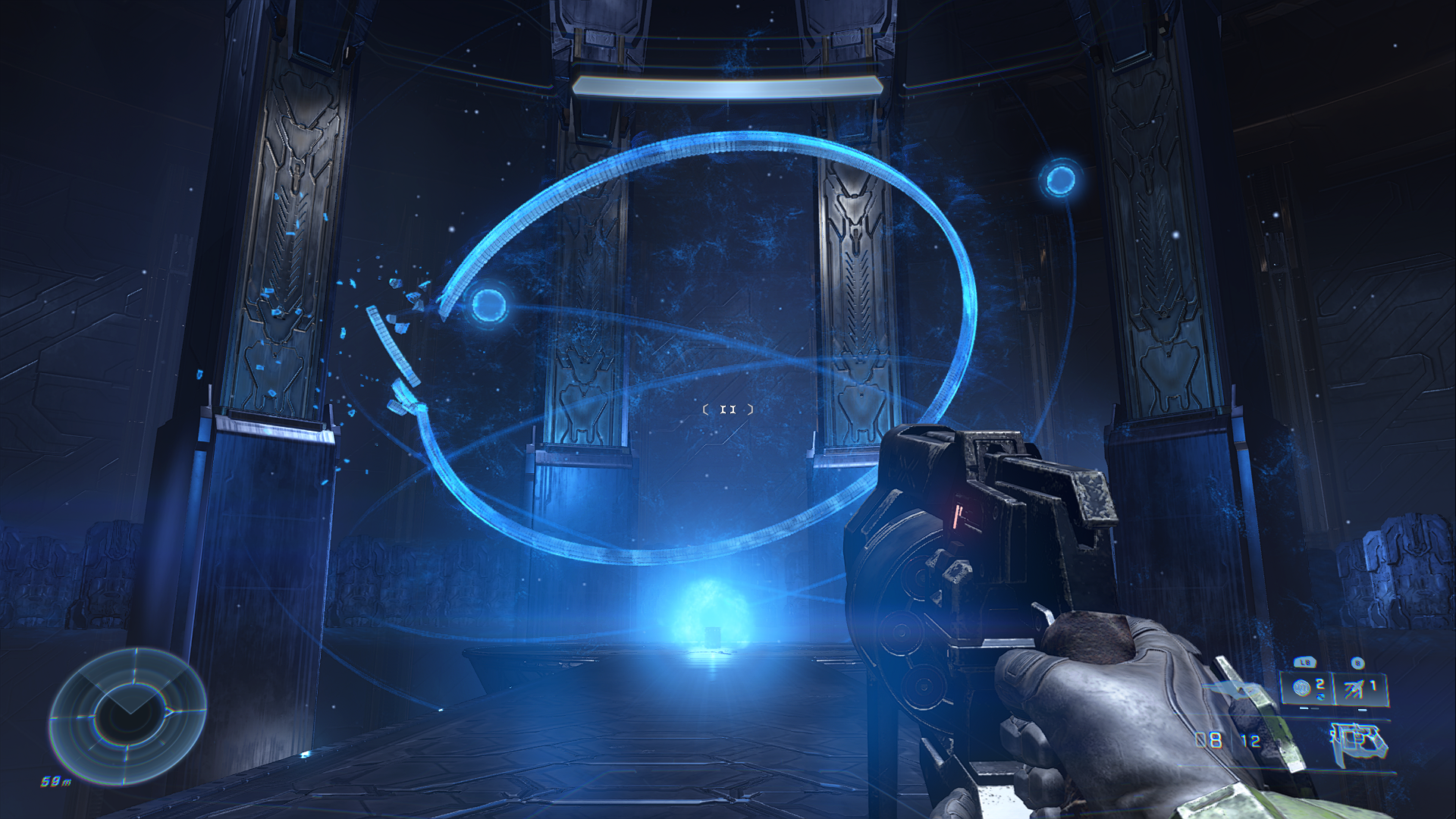 Halo Infinite has been out for a good while now and there's a lot to say about this Halo game. First of all X35 Earthwalker is really enjoying Halo Infinite, as are millions of others who are inferior players. Was excited for Halo Infinite and ended up having many adventures. We won't really talk about the multiplayer since we already made a G-Blog on it. We are going to do a quick shot review G-blog this time. Let's take a look.
Let's firstly talk about the campaign. The campaign is without a doubt, hands down, pants down, the best part of Halo Infinite by far. The campaign is fantastic. It's mostly what we wanted but let's talk about it. The campaign is big open world like we predicted and wanted. You are also given the tools to explore this world which is split into islands really. You can unlock vehicles like warthogs, mongooses, and eventually a Hornet which is a flying vehicle and even get a Scorpion tank. Your armour abilities like the grapple hook is the star of the game and it makes traversing the world real easy and fun but more on the grapple hook later. Halo Infinite looks beautiful. top level graphics for sure. When you get to the top of a high point like a mountain or installation and just take a moment to look round, you see a lot and it's fun to do. Lots of hard work went into Halo Infinite and it's visuals fantastic. The attention to details is excellent as well. The campaign is also riddled with Easter eggs and secrets.
We found the Halo theme song from Halo 1 (Combat Evolved). It started playing when we got to the top of a tall installation. It started playing while we was taking in the view. That was a excellent touch and the developers 343 industries did good to put that in. We also found a original Halo Infinite arcade machine… within Halo Infinite. All you need is a coin. These things are needed in a big open world as it makes exploring fun, especially when you wonder what else is out there.
There's an upgrade system for your equipment: Grappleshot, Threat sensor, Drop wall and thruster pack. Also Armor core but that's passive and not equipment. This is a game changer literally as it makes you become a powerful super soldier indeed. The grapple hook is not just for traversing but for mobility. You can use it to pull yourself in for a melee strike against enemies, dodge attack, get the high ground (no obi wan), pull a weapon towards you, grab those coil fusions and climb mountains. When upgraded fully you can use it more frequently, add an electric effect to shock enemies, unlocked a grapple power punch which then can have greater area of effect. The grapeshot with the reduced cool down allows it to recharge so fast that you can pull yourself up a mountain and when launched into the area after grappling, it recharges allowing you to grapple again, allowing for literal climbing. Thruster pack when fully upgraded is crazy good. You get active camouflaged when you thrust and lasts a few seconds. Helps with escaping and approaching enemies. Threat sensor is heavily underestimated. Unqualified reviewers who lack skill like angry joe downplayed and dissed everything but the grappleshot. When you play Legendary difficulty like X35 Earthwalker did, you'll understand and appreciate how useful ALL these abilities are. Threat sensor when fully upgraded is powerful. You can launch two of them, they reveal the enemies clearly and show their health, which helps big time. Knowing how much health the enemy has makes a difference, especially with Hunters. Drop wall just ends up saving your life and giving you a few more moments to fight back or get your shields back up. Once X35 Earthwalker was surrounded and attacked by sentinels. Destroyed most and then got his back to the wall, used his drop wall which blocked all the beams and electrifies all shots he fires through at the sentinels. Use all the abilities to survive in Legendary difficulty.
The in-game cinematics are excellent. The opening scene of Master Chief fighting the banished, using his grappleshot to grab a weapon and then getting into the big 1v1 fight with Atriox himself. The fight itself was very good but a little too one sided. In actual lore, Master Chief would destroy Atriox but in terms of in game action, Atriox trashes Master Chief seeing how Atriox did 1v3 spartan red team in Halo Wars 2 and won easily. Spartan red are spartan 2s just like Master Chief, going through the same process and training so if Atriox can beat three of them, then he should easily rip apart Master Chief. Seeing the spartans, the brutes, the speeches, Escharum in showing up and even the elite spartan killer was all fun to see. The scenes are excellent. angry joe had a complaint that we never got to get revenge on Atriox. I understand him completely but that would be bad writing. Revenge would mean beating Atriox as in kill him. Atriox is too good of a villain. They need to save him for that one big moment when they clash in a final battle. When Tremonius stated that Atriox is dead, X35 Earthwalker was almost angry. He said, "What?! There's no way. If they kill of Atriox now, especially off screen… I'm done with 343 industries and will declare them as idiot game developers." We are glad Master Chief didn't get revenge… not yet.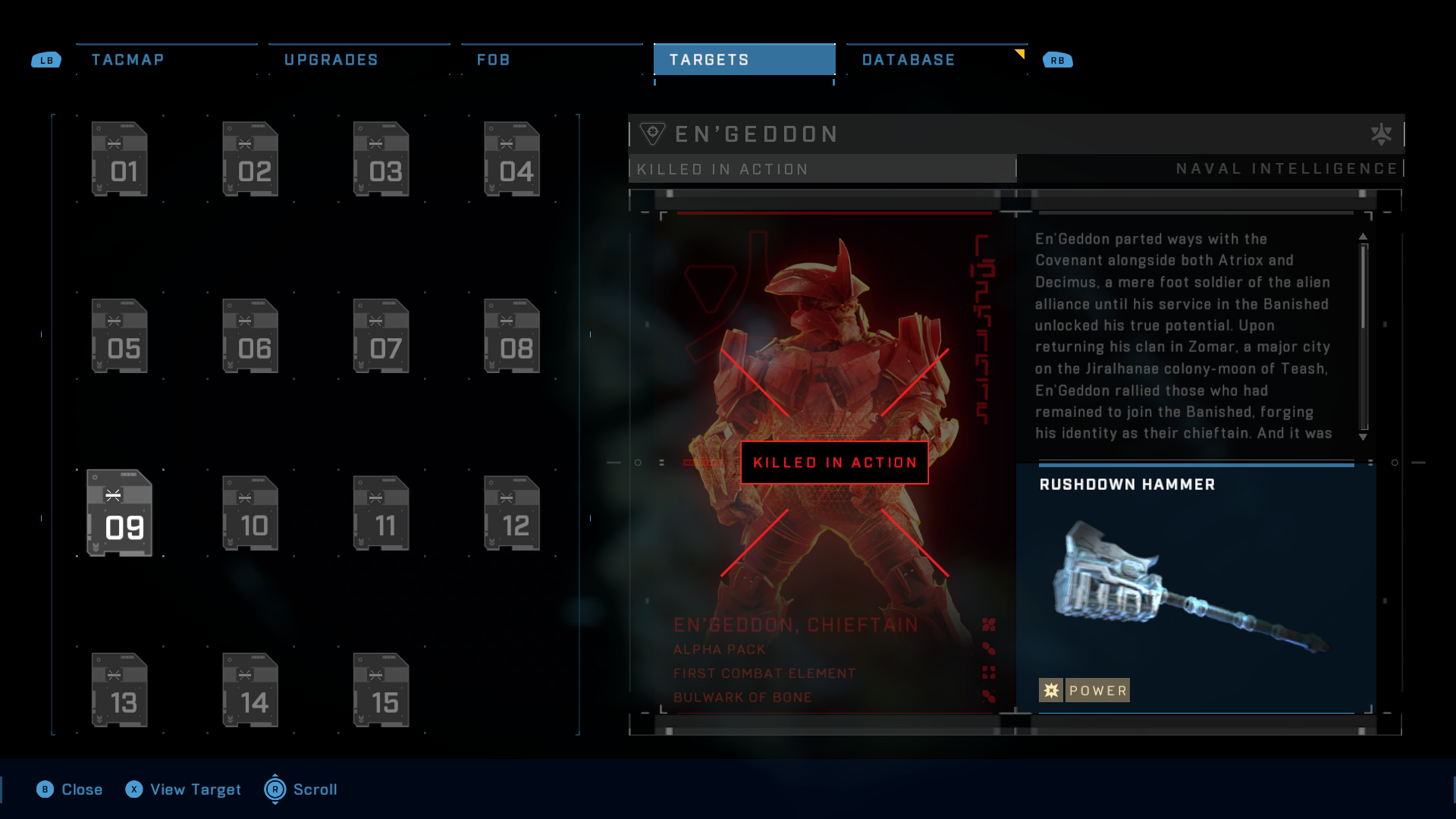 The high profile targets was an excellent idea. Placing infamous and powerful enemies around the map for you to find and beat added flavour to the campaign. These were a range of units: Grunts, Jackals, Elites, Brutes, Hunters and that new flying enemy which we referred to as Drones from Halo 2 as they practically do the same thing which is fly around and shoot. Not as fast or annoying but bigger weapons. These fights were sort of underwhelming at times though. Especially when you read their resumé. One of them called 'Okra Vagaduun' was described as "considered one of the most lethal infantry assets in the covenant." Having "remarkable combat resolve". He "hailed from a long line of sword fighters" so he's well trained and "repeatedly defied odds, surviving even when VASTLY outnumbered". This guy sounds like the Master Chief in some ways. He's the real deal and should be a major problem and battle… but nope! Just put my ghost vehicle in position and sprayed at him until he died. He behaved like a regular elite really and it was lame compared to his reputation and experience. they should have made these guys big big battles like boss battles or show them do something impressive at least. Most of them went down like female dogs. Zeretus was a real problem though as long as you didn't cheese him out. He had a homing shot rocket launcher! You can't beat that. So yeah, the high profile targets was a good move, not executed perfectly though.
This leads to one more thing. The boss battles. They are epic. We finally got actual boss fights. They are powerful and no joke. They can kill you within second if you played on Legendary difficulty. Bassus was especially crazy as she wield a powerful gravity hammer in close corners. He has a lunging attack where he leaps forward quickly and smashes the ground. He even uses it to get across a gap and kill you. In legendary difficulty, he needs one hit to kill you. Same for the Escharum as well. All he needed was one hit and his ranged weapon shredded you. In legendary difficulty you couldn't stand up to these guys. You have to run and dodge for your life… literally. The cloaking elite boss fight was tense and difficult. If you made a mistake you were dead. simple. We hoped the high profile targets would have fights sort of like this. The bosses are fun and each one is memorable.
We love the Grunts. Halo Infinite has the best Grunts so far. Everyone including the marines have better and more dialogues and lines but Grunts have the best. They perfectly do their role as cowards who are comical. We have heard them mock Cortana, mock the Master Chief himself, make fun of humanity. Brag about their greatness. Accuse you of being a coward when you run to get your shields back up. Point out that everyone is dying. Even beg. Act brave-ish. Even accuse you of cheating. It's very funny and entertaining. We suggest you just listen to the Grunts talk. Especially the propaganda towers. the dialogue of everything is significantly improved. We here the banished communicate with each other. Update each other on what the player is doing. Even give instructions to others like telling one to rush the player as they know you are hiding to get your shields back. One jackal told a brute to go after X35 Earthwalker but the brute replied "Don't give me orders" or "don't tell me what to do". Something like that. The enemies feel more real and like an actual team. We even saw a brute weapon top of our moving vehicle and climb on to pull a marine out from the vehicle. These additional things completely add to the game. There's always going to be that one guy who will fearlessly take a risk like diving on to a moving vehicle.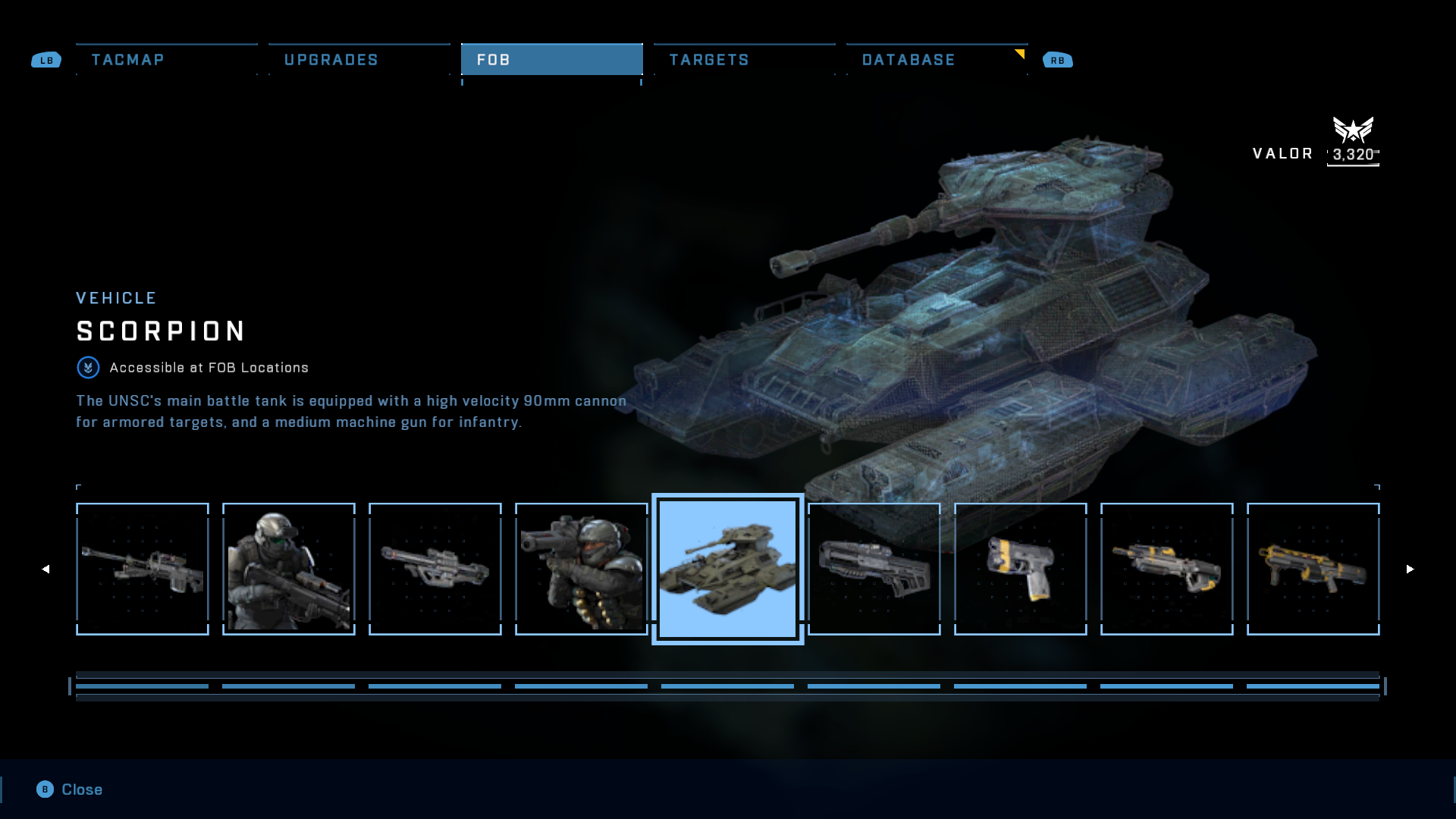 Next is the FOB. These forward bases is part of a whole system which adds a role playing game effect to Halo Infinite. As you completed those missions like unlocking those mini bases, rescuing marine squads, destroying propaganda towers and completing main missions gives you valor. Get enough valor and you unlock new things. You can get marines who spawn at the base and can follow you. Then stronger marines with different weapons. A marine with shotguns, marine with sniper, marine with rocket launcher. You can get gungoose which is surprisingly powerful, a razorback which is the best vehicle and we will briefly explain why later. You can get the scorpion tank and even the hornet which can fly. You also unlock weapons as well which you can get free of charge unlimited amount from your FOBs (those mini bases you take back). This is awesome as you can equip your marines with whatever weapons you want. Get a Razorback, get fie marines and give them sniper rifles and rocket launchers and maybe one gets a ravager. Then get them all in your vehicle and just go for a ride. Marines have unlimited ammo and excellent aim. Able to shoot and hit targets well out of the normal optimal range. Almost unlimited at times. It's crazy how good it is.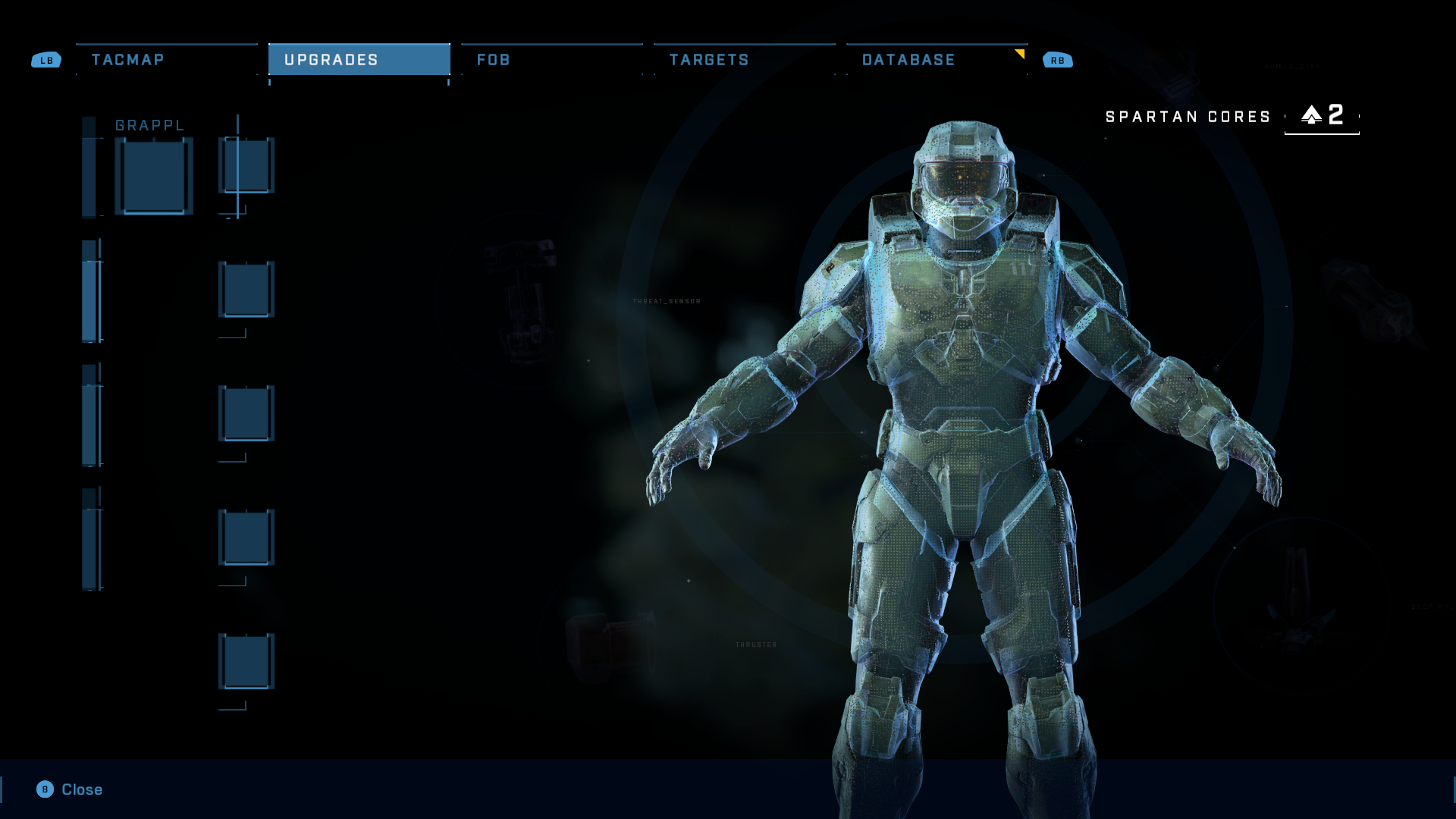 We don't want this to be too long so we will make this the last positive significant thing. We liked that Halo Infinite not fully but address the issue that is Master Chief's humanity. Cortana hinted and talked about it in Halo 4 and Halo 5 Guardians. Master Chief is a spartan 2. Kidnapped, abused, indoctrinated, forced to train etc. He didn't have a normal life. No graduation, no part time job, no dates, no cinema, no first crush or first kiss, no normal conversations etc. You see this through the game. He hardly talks and when he does it is because a superior in rank like lord hood, captain keys etc speak to him. Or it's military related. Short and quick. He doesn't have casual conversations and never really mentions how he feels. He doesn't seem to be afraid of anything either. Is he man or machine? That's what cortana wanted him to figure out. She said something like "figure out which one of us is the machine". That hit kind of heavy. Halo Infinite campaign is the first Halo game that forces master chief to sort of deal with this issue slightly. When he tried to delete the weapon AI which led to them having a fall out (no 76) they weren't talking. Everyone was disappointed in master chief even the pilot. Yet master chief never said anything but kept it mission first and business.
X35 was saying that chief needs to apologise but besides when he was a child, has master chief ever apologised or had to apologise for anything? Even at the end of the game he never said I'm sorry. That's sad. Yes the weapon is an AI and not an actual person but still… come on. She was clearly upset and felt betrayed and even got an attitude like a real woman. Yikes. When he put his hand to the console to collect the AI he hesitated a bit as if he wanted to ay something, like address the situation, maybe apologise or whatever but quickly dismissed the thought. Then when the pilot hugged master chief which is a huge deal by the way, as no one has hugged the master chief. When hugged, the chief didn't wrap his arms around and hug back. He moved his arms then stopped them. It's like he didn't know what to do, which hit hard. A call detail but a big deal. He didn't know what to do. Imagine a person who never talks about his feelings, can't say sorry and doesn't know how to return a hug. A broken sad person. That's the master chief's biggest human issue. Cortana was more human than him she didn't want it to be that way.
So when that amazing scene happened where the pilot confronts and kind of yells at the master chief when he was afraid after chief saved him from the two spartan killer brutes. He reminded the chief that he isn't a super soldier like him. Fearless, can fight and do anything. He's just a man, not even a soldier, just a pilot. Like when he gets scared the chief tells him to "stop it" like he's a child. He's normal. He knows he's nothing compared to the brutes, he knows he doesn't stand a chance. Hiding the entire time. It caused chief to stop, take a knee down next to the pilot who was on his knees feeling worthless and pathetic and give the pilot a bit of a heart to heart… sort off. He tried to relate to him that he failed once. We won't say everything but the scene was excellent. Not everyone is like you chief. He isn't spartan blue team. He's a normal family man who gets scared when a 10 foot brute rolls up with a big gravity hammer wanting to kill him. That was big.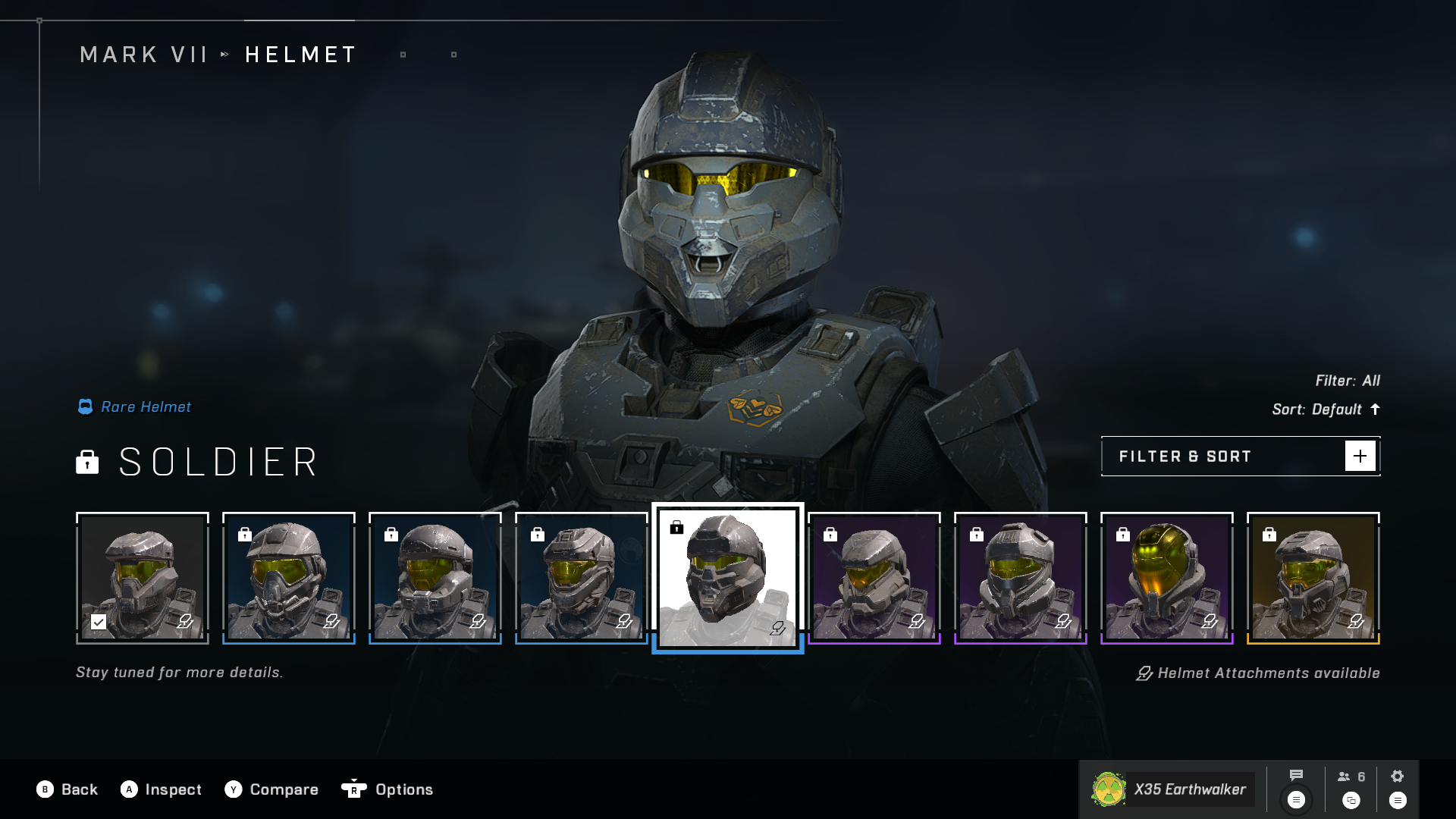 Now let's talk about what's not good quickly. First and foremost there's no split screen! AGAIN!!!! This clearly shows that 343 industries didn't learn from their past mistake. Many including X35 Earthwalker are angry about this. Splitscreen is a Halo tradition. Bring it back or admit that you suck as developers. Halo Infinite has a world made for team exploration but you can't do that. Next big issue is that there's no reward for players who beat the whole campaign in Legendary difficulty! that's so stupid. Always reward your players for doing hard or impressive achievements. It's hard to beat a Halo game on legendary difficulty. Give us something cool like a unique spartan skin for multiplayer. Or a stance or armour effect that epic that shows this guy completed the campaign in legendary. Something that can't be bought but earned. Gears of War 3 had rewards for completing in the hardest difficulty so 343 industries has no excuse. ALWAYS reward your players. It doesn't cost you anything to make a cool reward for it. Speaking of earn. The little that you do get in the campaign which are the mjolnir cases which when found give you some customisation item. They suck! We can't think of one thing we got that was memorable or epic. They all suck! We completed the whole campaign on legendary difficulty and it feels like we got nothing. That's because we got nothing. None of it matters. We checked the customisation menus and everything is basically locked. Got nothing cool. No armour effects, no armour attachments, no cool helmet, not even a visor (Halo 5 Guardians gave a visor) or anything. Nothing to earn unless you have tons of free time as in you got nothing else going on in your life or you have lots of money to throw at the store. If you are in college and after doing your coursework or whatever you then have free time like we use to then that's good for you. If you are rich or have a rich uncle, then good for you. Overall this is terrible. No rewards and no customisation and many players look exactly the same in multiplayer. So much for thousands of different combinations.
We won't talk about the multiplayer as we already did a blog post on it. Forced to play with pc players, weak so called power weapons, pc cheaters, lack of mode selection and more all done in that post. Check the top of this blog. Next big issue is that there's no cinematic viewing mode. Halo Infinite has excellent cut scenes which you want to watch again or check for small details but you can't because there's no option to view the scenes again. WHY!? Gears of War Ultimate edition has a feature where you can rewatch all those cool improved scenes. Gears of War ultimate edition isn't a new game. Why do they have it and Halo Infinite don't? Proof that 343 Industries don't learn and make dumb decisions. If X35 Earthwalker was ultimately in charge of the design, as in supreme command, Halo Infinite would be so much better. Not just Halo Infinite but many other games too. So if you missed a cool scene or missed a small detail or whatever you can't view it ever again unless you start a new campaign and play through the whole thing again. That's stupid. We checked everywhere and didn't see a feature for it. If you find it, then tell us. So sad to say the but there's nothing to gain from playing the campaign. Want to know the story? Then watch the losers on youtube and twitch who played and beat everything on day one and spoiled everything with their thumbnails. You don't get anything. Like for real. Why couldn't you give as a reward for beating legendary difficulty a cool lightning armour effect, or water effect or a victory stance where you are posing with Escharum's gravity hammer or that final elite boss's red beam sword? Or where your spartan is sitting on a throne chair like a boss, learning on the arm of the chair on his hand, legs spread with a cocky look. Something! Anything!
Overall, we have more to say but it's better done in videos and besides this blog post is long already and took us hours. Halo Infinite has a fantastic campaign which has a few issues relating to it and the rest of the issues are related to multiplayer. We will do one more that's a quick summary but that's it. Fantastic campaign and the campaign is what's carrying Halo. Now Halo Infinite may have a fantastic, we mean a mid 10/10 campaign but it's not as good as…the 'Earth Walk!'
For more information check out the link below: