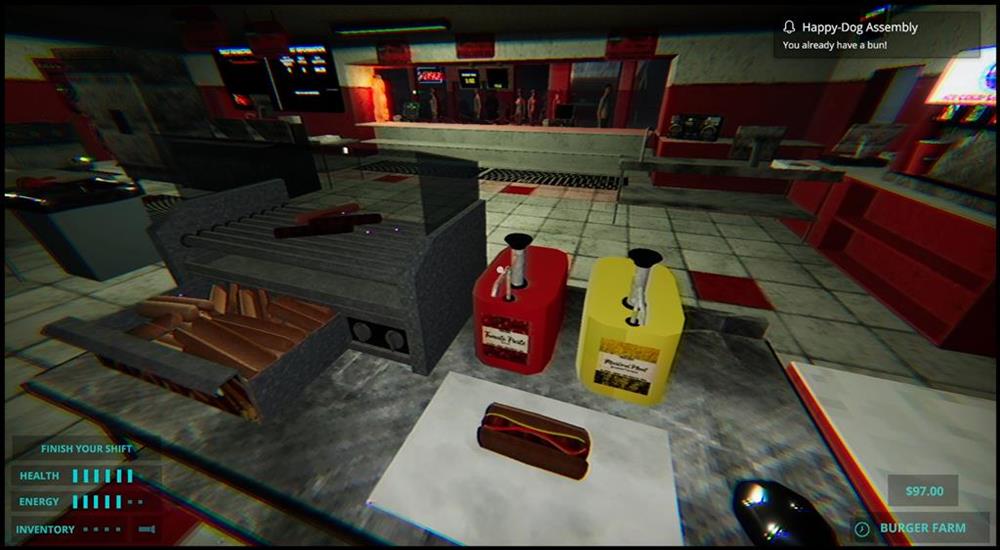 Happy Humble Burger Farm is a first person horror game developed by 'Sycthe dev team' and published by 'Tiny build'. Happy humble Burger farm is said to be coming out the 3rd of December 2021 on the Xbox Series X, Xbox One, Nintendo Switch, PS5, PS4 and PC. We like burgers, we like farms, it's good to be humble and happy. So this should be a fun game.
Happy Humble Burger Farm is all about working in a fast food restaurant. What you do is travel to work from your crappy apartment. Once there, you then have a load of work to do. Off course things aren't normal there. Remember we said this. This game will put players under stress and even make some panic. This is because you will have to handle everything. While failure to do so does have consequences.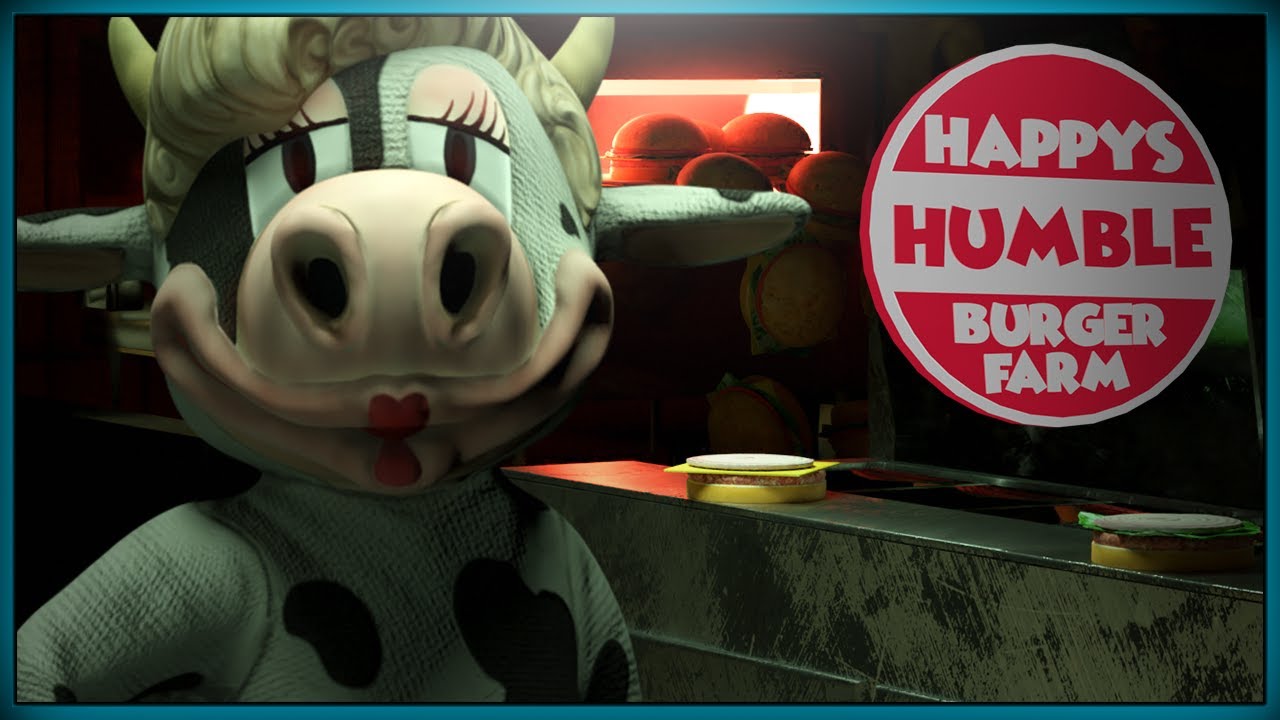 Let's explain what we mean when we say you have to handle everything in Happy Humble Burger Farm. First you have to turn on the 'open close' sign and get the building running. You must start up the fryers and kitchen appliances. You must get the different frozen meats and put them on the grill. Those cook over time. You have to put the fires in the fryer and same with the nuggets. You must prepare the shakes and drinks too. All this depends on what the customer orders… which is basically random.
Remember that there are consequences in Happy Humble Burger Farm. For example if you make three mistakes concerning the order for the customer like taking too long, giving the wrong item or missing an item, then the cow mascot will come after you. Yes, come alive and chase you down… when you aren't looking at it. Yes, the weeping angel mechanics. This cow won't stop chasing you until you feed it a specific burger. If it catches you, it will attempt to drag you away to a specific location where it's game over. Remember that there are there mascots too. Multiple, so it makes you wonder how many will be after you as you progress through the game.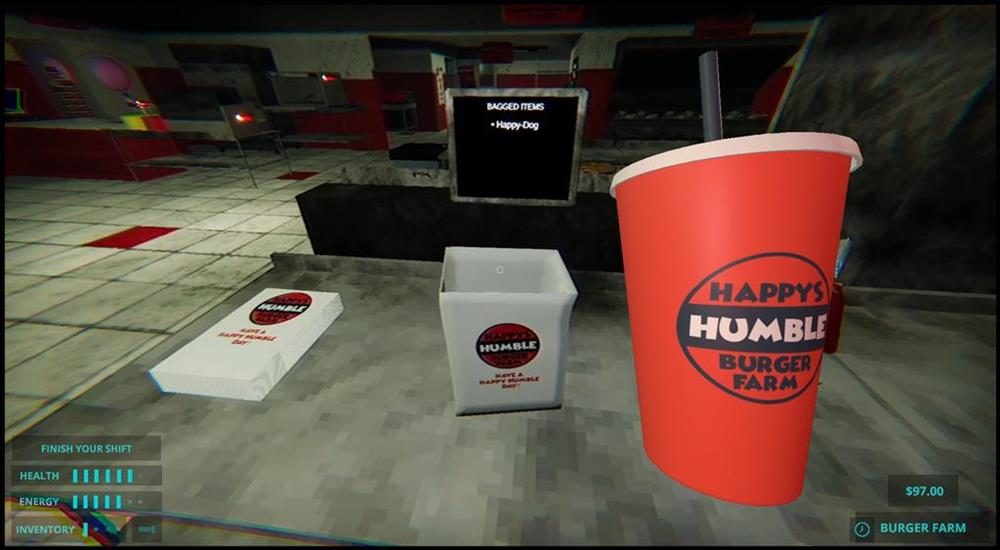 So know you see the pressure filled scenario that Happy Humble Burger Farm creates. You a running a fast food restaurant with lots of things to do while, getting customer orders correct, meaning watching the meat to make sure it doesn't burn, while certain supernatural things happen and if you mess or take too long, evil things come after you. You might have to literally, take out the trash while cooking the meat, which can burn and getting the right ingredients in the burger bun while running out of time for the current order and if you take too long to take out the trash, it also counts as a mistake.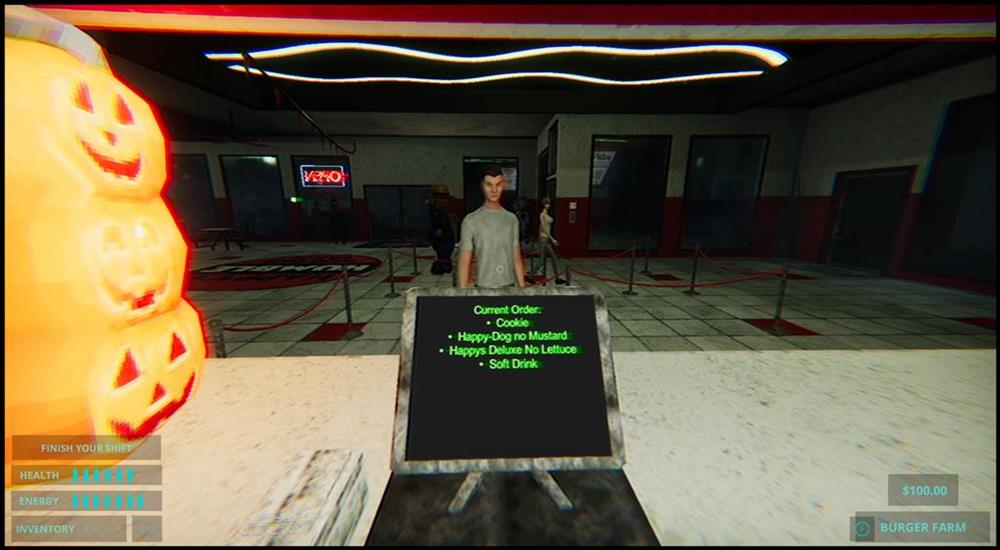 We checked out some Happy Humble Burger Farm gameplay and it's what explained as we have definitely seen it before and the previous build versions. Lots of work and responsibility while clearing evil forces are at work. It looks fun, not so simple but once you have a routine or set up ready, this can be done easily. It takes some brain work. The phone calls and interactions with the employer needs to be more entertaining. The world where you drive to and from work needs more happening. The surprises and scares need to be less predictable. The cow mascot in t's monster form needs to look less stupid and more intimidating.
Overall Happy Humble Burger Farm looks like it's going to be a fun game. We hope that the other mascots bring some new danger and difficulty to the game with balance. The developers 'Sycthe dev team' have done a nice job so far. We hope that the plot isn't so obvious and more is added to the world of the game even while travelling to work and back. We hope the game improves. Now Happy Humble Burger Farm may have dangerous mascots but those mascots are worth a thing to… then 'Earth Walk'.
For more information check out the link below: