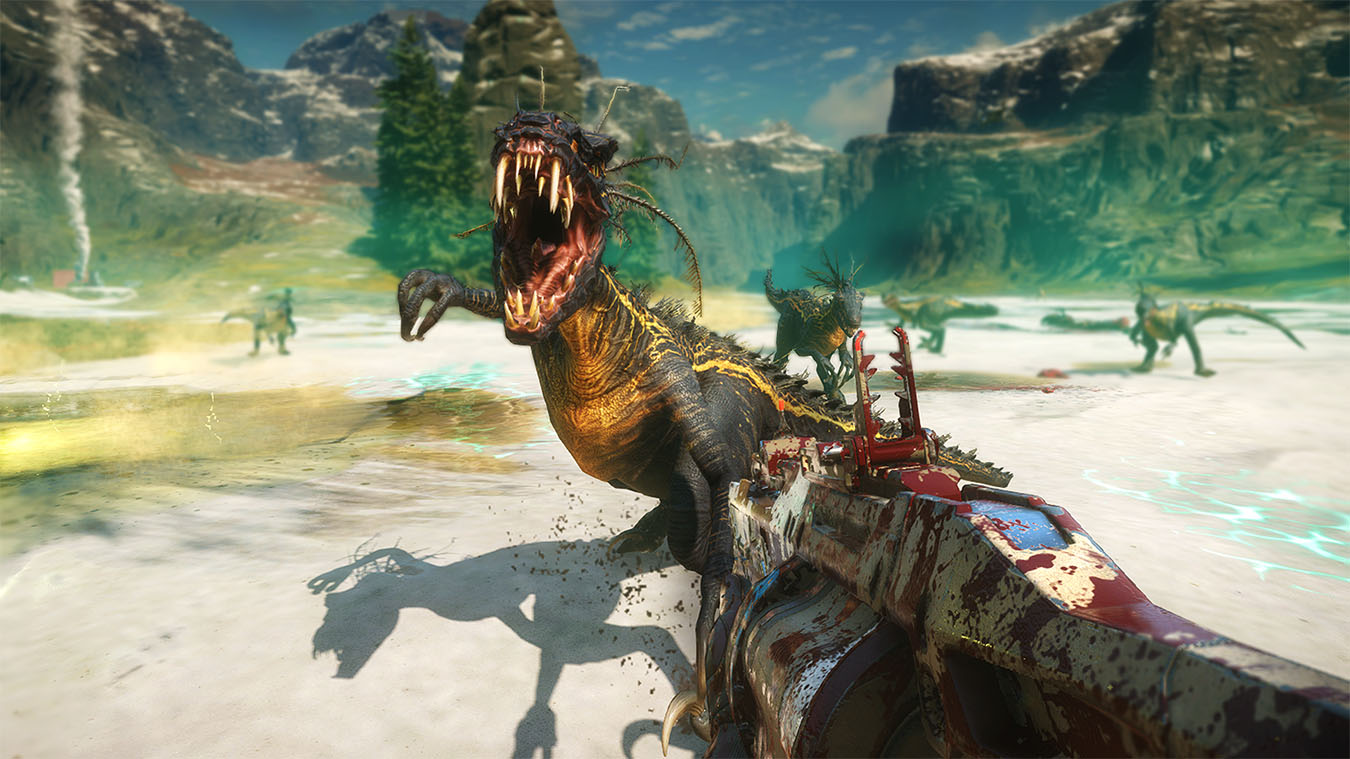 Second Extinction is a new co-op first person shooter game developed and published by 'Systemic Reaction'. It's stated exactly when this game will come out but we assume basically when the Xbox Series X comes out. Second Extinction is an Xbox exclusive and will come out on the Xbox Series X, Xbox One (X) and PC. We at X35 Earthwalker like dinosaurs and dinosaur games. Let's take a look.
Now just from looking at this game we can figure out what the story will be. Second Extinction is set in a ruined world. Dinosaurs have taken over and mankind once again is in trouble. Your job is to wipe out these dinosaurs. This off course is easier said than done. Teamwork is essential, required, vital, needed. These dinosaurs don't mess around. You'll see.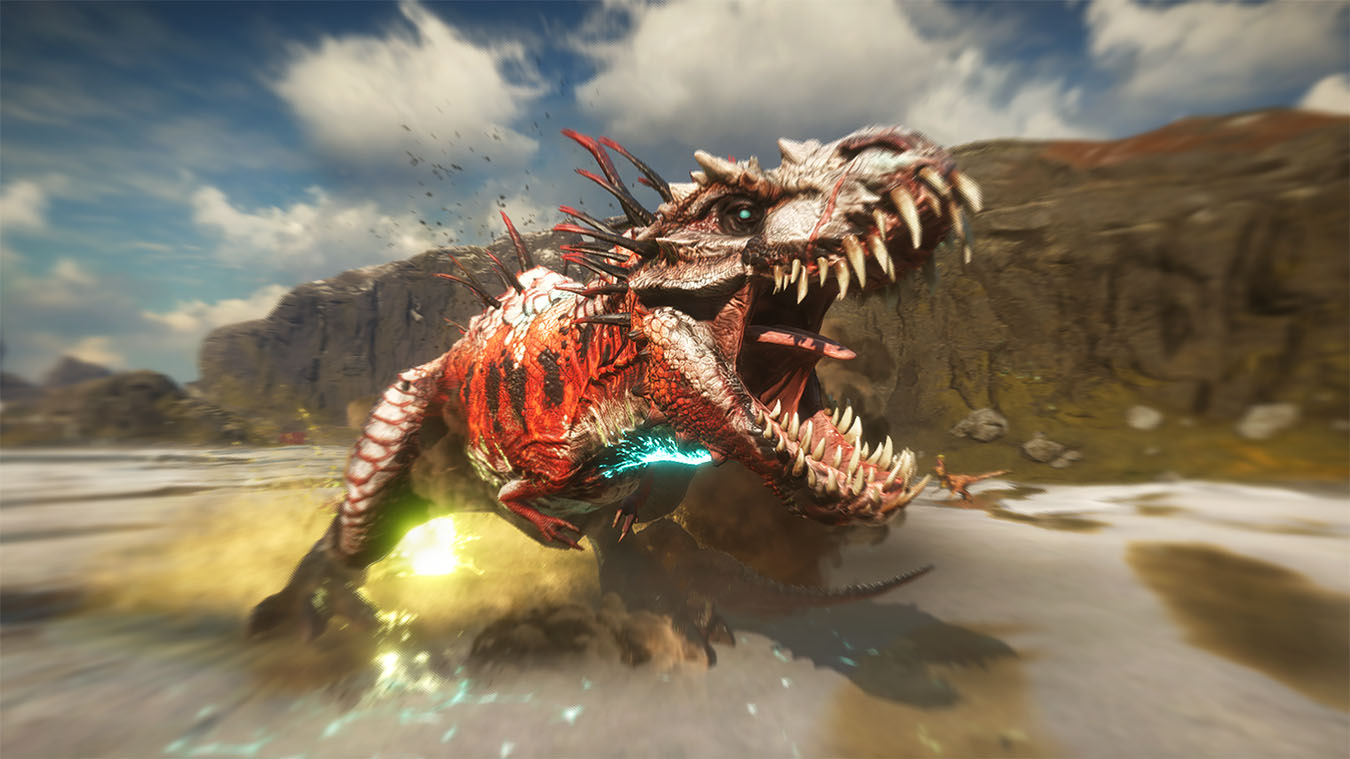 If you couldn't tell from the picture above, these aren't regular dinosaurs. Mutations have taken place which have transformed these creatures into something more fierce. That's right! Those Deinonychus have got an upgrade in Second Extinction. They are being called electric raptors. First things first, people mistake Deinonychus for velociraptor. Velociraptors are small. We could stomp them while the Deinonychus is the big ones you see in the movies that jump on you, hunt in packs and super dangerous. They are raptor dinosaurs still but there's a difference. So not only are there electric raptors but also behemoth T-rexes who are basically bigger versions of T-rexes. More size means more power and more health. Expect dangerous mutated dinosaurs who will eat you.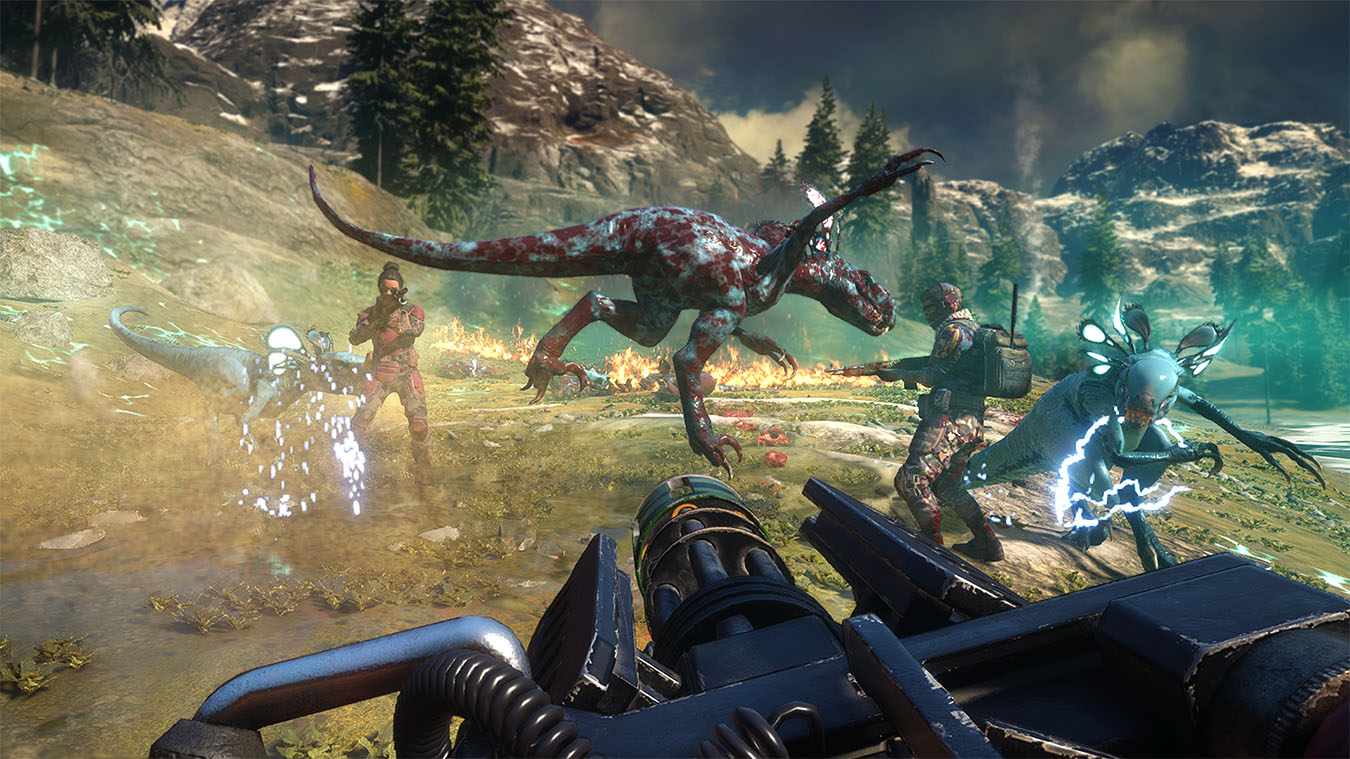 Remember when we mentioned that Second Extinction is a 'co-op' first person shooter game. Co-op is the key word. That's right. 3 player strikeforces. You as a team must take part in combat operations that are suppose to be short but intense. We will be the judges of that. If you've been around for a while then you know how we feel about co-op in big games. We need more of it and glad that more games are making their big action available for friends gameplay. A bunch of electric raptors would be too much for one person, except X35 Earthwalker off course, so having a team where you can watch each others backs etc is excellent.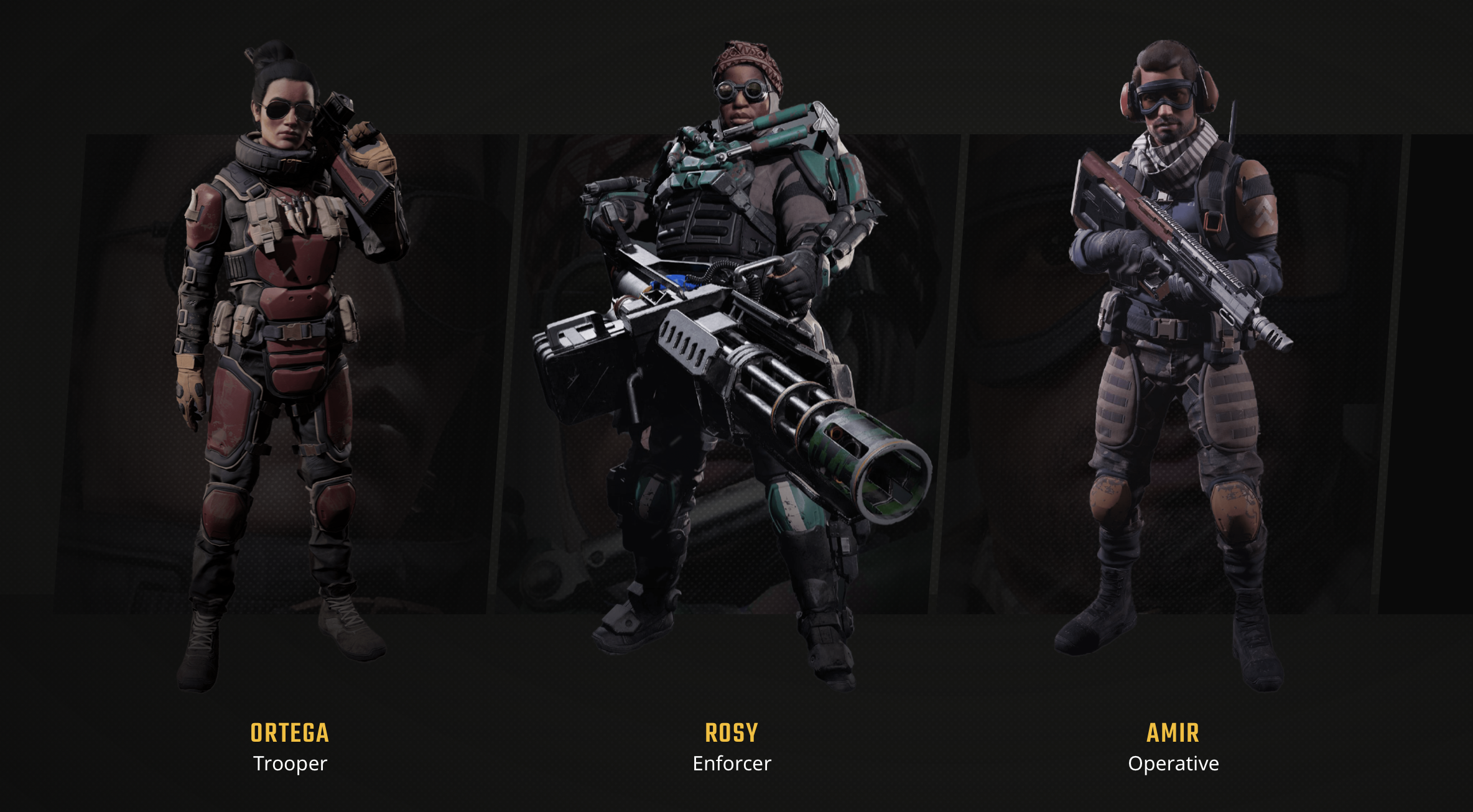 Now let's talk about the squad… or should we say squads. You must put together a crew from a group of fighters. Each one has their own skills, weapon of choice and history. Create your desired squad to reclaim the earth… like a reclaimer… get it? Reclaimer… Master Chief… Halo… Xbox? Whatever you suck anyway. There's three fighters that we know of right now. Ortega, Amir and Rosy. Now judging by their descriptions: Trooper, Enforcer and Operative we can figure out what they do. The trooper looks like your basic soldier, as in they are about combat and most likely balanced. Welding grenades and some combat utilities. The enforcer seems like they are the heavy firepower. With that chain gun or mini gun (we think chain gun though) they can mow down or do serious damage to enemies but lack mobility. The operative seems like the one all abut tech and support. Probably the one crucial to mission objectives like working with machinery or something. The official website also more is coming. This means more fighters/heroes. That's a good thing.
We checked out some Second Extinction gameplay. We like how you enter the missions through a drop pod thing. Halo ODST anyone. It's a literal drop in. The weapons have heavy impact. Like the shots really land on the enemy. Definitely liking what looks like a high number of enemies. Raptors do work together after all. We just hope the missions have a good amount of variety and that they really make full use of what they can do with this game. Get creative and make sure the game is difficult. A game that anyone can beat is lame. e have't had a good dinosaur game like this that has serious action in a long time. Do this right developers. We really hope there's more than just snowy based or effected areas. Get creative. We hope for a bigger roster of dinosaur enemies too. If you ran out of ideas then contact us.
Overall Second Extinction looks like a very good game. The graphics are looking good so far so imagine what it will look like complete and on the Xbox Series X. We are liking some of the environments so far and the effects like the mist and lights. The developers 'Systemic Reaction' have done a great job so far We at X35 Earthwalker are looking forward to this game. Now second extinction may have mutated dinosaurs but those are a complete joke compared to… the 'Earth Walk!'
For more information check out the link below: