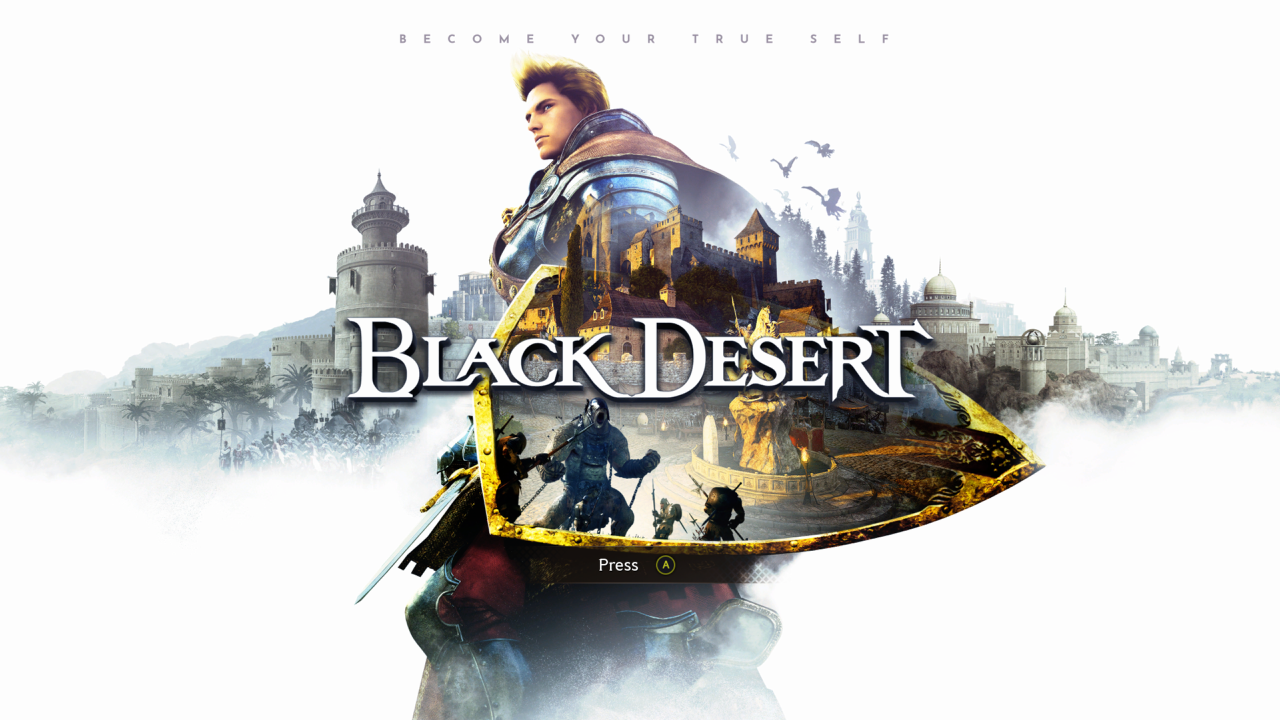 Black Desert is a massively multiplayer online role-playing game (MMORPG) developed and published by Pearl Abyss. Black Desert came out on Xbox One, PS4 and PC. This is just a first impression G-blog post. We saw this game time ago but didn't really feel like it. We decided to try this game for the first time and so here's a quick view on some stuff. Let's take a look.
So Black Desert didn't get off to a good start. Choosing our name was a task in of itself. It gives us set of rules concerning our names. Examples would be 3-15 characters, A-Z, 0-9. They mentioned how to use underscores etc. We tried to do 'X35 Earthwalker' at first but off course that has a space. So fine. We added an underscore but it still wouldn't allow it. We sat there and tried to get the name to work from capital letter to common letter. We had to change the name to 'X35' only. At one point we didn't know why we couldn't use our name. We were ready to uninstall the game right there. The game's mantra or slogan or whatever is "Be your true self". Yet we can't have the exact name we want. Our name isn't a swear word, curse or racial slur. Very lame.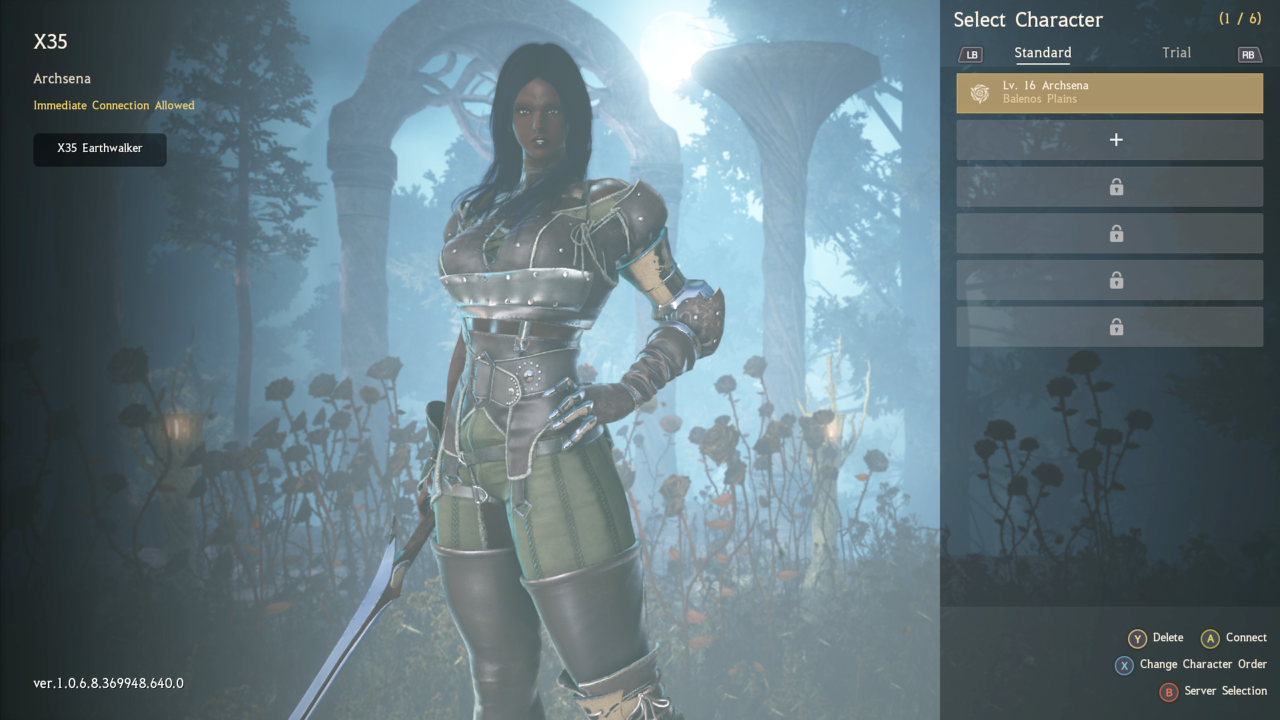 Now character creation is very loaded and we would say the most detailed character customisation of any game. You can literally adjust (slight) both butt cheeks, individually. Not joking. Most games especially if you have a female character forces you to have a pancake flat butt when in real life that's mostly not the case. Body parts are split into smaller sections which you can just individually to be more precise. They need an undo option for each action you take though as if you restore to default it resets everything in that category. Now why are we a female? The game forced us! Let us explain. We wanted the Dark Knight class. It's only available for female characters. This is the same stupid thing that Tera did concerning the Gunner class. Only women can be Gunners even though the gun itself is BIGGER than the woman herself. BFG 9000 from DOOM is nothing compared to the gun in Tera. Now we know it's a fantasy game where anything can happen, logical or not but the dark knight is literally all about wielding a big tall two handed blade. It would be heavy. It's naturally a style more fit for men. Don't give us that sexist feminist nonsense. It's a fact that some combat styles are more suited men or women. We can say from experience as X35 Earthwalker has many years of martial arts training and worked with weapons. Can you imagine a regular lady outside a supermarket swinging the blade of Siegfreid from soul calibur? Exactly. It's north same size but you get what we mean. Even so we couldn't have a male character as the Dark Knight class which was stupid design and Black Desert's one huge flaw in character customisation. Again the slogan is "be your true self" yet we can't pick the character we want. Fail.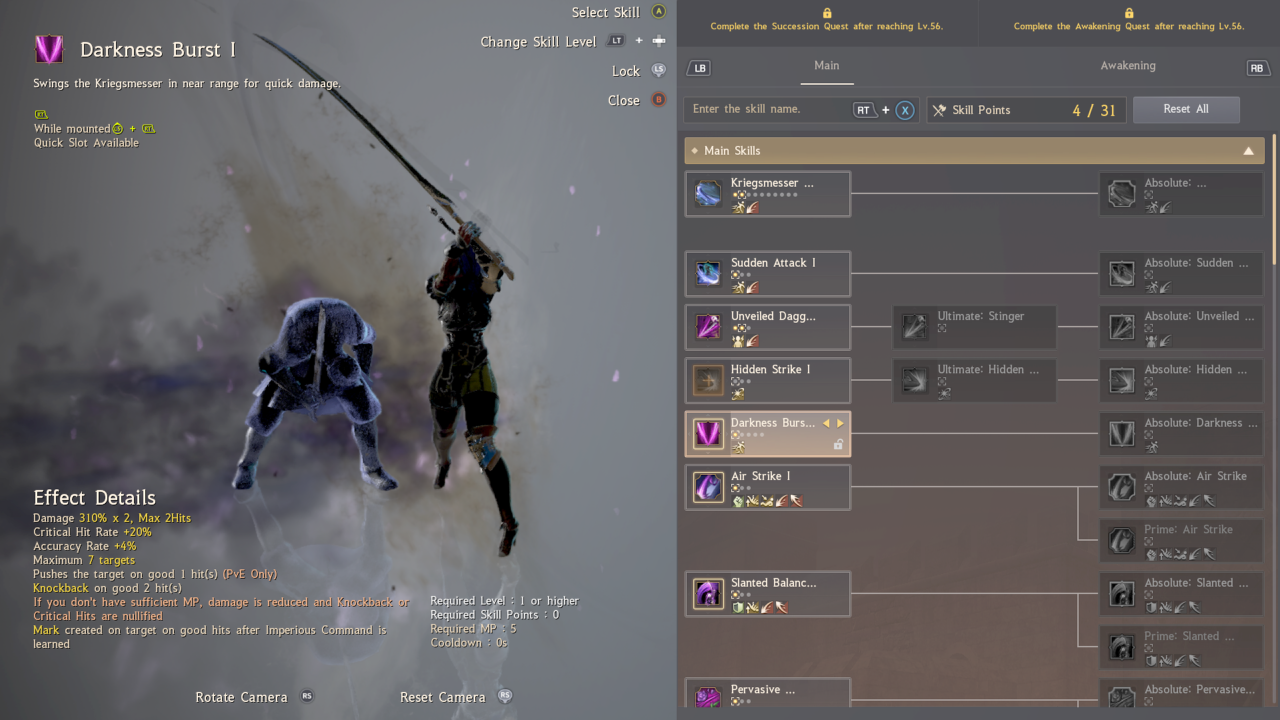 Black Desert isn't clear from the start. It's actually the most confusing of all the MMORPGs we have played. Especially after the trouble with choosing our name, not getting the character we want we are already fed up at this point. You eventually get use to the controls and how interacting with characters work. Understanding where to go and finding your quests wasn't easy but even that eventually makes sense. Now the best thing about Black Desert hands down is the combat. The game nailed this. So let's break this down. You have full control of your character, everything is real time and you can run and sprint real fast making travelling easy. Everything is fast paced, very fast paced. You run up to an enemy, they get alerted if they notice you, they try to attack you can move fast and dodge and get into your preferred range. Definitely feels good for sure. The combat can get exciting.
The Dark Knight class in Black Desert is what we imagined it would be. We are so happy with it's designed from a combat perspective. You have like maximum mobility. You can dash and zoom bot forwards and left/right at fast response. The attacks are strong, deliver bleed states effect and even launch enemies into there air. Dark Knights can also use magic as well, even a projectile that stuns enemies. We haven't even unlocked everything yet but already we found our style. It's fast, strong, melee and range with high mobility. We don't even care what the other classes have to offer right now. We even faced our first boss, a big red nose monster and we successfully dodged and returned attacks of our own. We dominated that boss. We loved the Dark Knight at sight because it reminded us of Caius from Final Fantasy 13-2 (The story so far). He used like dark chaos energy for attacks and buffing himself. He was fast, deadly blows and had great mobility. Caius was incredibly powerful. We feel like him, an inferior him but we will only get stronger. The combat is the best part of Black Desert right now by far without question.
Overall Black Desert looks like a very good game. Yes we bashed it pretty hard at the start of this G-blog but those are things at the start and once you get past them and start to understand how the game works you then don't have as much problems at all. We are only level 16 and have only recently played so there's way more for us to discover, learn and do. So far we are having fun.
For more information check out the link below: