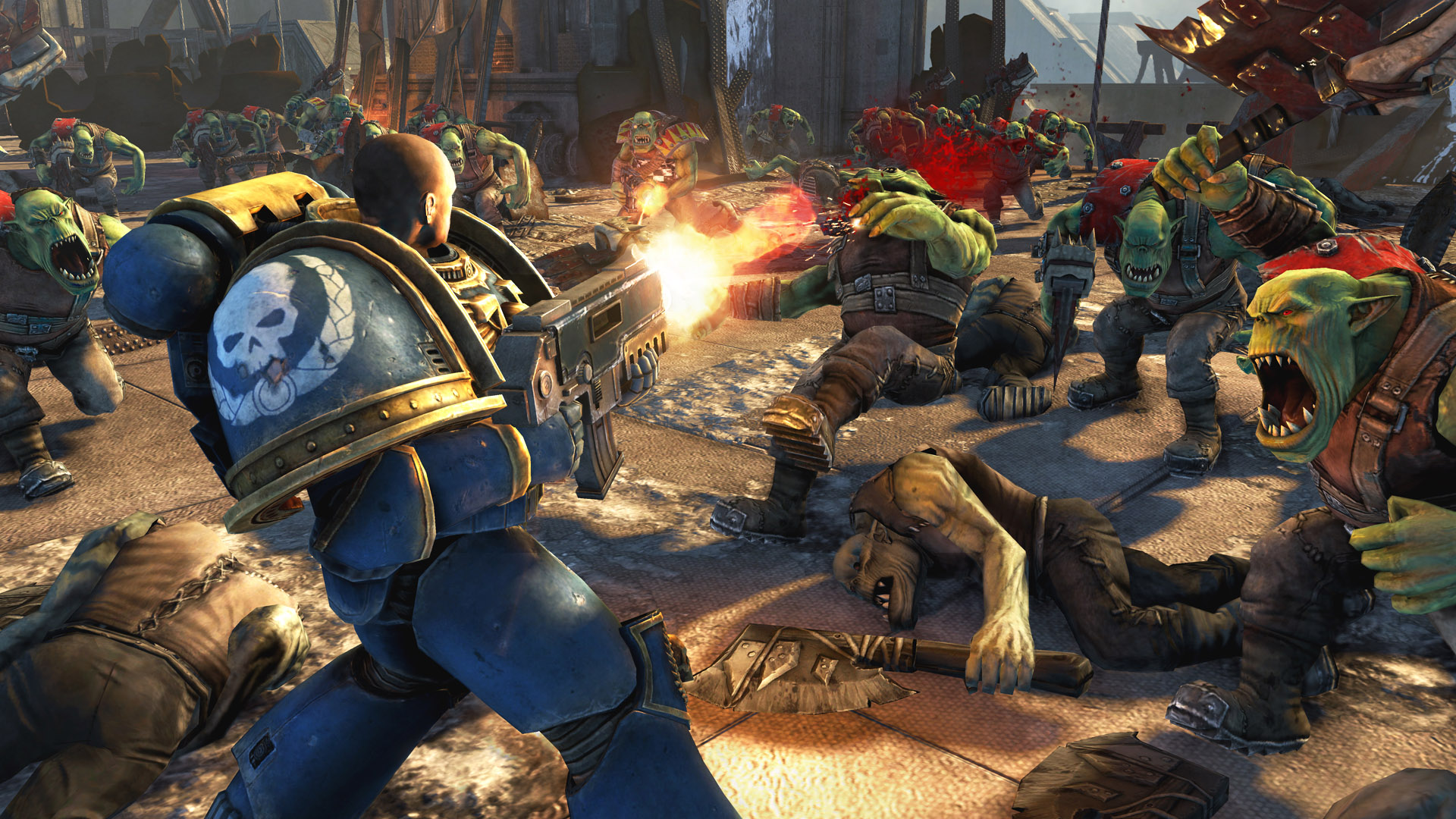 Warhammer 40,000: Space Marines is another game from X35 Earthwalkers past that he has recently begone playing again. Warhammer 40,000: Space Marines is an action third person shooter video game that was released, we believe, September 6th 2011 for Xbox 360, PC and PS3. This game is part of the Warhammer 40,000 universe and was developed by 'Relic'. In this game you play Captain Titus, a space marine of the 'Ultramarines'. A soldier who is well seasoned and a veteran of many battles already.
From when you start the game, you see a conversation by a screen with text. It finally mentions that they are sending the Ultramarines. You then get to see three Ultramarines preparing to start a mission. From the moment you see them you can tell that these guys aren't your average troopers. They are big, well armoured, fearless from the looks of it and that they get the job done. They jump of a ship and literally land right into the action, aboard a large battle ship commanded by Orks. A giant war is going on between the humans and the orcs. Basically a huge horde of Orks has invaded an Imperial Forge World called 'Graia'. Only an the power of an ultramarine will make a difference here. The humans are being slaughtered and backed into corners. Straight from the tutorial you could see what kind of game this was and it was exciting from the beginning. When you first start slashing up those horrible Orks with your combat knife you felt like a unstoppable monster. The shooting felt real good as the bullets look like they hit very hard, almost like explosive rounds but when you do your first execution of an enemy after stunning them, you just want to do more.
You have a rechargeable shield which we believe is best for protecting you against gun fire. Once the shield is down, your health starts to take the hit but if you want to regain health then you have to execute an enemy in brutal fashion. The main problem we see with this is that you have to know when to execute as even while you are executing, the enemy can still attack and harm you meaning if too low on health, you could die in the process of an execution which we hate. It is realistic if you think about it. Would you just stand a wait for your enemy to finish of your ally in style before attacking. No! We'd pop that guy in the head but it's a video game and we prefer fun majority of the time. The melee system in the game is what really caught our attention as we are use to shooter games were you have the simple one click melee where you hit with your gun or fist and that's it. As a space marine it's very different. It's Prince of Persia or Dante's inferno with the combos. You can do the simple repeated melee strike where each hit does more damage than the last or you can mix it up producing powerful kicks, charges and even a ground pound stomp like attack which sends enemies flying back in cool slow motion action. The combos and moves also change depending on the melee weapon you have.
There are options for when it comes to killing your enemies. You are firstly introduced to the combat knife but soon later you will come across the 'Chainsword' a sword with chainsaw abilities. There is also the 'Power axe' which cuts throw metal and anything really with ease. Scariest of all is the 'Thunder hammer' which is a heavy and powerful hammer that utilises a power field. It makes you feel like 'Tartarus' from Halo 2, smashing everything and everyone. If an enemy walks past, you smash them. If an enemy is chewing gum, you smash them. If an enemy even looks at you wrong, you better believe you smash them. It's that simple. Pick your weapon wisely for the fight as they do have their strong points and draw backs. The guns will remind you of 'Gears of war' with the d-pad to select weapons and how they feel, which is definitely a good thing. You start of with the 'Bolt pistol' which fires heavy rounds into the enemy but aim for the head for that extra damage. The 'Bolter' which is the standard assault weapon for space marines, firing explosive kinetic rounds in automatic fashion. The 'Plasma cannon' is the gun you use when something big needs to be put down quickly. There are much more weapons including a sniper rifle one as well. You can hold four at a time so have fun.
The Orks are the main enemies of the game and they are quite the enemy indeed. Orks are fearless, cocky and aggressive. There are two types of Orks to deal with: ranged and melee. At the start of the game you will encounter very small ones that rush you in numbers to bring you down. They normally work alongside the bigger, main Orks which rush you to strike you with heavy hits. They are good at making themselves a harder target as they dry to side step out of your line of fire as they make their approach. There are bigger Orks that carry a large club like weapon and will charge you down and try to beat you death with it. They take a lot of shots but you get rewarded with a brutal execution to finish them with in the end. The Orks with guns keep their distance and fire constantly at you with very good accuracy. They may show up from high places with the elevation advantage. Who said that all Orks are stupid. They are good at killing in this game. Eventually you will come across even more Orks or creatures that are used by the Orks, one of which is a little dog like creature that reminds us of the 'Slogs' from 'Abes Oddysee'. They have explosives attacked to them and they will run at you, get close and go boom. Smart gamers will shoot them when they are near to the enemy to give them a nasty surprise. Never forget that the enemy is merciless and very aggressive. They will charge you, surround you and beat you to death and on harder difficulties that becomes a realistic threat indeed.
The graphics of the game were very nice for it's time. The battlefields all look worn torn and nicely designed. The voice acting was very good and the sounds are definitely appropriate. Effort went into this game and it shows. I would say that the main downside to the game was that it didn't have the best story. I'm sure it makes more sense to the fans of Warhammer 40,000 who know exactly where this game takes place in the timeline but from within the game it was not as awesome but still interesting at times. The gameplay was fast, action packed and bloody.
We haven't had the chance to play the multiplayer as when we got the game it was long after when it was released, as a result there isn't anyone on multiplayer anymore, which is a shame. The game was said to have very good multiplayer though with multiple game modes.You could either be a Space Marine squad or Chaos Space Marine and battle it out in 8 vs 8 matches. You could unlock new weapons and armor to customize your space marine. There were three classes: Devastator, Assault, and Tactical. Each functioning quite differently from each other. Must have been very chaotic.
Overall Warhammer 40,000: Space Marines was a great game and still very fun to play at times. We believe 'Relic' did a great job with the game. Controlling a space marine is fun.
For more information check out the link below: