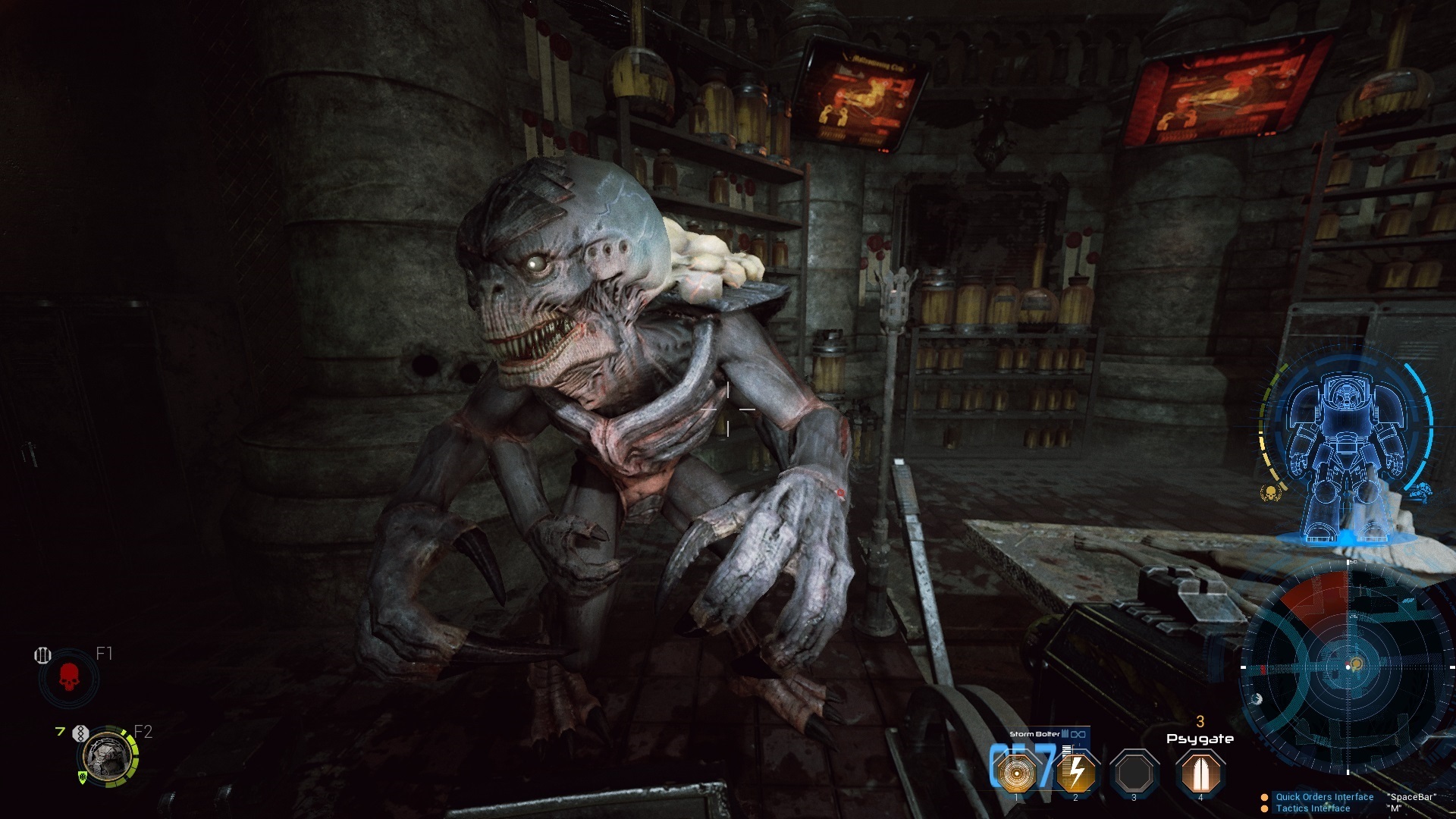 Space hulk: Deathwing is a new first person shooter game developed by 'Streum On Studio'. It's coming out later this year for the Xbox One and PS4 but it's already out on PC. Now Space hulk: Deathwing is the latest from the Warhammer 40000 universe. This game looks serious already. Let's take a look.
Now the Warhammer 40000 universe doesn't play around. Brutal bloody battles with mythological creatures like orcs. Death everywhere etc. The last Warhammer 40000 game that we played was 'Space marines'. Space hulk: Deathwing is no exception, instead it is better and more powerful. Basically players control a member of the Deathwing, which is the 1st company of the Dark Angel Space Chapter. Who is known as one of the best fighting forces of the imperium. so basically we control a guy who most do not want to mess with. The fight takes place in a space hulk which is basically a many debris, ships and whatever all forced together by warp storms to form a large area. Some space hulks can be larger than moons.
Space hulk: Deathwing has the Daethwing face off against the Genestealer. These monsters are terrifying as they are numerous. They are feared across the galaxy. and for good reason. Off all the Tyranids, the Genestealer is the most ferocious of all the alien specifies. They are highly intelligent, have powerful claws, lightning reflexes. it gets worse. They also have telepathy and so can function independently of the hive mind. Just one is said to be able to put a whole inhabited planet's population in deep danger. Now this sounds like a major league battle but will the gamers be ready for this.
Now players don't just control any old Deathwing space marine. We are a librarian who can master and use the destructive power of the psykers. Even better players are the leader of the squad. Can give orders to your drops which does straight away remind us of the command Gears of War 1 where and how we could give orders to our team. In Space hulk: Deathwing we can make our soldiers: heal teammates, target and destroy an enemy, create and hold choke points, get cover fire and even hack doors. I though this was Warhammer 40000 but the door hacking reminds me of XCOM 2. This all sounds very interesting.
As you go through missions, you gain experience which allows you to get new abilities, new items and new skills. This is important as there are different classes for players to choose from. All are different, have different abilities and play different from one another. There are: assault speciality, apothecary, tactical speciality, heavy weapon speciality and librarian. Many cool new additions to the gameMaster and use some crazy abilities.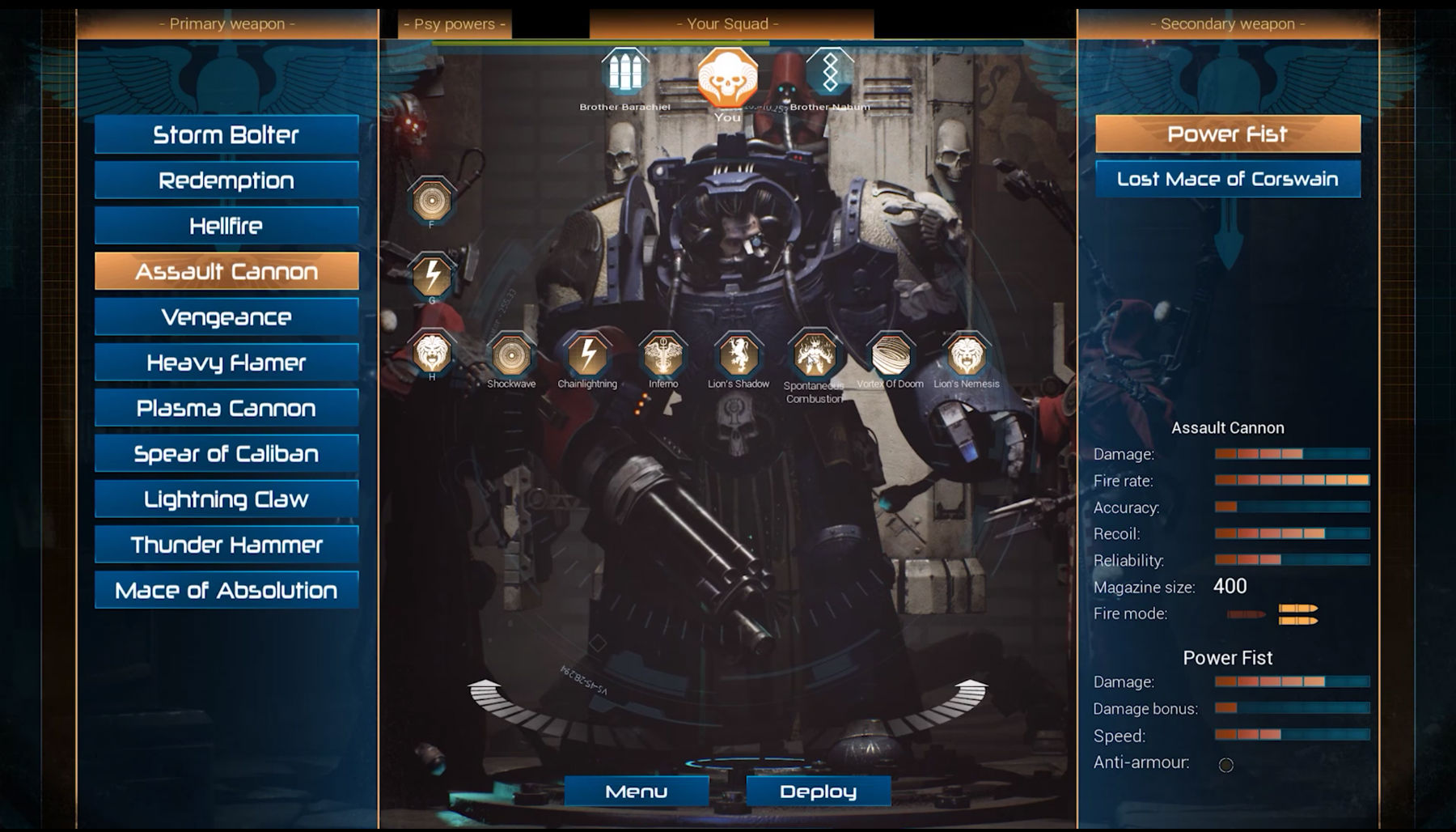 Space hulk: Deathwing is a co-op game. That's right. you heard us. You and three of your friends or family can join you in your desperate fight against the Genestealers. More explosions and more death. So imagine having multiple friends and then all of you use a different class and master the abilities to completely own everything.
We checked out out some gameplay and we can say that Space hulk: Deathwing is a success. The graphics are definitely the best it has ever been for Warhammer 40000. We loved how smooth the combat was flowing nicely. The enemies are more alert and do respond when they find a body. There are many weapons like the thunder hammer, fore sword, vengeance and redemption. Pretty interesting.
Overall pace hulk: Deathwing has excellent graphics, awesome musicians, tunes, etc. It's a new graphic style that no one has seen from another Warhammer game. Everything seems real good eight now. The developers 'Streum On Studio' did a fantastic job with this game. This game might be worth checking out. Now the death wing might be in a vicious war with the Genestealder but nothing can steal…. 'The Earth walk!'
For more information check out the link below: