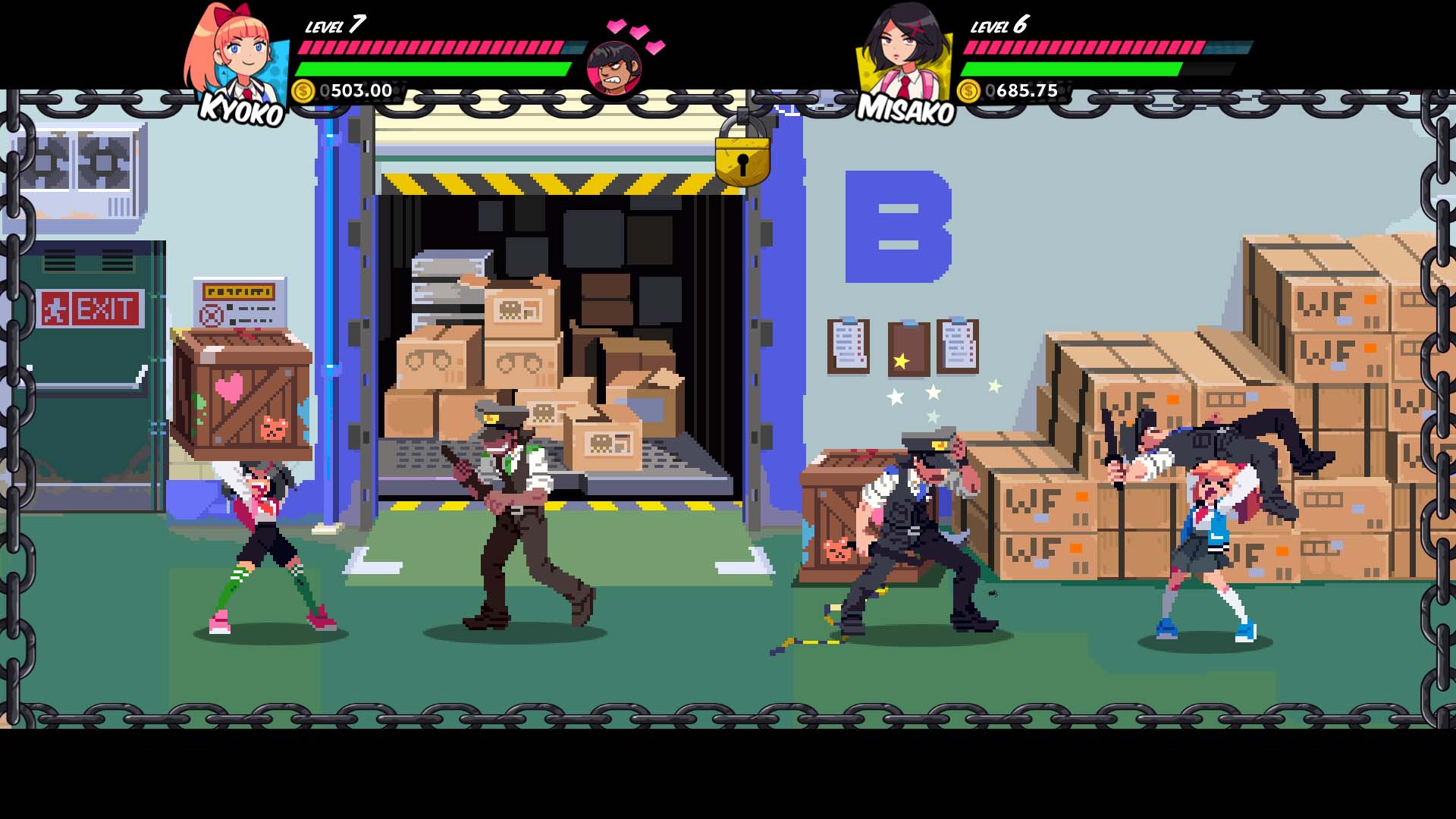 River City Girls is a new actin brawler game developed by 'WayForward' and 'Arc System Works'. River City Girls is said to be coming out the 5th of September 2019 on the Xbox One, Nintendo Switch, PS4 and PC. This game is suppose to be a whole lot of butt kicking. Let's take a look.
In the world River City Girls, two young ladies called 'Kyoko and Misako' where just going about their day when they learnt that their boyfriends got kidnapped. How they got kidnapped was serious business but typical. Basically the both of them were just strolling down the street when a van pulled up next to them and dudes jump put with bats, snatch up the two boyfriends and gave them a real beating. Bruises and all. Honestly they could have prevented that but seemed to caught off guard and slow to react. Also the guys who jumped them looked like police or security. Since they didn't have a police van it's safe to say it's a group that dress up like officials or something like that.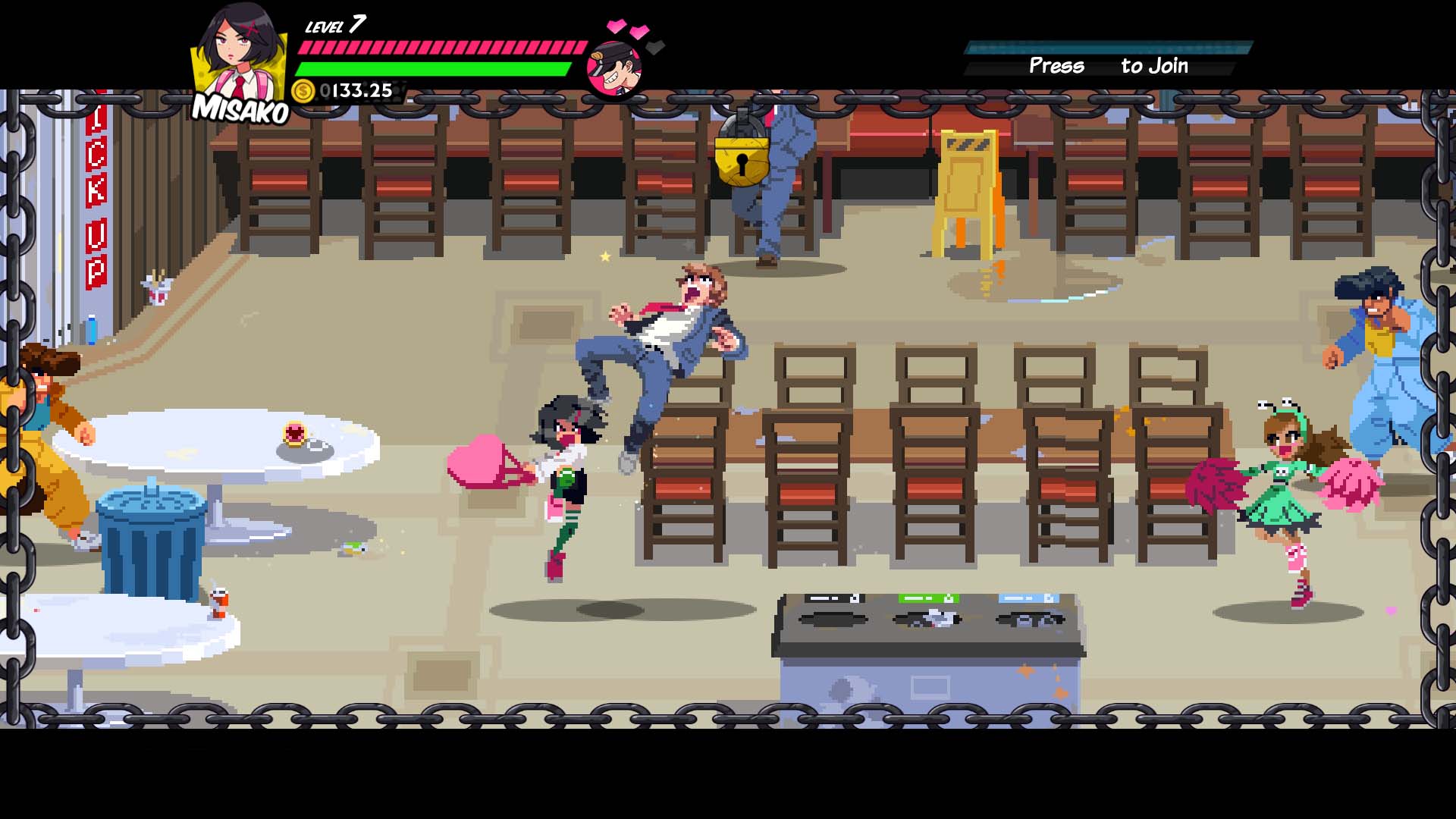 So what do young ladies like Kyoko and Misako do in City River Girls? They called the police and left it to the law… Just joking, they grab a bat, put on a knuckle duster and head out through the 6 regions of River City kicking all kinds of buttery themselves. Punches, kicks, throws, hurling objects and more. Now when you see the graphics style of the game and the gameplay, some gamers will be reminded of Scott Pilgrim vs the world: The game. They are both arcade style, olden time beat em up games. Very 16-bit looking with the health bar, money and score. This type of style can work very well. Scott pilgrim vs the world: the game certainly pulled it off, so River City Girls can too.
So yes, players must fight there way through. Enemies will show up and try to take you out. Just beat them up and keep it up. Games like this are straight forward and easy to understand and get on with. We are glad to hear that there is strategy to this game in terms of the combat. You can counter attacks which off course means timing is required to pull it off. There are different combos for players to use and master so variety seems to be present here. Off course there are special attacks and we hope they come in good variety too. What is different from Scott Pilgrim vs the world: The game is that there are side quests and the ability to recruit fallen enemies as allies in combat which is definitely awesome but how did the girls do that. Did the fallen foes respect how they got beat up and decided to join?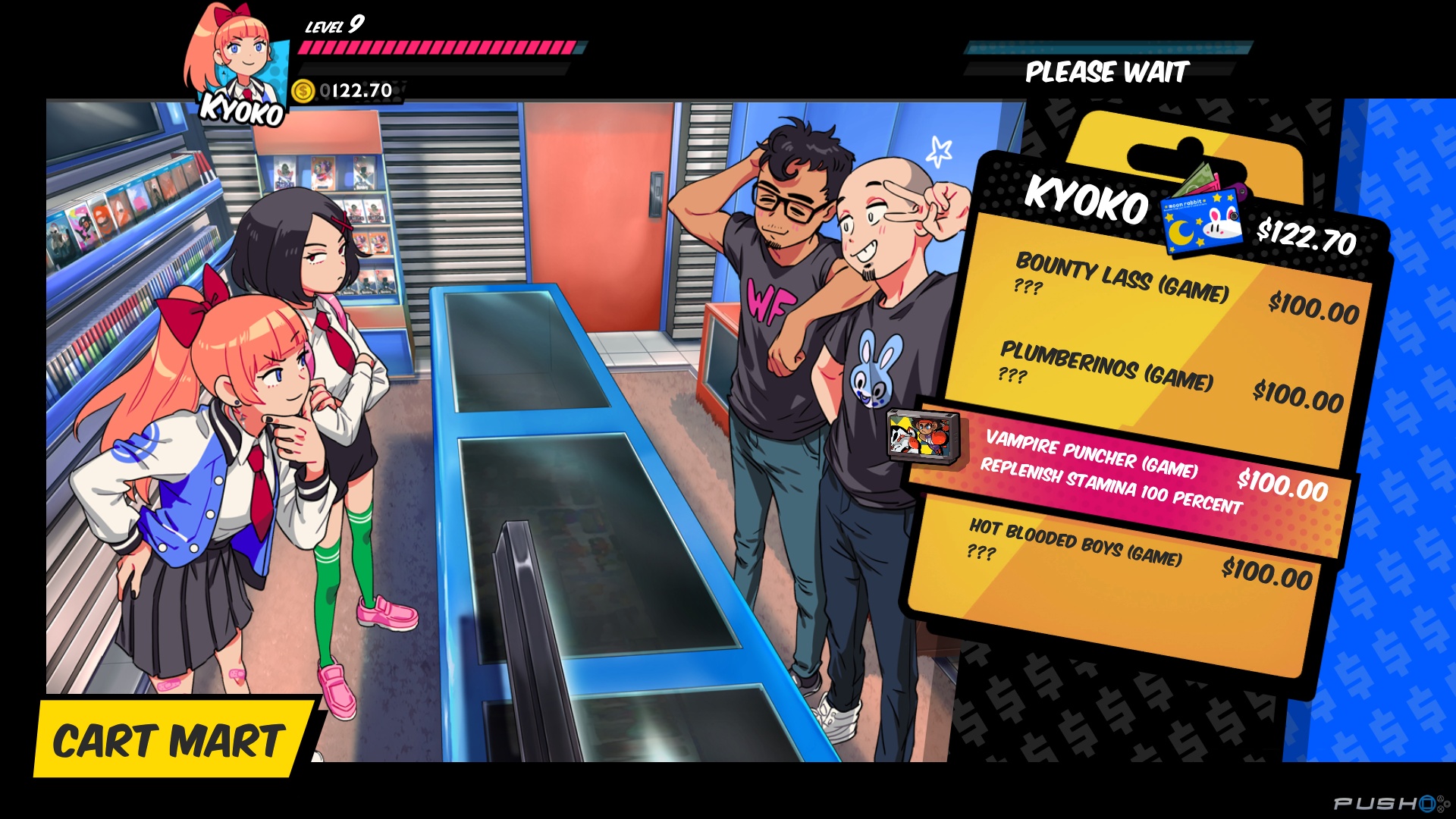 Now in terms of music we know that River City Girls have synth-pop soundtracks which happens to feature Chipzel, Megan McDuffee, NateWantsToBattle and Christina Vee. Don't know any of them. The game also is going for that fun comical kind of style too as there are anime like cutscenes and the intermissions have a manga style to it. From our experience we can tell that the boyfriends will be playable characters which will be an awesome move. Also you can buy items, gear and more in order to boost your characters stats. The first time we played Scott Pilgrim we didn't know how to boost our stats. It was by accident so we are glad that River City Girls makes that more clear.
We checked out some River City Girls gameplay and we saw quite a bit. The trailer does a good job. Cheerleaders are enemies, dudes who have Elvis hair, regular dudes in school uniform and the guys who have the same uniform as the guys who kidnapped the boyfriend. Fight in the streets, the arcade, school areas like the sports hall and more. One thing we noticed is that the game does look too easy right now. Scott Pilgrim vs the world: the game eventually got too easy and gamers ruined it by continuously spamming the special move with Scott making even the final boss a joke. So River City Girls needs to make sure the game is a challenge.
Overall, River City Girls seem like. good game for now but it hasn't made us want to play it yet. It's currently interesting, looks fun and seems we do want to know more about this game. We know there are gamers who will find this real cool and that's good. The developers 'WayForward' and 'Arc System Works' have done a good job with this game. Now River City Girls may have butt kicking girls but nothing kicks butt more than… the 'Earth Walk!'
For more information check out the link below: