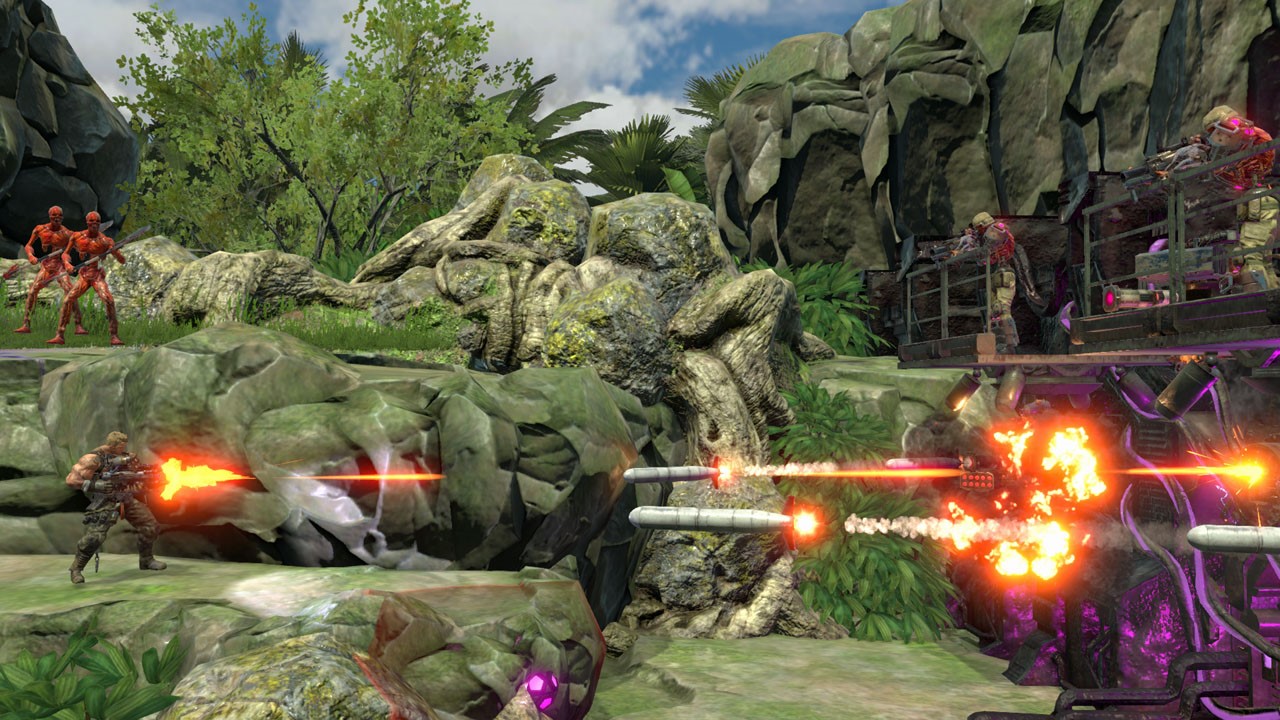 Contra: Rogue Corps is the new twin stick third-person action game developed and published by 'Konami'. Contra: Rogue Corps is said to be coming out the 24th of September on the Xbox One, Nintendo Switch, PS4 and PC. Contra is a famous game that many enjoyed in the past. It's back but with some changed. Let's take a look.
Now the action that you see in Contra: Rogue Corps takes place several years after the alien wars. Contra: Rogue Corps is all about a military… well former military group who makes their living and survival through being bounty hunters and finding treasure. They are located in what's called the 'damned city'. Now in a place like this survival ain't an easy thing.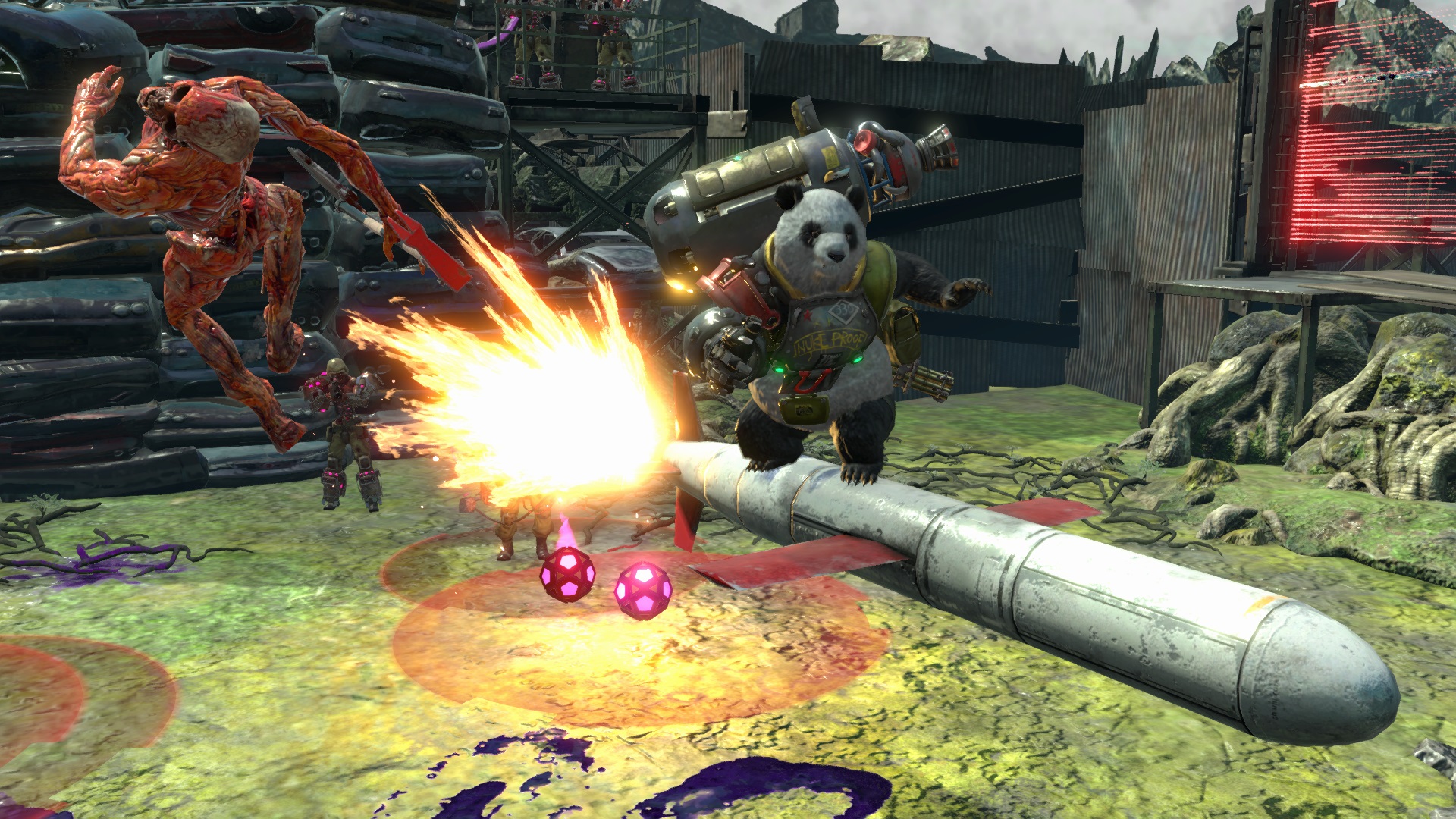 You need fast reactions confirmed for Contra: Rogue Corps. If you take 12 years to turn around or your one of those adults who still can't tell their left from their right then you'll be dead. Now since this is Contra you already know it's all about many weapons, funky ways of firing and bullets everywhere. Enemies are in abundance and they don't stop coming.
There is online multiplayer in Contra: Rogue Corps so bring in your friends and mow down all your enemies. Kill everything you see with the different characters. There's Headcase who can turn his hand into a giant drill, Cultured who looks like a alien with cybernetic augmentation. Killer who fused with an alien and now destroys without mercy. Cuddly who was a scientist but now a bear with guns. Don't forget the ace pilot… Life-line from Apex Legends. Just joking but seriously Aero Pilot looks like a young Life-Line, before she joined the Apex Games.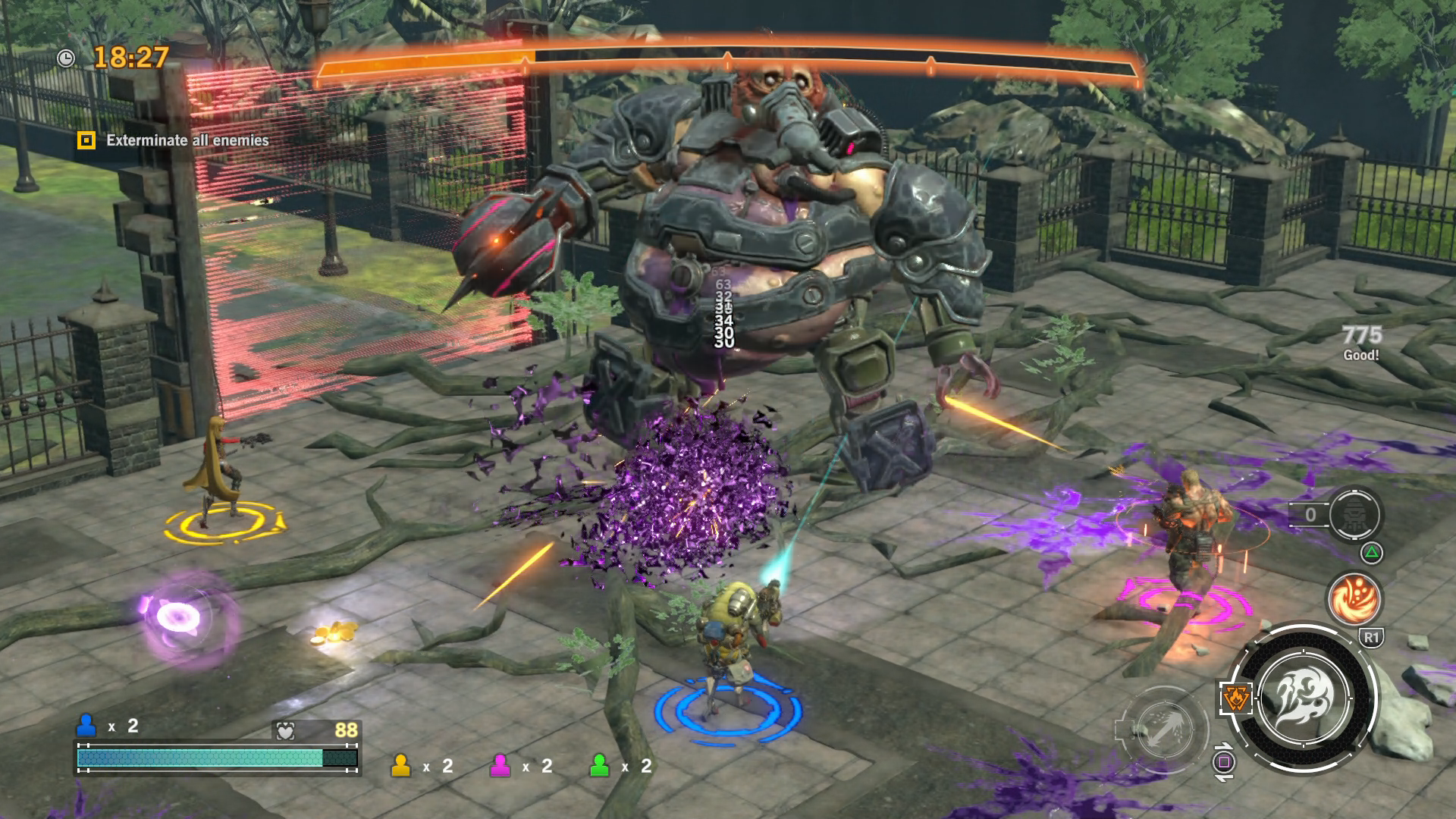 Some people complain that Contra: Rogue Corps isn't like the original Contra. The thing is people need to stop complaining. How about no Contra game at all. It's still all about running, firing, destruction and numerous bullets. You can even jump on a missile and drive it yourself into a group of enemies and destroy everything. It doesn't have to be a 2D game with the same type of enemies. There are different areas and fights going on in the Contra world. Things are different in different parts of the world. So yes, Contra is back, sort of but it's still a contra game, get over it. There is some 2D action moments as well. Games need to change and try out new things to see what works.
We checked out some Contra: Rogue Corps gameplay and it's basically what we expected from a Contra game. It's crazy, over the top and there's giant bosses too. Aliens are always crazy anyway. Just seems like simple fun, nothing deep or serious. Just blasting enemies for pleasure and fun. We aren't a big fan of the graphics though. That needs to be improved. Other from that we think things look fine for now but we do need more information concerning the game.
Overall. Contra: Rogue Corps seems like a good game. It's good for what it's trying to do. We hope there is good gameplay depth to it and not just run around blasting stuff. The developers 'Konami' did a good job with this game. We at X35 Earthwalker don't see a problem with it. Now Contra: Rogue Corps may have made some changed but one thing that doesn't need changes is… the 'Earth Walk!'
For more information check out the link below: