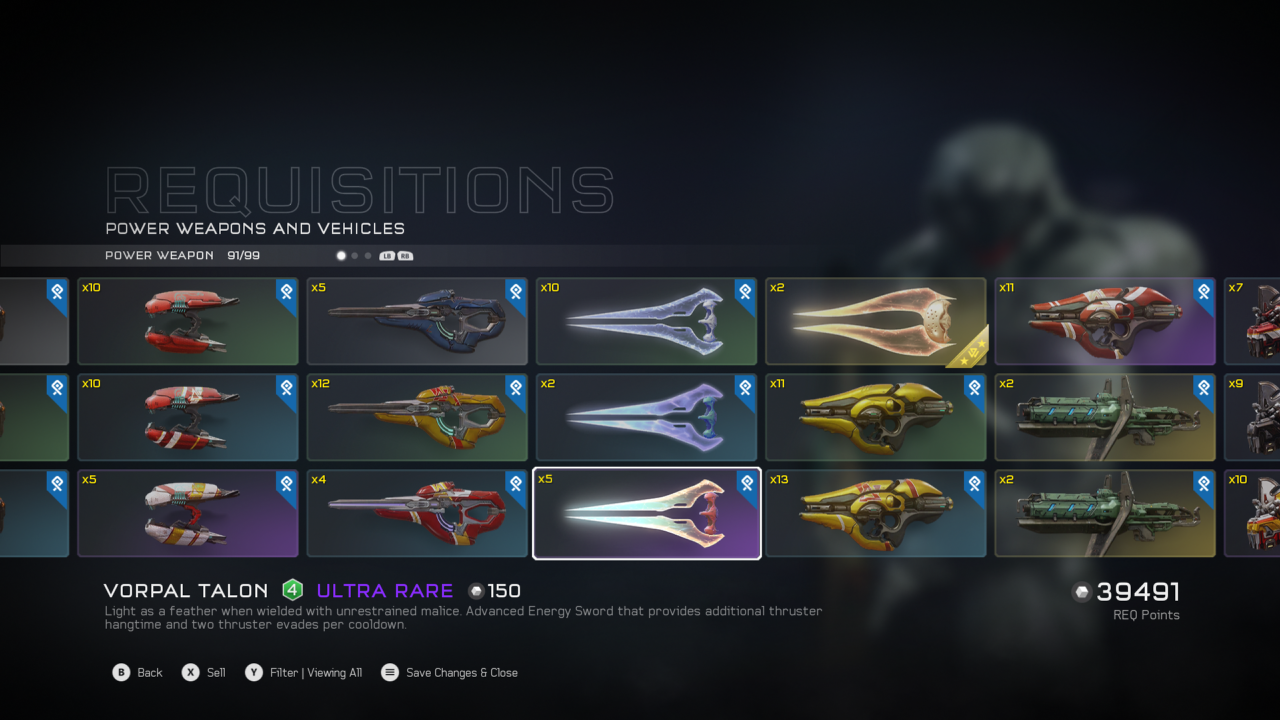 Warzone in halo 5 Guardians is great fun. It's also big and very chaotic at times. Warzone isn't like other games. Normally in games like gears of war, your threats are right in front of you. In Warzone your threats are from a mile away, right up in your face, from below and from above. You could be sprinting across the map just to run into a shotgun wielding spartan. You could be sneaking around the edge of the map and then all of a sudden you have a giant hole in your head thanks to a sniper. You may be on a killing spree and having a great time until a random banshee out of nowhere bombs you from above. It's not fair at times but hey, that's Warzone. Now many have talked about some req weapons as rubbish or useless and we at X35 Earthwalker don't think so at all. Off course there are some req weapons that even we don't use but we will talk about some of them.
The 'Needler' is very underrated. We have hardly seen people use this weapon. X35 Earthwalker said, "The regular Needler is a good gun but the tier 2 'hail storm' is extremely good. It fires faster than normal, with more ammo and the needles track enemies much better. You don't know how many times I have gotten double and even triple kills with this weapon. There was even a time when I got an overkill on the 'Spire' map fighting for control over the spire. You only need a few needles to make them explode and they die fast. I have even got a killing frenzy from using the whole gun and then grabbing another one. You have to be smart though. Don't just run up to enemies and start spraying, chances are, you will die. You must fire only a small amount of needles for each enemy and change targets fast. If you just run up to one enemy and fire, you will always kill them (unless you miss) but if you run up to two then it can go either way. When it comes to bigger groups… be smart."
The 'Saw' use to be bad in our opinion and rightfully be ignored by spartans except for the tier 3 'the answer'. X35 Earthwalker said, "I never use to like the saw at all. Diamondz L45 and I use to love it in halo 4 but here it is too weak. There were times when I would beat someone using a saw with an 'Smg'. Like why and how. That isn't right. Then there was a time where someone with an smg beat me when I had the saw but lately I think the halo 5 update increased it's power because know it does a great job at destroying shields and applying pressure to vehicles. Just by playing smart and picking my targets carefully, I was able to get killing sprees with the saw. The tier 2 saw 'appetite of destruction' is even better. I feel like it does ever so slightly more damage but the extra ammo and clip size does make a difference. When you have that gun do not be afraid to attack light vehicles like 'wasps' and 'banshees' as the drivers always panic when they receive constant rapid damage. They crash into walls and whatever trying to escape. Never be afraid to use that ammo. By the way, it isn't a gun that allows you to take on two at once, remember that."
The 'Sentinel beam' has been dissed by almost everyone. No one has anything nice to say about this req weapon except that it is cool because it fires a laser. X35 Earthwalker said, "The Sentinel beam is not that strong at all but it does have one awesome feature that many do not know about. This req is like super effective against the wasp. This makes me so happy as people love to use that thing all the time. When I for the first time used the sentinel laser against a wasp it literally burned up before my eyes. No, it wasn't a already damaged wasp. It wasn't smoking or on fire. I am not sure how effective it is versus other vehicles but I believe it's an anti vehicle type weapon but that doesn't mean it's not good against Spartans. When using it on enemy players they tend to panic because of the laser and constant damage. It works pretty much every time. So you literally have to experiment with this weapon."
The 'Plasma pistol' is a powerful weapon that many just seem to avoid using because they most likely believe that another weapon would be better and maybe so but never underestimate this req weapon. X35 Earthwalker said, "The plasma pistol is one of my favourite req weapons because of how good it is and how strategic it is. This weapon especially the tier 3 plasma pistol 'Void's tear' makes everything easier. This finishes enemies so quickly. It is anti-vehicle as it stuns and disables vehicles allowing you to take enemy vehicles. It's best feature is that you can noob combo enemies. A noob combos is when you use a charged shot to drain a spartans shields and then headshot enemy straight afterwards. This has brought me so many kills before. Matter of fact on the level 'battle of noctis' I got so many kills because I would catch many out in the open with noob combo kills. The range of the plasma pistol when using smart link (basically zoom) is ridiculous. You can lock on and shoot enemies from so far away that it's funny at times. Find the right spot and equip a long range precision weapon and you'll have a great time."
The 'Gunfighter magnum' was a cool addition to the load out reqs. The pistol looks different and fires differently. It isn't the best pistol at all, matter of fact we believe it is the worst load out pistol but once understood and used correctly, it may give you the edge. X35 Earthwalker said, "This pistol does less damage than the regular pistol but it has a much higher rate of fire. This weapon at least gives you more chances to hit that head shot. This gun can actually kill enemies really fast but you have to make sure not to miss any shots though. If all the shots hit, then the enemy drops really fast. It feels like a revolver from an old western movie with a quick draw and reload. Thanks to the high rate of fire the shield of the enemy will fall quite fast meaning it's good for melee kills. Get sort of close to the enemy and rush them while firing as fast as you can, then when close get your fist into their face. Simple right? At the end of the day you basically just have to practice with this weapon."
The 'Energy swords' have been claimed as useless by many which we say is ridiculous, their reason isn't good enough. Off course if you run across the middle of the map, in the open, you will get gunned down by snipers, battle rifles, dmr's and more. Use strategy spartans. X35 Earthwalker said, "The energy swords are excellent reqs and very powerful in the hands of a strategic and patient spartan. Just because you have a sword doesn't mean you have to use it and run around with it all the time. Play normally for a while and wait for the opportunity. I have had multiple moments where I zoom into an enemy base at the right time and get over kills, kiltrocity and other multi kills. Swords naturally give you a speed boost so abuse that ability. Also by using power up reqs you can change the type of attack. Take things slow with active camo or charge through with speed boosts and a overshield. You could do the same with hammers but swords don't slow you down as much plus swords have the natural speed boost."
Off course there are some reqs that we truly believe aren't worth using like a regular boltok and supressor. Their higher tier versions are much better and have low level requirements to unlock so there is literally no reason to use it. That's a blog for another time though. Over time we will be uploading more clips of game play by X35 Earthwalker and friends on this website overtime so feel free to check them out to see some action. Pretty much every req has some sort of use and never just write something off because others are saying something about it. Be the one who makes it work. That's what we do but whatever you do… make sure it's at least the 'Earth Walk'!
For more information check out the link below: