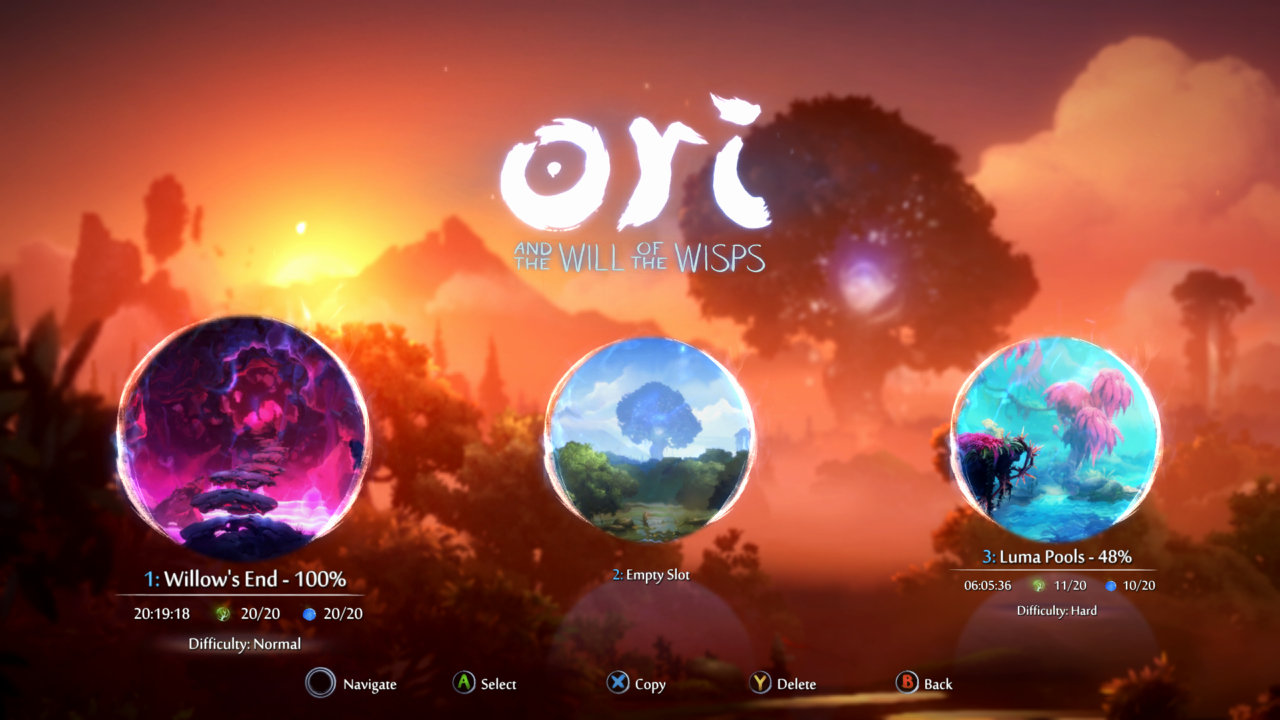 Ori and the Will of the Wisps is an action, adventure platformer game developed by 'Moon Studios' and published by 'Xbox Game Studios'. Ori and the Will of the Wisps came out in 2020 so it is new. It is an Xbox launch exclusive but later came unto the Nintendo Switch. By the way Ori and the Will of the Wisps is perfect for Nintendo Switch. We wanted to write about this game and give our views on it since we are the best after all. Let's take a look.
Now straight away let's just say that Ori and the Will of the Wisps is one of the best games ever made and we aren't crazy for saying this. So many critics and reviewers have overwhelmingly rated Ori and the Will of the Wisps incredibly high. Here's some examples: Games Beat – 98/100, The Games Machine – 9.8/10 and two gave perfect scores: Daily Star – 5/5 and Hardcore Gamer – 5/5. The lowest is 9/10 and the average is like 9.5/10. There was one reviewer which was clearly biased in favour of the PlayStation gave it a 8.5 so we don't count or care about that reviewer. So overall everyone believes Ori and the Will is an excellent game with some saying it's a perfect game.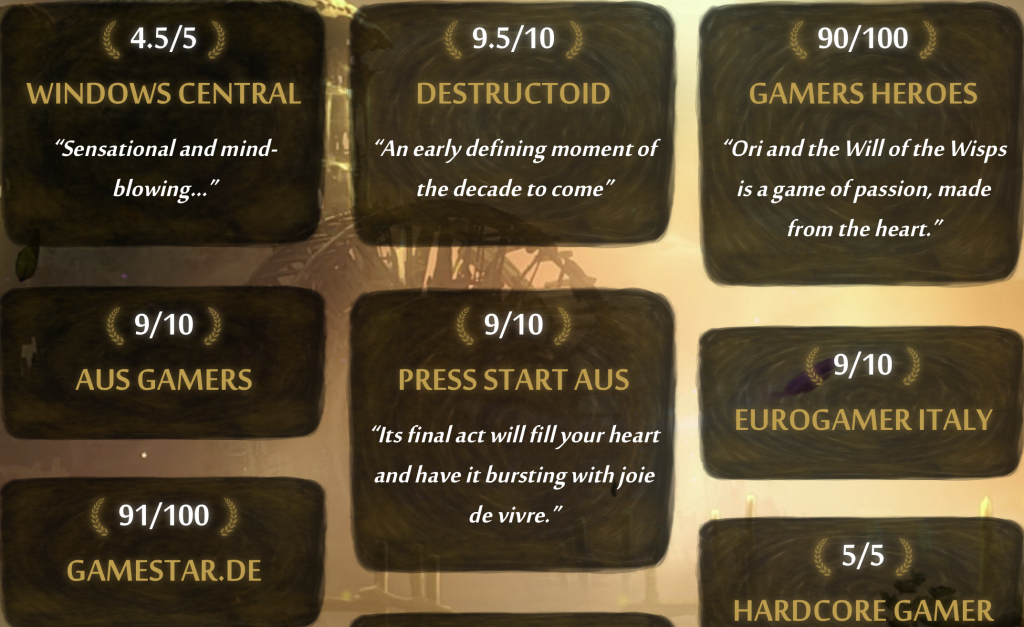 Let's keep this simple. The first thing about Ori and the Will of the Wisps is most likely the best looking game ever made. It's graphics and visuals are completely fantastic. It really looks that darn good. No exaggeration. Everyone we know who has seen this game is instantly impressed and calls everything beautiful. Especially in the Luma Pools area where the true beauty really shines. We dare you to look at the Luma Pools and say you wouldn't want to go there (except for the dangers in that area). There are very amazing looking games like Tetris Effect: Connected, Final Fantasy XV, Outland, indivisible etc but Ori and the Will of the Wisps beats them all. Just look at the particle effects. Ori and the Will of the Wisps has the best looking particle effects too. The Tower knight in the new demon's souls remake has amazing particle effects on his magic blue projectile attack but Ori and the Will of the Wisps looks better than that easily. When it comes to graphics, visuals, particle effects, fanciness and even frame rates, Ori and the Will of the Wisps scores perfectly. Take into account that X35 Earthwalker played Ori and the Will of the Wisps on the Xbox One only. Ori and the Will of the Wisps has an improved next gen version for the Xbox Series X where frame rates and graphics and performance is even better.
The next things is the locations in the game. Ori and the Will of the Wisps has been described as an indie game as it isn't large at all but there's big areas in this game. There's a good variety here. You have: Willow's end, Windswept wastes (which contains Windtorn ruins), Silent woods (not to be confused with David Wood), Kwolok's hollow, Inkwater marsh, Wellspring glades, Luma pools, The Wellspring, Baur's reach and Midnight burrows and Mouldwood depths. That's 12 areas. Each area is very different from each other and some have their own environmental themes that effect things. For example in mould wood depths there is darkness which will straight up kill you if you stay in it for at least 4 seconds. Baur's reach being the far north and cold some enemies and objects are frozen solid and need to be thawed out. Luma pools obviously since it's in the name has loads of water, so managing your air meter getting air is crucial.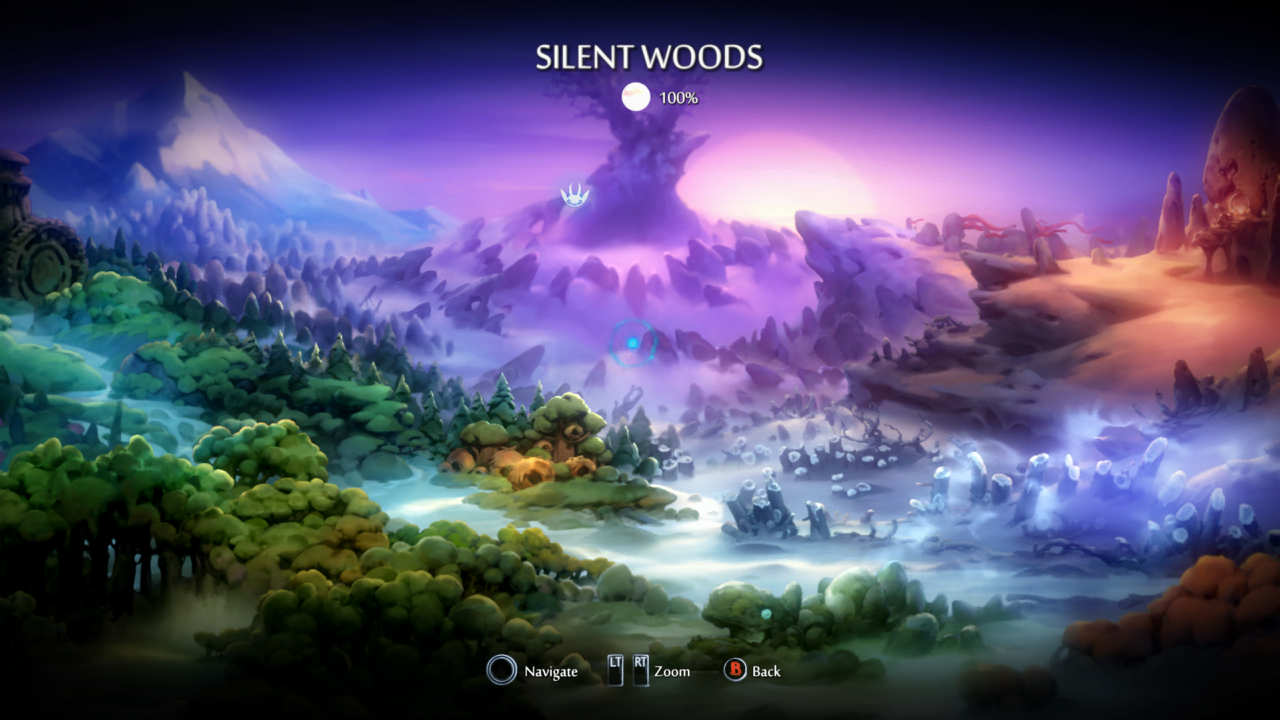 Let's talk about the controls and combat since they go hand in hand in Ori and the Will of the Wisps. The controls are very smooth. Not once have we had control issues. Everything is very responsive and works well. Every command comes out and works. The only time a jump doesn't come out or a certain ability is because the player doesn't understand the mechanics and how many times you can perform an action in a row. Now this matters because it makes a difference in combat. Ori and the Will of the Wisps has superb combat. Some enemies require footsies to beat and avoid damage. Not joking, footsies sort of like a fighting game as some bigger enemies like Gorleks will try to do a big hit against you even while you are hitting them and so you have to dodge in time. You will find the dash ability which is so strong as it's excellent for mobility and travelling quickly and better for dodging attacks almost instantly. The dash is just that good. You will unlock the double jump and maybe get the triple jump. There's a grapple ability which when upgraded can be used to grapple to enemies and not just grapple points, there's also a bash ability where you can do a bash of an enemy to knock them away or just propel yourself. When you combine, double, triple jump, dash, grapple and bash, with your attacks you can end up doing many combinations and string moves together to keep attacking, dodging and wiping out enemies even without touching the floor. The responsive controls makes all the difference here.
Next let's talk about the abilities and upgrades here in Ori and the Will of the Wisps. There's so many of them and they are mostly useful and powerful. Some abilities are found through the story of the game and you have no choice but to find them like 'Light burst' while others like 'Sentry' can be learned from a specific character for a price. Let's quickly go through the abilities: Spirit edge which is basically a light sword for melee damage. Regenerate which is where you can use your energy to recover health. Spirit arc is basically your bow for shooting light arrows. Blaze is an area of effect flame burst from the center of Ori's body to set enemies on fire but when fully charged it's full screen. Sentry is an automated 360 degrees turret. Spike is basically a big spear headed projectile that hits the hardest of all your weapons and when upgraded explodes. Spirit smash is basically a powerful spirit hammer attack with high knockback. Flash is basically an aura sphere of light that is damaging to enemies and 'lightens' things up. Light burst is an arc throwable fireball that sets enemies alight and can be used to melt stuff. Those are the offensive abilities.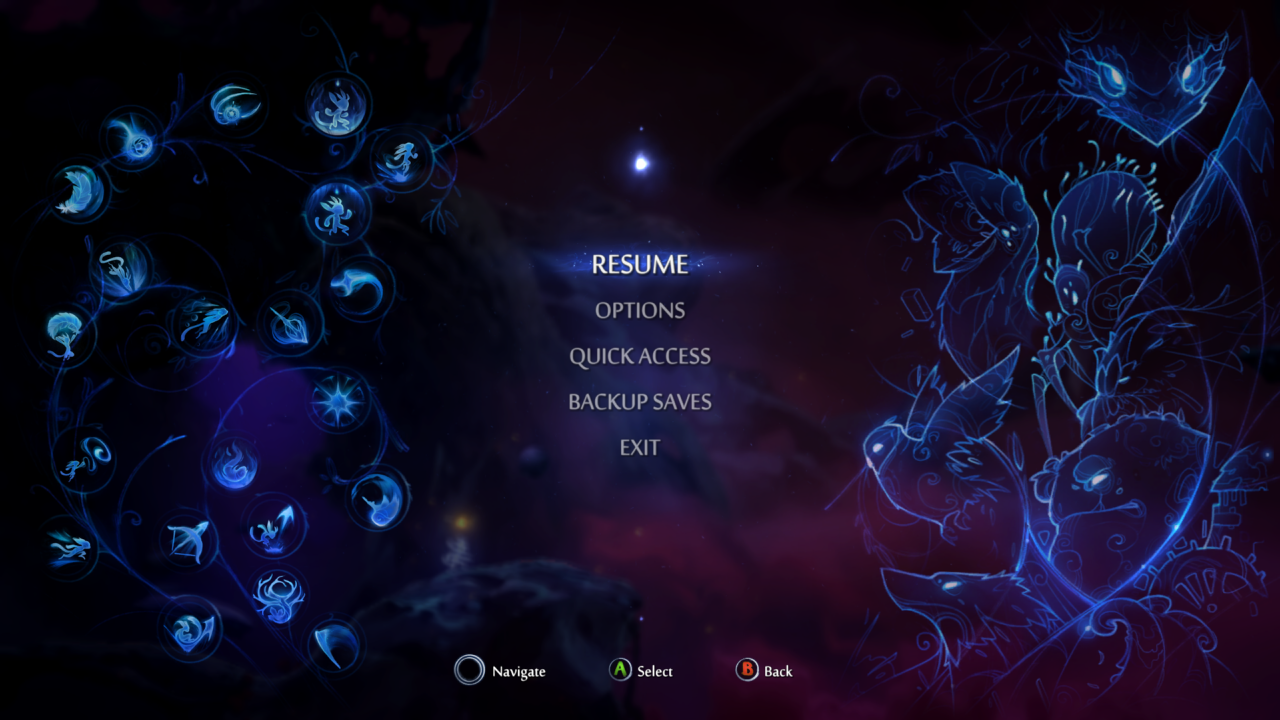 Next is the shards. These are just things you can find or earn and they grant even more abilities, either passive, active or change the way Ori or an ability works. There's a shard that allows you to rapid fire your spirit arc bow. There's another that increases the amount of damage you do while also increasing the amount of damage you take. Risk reward thing. There's shards that improve your bash and grapple. There's a shard that increases your damage against flying enemies. As you can see in the image below, you can find lots of shards and they are worth finding. Combine the abilities you set with the shards you choose and you can change how your combat works, survivability and even energy acquiring and consumption. These things actually make a difference.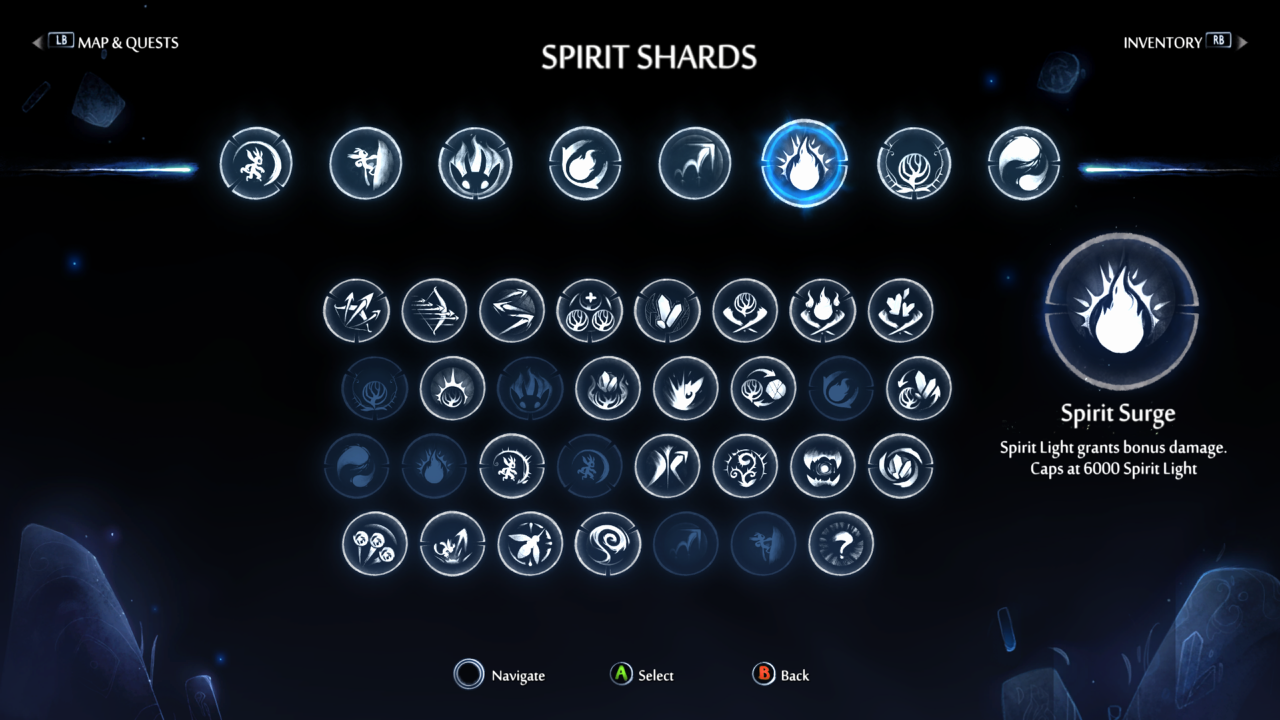 Finding these things aren't that difficult. There's an excellent map. The map is clear, there are keys for the map that clearly identify what is what. You can zoom in and navigate it easily. It also helps show you where certain things are if you got near them. If you're smart enough you can use the map to figure out where secret areas are and where secret paths are. There's a a certain character, for got his name but it's the bug who loves making maps and you can purchase maps for him to add to your map allowing you to see everything except hidden items. There's many collectibles and items to find; and so you will need the map.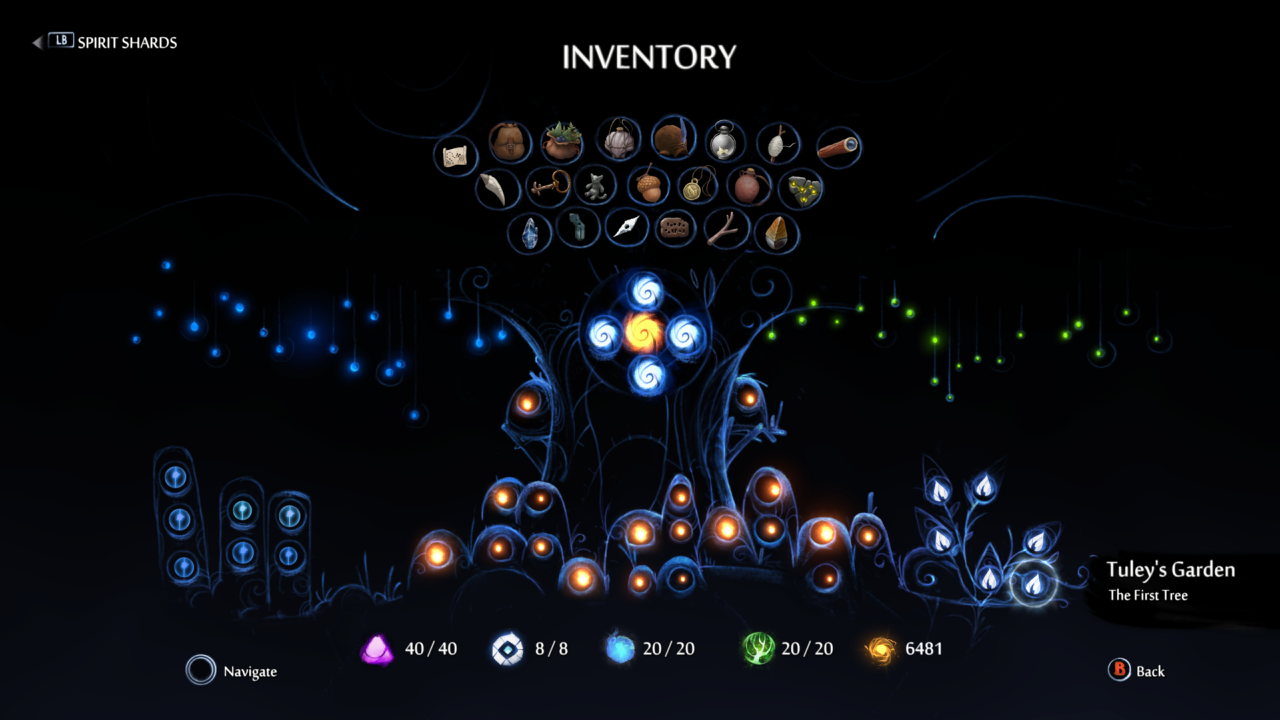 There are many collectibles and items to find but there's also side quests. These side quests aren't boring, repetitive or lame rewards. For example you can help tuley (hope we got the right name) find and plant seeds which are around the world. There is 6 in total we believe. Finding and growing each one creates a plant that helps you access different parts of the Wellspring glades where all the friendly people are, to find spirit light or meet new characters or get new missions. The 'hand to hand' side mission is where you acquire an mission item but you must find who needs that item, give it to them, and they will give you a different item, which you then need to find who needs it. Keep it king until completion and you get a so worth it item. A map stone which when placed in a ancient tablet allows you to see EVERYTHING on the map. Every collectible: Gorlek stones, life cell and energy fragments, spirit light etc. So it's well worth it if you want to get 100% completion or to just find the stuff to get stronger. Completing spirit trials grants you an additional shard slot so you can equip more. If you do all you can have a maximum of 8 shard slots which helps makes you so powerful. Simply put, doing the side quests rewards you well most the time and is fun.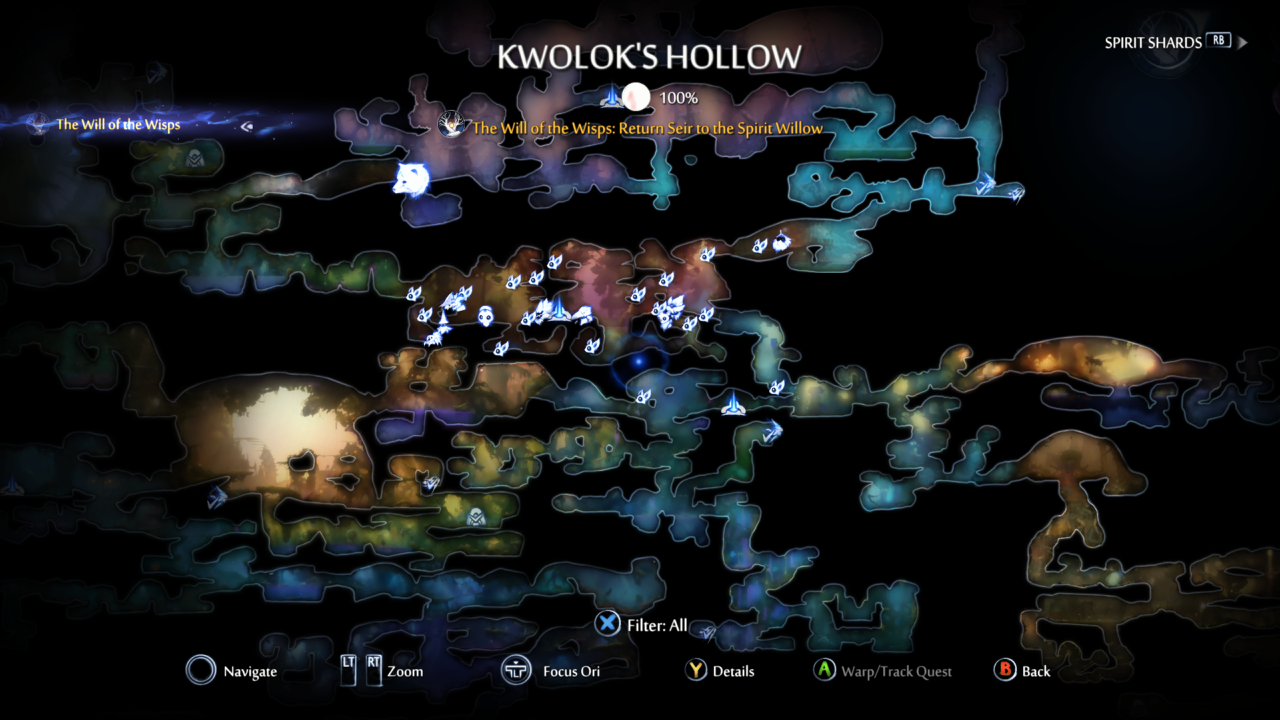 The story is very good and does keep you paying attention and getting sucked into it. There's others who said it made them cry or close to tears. There's funny moments, shocking moments, sad moments and even parts that brought about possibly anger or hatred. You knew why the wisps were important, where they came from and what you need them. You learn about Shriek, her past and why she's got a heart of stone and so murderous and hateful. You learn about the voice narrating the story but if you pay close attention to details you could figure out who the voice is from the beginning of the game. Seeing Shriek attack Ku and seeing the result be a funeral brought rage and made you want to destroy Shriek but you knew she was too powerful and would stomp you harder than how superman would stomp goku (get triggered). This works well with this Metroid style game where you start of trash but gain powers to get stronger and in the end you have numerous abilities, regeneration, powerful attacks with loads of health and energy AND only then you feel you can square up with Shriek… but not until then. We still wanted to help Shriek as we are merciful people but Shriek didn't want it and it made us feel bad. You understand Shriek in the end. She reminds us of real people. What happened to Kwolok upset us and we respect that giant toad and glad to see the stink spirit die. There's so much. In the end after a major league epic battle you feel hyped but then sad after seeing Ori make a life changing decision which saves everyone. You are proud, sad but also understand why Ori did it and why it made sense. The story was great from start to finish. We aren't giving big details as Ori and the Will of the Wisps came out in the year 2020 so not everyone has played or knows how the story goes. Simply put, an excellent story that we cared about.
The music is excellent. It's perfect in some cases to set the mood or match what it going on. The major boss battle music helps get you hyped and in the mood for an epic battle. The music for when you are getting chased by something big and powerful is also very good and gets you to focus. The music when Shriek shows up and there's clear danger and you should run, it makes you understand the magnitude of the situation. We love the music and it adds to the game. Never got annoying. We wanted to quickly bring up something. We saw a review done by Angry Joe and they did another disappointing review. They claimed some stuff was bad or not polished about the game but it was due to them not being good at that those things in the game. Now the gap in skill between X35 Earthwalker and angry Joe and his friends is massive. They died over 500 times! In X35 Earthwalker's first play though we died less than a quarter of their deaths. They even said combat wasn't polished but the gameplay they showed of them in combat was terrible. They were fighting the gorleks without dodging even when a telegraphed attack was coming their way yet they say the combat isn't polished. They said abilities were in the background and didn't pay attention to it even though they are a big part of there game. They even said that all you have to do to beat the bosses was just grab and redirect their attacks back at them which is so false. Use your abilities. Use Spike, sentry, blaze and more. That's what they are for… combat. Sadly not everyone is at our level of gaming skill and intelligence. Once again if you want accurate reviews and good points then come to us.
There's more to say but we have to leave it here for now as we are running out of time. We will have to update this post later. Let's summarise. The boss battles are excellent and exciting. Facing bosses like stink spirit, howl, mora, the armoured bug beetle and even Shriek isn't easy. They are complete monsters on hard difficulty though. On easy they are too easy. So bosses, music, graphics, side quests, story, combat, controls, sense of getting stronger, collectibles, fast travel, methods to find collectibles, ending, variety of enemies, variety of weapons, variety of shards and builds are all very good and lead to a fantastic experience. We like how the last section Willows End basically has platforming that requires you to use everything you have learned to survive. Ori and the Will of the Wisps is the new standard for games when it comes to animations and graphics. It's called an indie game but clearly triple A standard and better than majority of them. We love this game.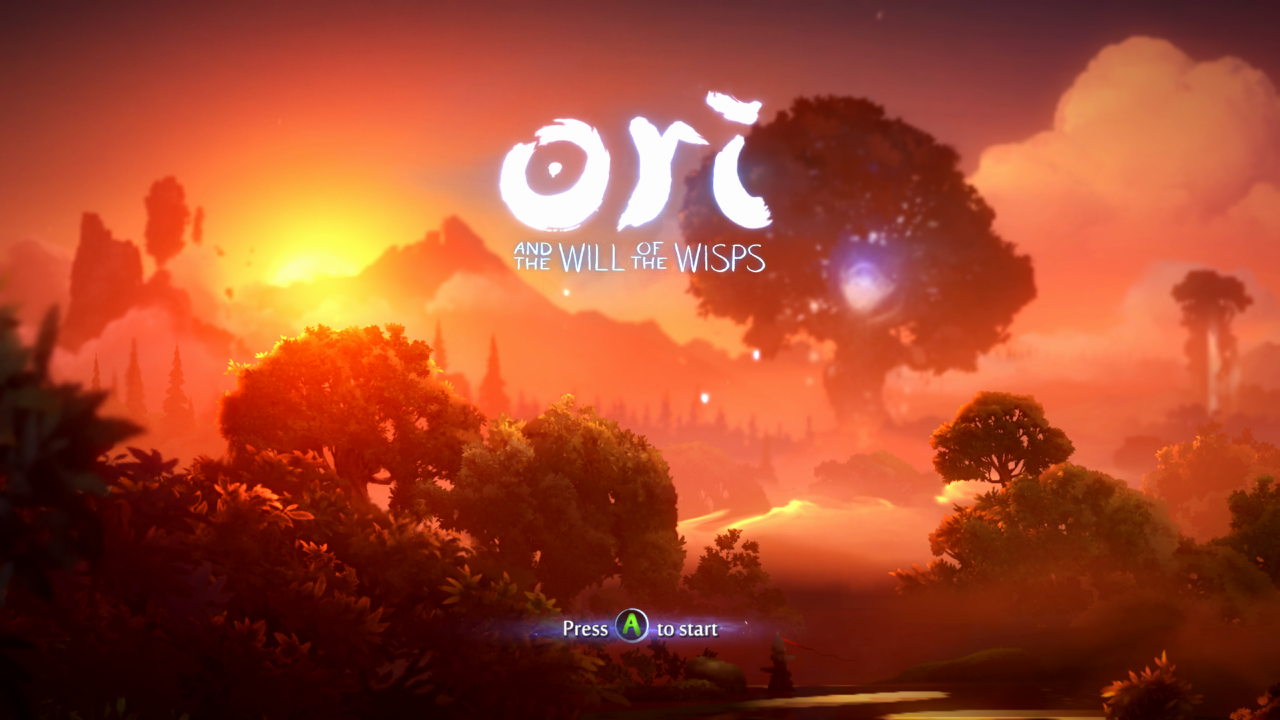 Overall Ori and the Will of the Wisps is the only game right now we can call a perfect game. 10/10 easily. Last of all Ori and the Will of the Wisps is available on Xbox through gamepads which means it is free. Go and play it. We would happily spend £40 on it. It's just that darn good. It isn't a big game and can be beaten under 10 hours easily and even 4 hours if you know what to do and sprint through it but it's called an indie game for a reason. There's also a improved Xbox Series X version of this game. So there's not a better time to play this game. Ori and the Will of the Wisps is better than demon's souls remake, better than spider man: miles morales, the latest god of war and many more. This game is so underrated and not enough people were talking about this. Ori and the Will of the Wisps is 10/10 but what's better than Ori is… the 'Earth Walk!'
For more information check out the link below: