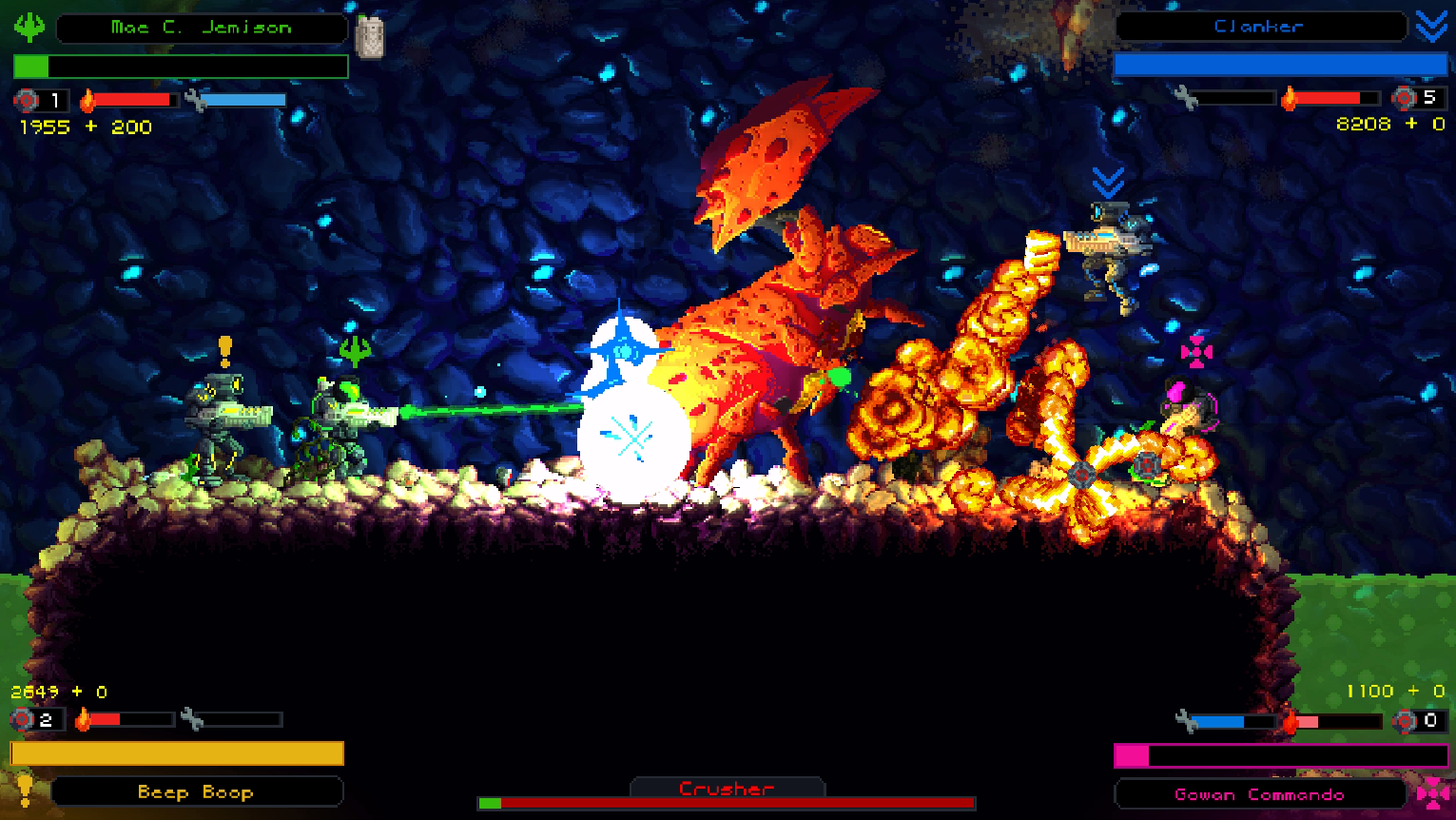 Hive Jump is the new action platformer developed by 'Graphite Lab'. It is coming out the 11th of January on the Xbox One and Nintendo Switch but already out on the PC. It seems like it's about running around and blowing up aliens. Sounds fun. Let's take a look.
The story in the world of Hive Jump is a typical one. Basically it's set in the 24 century. Humanity is in a serious battle against a hostile alien race called Ordovicians. As usual, the aliens are in big numbers. Matter of fact, humanity is outnumbered, a million to one. It's clearly a one sided battle and the aliens don't want to share the galaxy with humanity (We wonder why). The J.U.M.P corps is here to fight back against the aliens and bring victory.
Players control the, Jumpers, who's mission is straightforward. Beat the aliens, hive by hive and planet by planet. Now straight up Hive Jump makes it clear that it's all about multiplayer. That's right, you can play local multiplayer with your friends in Hive Jump. It's four players. We love to see games do this. We need games like this that gives you the option to just play with family or who else is around (More fun than angry online players).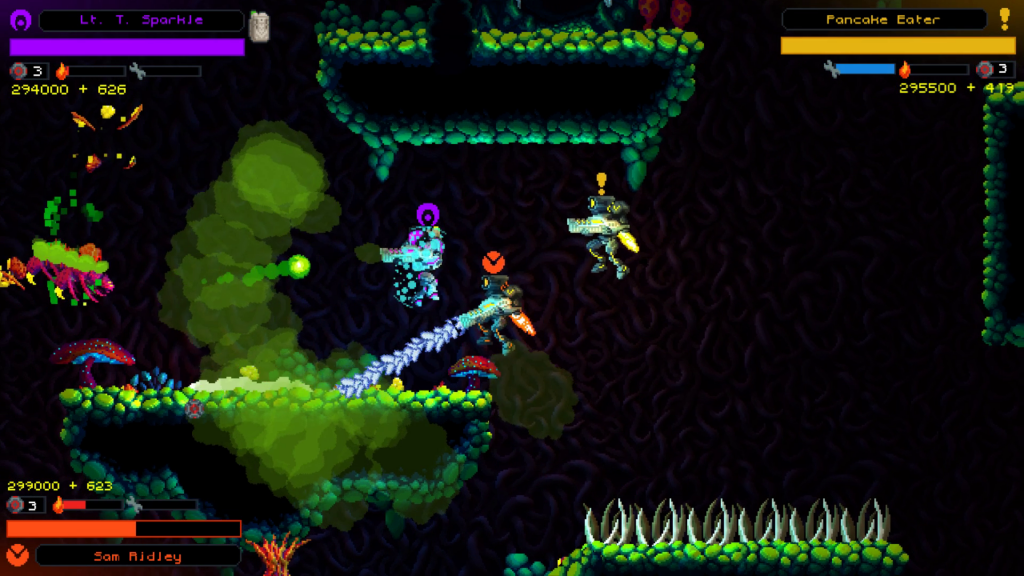 Since the emphasis of the Hive Jump is on multiplayer know that if you do play with friends, one of you is the team leader and therefore carry the Transponder backpack. This pack is very important. Basically that backpack allows your command ship to send "soldiers and supplies" to your location. We assume it means that as long as you have the packsack, your team can respawn. If the leader dies then the backpack is just sitting there and can be destroyed. Don't let that happen (and tell your leader to stop being a noob).
Your standard Jumper comes armed and ready Hive Jump. As we already made clear, the leader has the Transponder backpack. All soldiers have a multi-gun which has it's standard fire but can be modified and switched up to be a rocket launcher and even a flamethrower. It does get crazier though. The Jumper alien infiltration suit offers some good protection as attacks get deflected but only for a while. The suit can be repaired but the means to be able to do that can be found deep in the Hives. Also your suit has a limited blast jetpack to give you a boost in the air. Lastly there are grenades (who doesn't want grenades against aliens?). These grenades deal big damage to enemies but also have a special function like the explosives in Aliens Trilogy. They can destroy weaker walls which have treasures, goodies and hidden areas. Keep your eyes open.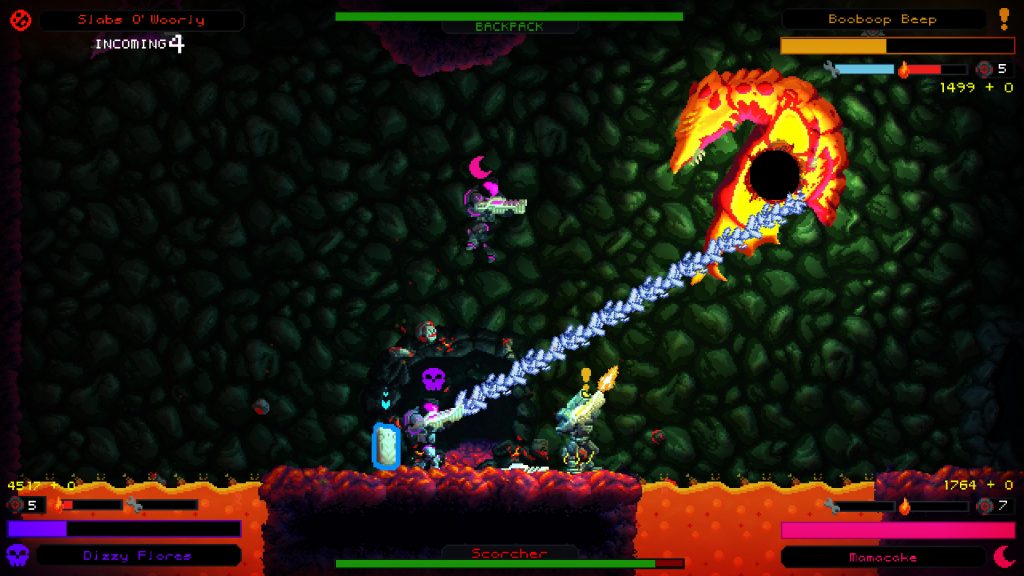 There is a wide range of location for players to be fighting in. The Hives are different and look different but there are also different biomes too. You say biomes, we say Terraria. There is the volcanic wasteland which is where the aliens use the temperature to quickly hatch their eggs from the cold storage. The mushroom forests is basically the giant food store as the Ordovicians eat fungus. The crystal caverns is where the aliens produce and get their power source for their interstellar travels. The frozen underground acts as the cold storage room for the unhatched alien eggs. It's clear that the aliens here in Hive Jump are quite organised.
The aliens themselves, the Ordovicians, are numerous as they are dangerous. Clearly hostile and will stop at nothing to stop you from completing your mission. They will hunt you and your transponder backpack throughout the hives and they can get to you no matter where you are. The aliens have four classes. They are: minor, mini, major and elite. These aliens get stronger and more powerful as you progress. So players need to keep getting better and more prepared.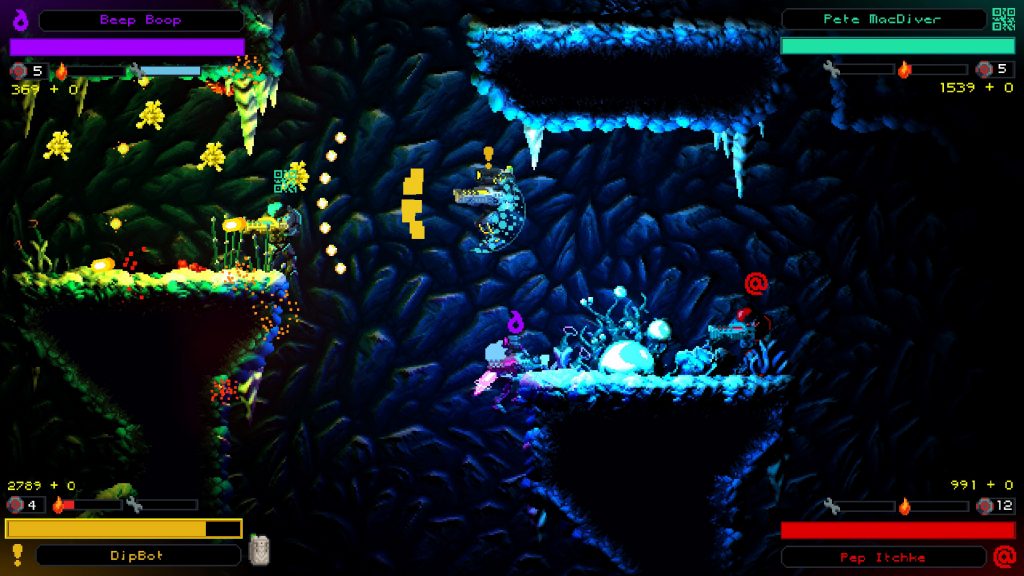 Lastly the planetary campaign is not so straight forward and more strategic. In order to win you must manage carefully the amount of jumpers you have and alien goo. The alien goo is the resource you use to build fortifications, request jumper reinforcements, get new weapons and off course upgrades. When you look at the map, m you will see three things, alien hives which are orange, human bases which are cyan (light blue) and grey which is a free space for either a human or alien base. If you destroy a hive then you "jump" there and start a human base which brings in more resources and a random one time use bonus ability. These abilities are strong and must be used wisely. After a successful jump (destroying a hive), the aliens then have their turn and they could expand, buff up their defences or even come attack you!
We checked out some gameplay and the action looks good. Each Jumper in, Hive Jump, can equip only one utility at a time. So expect a utility to grant shields another to allow quick teleportation while another boosts fire power or even your mobility. The Hives are procedurally generated (random). The A.I has been classed as intelligent and challenging (we will be the judge of that). You can also get your hands on experimental weapons and explosive. So getting those resources and research is very important. There is permadeath simply because if you lose your bases then it's all over and also if your Transponder backpack gets destroyed then you definitely lose as you can't call in any more soldiers.
Overall, Hive Jump looks like a real cool game. It looks like it's a difficult game as the aliens are many, the deaths are high and there are also traps for players to match out for. The big boss enemies look like big battles and requires a learning of patterns probably. The developers 'Graphite lab' have done a good job with this game. We at X35 Earthwalker look forward to seeing what others will think of this. It does look fun. Now the Jumpers may have technology and a big mission but those things are tiny when compared to… there 'Earth Walk!'
For more information check out the link below: