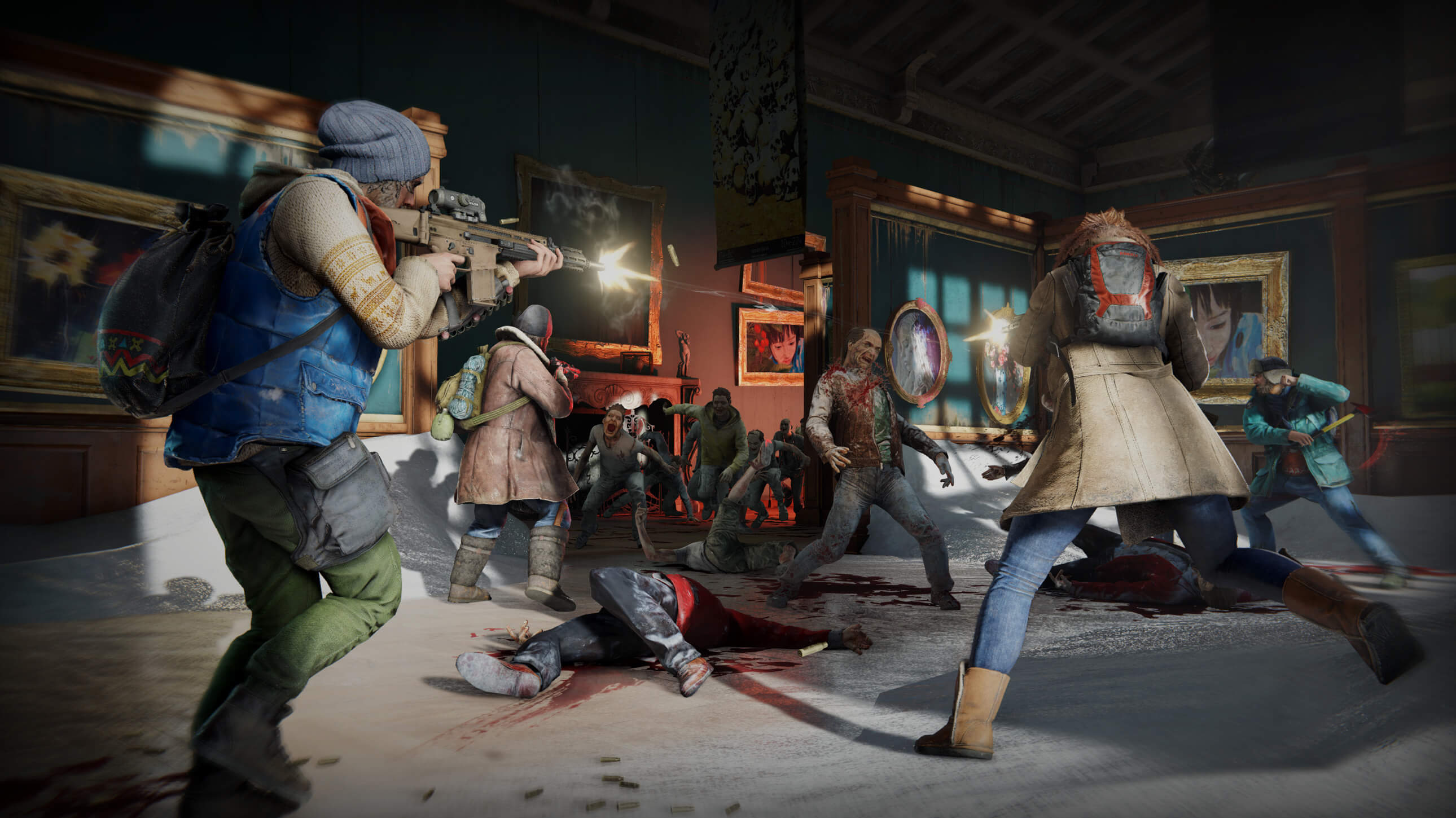 World War Z is a new zombie third person shooter action game developed by 'Saber Interactive' and published by 'Focus Home Interactive'. World War Z will be coming out the 16th of April 2019 on the Xbox One, PS4 and PC. Zombies have always been a problem but in here… there's too many. Let's take a look.
In World War Z players will be playing through the stories of others around the world. So no, it isn't just America this time. Jerusalem, New York and Moscow have been named. So this means, different environments, different characters and different objectives. Humanity once again is near extinction. The zombie swarms are in the millions and it's up to a group of people who are working together to survive and hopefully beat the zombie hordes. Do players have what it takes?
First of all let's say this as we are all thinking it. How comes four regular people just get some guns and are able to survive and beat the zombies successfully but the whole Israel, Russian and American army get defeated. The army are filled with professional soldiers who practice in firing ranges and should know how to aim for the head. They have tanks, artillery, helicopters, ships, bombs, nukes and more but yet they all lose while a lone cop like Leon Kennedy, or some high school cheerleader or a pub owner who finds a shotgun or a pistol can survive and defeat many. Zombie movies and games have yet to explain this consistently. We aren't letting World War Z off from this point.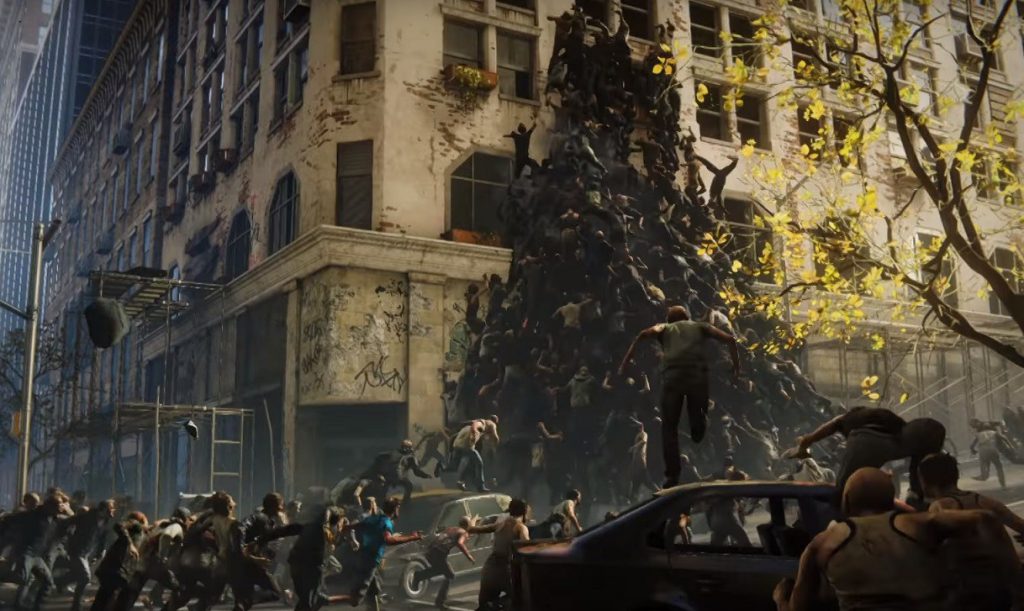 World War Z off course is following the World War Z movie so expect the same kind of zombies. These aren't the traditional slow moving zombies. Oh no! These zombies, run, sprint (for some reason), jump, reach and chase you down. They will let nothing stop them. If you jump across a gap, they will jump too. If you go through a door, they will try to break it down. So let's go to the top of a elevated area. That won't work. Why? Well these zombies keep rushing at your location that they will pile up on each other. The pile will eventually reach up to where you are as they are climbing up each other. So you aren't really safe anywhere. They will do their best to find you.
The Zombies in World War Z also are off course fearless. Having big guns, a wall, vehicles or even numbers doesn't bother them in the slightest. They will rush you regardless so players can't sit around and wait. Also the zombies cannot be reasoned with, so don't expect any second chances or mercy from these guys. The zombies here are going to require gamers who can think fast, plan well and work well together.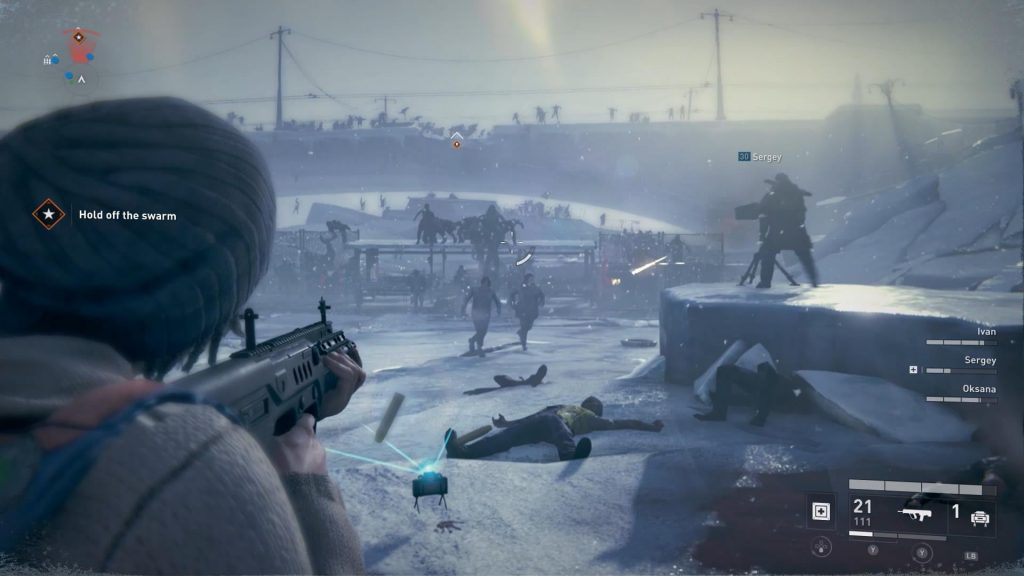 That's right, World War Z is co-op. You will not face the zombie horde alone. You will team up with three others. There are six characters classes: Fixer, Hellraiser, Exterminator, Slasher, Gunslinger and Medic. Off course each one has a clear role, for example medics are all about healing and keep everyone in top shape, Fixer will be in charge of fortifications and equipment, Slasher is going to get up close and do some melee damage, we assume Gunslinger will have advantages and buffs concerning guns. Exterminator, and Hellraiser aren't so clear but we assume that turrets and even explosives will relate to them. Players will need to find out what they are best at and start training.
In terms of weapons there isn't that much to say because it's what you would expect. No weapon, when against a zombie horde should be off limits. We would even use our car keys if we have too. World War Z will have barricades like barb wires. Traps, guns, sentries. Those aren't enough to stop a horde though. Good thing, there is more. Machine guns, grenade launchers, rocket launchers and turrets. Now that's more like it.
We checked out some gameplay and it was what we thought it would be. More like defend the area and tower defence in some ways. You rely heavily on your set up, where you place the barricades, where you decide to fight from. World War Z also has procedural enemy and items spawns which the developers claim is based on the players performance. There are claymore mines, frag grenades a crossbow, a double barrel shotgun and even C4. We do wonder about the difficulty and how much damage zombie swipes do. Also can zombies grab you to temporarily stun you? Guess you must play to find out.
Overall World War Z looks like a good game. There are hundreds of zombies on the screen at once thanks to the Swarm Engine by Saber Interactive. You can truly blow zombies to pieces. The graphics are good, the sounds are good and the locations are nice. The developers 'Saber Interactive' have done a good job with this game from what we can see so far. We at X35 Earthwalker aren't looking forward to this game but we will keep an eye on it. We like how this zombie game is shaping up and how it adapts for player skill. We still have questions though. Now World War Z may have hordes of zombies but those zombies aren't even a threat when against… the 'Earth Walk!'
For more information check out the link below: