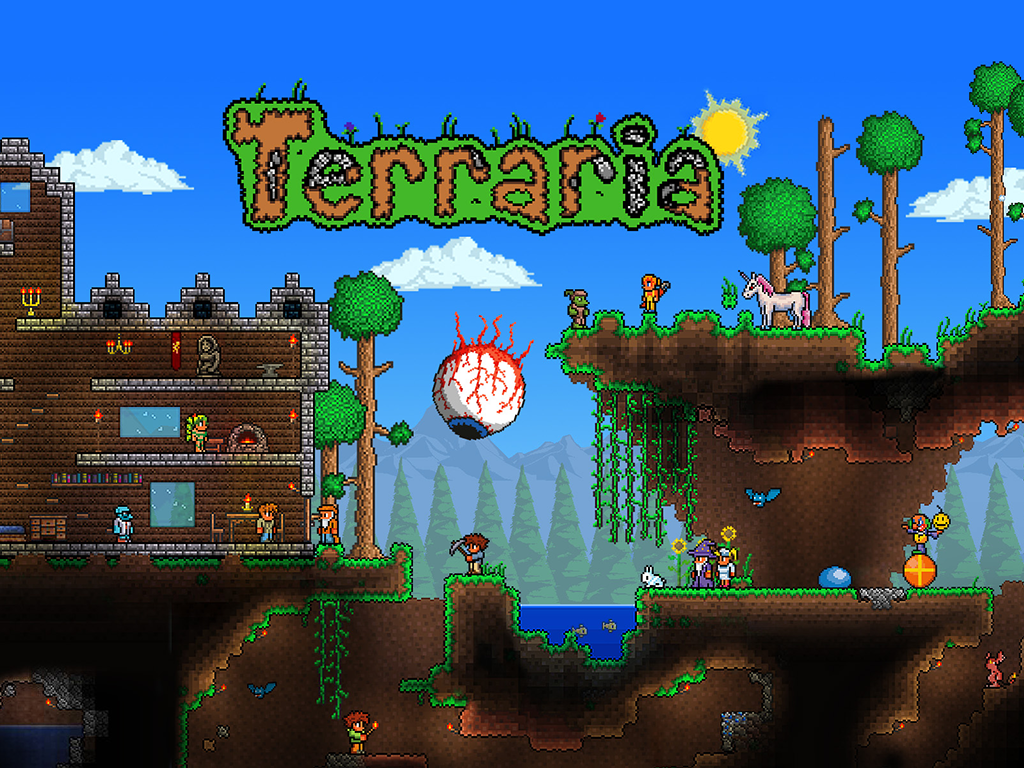 Terraria is one of those games that are incredibly fun and excels at being exciting most of the time. Terraria is a 2D action-adventure sandbox video game. It was developed by 'Re-Logic' and released in 2011 for PC but consoles in 2013. Terraria is one of those games that you have to try, so get the free demo and see for yourself.
Now straight away from looking at the game, gamers may feel like this isn't anything special at all but we at X35 Earthwalker always give games a chance before casting a verdict. It's only when you get going in the world of Terraria that it reminds you so much of another game. Some people just call this a 2D Minecraft; however it is so much more. Sure you can mine, chop down trees, fight enemies, collect and build whatever you want but they aren't the same, similar but not the same. Minecraft is centered around creativity and the gamers imagination while Terraria is more action, combat, survival and adventure. Terraria is far more brutal and has much more going on.
Since Terraria is 2D it means that mining in this game is no where near as annoying and frustrating as Minecraft. Have you ever spend numerous minutes and lots of time trying to find diamonds in Minecraft? Sometimes you may have excavated the entire area and nothing is there. In Terraria you can see everything around. You could be mining downwards and then see iron to the right, copper to the left or gold below you. All because it is 2D. It literally makes mining for resources so easy and more fun because you aren't wasting time, you can see if something is there or not. You no longer have to worry about just digging down in a straight line as you can see whether there is lava below you or not. You can see when an enemy is approaching or an NPC in the distance or whatever.
In Terraria you over time encounter different NPCs, which are basically other characters like you who visit you when you meet certain conditions and either visits temporarily or sell you things. Most NPCs live with you. That's right, you have room mates here. The house that you built for yourself initially will be the house that the NPCs live in. Off course you can expand and built houses specifically for them. There are many NPCs like the guide, the merchant, the nurse, the old man, the arms dealer, the goblin tinkerer and much much more. Trust us on that. Each one are different from the other in terms of what they say, what they do and what they sell. So get as many NPCs as you can. They may have some powerful items for you or other rare stuff. Beware though as NPCs can be killed but don't worry as they will come back. Multiple personalities and characters in Terraria.
There are so many items in Terraria that it is crazy. There are lots of furniture for you to build and decorate you houses with. Lots of chairs and the type of wood you use will change the look and style of it. Same with beds and tables. You can build a safe which prevents others from entering and taking your stuff just incase you invite other players. You can light up your place with lanterns, torches, chandeliers and even a camp fire (now that's what we call options). There are even statues that can be found throughout the world of Terraria. The strange thing is that some actually have special abilities like the slime statue can create slimes. There is a total of 108 statues. Gotta catch em all! You can create weapon racks, item frames and even put up paintings. Why not build some benches, bathtub and even a toilet. This game has options and a half.
Accessories are the special items that you equip your character with. They grant wither just armour or special abilities. Accessories are immensely important and make all the difference in this game so make sure to spend some time searching for them. They can be dropped by monsters, pop out of smashed vases and most commonly found in chests. There are movement, informational, health/mana, combat, construction, vanity and much more. The 'Aglet' increases your movement speed. 'Cloud in a bottle' allows you to double jump. 'Flipper' allows you to swim in water instead of just sink to the very bottom (fatty). There are powerful accessories with mighty effect like the 'Lucky horseshoe' which negates all fall damage and the 'Rocket boots' which allow you to temporarily fly we believe for 1.6 seconds. Accessories can be combined together to form powerful ones like, for example, by combining the 'Jellyfish diving gear' and 'Ice skates' you get the 'Artic diving gear' which grants the ability to swim, greatly extends underwater breathing, provides light under water and extra mobility on ice. That's some next level diving gear right there. Trust us when we say there are far more accessory with more effects, so go and find them as you will need them in the world of Terraria.
Armour is even more far in depth than Minecraft. You start of with no armour at all and then aim for the wooden, copper, iron, silver and gold armour. There is much more armour out there with their own stats. To name some: Rich Mahogany, Boreal wood, Palm wood, Ebon wood, Shadewood, Eskimo, Angler, Cactus, Tin, Pumpkin, Lead, Tungsten, Platinum, Ninja, Bee, Jungle and even more. You can mix and match the armour like have a pumpkin helmet, tungsten body and wooden legs armour but having the whole set adds a bonus. For example if you equip the whole 'Meteor' armour your bonus is: +21% magic damage, space gun requires no mana to use and get a cool flame particles when moving for style. Obviously some armour are more powerful than others and you will move on to new armour as you progress. All of these armours can be built except for a few like the 'Ninja' armour is found from killing a certain enemy. Make sure to collect all the resources you can find when you can. If you see some gold then go straight for it as there will come a time where you will need gold, whether armour or items.
The biggest difference between 'Terraria' and 'Minecraft' and probably the coolest thing is the bosses in the game. Terraria has some terrifying bosses who show absolutely no mercy if you want to take them on. Each boss truly tests the might and skills of a 'terrarian' (a terraria player). They have large amounts of health, do heavy damage and chase you down. The first boss we encountered was the 'Eye of Cthulhu' which has two forms. In the first form it keeps some distance, releases smaller eye enemies (Servants of Cthulhu) to attack you and charges at you. Once his health falls below half way then it transforms into the second form where it charges more aggressively and quickly. There are many bosses and some can be spawned by fulfilling certain requirements or manually by items. We will most likely talk more about this in another blog.
Terraria is such a fun game to play with many objectives, tons of customise and accessory items, lots of different enemies, many biomes which change everything, many secrets and powerful mean bosses. This game is well thought out and very well done. The developers 'Re-Logic, Engine Software, 505 Games' all did a very excellent job here. This game is worth checking out. Just don't forget to do the 'Earth Walk'!
For more information check out the link below: