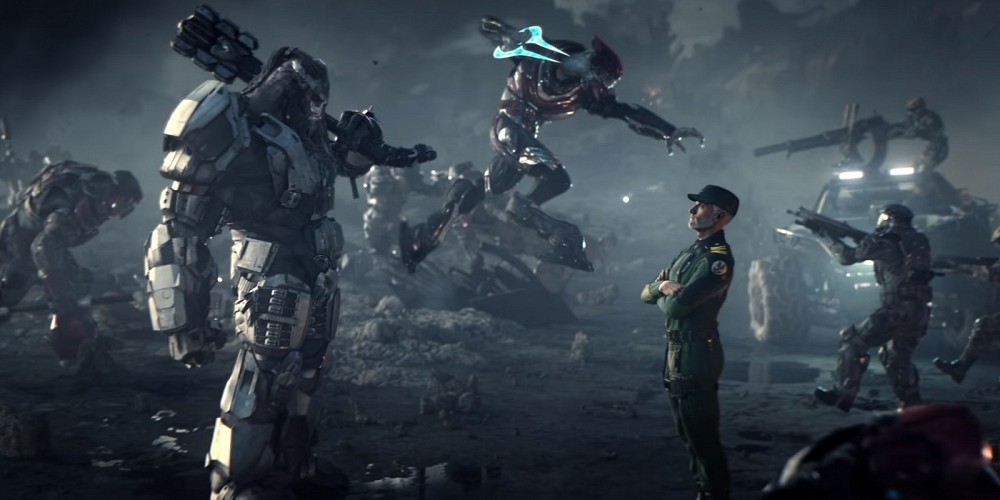 The Halo wars 2 Blitz beta is continuing until the 30th of January. In case you didn't know. Halo wars 2 is a halo RTS (Real time strategy) game that will be coming out on the 21st of February. So far the beta has been played by the Earthwalkers, especially X35 Himself and they all agree that the game so far is excellent with so many positives and little negatives. The beta is free and should just get it to at least try it.
Now Halo wars 2 is going for a more strategic approach to game play now. Much more than the prequel. In the prequel most people would get tanks with wolverines and that was pretty much it but in halo wars 2, you need keep an eye on your opponent, think fast, react fast and have strategies. Blitz is fast paced and requires you to use your cards wisely. Don't just use a card just because it is there, especially if it is an ability card or a unit with special abilities. Then again, don't hold on to cards that you don't need at the time. There are many ways to go about this. First of all, there shouldn't be any cards in your deck that you find not useful or wouldn't use. Have cards that you know will come in handy or counter a certain situation on the battlefield. If you desperately need a card or need to get rid of a card, you can 'cycle' a card for a small cost of 5 energy. This most likely will be worth it but never cycle too much because small costs combined make a big cost. If you have unit card and don't need it yet and it doesn't cost much then just summon it in your base and leave it there for now. It's always better to have an army in blitz so don't cycle cheap cards.
You deck should always have cheap cost cards and high cost cards. Cheap cards because then you can have an army quite quickly and summon when needed like to collect energy for example. Big cost cards as they are the powerful units. If you are going to have too much of one, then make sure it too much of cheap as then you can have a easy to build large army. You deck should also have at least 1 or two ability cards like the 'archer missiles' or 'cloak'. Abilities allow you to reveal your leader characters true powers which can make all the difference in a match once used effectively. You deck should also have a legendary unit to bring the pain. Each character leader has their own legendary unit. Atriox's is 'Atriox's chosen'. Captain Cutter has 'Spartan Jerome-092'. These units are powerful and very expensive. They almost make any battle in your favour but you must protect them. They aren't invincible. We have seen players get excited about legendary units that they drop one in the middle of an enemy army and expects them to kill everything, instead just gets their legendary dead. It's a waste. Have them lead a fight and when they take too much damage then return them to your base to get them healed up. There is no excuse, they even have shields so keep them alive.
Ability cards have one time use abilities that must be used strategically. You can't afford to waste them or miss. For example a very strategic and powerful ability is the 'MAC Blast' card which allows you to "Launch a high damage slug to blast a target area". This is a card you can activate, then aim and then fire. Use this to destroy that one pesky target that maybe is out of reach of your units that sit on a hill, like 'Blisterbacks' or 'Kodiaks'. You could also just use this to damage and destroy a group of enemy units that have bundled up together. You could use your army to drive them into a corner and then fire the MAC gun. Do not use this on the 'Condor' or 'Scarab' as those super units are only temporary and will die eventually. Save it for the right situation. When you have powerful ability cards like 'Boundless Fury' and 'MAC Blast' you have to decide whether it's better to use them or summon units because they have high costs and you could normally have 3 or two units instead. It's up to you to know and judge the situation you are in to know what action you should take.
Some units are enhanced versions of the originals like 'Ironclad Hunters'. They fight and attack in the same way but come with extra abilities. The abilities so far are: Guard, Blast, Detect, Rush, Reflect, Cloak, Rally, Shock, Shield, Support and Siphon. Guard means this unit will absorb all the damage your other units would have took, protecting them. Blast means that when they die a small circle area is glowing, soon an explosion will happen there damaging everything within. Detect means that unit can see and reveal nearby cloaked units. Rush means that unit is not effected by fatigue when summoned and can therefore fight at full strength straight away. Reflect means that unit returns half of the damage they take back onto an enemy unit. Cloak means when the unit is deployed (summoned) it is cloaked for 90 seconds it can't be targeted but can still fight and move freely. Rally means that unit increases the damage your ally units nearby can do. Shock means that unit reduces the armour of nearby enemy units making them weaker. Shield means that unit has a rechargeable shield like spartans in halo, the shield takes the hits before the health does and recharges when out of battle. Support means this unit doesn't fight at all but instead can do things like heal units, protect or other cool effects. Siphon means that unit gains health equal to the damage it gives, sucking the life out of your enemies. These abilities are important and make huge differences in a match, so make sure to know them all and have some in your deck.
In every Blitz match you have to make collecting the energy drops a top priority. Sure they don't seem to add much at all to your energy but it increases your energy rate. You have an automatic energy rate and the more energy you collect that rate increases much faster meaning you get to use your cards faster. Controlling the zones is important but not as important as the energy as control zones come and go throughout a match but with a higher energy rate than your opponent, you could summon legendary units and build armies much faster than your enemies and a bigger stronger army is what matters in halo wars 2, especially Blitz. Get the energy, even if it means the enemy gets 50 points ahead of you because they control to zones. There is time for a come back.
Each character leader is different and have access to certain cards that the others don't get. Some leaders are more support type while others seem as more assault types; however all are powerful and dangerous enough to destroy the other in a fight. It comes down to the player, their armies and strategies which are all dependent on the leader. The 'Ship master' can start of with three ghosts, who aren't the strongest units around but their speed cannot be matched so you can use them to zoom and beat your enemies to the energy drops. 'Anders' starts of with probably the strongest combination of units with two cyclops, two marines and a wolverine. That means she can counter air, vehicles and give infantry a fight. This means you could go straight for a control zone and most likely beat anyone who challenges you. Atriox has access to the 'Eradication' ability which literally destroys everything so it can be the move that turns the tide of a battle. 'Isabel' has the MAC Blast and lock down scorpion which weakens enemy units and her special units keep the enemy guessing. 'Decimus' has multiple siphon units and if you can keep them alive they become a real threat and hard to kill but abilities allow destroying the enemy much easier. 'Captain Cutter' has strong starting units and has powerful abilities making him a heavy assault type leader. You must check out the units that they have and the abilities to know what to do. The 'Ship master' has cloaking and steal abilities while 'Atriox' has the more straight forward approach and heavy abilities.
So firstly learn the character leaders and know their units and abilities. Quickly secure at least one control zone and then aim for the energy drops. Build an army. Do not let half your army get destroyed under no circumstances. Always bring your units back to base to get them healed up. Don't over extend and do more than you nee to do. If you have the bigger army and have at least two of the zones then don't over extend and risk units.
Now all that's left to do is go into matches and practice. Have fun and don't forget to do the 'Earth Walk'!
For more information check out the link below: