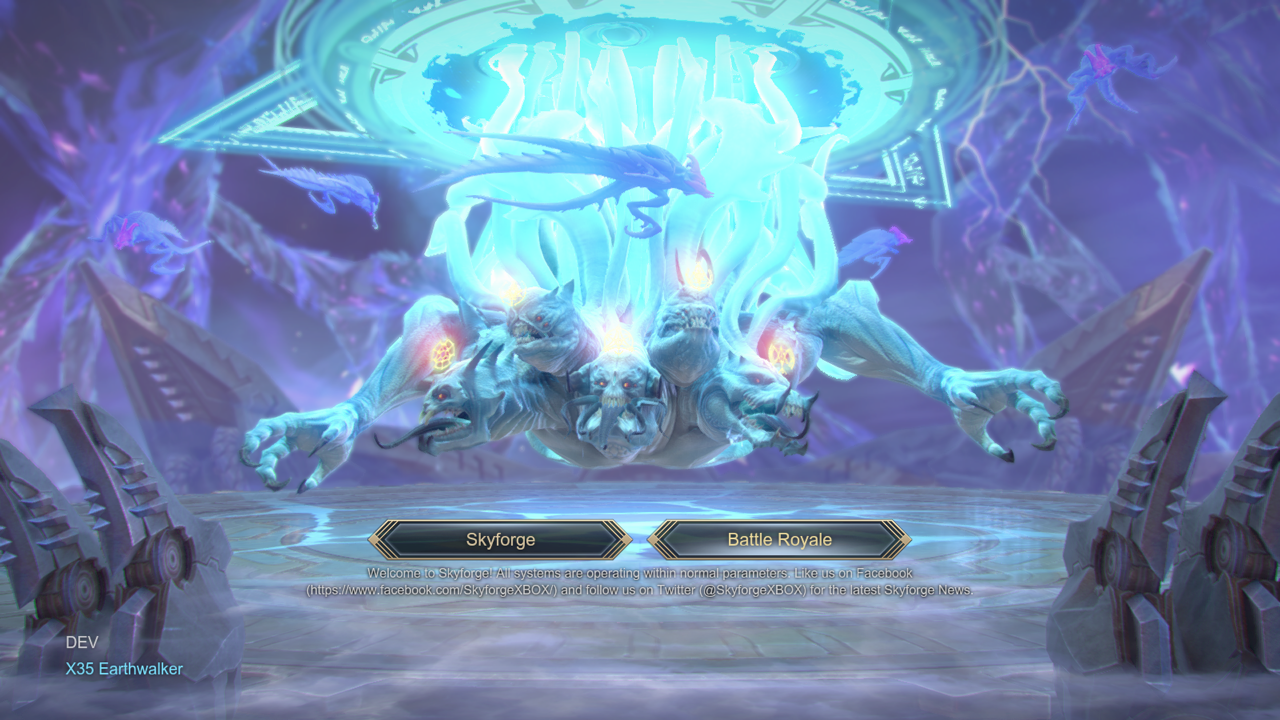 Battle royale is definitely becoming quite the trend now. Multiple popular games have battle royale or got popular because of battle royale. Everyone knows about Fortnite, Playerunknowns battlegrounds, Call of Duty's Blackout and another new one called Realm Royale. All focus on having many many players like 100 drop into a field all look for chests, weapons and equipment to fight until one player is the last one standing. Well Skyforge has one too and it's looking awesome. Let's take a look.
Skyforge is a very large MMORPG featuring many monsters, many characters, a large story, many weapons, powers and abilities. So Skyforge is one of those games that is suitable for a battle royale. In fact, we never knew Sky forge had a battle royale until one day when going through our games it showed it on display. That was a shock. From when you enter battle royale mode you are instantly greeted with someone the others don't really have. A character selection screen. This is where things get real interesting and you should take your time here.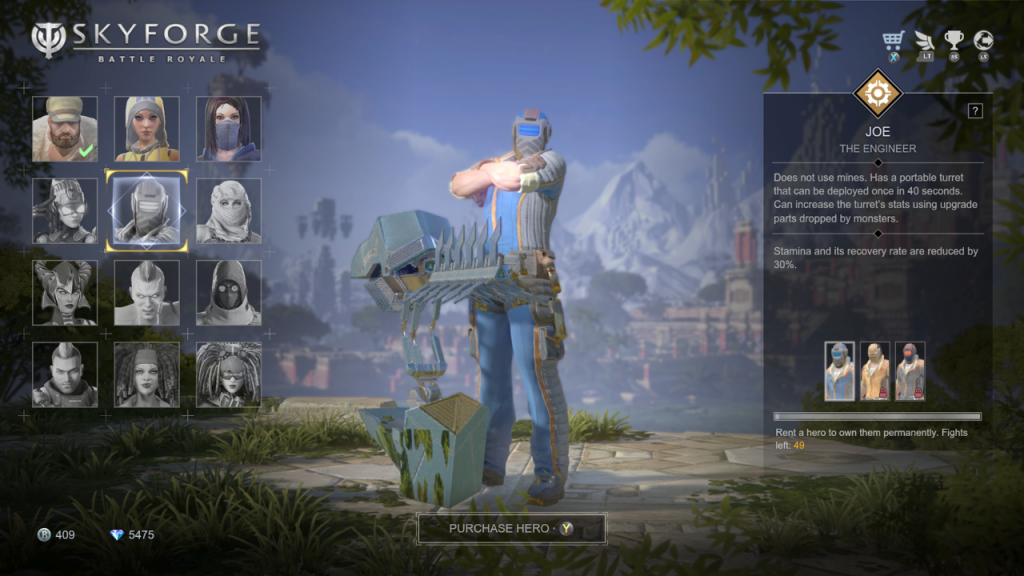 Each character in Skyforge's battle royale has abilities or maybe perks is the better word. For example the engineer can deploy a turret once every 40 seconds which fights for him. The downside is that the engineer has less stamina and the stamina recovers slower, also he can't use mine items. The night huntress is stronger than anyone at night time because only at night she gains a 30% damage buff and movement speed but during the day her movement speed is reduced by 20%. The accurate recruit has no negatives but one positive which is that they get slightly increased shooting accuracy. The devourer gets a growing bonus to their health and damage every time they kill a monster on the map or another player but can't use armour or armour shards (health only). We only mentioned four just now but remember, there are eight more each with their own special abilities, pros and cons. Off course 9 of these characters require players to rent for a match. As you play you earn resources which can be spent to rent characters for one match. If you rent and play them enough times, you permanently unlock them. So you can try them out before focusing on a main.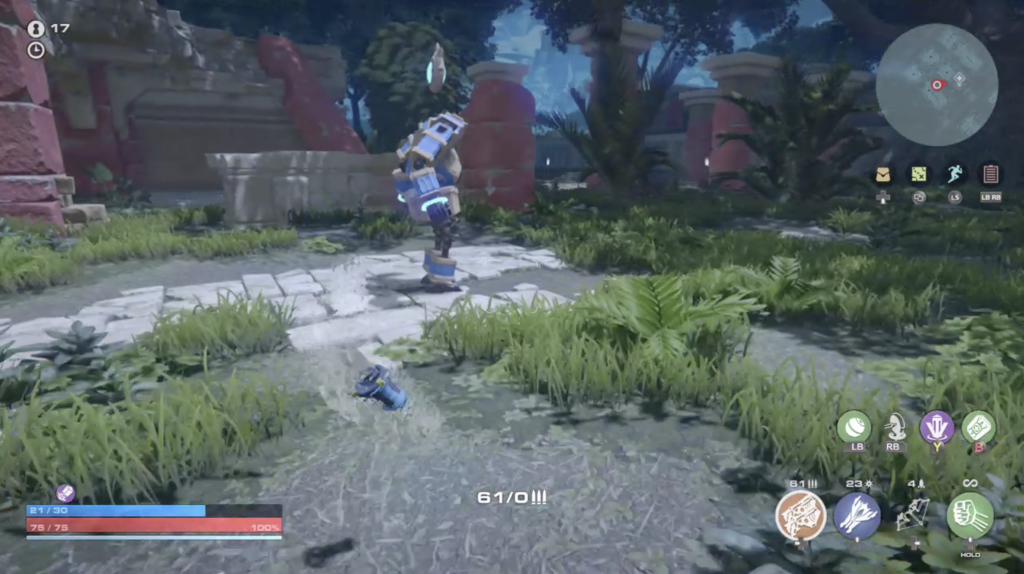 If you read the last paragraph a little carefully you would have spotted two other big differences that Skyforge has. Skyforge's battle royale has a night and day cycle. When the time of day changes the map gets affected as well. For example some plants glow and look alive at night which can draw attention, highlight certain areas and off course being night means it's harder to see your opponents. There are more changes too. but we won't spoil everything. Also there are monsters and enemies on the map that aren't human players. Enemies from the main story mode are here. They normally mind their own business but get too close and they are up for a fight. Why fight them? Simple because they could be holding onto some powerful and unique items. Enemies are also colour coded. Green are weak, blue are tough and while purple are real monsters and require real fire power to defeat. Pick your battles wisely.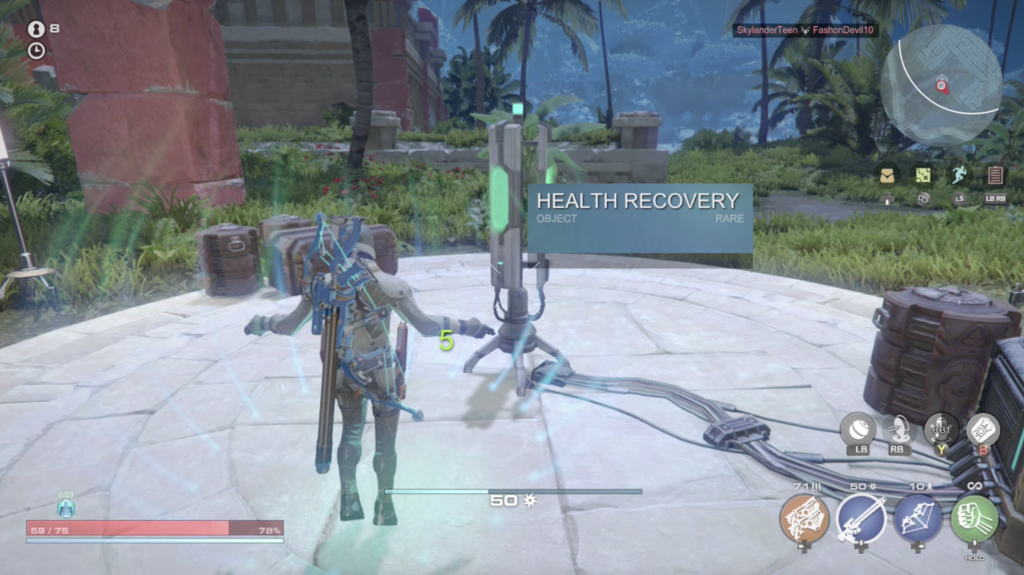 Players when traversing the giant map will come across stations which are also marked on your map. One of them is a healing station where you activate for free and gradually regain health. That sounds very good, there must be a catch to it right? Well honestly no but you must take into account that they are in open spaces which means while you are healing someone might come along and shoot you. It's good, it's free but has a small risk. There is also suppose to be a armour repair centre as well. So be on the lookout for these as they can come in handy. X35 Earthwalker, the legendary soldier himself as used the health station twice successfully. It turned the fight in his favour.
The main way to find items and weapons is in chests which again are coded by colour, green is bad, blue is good and orange is awesome. The things that players can carry with them are three types of weapons. Guns that use bullets like the rifle, energy based weapons like a blaster and explosive heavy ammo weapons like a grenade launcher. Players can also find med packs that recover health, mine type items that can be planted, gadgets that can have powerful effects and grenade type items. All items and weapons are classed by colour, green is the lowest, blue is average, purple is powerful and orange is a weapon and a half. Med kits can be use repeatedly but have a cool down. There are mine items that when planted will pull in a nearby enemy and knock them down leaving them vulnerable. There are gadgets that can even grant the players temporary active camouflage like in Halo. There are grenades that work as a flash bang to blind and even a psi field that disables enemies. Find what works for you and the situation.
Skyforge's Battle Royale is definitely more strategic and deeper than Fortnite. For starters the different characters with different abilities means that there are favourable situations and battles for some and not for others. If you can plant a turret then maybe you should focus more on staying the closing circle, wait for others to come and set up a turret to help. The night huntress will most like travel and fight and night times while she has the advantage. The devourer will at the start of a game seek to destroy weak hon human enemies to get stronger to overpower everyone else. So players have to keep all this in mind. What's good is that before a match starts players can run around at the starting area and see what characters other players have chosen allowing you to prepare for when they come.
Since there is quite the range of weapons and items, players need to quickly decide what they want to go with the strategy or approach in mind. Snipers are good especially if you get your hands on a gadget that grants active camoflague. A flash bang may be more useful than a explosive grenade in multiple situations. You can even find armour that increase speed or big armour that grants damage resistance. There is a gadget that allows you to jump higher than the master chief, but not as high as spider-man. There's a powerful equipment that lets you hover and move really fast across the ground. That could go well with two handed sub machine guns for that quick travelling damage. We aren't going to give everything away but there are multiple layers and deep strategy to this game over the other battle royal. For example in footnote it's all about finding a shotgun and building really fast. That's gets boring quick. In Skyforge there are many effective ways to survive and get the kill.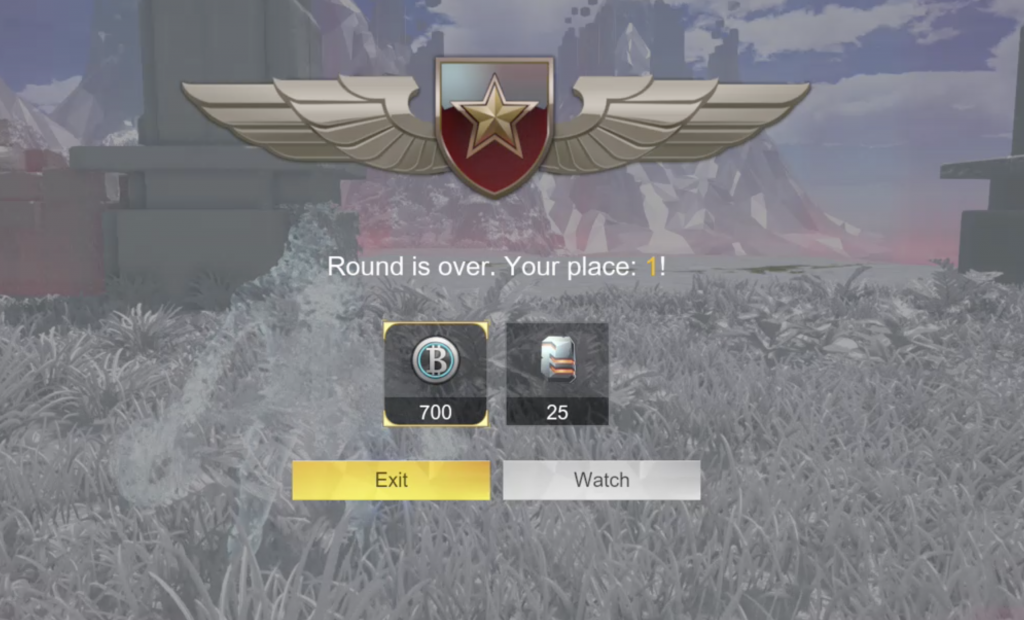 Already it's perfectly clear that Skyforge's battle royale is the best looking of them all. Look at the giant battle field. The design and visuals are beautiful. There are temples, water, stairs, underground sections, elevated areas, nice vegetation which look better at night and lots of room and places to explore and fight in. The matches are faster paced too simply because the safe zone gets smaller more frequently. You have a goof amount of time to gather and explore at the start but that ring closes quite fast forcing quick decisions, picking your fights wisely and running into others much faster. More players are catching on to Skyforge and so match start up much faster too.
One big negative about the game so far is the lag issues at times. Which thankfully isn't frequent but they are annoying and could ruin things for you. Also three matches now the match started but we couldn't jump down to get into the map, a bunch of players were stuck n the starting zone which is very frustrating especially when you spend resources to use a character but now it's wasted. We hope the developers look into this fast.
Overall Skyforge's battle royale is very good. We can confirm that X35 Earthwalker, the one true Earthwalker has won many matches and currently always places within the top ten (except for that one match where a glitch happened). There is a lot of variety in weapons, characters, items, monsters (sort off), strategies and more. Skyforge is without a doubt the battle royale that we have the most fun with and the matches are the most interesting and even less skilled players stand a chance. We at X35 Earthwalker recommend this game to all fans of battle royale. Now Skyforge may have the best battle royale but it still ain't as good as… the 'Earth Walk!'
For more information check out the link below: