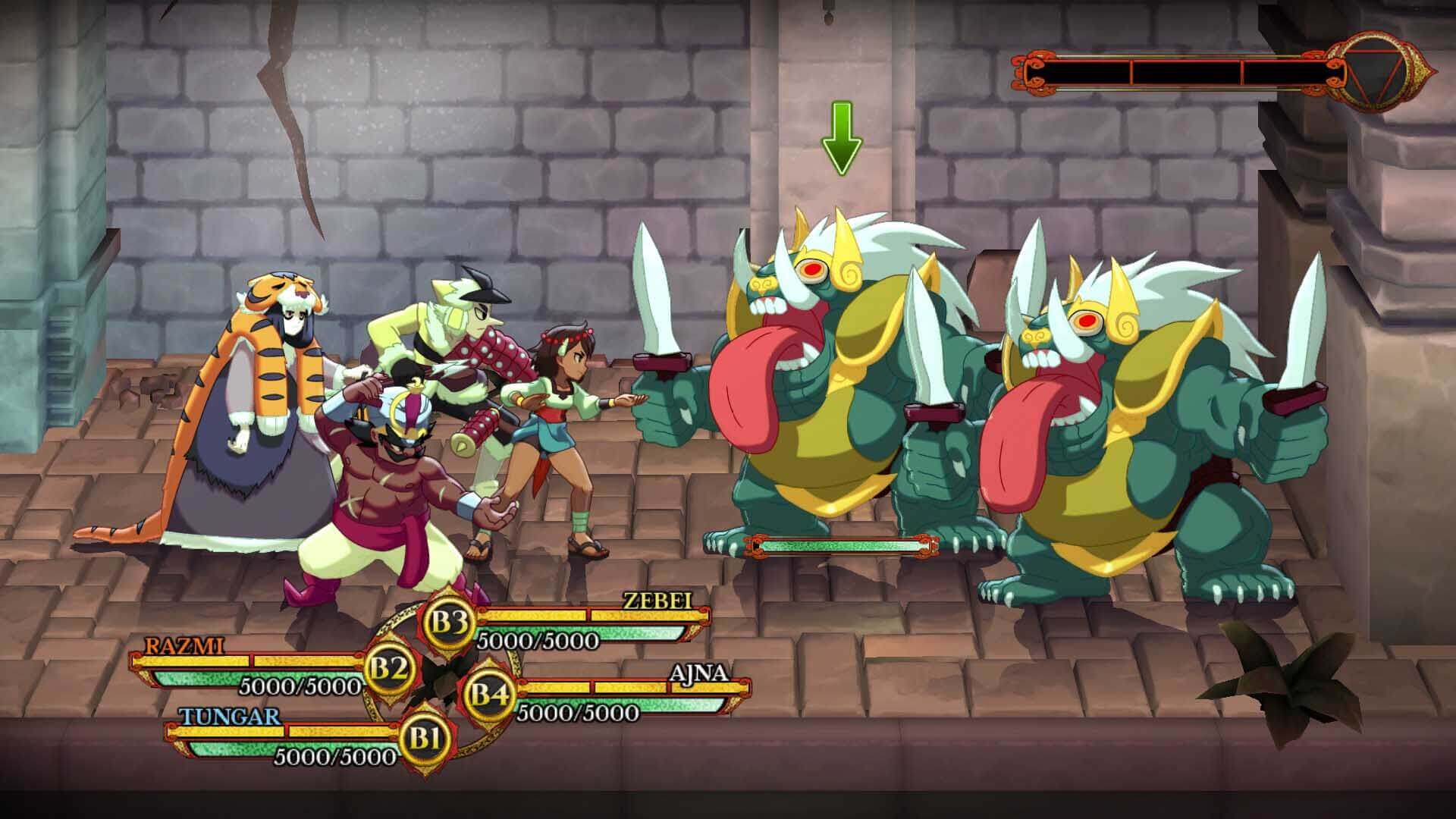 Indivisible is a new RPG platformer developed by 'Lab Zero Games' and published by '505 Games'. It is said to be coming out in the 2nd quarter of 2019 on the Xbox One, Nintendo Switch, PS4 and PC. This game has impressed some people already. Some good things have been said already. Let's take a look.
The story in Indivisible is quite simple really. Players control Ajna. A girl described as "a good-natured tomboy with a rebellious streak". She was raised by her father in the outskirts of their rural. Things are normal. Things changed real fast though, as her village was attacked. The warlord Ravannavar and his army. Ruthless lot they are. Ajna also learns that she has a power. This power allows her to absorb certain individuals into her being.
Off course these two events will make anyone want answers. So Ajna goes on a journey, a world wide journey to one, face Ravannavar and two, learn about this power and eventually her true nature. The beings she can absorb are called 'Incarnations'. They have their own personalities and stories which players should take note off. Ajna not only absorbs beings but they can be manifested to fight alongside her. It gets a bit more strange. Ajna can also enter inside herself, a dimension that's forming inside of her. This realm is where saving the game, quests and upgrades is found.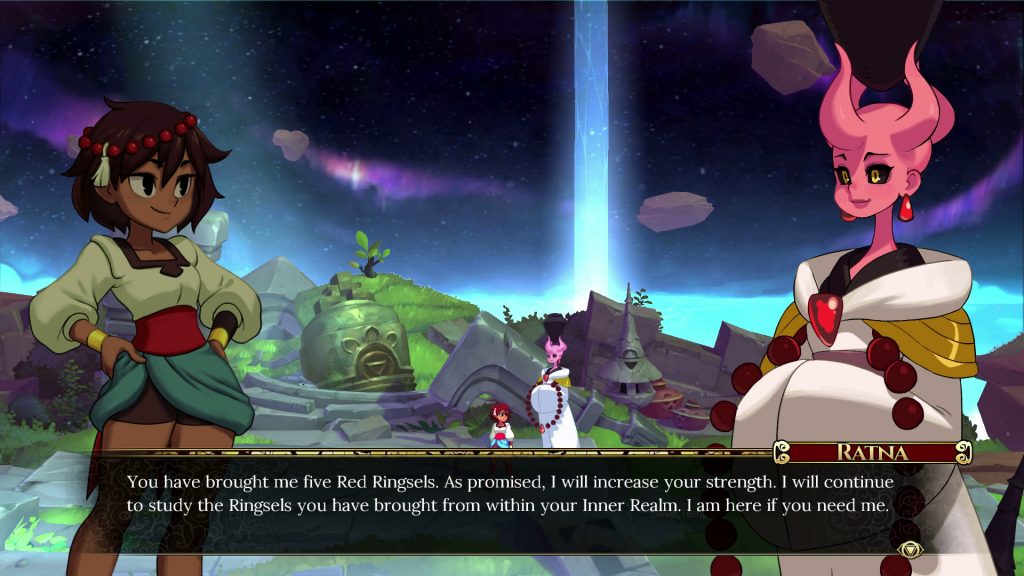 Games like Indivisible will always have things to find, abilities to collect and areas to explore. It's a big world indeed. From the world map you will areas like the Iron Kingdom, the Almutah sands, tai Krung, Ashwat forest and more. Now off course Indivisible is 2D but when you look at the environments and worlds you will explore you will see all the 3D of this game, and that's how players will truly see the wonderful visuals.
Hopefully you would notice by now but one of the main things that stands out about Indivisible is the graphics style and visuals. All the art here is hand drawn, just like with Cuphead. That's right. Indivisible looks wonderful. If you while playing don't stop to take a look at the backgrounds and what's happening, then we, at X35 Earthwalker, automatically lost respect for you. The levels and world definitely looks alive. The levels are well designed and the attention to detail is very well done.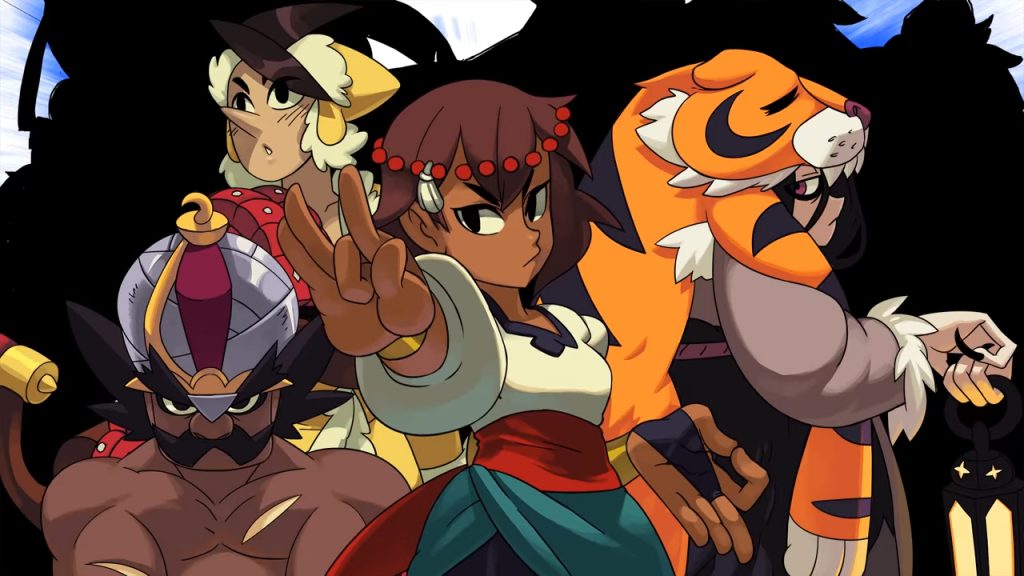 The characters are another standing out good things about Indivisible. Ajna definitely has that tough tomboy look and it suits her well. She looks like someone who would constantly clash with Natsu from the anime Fairy Tail in heated battles. She's just the start. There's Tungar who weilds a long ribbon like flexible blade which when not being used rests on his head as a turban. His body covered in scars from years of training. There's Ginseng and Honey who are a duo. Honey is a plant creature while Ginseng is a youngster with great knowledge of herbology. They aren't the combat types but their skills will come in handy. There is said to be more than 20 different incarnations.
We checked out some gameplay and Indivisible currently looks very good. We already mentioned the graphics which are very good. The gameplay is smooth, the actions are well animated. The enemies are weird looking and each area of the world has different types of enemies based on the environment which is good stuff. The combat is turn based from what we can see and it looks like you can have up to three incarnations fight with you during combat which also means that combinations, techniques and strategy will have a big impact in Indivisible.
Overall Indivisible definitely looks like a very good game. The hard work with the art being hand drawn, the variety of locations with relevant enemies, unique different characters with their own stories, range of items and abilities to find and much more. The developers 'Lab Zero Games' have done a very good job with this game. We at X35 Earthwalker are looking forward to seeing Indivisible come out. Now Indivisible may have lovely visuals but it's ugly when compared to the beauty of… the 'Earth Walk!'
For more information check out the link below: