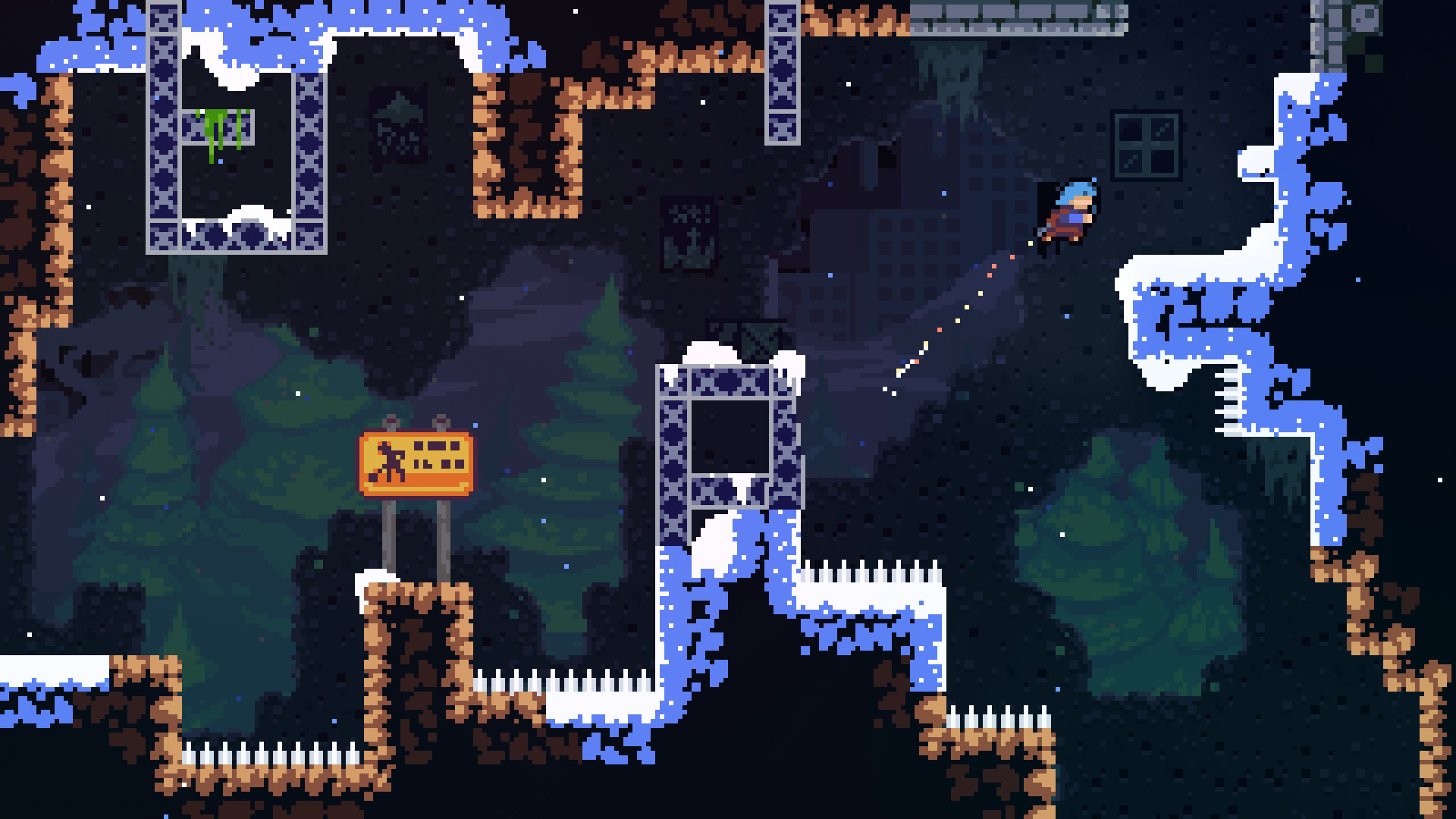 Celeste is a new Platformer game developed by 'Matt Makes Games inc'. It's coming out in January 2018 for the Xbox One, PS4 and PC. Apparently this isn't some ordinary mountain. Let's take a look.
Celeste is simply about climbing a mountain. The mountain is said to a power, which is pretty much the main mystery of the game. Everything else is what you would expect from a platform game. Celeste has over 600 levels! That's huge!This won't be some game that you complete in a day by the looks of it, which is a good thing. The 600 levels are split into 8 chapters and for those completionists out there, there is said to be a lot of secrets in across these levels.
The graphic style off celeste course should remind most gamers of Terraria. Now players control Madeline. She has simple controls. She is a great climber as she can climb any surface and cover distance using her air-dash. If we know games (and we do), simple controls means a bigger skill gap and potential. We are off course correct. Celeste is meant to be a very difficult game. Like with some rage games you are expected to die a lot.
The most interesting obstacle in Celeste is the fact that you can get chased by your own reflection. This is a very awesome but scary mechanic. X35 Earthwalker when he was much younger played one of the early Rayman games and had a level where a dark version of Rayman will follow you and do everything you do at the moment in time when you did it. This meant if you ran at point A and the shadow spawned at point B further behind it will walk to point A and then start to run like you did. If you collide with your reflection then you die.
We checked out some gameplay and we at X35 Earthwalker like what we see. It's pure platforming. nothing but jumping, moving, dashing and evading. There are traps around the levels sort of with a similar style to Spelunky. Blocks falling down to crush you, spikes around to impair you and off course drops to your death. Lots to keep up with. Mastering the air-dash will save players a lot of deaths and pain.
Overall Celeste is an awesome looking game. It's pure platforming. Serious platforming at that. The graphic look good for it's styler. The sounds are good also but the music is excellent. The difficulty is suitable for a platform like this where dying is frequent. Off course we are sure there is more to Celeste and the secrets of the mountain. The developers 'Matt Makes Games inc' did a fantastic job with this game. We at X35 Earthwalker look forward to seeing what else Celeste has to offer gamers. Now mountain climbing can be too much for some but guess what's too much for everyone… the 'Earth Walk!'
For more information check out the link below: