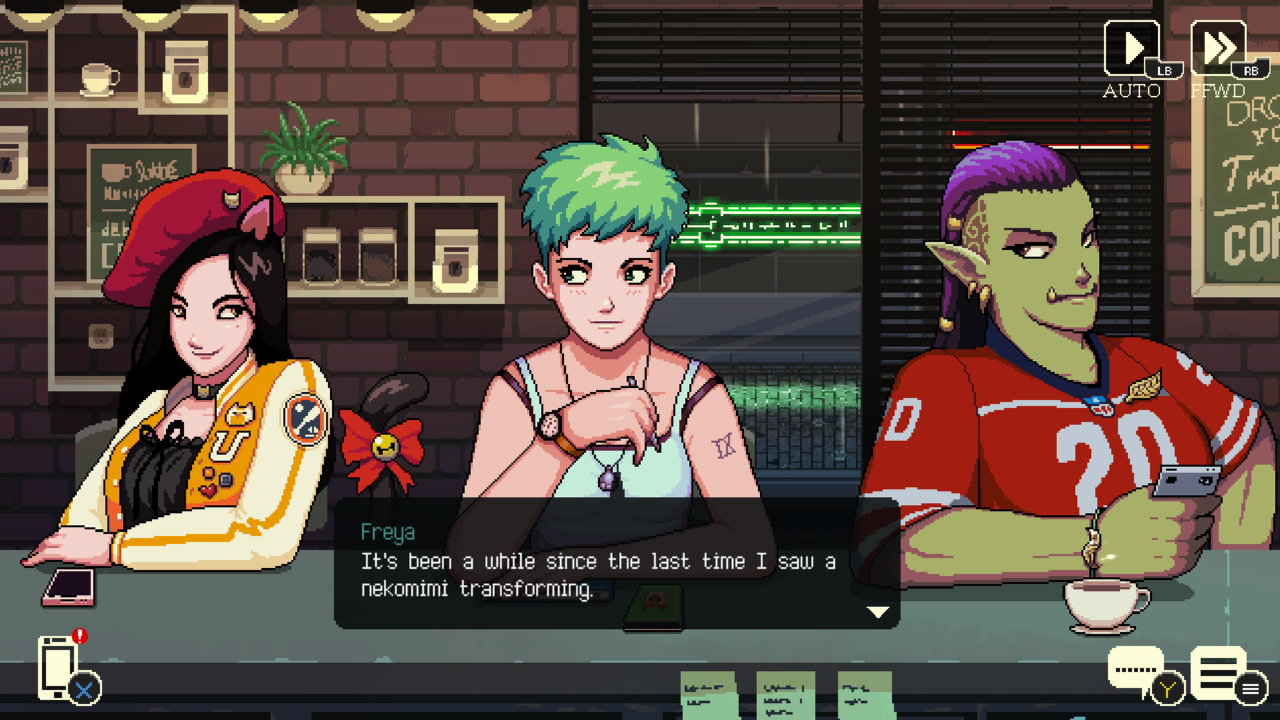 Coffee Talk has been classed as a visual novel game or simulation or adventure or whatever… to us it's a coffee game. It was developed and published by 'Toge Productions'. Coffee Talk came out on the Xbox One, Nintendo switch, Playstation 4 and PC. Coffee Talk got our attention and we decided to take a look and ended up playing it. This isn't normally our type of game but this was amazing. This G-blog is going to be quick fire. Let's take a look.
The world of Coffee Talk is a familiar one. Not on the surface but once you meet the 'people' you'll understand why. The game takes place in America, Seattle… in the year 2020. A great year for us by the way. So this game is as modern as it gets. The citizens aren't humans, well not all of them. There's werewolves, orcs, nekomimis, dwarves, vampires, elves, succubus (demons), mermaids and even an alien. There are a bunch of non human beings but with human problems. You as the player is a Barista (dude who serves drinks). Your job is to serve drinks… that's it. No seriously, that's what you do. The customisers come in and you just serve them, listen to their problems and hear what's going on. Oh and just relax.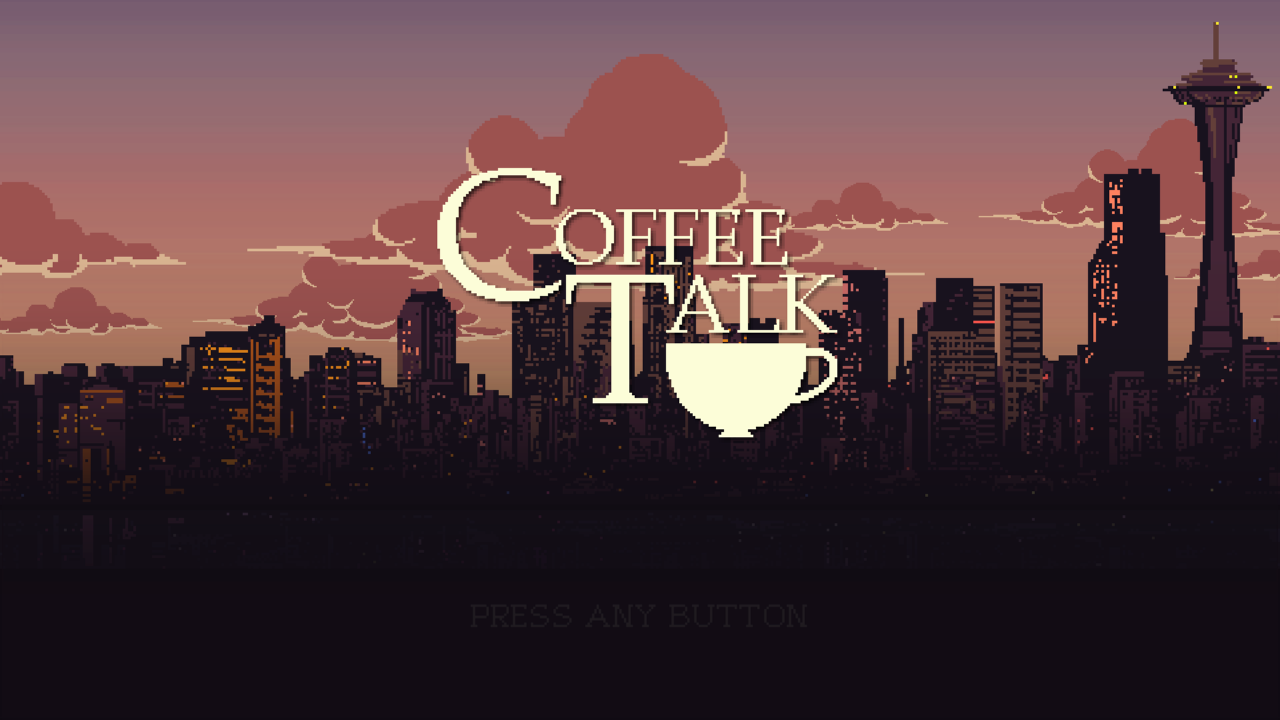 Let's quickly sum this up. The coffee shop only opens at midnight. So it's a late night place. When a customer comes in, they will normally sit down and order a drink or start talking to you, which ever is first. You must then make that drink for them. There are ingredients for the player to mix and combine to create different drinks. For example you can use coffee as the base, primary and secondary to create espresso. Over time you unlock more ingredients which means more options. This is important as some customers mix things up and ask for a specific drink which has specific ingredients. If you don't know them, then you will mess up an order which doesn't help your customers relax. There's a load of different drinks and you have to discover them for yourself. Our advice to gamers is to experiment and try to learn as many drinks as possible.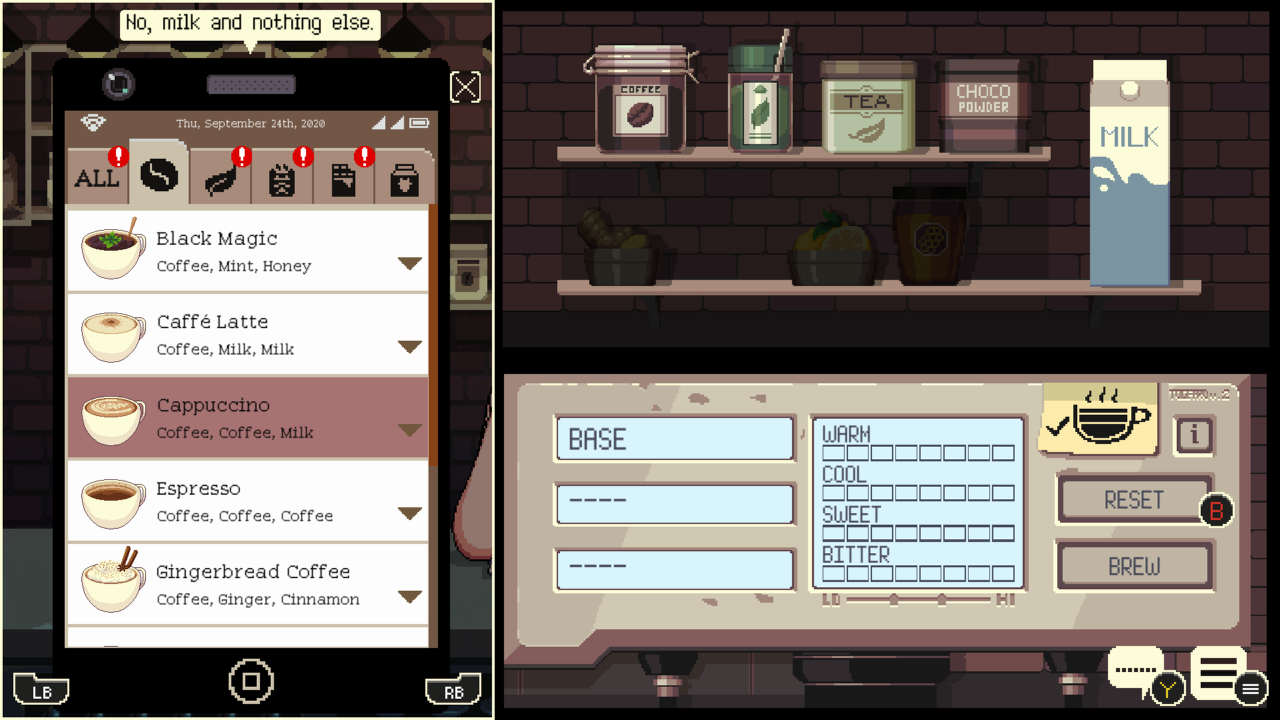 Coffee Talk is all about relaxing and listening (well for us reading) to others and hearing what's going on. Hearing their stories in the night time of Seattle. You can tell Coffee Talk was inspired by the feeling of having a warm drink at night or maybe after escaping the rain and trying to warm up and talk with your friends. It rains quite a bit in that game. What adds to the atmosphere is clearly the music. Even better you have control over the music. You can through your mobile phone device cycle through and select the music you want playing. Coffee Talk does have a very good selection and some are more relaxing than others while some are more bopping and can get the body moving but still on the chill side. The music plays a big part for us and we are glad that's it's there. We certainly know our favourite tune, that's for sure.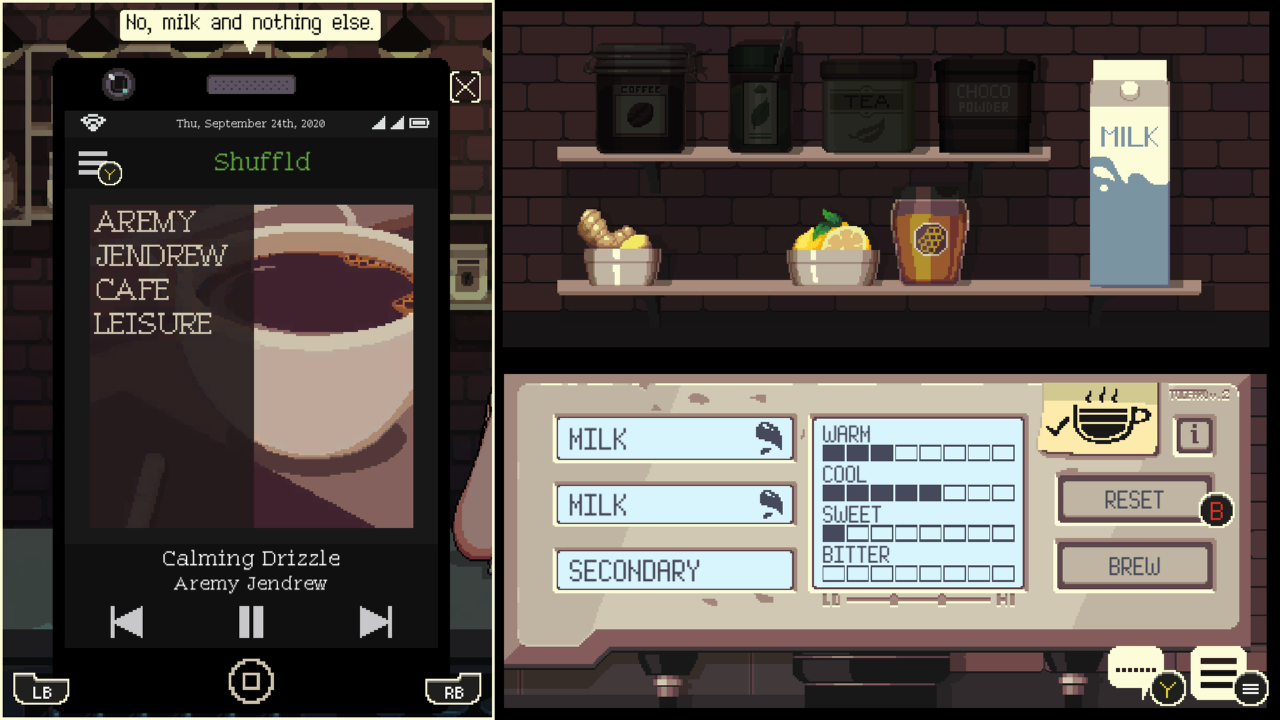 To make things even more relatable and interactive there is a social media that everyone seems to be using called Tomodachi. All the characters in the game are using this. As you interact with the characters you will gain access to more information concerning them in Tomodachi. As you can see below there are four stages to each character. In stage 1 the bar is empty and all you can see is the name of the person. Stage two you get simple basic information. When you max it out you'll see their hopes, bit more personal information and even their likes. So make sure to come back from time to time to see the new information and learn more about them. It was interesting to learn more about Freya. Makes things more relatable for sure and realistic.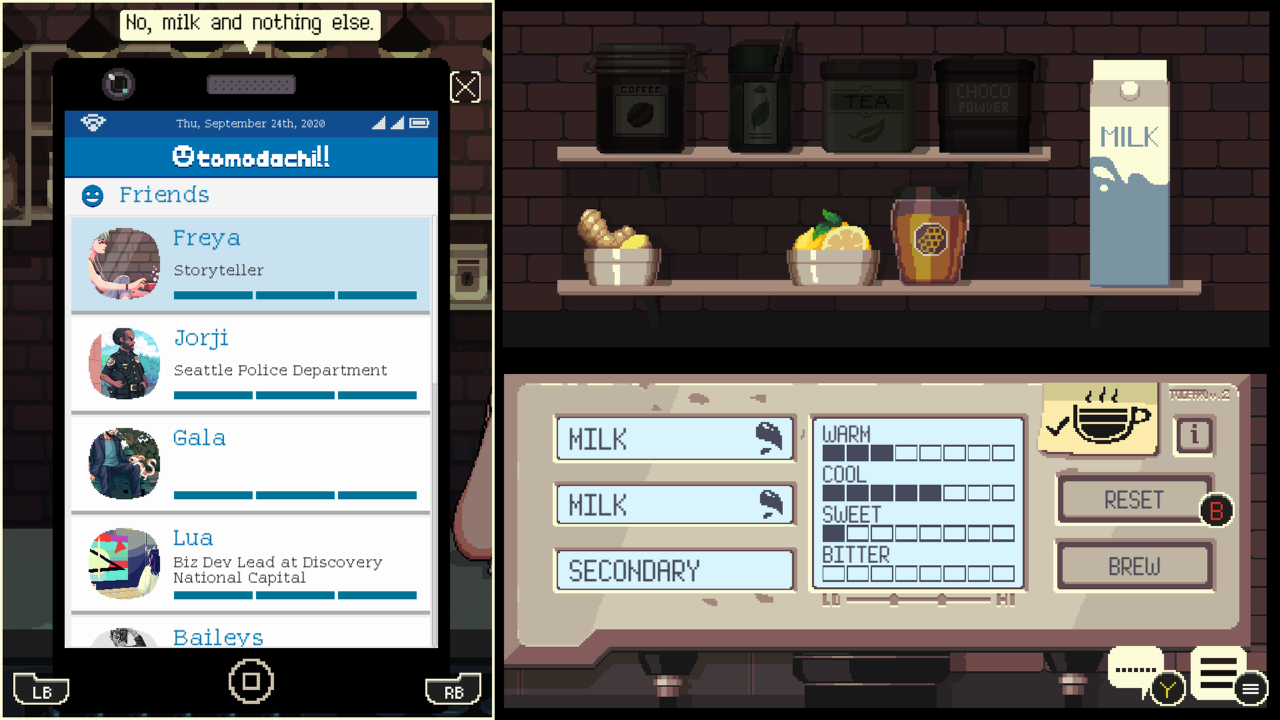 As you listen to characters and go through the days, you will see their stories continue. For example you see how things with Freya develop concerning her goal to become a successful book author, you get to see her hard work and struggles fuelling up on espresso (unhealthy). You will see Rachel and her issues with her dad, here she is right and wrong and what drama surrounds that. You are in their business and they tend to be comfortable and come to you and your coffee place. It's the get away from everything else. A place to chill, relax, drink and talk. Every character has a story and will unfold. Even the Barista (you) has some mystery and it's up to the players to try and figure some stuff out. A lot of what we are hearing from these characters sounds similar to what we have heard in real life in some cases. So anyone whom plays this will understand or relate.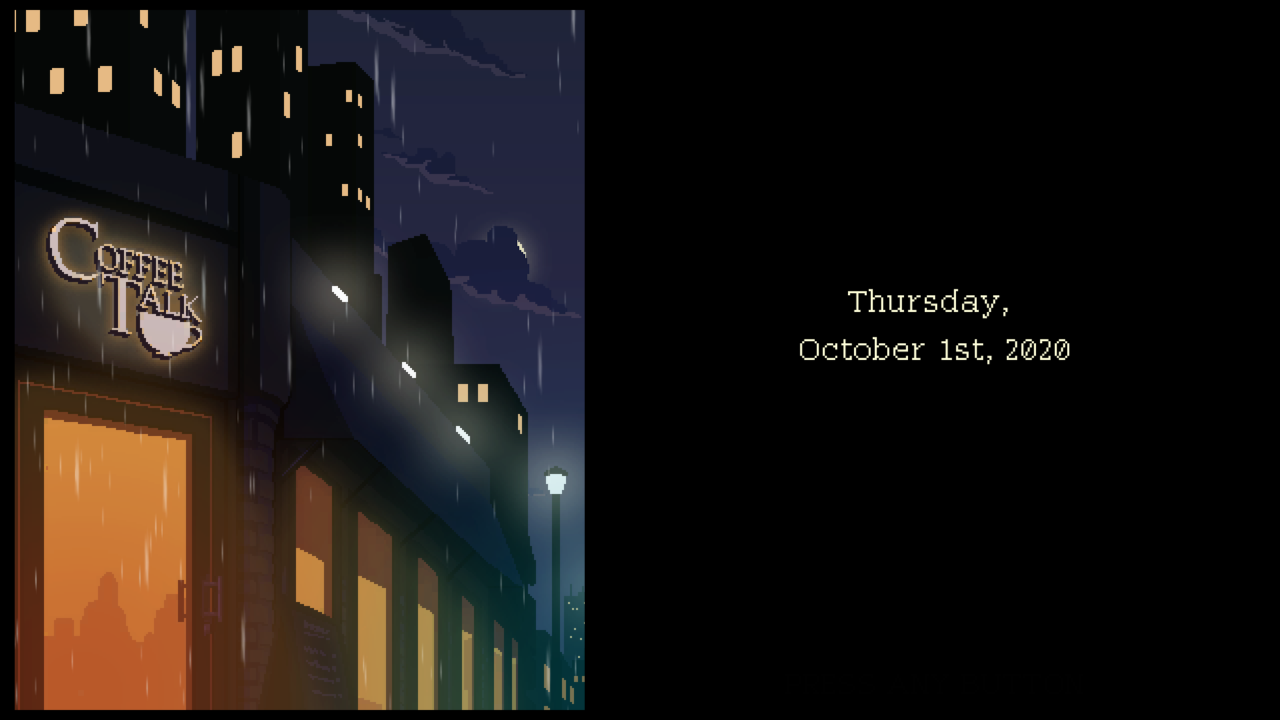 As we said before, Coffee Talk isn't our type of game at all but this one got our attention and we had a great time with this game. Like we got real into this game. Very few games have done what Coffee Talk has done to us. We even started a little tradition where before we play this game we must make a cup of green tea. We had to be prepared. So yes Coffee Talk is a visual novel as it's a store for sure containing stories. It's a simulation as you take the role of the Barista. It is an adventure as each day you go in hoping to get an update on the characters situations. It was exciting getting to know what will happen and how we can make it all more exciting or cheer someone up with a drink. In addition there are extra game modes like where you have to try to serve as many correct drinks as possible in a period of time from memory. There's a bit of extra content but we did wish the main story was longer. We wanted more. Yes, we know there's endless mode.
Sadly, Coffee Talk is another great game that got little to no exposure. We haven't heard anyone talk about this game. What a shame. This is something way more people should be playing. No it isn't as huge and detailed as Halo 5 Guardians or Final Fantasy XV but it's excellent at what it is. It does what it says on the box. We plan to make more videos of this game in the future. The best way to play Coffee Talk is to play at night, alone and with a warm drink. The developers did an excellent job. Now Coffee Talk might be fun and relaxing but it's no where near as relaxing as… the 'Earth Walk!'
For more information check out the link below: