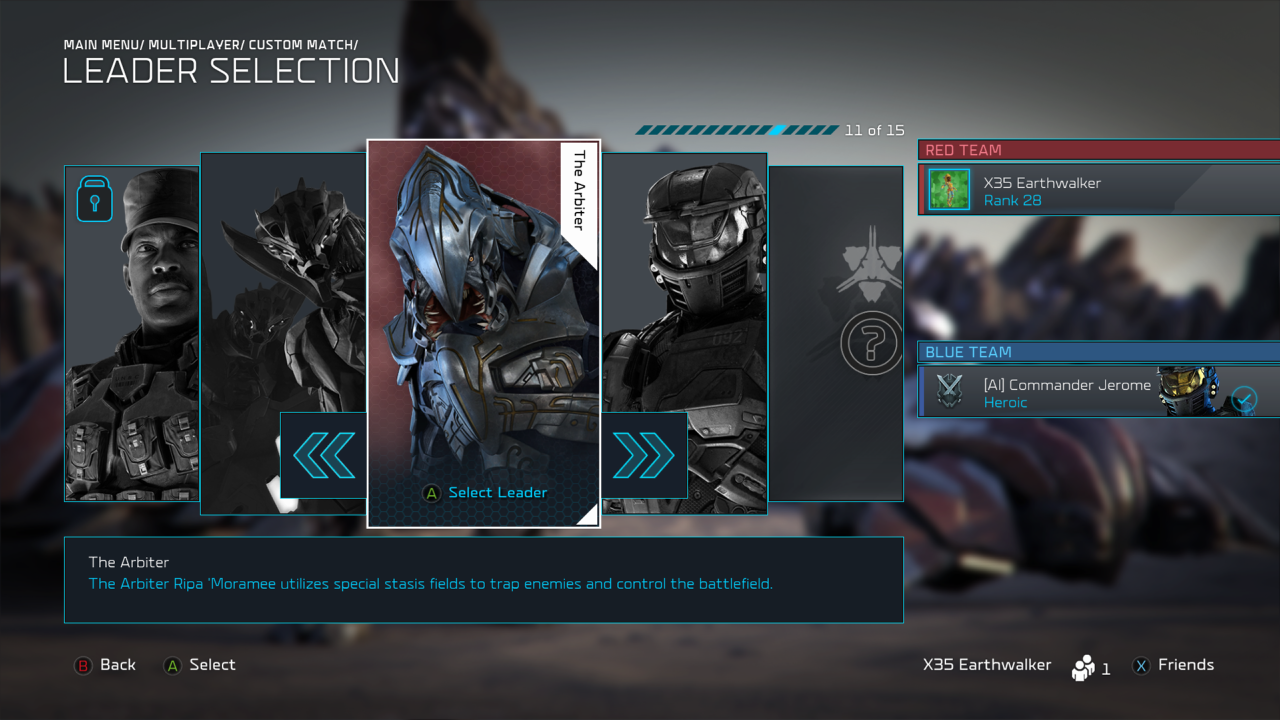 Halo Wars 2 is at it again. We must say though that the developers are doing an awesome job so far in bringing us new content, which is actually good and charging us at reasonable prices. Great Job 343 Industries and Creative Assembly. The newest character leaders are The Arbiter and Spartan Jerome.
So many gamers where looking forward to these two leaders and boy do they deliver. Both of these new Halo Wars 2 leader function very differently from all the others, which isn't an easy to do while keeping everything balanced.
The Arbiter is definitely more focused on his stasis leader powers. He has regular stasis and also mass stasis which is just stasis but on a larger scale. Basically if you use stasis on enemies their units can't move or attack but cannot be harmed. So it buys you time. Time to escape or time to attack turrets first or destroy a base and they have no choice but to watch. If you use stasis on your own units then they can't move or attack either but also become invincible. Use this to survive an eradication power from Atriox or keep your army alive until your team mates can show up etc. The Arbiter also has stasis mines which function like regular but also slow down units that trigger them. A mine is still a mine at the end of the day. What is most dangerous about his leader powers is Conduit of rage. This is because it causes any units or buildings near to heal and get a brief boost to damage and speed when near a leader power. So if you use plasma bolt to hit some enemies and your army is near the point of contact then they are instantly buffed. Rage of conduit can be upgraded to make the buff stronger and last longer. Combine this with Power surge and the match is pretty much as good as won. Power surge reduces the cost and cooldown time of all your leader abilities. So imagine upgrading that as well to reduce cooldown even more. You will be dropping mines so frequently, firing plasma bolts and buffing your troops more frequently for complete destruction. Arbiter requires planning and timing. You must be strategic. As a hero unit on the field he is really fast, probably the fastest unit in the game and does great melee damage. When he enters rage though he does more damage and once upgraded gains health from attacks and can even buff his allies while raging.
Commander Jerome is heavily focused on inspiring units. Inspired units have increased damage, armour (defense) and speed. Jerome has to keep his soldiers inspired at all times. Jerome's leader powers in some way centers around inspiration. Firstly 'Time for heroes' naturally gives all your units a buff in terms of speed, armour and damage as long as your unit count is 40 or below. This is useful for the early game. Enduring Salvo let's you drop debris from the ship 'Enduring conviction' to damage anything it lands on but it also grants inspiration to any of your units that are near where you used the leader power. Victory turret functions like any other turret but this turret also inspires any nearby units. Victory mine is like other mines but when it explodes it inspires nearby units. Field promotion is very powerful. It lets you instantly turn units you selected to level 1 veterancy. This sounds simple but can really change the tide of a battle. The most favoured leader power of Jerome is 'Omega Team' which drops in three spartans: one carrying a plasma turret, one carrying a railgun and one carrying a beam sword. When used properly they are destructive. Jerome as a hero unit uses a hydra mini missile launcher and functions like any other spartan but comes with a aura circle around him which inspires units within. Jerome can call down his own mantis which fires lasers. Jerome can enter the mantis and grant it more fire power. Once upgraded the mantis can call in a laser strike as well.
Lastly in Halo Wars 2, both leaders bring in a whole new type of unit to the game. The arbiter has the Phantom ships while Jerome has the Mastodon. What's special about them? Both are tough units that have the ability to carry infantry units. For example, you can place a sniper and and some marines in the Mastodon and they can fire from the mastodon while being protected. This especially looks cool when you have hunters with the beam upgrade in a phantom because you see the hunters beams coming from the ship attacking enemies. Very cool indeed. We won't give away our personal strategies but the rest is up to you.
Overall these two new leader for Halo Wars 2 are an awesome addition to the game. They are worth buying and worth checking out. X35 Earthwalker himself has tried both and he loves them. If you love them, that's great but make sure… to love the 'Earth Walk!'
For more information check out the link below: