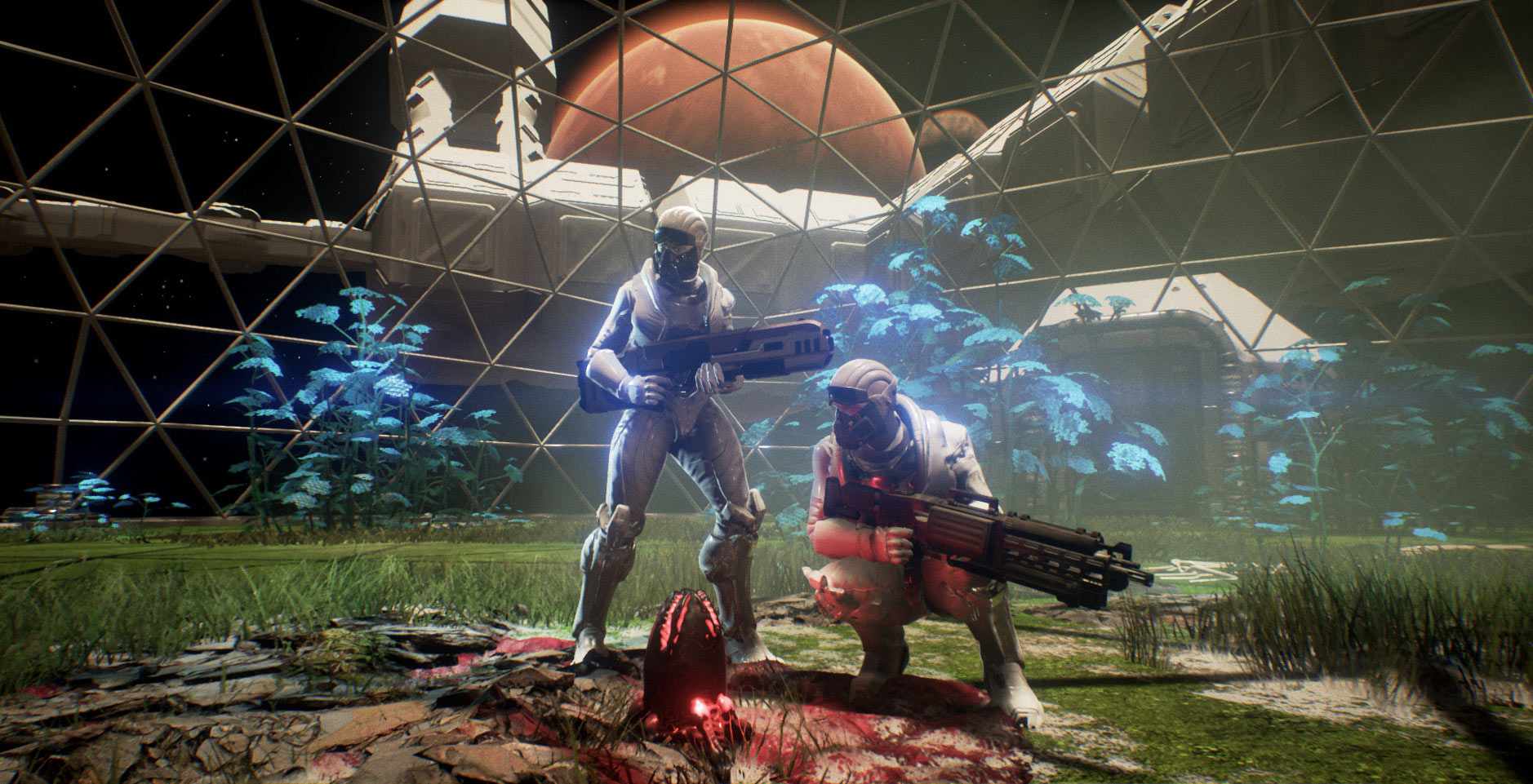 Genesis Alpha One is a new sci-fi first person shooter game developed by 'Radiation Blue' but published by 'Team17'. Genesis Alpha One is coming out the 4th of September on Xbox One, PS4 and PC. Survival games can get real deep and we hope this one is done very well.
The story in Genesis Alpha One is basically, humanity is in a bad state thanks to many wars, very bad pollution and off course corrupt regimes. We all know it's never complete without corruption. So 4 powerful or should we say influential corporations have started the Genesis program. Players control the captain of the Genesis starship. It is your duty to make sure everything goes smoothly and to make the right decisions.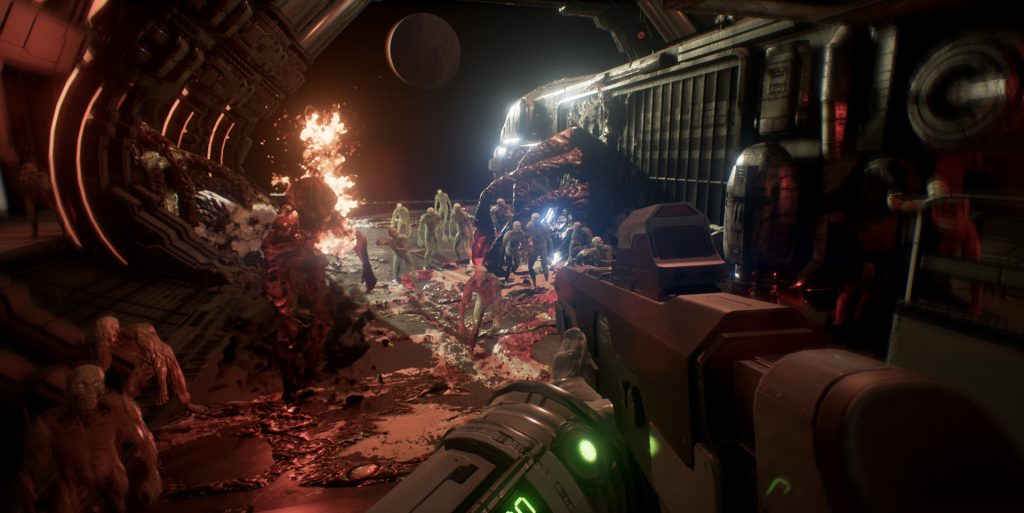 So time for the survival stuff. In Genesis Alpha One, players will have to explore a really large universe. It's never that simple. You will also need to collection and manage resources, build and manage a space vessel. If you can do all of this then completing the main mission is possible. What's the mission? It's simply finding new homes for humanities DNA and off course saving humanity from extinction.
Off course things aren't that simple either. There are aliens around and boy are they hostile. some are even described as terrifying. Worse are alien infestations which off course have to be cleared out and handled, if that's even possible. This means combat is a big part of the game as well. Genesis Alpha One is a first person shooter after all. Not much information is given about the aliens but some look like taller Juvies from Gears of war 4. There are some tentacle big mouth punching enemies and another that sort of look like a combination of head crabs with the main aliens from Star Ship Troopers. Scary right?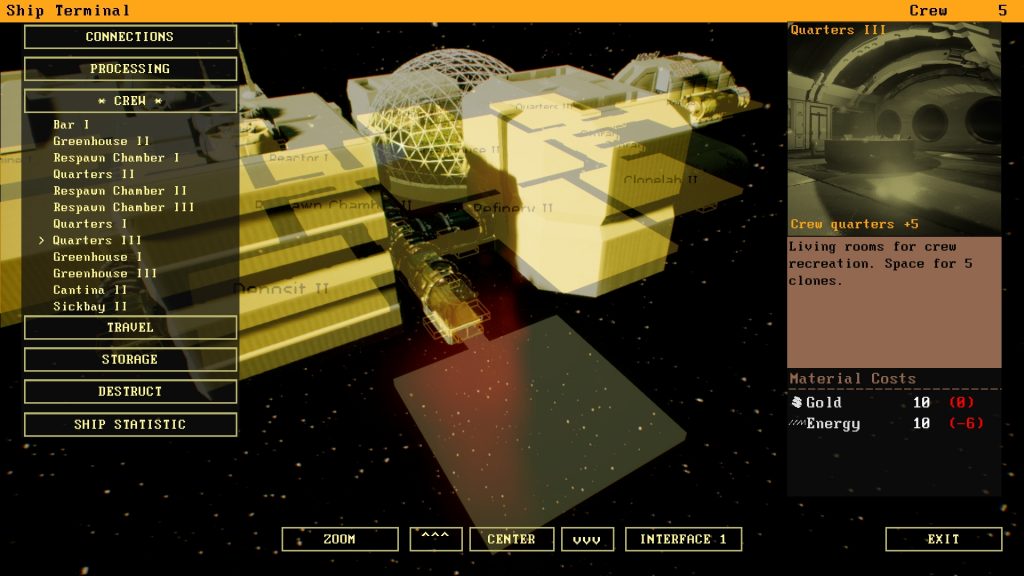 Not only that, technology is really advanced as you can clone things like creatures and even your own troops. There is permanent death in Genesis Alpha One which means every troop in your team matters. If they die, they stay dead. Every decision you make as captain matters. Sort of like with XCOM 2: War of the Chosen. Not only that, it gets worse. It's all random generated. So every time you journey into Genesis Alpha One, you will get a different galaxy loaded with dangers and things to do. It won't be the same.
We checked out some gameplay. There is a lot of decisions to be made in how you approach things, whether it's to set up defences like turrets, is it safe to search the alien bodies for DNA samples? Stuff like that. You also have to keep an look out for infestations which look like small fungus growth. If left unattended then expect a whole lot of trouble. Manage and have enough plants in your green house to keep everyone alive. There is lots going on and we like it. There is customisation as well. For example if you build a quarters for your crew members you can change the colour of the sofa and other individual objects. Glad to see that you can see what resources can be found on each planet.
Overall Genesis Alpha One looks really cool. Seems like a deep game indeed. The graphics are very good. The sounds are great too. the planets are random generated so you never really know what you will come across out there. The combat is simple, point and shoot. There's so much that can go wrong and knowing when to fall back is important. The developers 'Radiation Blue' did an excellent job. We at X35 Earthwalker are looking forward bro seeing what Genesis Alpha One has to offer gamers. Now the Genesis program has a big mission but that mission is so small when compared to… the 'Earth walk!'
For more information check out the link below: