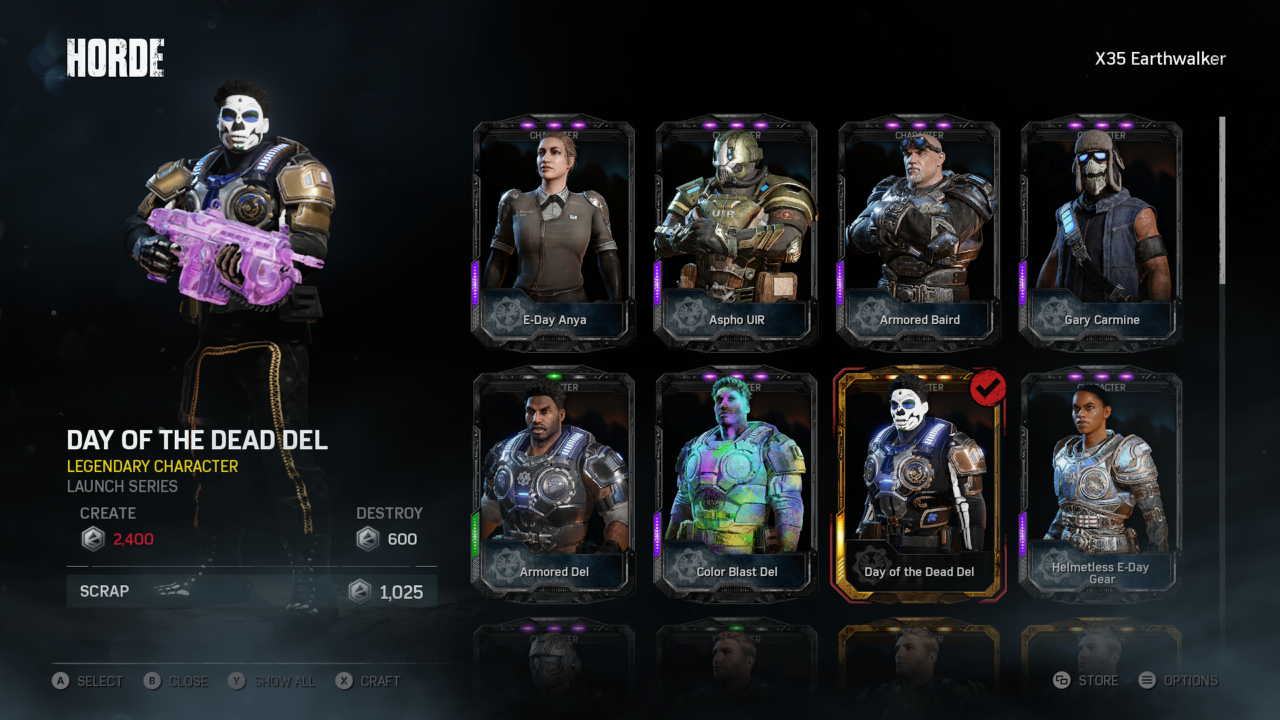 Gears of war 4 has made some changes for the better while some stuff that was great in Gears of war 3, they didn't bring over. The developers have to make decisions and not all the time it works well with the players but hey, decisions must be made.
Gears of war 4 has a lot of characters to select from. The largest selection out of all the Gears of war games. Yet some people are still not happy with it. X35 Earthwalker's favourite character is 'Day of the dead Del'. It has some gold on the armour, the clothing style looks real nice but the only problem he has with the character is the face paint which looks horrible. They should make the same skin but have it without the face paint. Most of the characters pretty much look to similar and not that different at all. In multiplayer, everyone is moving around quickly, doing what they need to do so the characters will need to be designed in such a way that you can recognise the differences really quickly. The V, E and whatever other day gears characters with the helmets on are not impressive at all. The carmines pretty much look similar except Clayton.
The point is that they could have been more creative with the characters. For example they can create new characters for the sake of multiplayer only. A completely new person and give them unique lines. We do know that it requires more work and effort but we think that's necessary for a big game like Gears of war 4. Give some new characters signature accessories on their uniform to make it stand out. Maybe a new gear character with bright coloured hair. Or go crazy and create a chef who had to defend himself with a gnasher from a fallen soldier who tried to evacuate him. So the chef still has his chef outfit on or whatever. There is lots you can get away with in this game. Maybe a cool dude still in his suit, maybe he use to be a celebrity like the Cole train.
Some characters should be in packs but they should have done what they did in Gears of war 3 which was make some characters unlocked through certain achievements get a certain number of multiplayer kills and even make some difficult ones like get the quad to unlock young Hoffman but in knights armour and it has that clangy noise that knight armour makes when moving. Something big like that. They should have brought back unlockable stuff as that gives a sense of progress to players. Last of all they need to bring out the Aaron Griffin character and hurry up! He was X35 Earthwalker's favourite character in Gears of war 3 and by far the coolest character overall. His lines were epic level and he completely stood out. Bring back Mr Griffin and we will actually use our in game credits to get him.
Overall there is quite a lot that the developers can do concerning the characters in Gears of war 4. Too many characters seem similar and not as much stands out. We certainly have no interest in the colour blast characters but they are cool to some extent. We at X35 Earthwalker hope to see much more from Gears of war 4 in the future. What we can expect to see in the future though… is the 'Earth Walk!'