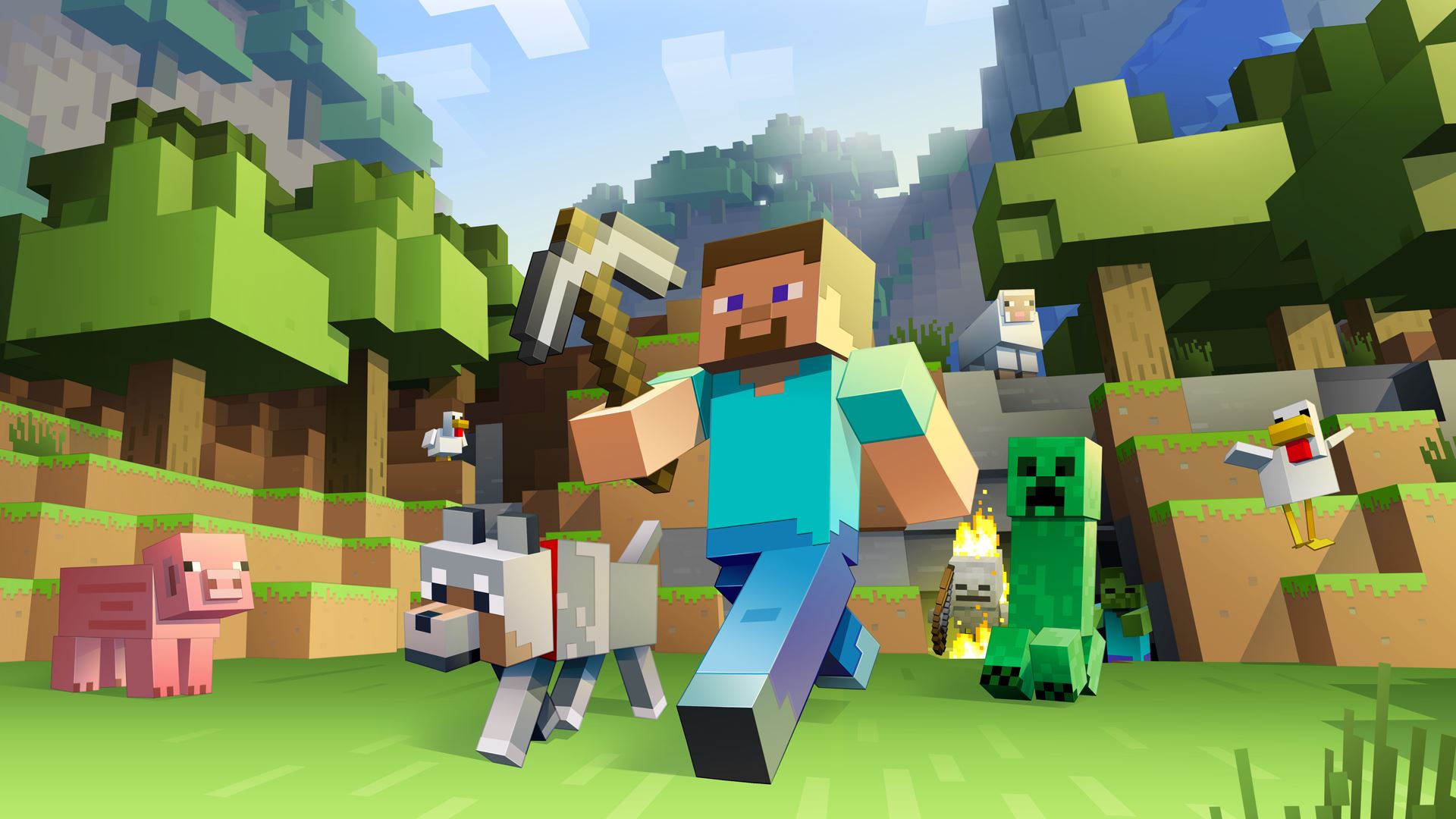 Minecraft is absolutely popular and we're sure that every gamer has heard of it by now. It's the world made of blocks. Now this game straight away is for some gamers and not for some. Many say that this game is boring and that there is nothing to do. In a way, this was true; however Minecraft relies on the players imagination and creativity. It's originally for the creative. We at X35 Earthwalker know that there is much do.
In this game the objective is pretty much whatever you want it to be. Do you want to build a house? Do you want to build a ship? Do you want to build a underground base or a tree top hideout? It's up to you. When you start your own world you will have a map and nothing else. You could get wood from trees and then turn that wood into tools like pick axes and axes to get cobble stone and more wood. Then with the cobble stone you could make stronger tools and get coal. Then turn some wood into sticks and combine with coal for some torches. Use the cobble stone to make a sword. Then build a furnace using the cobble stone. Go digging underground and eventually you'll find some iron ore. Then put that in your furnace and smelt it by using your coal as fuel. Now with iron, you can make stronger tools and even make armour. You see what we mean? As you take action, you will discover and find new things. Then those new things will bring about new ideas, in which the player will then take action and the cycle repeats in a way. The game is literally dependent on the player.
We remember our first moments playing Minecraft and boy was that fun and exciting. The most memorable moment was how scary the game could be when you was accidentally caught some distance from your safe home or shelter and it was turning night time. This was bad as at night is when all the monsters of the game show up. You see, during the day there are many A.I called 'Mobs', like cows, pigs, chickens, wolves and more. Most don't hurt you and aren't capable of harming you but at night, aggressive mobs spawn and they don't think twice about attacking you. Such Mobs include 'Spiders', which can even climb walls and more to get to you, 'Zombies', which just brainlessly (get it?) walks towards you, 'Skeleton' which fires arrows at you rather accurately if you ask us, 'Creepers' which has to be the most famous thing in Minecraft. Creepers are mean creatures that chase you down and when near you they will explode in an attempt to take you with them to the grave. There are some more mobs though like the 'Enderman' who can teleport but when you only have a stone sword and no armour and then you see these enemies appear everywhere, making horrible noises and chasing you down, trying to kill you in the middle of the night, it can get scary. It's too dark to see your way and don't get us started on the infamous sound you hear when a Creeper is near and about to blow up.
There are 3 game modes in Minecraft: Survival, creative and story. Survival is the traditional mode of Minecraft where you must work for everything, you must mine everything and get everything yourself. Creation is where you get unlimited of everything in the game and therefore can solely focus on building whatever you want. Story mode (which isn't free) is an episodic point-and-click narrative-driven graphic adventure where your choice and actions effect the story. Now X35 Earthwalker only plays 'Survival' mode as he believes it's the main and proper way to play. Survival is the main game mode but 'Creative' mode became incredibly popular since it allowed players to build whatever they wanted with ease. It should also be mentioned that you can fly in Creative mode and do weird stuff like summon mobs and whatever you want. Be sure to try our all three and see what's your favourite.
This is where some gamers get bored. They finally have all diamond armour and all diamond equipment including a sword. They have a big fort like house and a farm area for the cattle. They now wonder what do they do next. It;s up to you. We have seen many crazy and cool inventions. X35 Earthwalker created many things in his world. He created a giant fortress house protected by two huge walls. First wall is made of dirt while the outer wall is made of cobble stone. Underneath the fortress is his largest mines system in his world. He digged it out so far, lighted it up and placed ladders, doors and even a mine cart system within. Next two the fort is a glass pool raised in the air and lighted by glow stones. On the other side is a snow shelter (made from 100% snow). At front of the house is a redstone gate system operated by levers. Further up in front of the house is a large Igloo with a pool inside lighted by torches. In the center of the pool is an opening that leads down. If followed you come to a secret undreground netherworld temple with lava and everything. In the back of the world is X35 Earthwalker's summer house, made of stone and decorated blocks with a unique underwater glass tunnel system. He even built a sky rail to take people from the fortress to the summer house. Probably his greatest creation is his sky village. A whole village built in the air over the sea.. He even built a giant hedge maze.
Our friends have built some crazy stuff as well. The point is that there is literally so much to do in this game. In another world we even built a giant lookout tower of pure stone. Thanks to updates the game survival mode got a main objective. The player must first locate a stronghold. This is where the end portal can be found. In order to find this strong hold, which is underground, you will need the help of an 'Eye of ender' to find it. Once inside and the portal is located, you must activate it by using 12 Eyes of ender. Once activated hop in to head to 'The End'. There you will found lots of 'Endermen' and the feared 'Ender dragon'. Lately, since December 19th there was another update which included so much stuff. Such things like:
New blocks: Chorus Flower, Chorus Plant, Dragon Head, End Gateway, End Rod, Purpur Block, Purpur Pillar, Purpur Stairs, Purpur Slab.
New items: Chorus Fruit, Popped Chorus Fruit, Dragon's Breath, Elytra, End Crystal, Lingering Potion, Water Splash Potion, Potion of Luck, Tipped Arrow, Boats made from Spruce, Birch, Jungle, Acacia, and Dark Oak.
New mobs: Shulker, Stray, Husk, and Skeleton Trap Horses.
Updates to terrain generation:
Added new Tutorial world.
Added Elytra, which let you glide around the world when you are wearing them. Jump while falling to start gliding.
Boats are now controlled differently and can have multiple passengers.
Brewing now requires Blaze Powder as fuel for the Brewing Stand.
Updated crafting interface to allow crafting Firework Stars and Fireworks.
Villages now generate naturally in the Taiga biome.
Added Amplified Terrain option.
Added Fallout Mashup Pack trial.
Thanks to this update there has been new inventions battles and explorations for players. You could even try to take on the Nether and it's Nether fortress's which have dangerous mobs. The Nether has always been a notorious place. Other than from looking scary, there is fire everywhere, huge cliffs and drops, dangerous enemies like the zombie pigmen and the 'Ghast' which shoots fireballs which explode and set things on fire. Scary fact though. If a Ghast lands an attack on the nether portal you used to get there, it shuts the portal down, so make sure to keep your flint & steel on you at all times. Otherwise you may end up trapped in the Nether.
As you can see, it all comes down to what kind of adventure do you make for yourself. Are you going to explore random generated ruins in the desert or search the oceans? If you want more then you can always check out minecraftmaps to play some maps created by the community, anything from adventure to parkour to survival maps. There are even some horror maps. Minecraft has truly expanded. So now there is lots to do. Go build something. The developers, 'Mojang' truly made an interesting game.
For more information check out the link below: