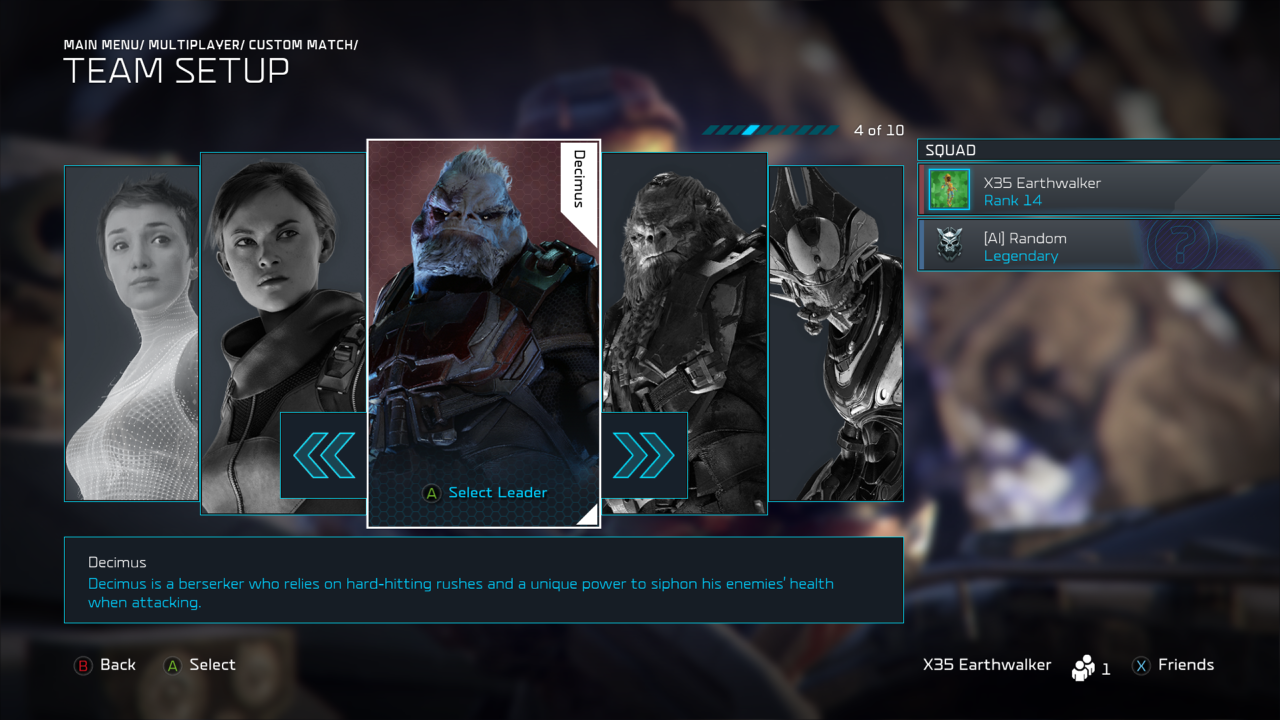 Halo wars 2 is one awesome game with lots of action and things to do. Gamers love having options so thing this game has a lot of it. If you don't know about Halo wars 2 yet, then once again, shame on you. Go check it out. There are even none RTS (real time strategy) gamers playing the game and liking it.
Pretty much one of the main things about any multiplayer match are the leader characters. What leader character you and your opponent or opponents have makes a big difference from strategies, units to abilities. There are some leader characters that are currently considered a bigger threat than others. Leader characters are leaders based on main characters from the game, who are the head of your army. They are like the face of the army. There are currently 3 UNSC and 3 Banished leader characters. They are: Captain Cutter, Professor Anders, Isabel, Atriox, Ship master and Decimus. All three are powerful once used correctly. X35 Earthwalker himself will also be giving his words on this topic.
Captain Cutter: His leader powers are mainly orbital based and infantry seems to be his strong point. Captain Cutter has strong offensive and defensive capabilities. One of his significant abilities is 'Battle hardened' which is quite difficult to make effective as it should change how you handle combat. With this your aim is to keep your units alive so that the increased veterancy rate can take effort. While fighting, the unit that's low on health you must call to the back of the army, don't leave them there to die. This combined with 'unsc raid' which increases your infantry movement speed allows for easy hit and run tactics, meaning it's also easier to keep units alive to gain veterancy. 'Archer missiles' and 'close air support' are high damaging powers that must be timed properly. Many times do people launch this as a game changer but the enemy just simply leaves the area. Be strategic with them. Maybe save it for finishing of a base as bases don't move. You could also use them to force an enemy to get away from you, buying you some time or saving certain units alive. We will say that nothing compares to his powers that drop in units. It's a great way of calling in reinforcements, flanking the enemy and replacing destroyed units with stronger ones. If you unlock all three drop powers and you wait for your army to get reduced a bit and then drop in odsts, a veteran cyclops, a tank, wolverine and more with high levels. This has made some enemies panic before. It's just that good. Cutter is best to use with infantry but always be ready to mix it up when the situation calls for it.
Atriox: His leader powers are definitely more mystical. Atriox is definitely more defensive with his leader powers. His most significant ability is 'unbreakable' which makes all your units invincible for a period of time. This power once used correctly can easily turn the tide of a battle. We like to use it as a counter to enemies active leader powers like archer missiles if our army is grouped up. There have been times when one enemy used a glassing beam while the other used a scatter bomb and X35 Earthwalker's units just stood in the middle of it all because they were invincible and still kept destroying the base. You do feel like a boss with that power. 'Atriox's bulwark' is basically a superior 'restoration drones' as it not only heals your units but also grants invulnerability. Again it must be used with perfect timing like taking on another army or to survive a powerful active leader ability. This isn't to be ignored. You can't beat what's invincible so keep your units in the circle or move your wounded there. 'Dying breath' gets ignored by some but this allows you to make some units still able to fight as normal even after losing all health for a period of time. Think about it. If you had 4 grunt squads you could still keep dishing out four grunt squads worth of damage which can give you the edge in a fight. You could even use the dead unit to hold of the enemy units while yours can get away alive. Atriox's fortification power is essential, providing discounts on building and upgrading buildings and turrets. This will save you money, to some extent, especially near the start of a match.
Isabel: Her leader powers are very technology based. Initially we never liked her due to her powers have less use but after we dug into her a bit more we saw the use of her powers and what kind of bang they can produce. For example 'Holographic decoy' is actually so good. X35 Earthwalker has used these to scout enemy bases and activities and since they are decoys, you lose no units. He also use them to attract all turret fire first and then have his real units move in. It's straight tactical here! It never hurts to have a 'MAC Blast' around. MAC Blasts should only be used to take out a specific enemy unit that is causing trouble, like a shroud or group of wolverines. Halo wars 2 is very strategic and so you must make strategic moves only (duh!). 'Accelerated assembly' is a must have for vehicle lovers. There isn't a reason why you shouldn't have it. It reduces build cost and time for your vehicles. This power should be combined with 'The best offense' which grants your scorpion tanks shields and improved canister shells. We have never lost a match with these two powers combined. After all, tanks with shields sounds scary. In the later stages of a match you must have combat salvage on standby. Throw all your vehicles at the enemy and wait for when they are near death, then activate your power to bring 8 of them back at your base when they die. Timing is key with this ability. 'Ghost in the machine' is only to use for extreme conditions. It allows you to take control of any enemy mechanical units you target. Send your decoys to charge an enemy army then use Ghost in the machine to take over at least half of all their machines (don't take everything), this way you can make their army fight each other to reduce their numbers and if you have time send the last remaining straight at their base then follow with your own units. Isabel is only for the strategic.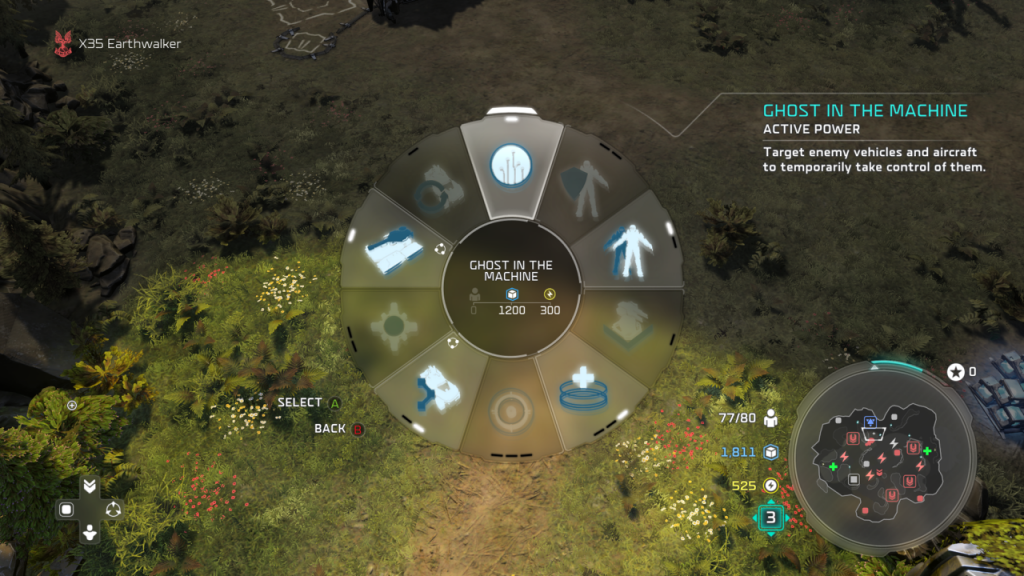 Decimus: His powers are all about buffing his army. Straight of the bat you have access to 'Killing frenzy' which grants your units a damage boost when they kill. Straight away this is an advantage over your opponents. Combine this power with 'Siphon' which allows your units to gain health in proportion to damage to have dealth, which make things really nasty. A few grunts and other units with siphon and killing frenzy makes them too hard to kill if played right. They can just stand there healing themselves and killing. This can even allow early attacks. 'Boundless Siphon' is a must as it grants permanent small siphon to all your units, don't need to say more here. Then get 'Boundless rage' which increases your units speed and damage permanently as well. Now let's do some maths: Killing frenzy + siphon + boundless siphon + boundless fury = unstoppable army. Bring that to school with you. The last major power that we think you should invest in is the 'Decimus drop' which calls in Decimus who has a lot of health, can draw in enemies and give them the best slap ever. Decimus is that simple. Scary aggressive army which allows rushes and quick attacks.
Professor Anders: Her powers are all forunner technology. This lady is all about the sentinels. 'R & D' which Reduces costs and build times for global infantry, vehicle, and aircraft upgrades. The best thing is that the turrets gain shields. which is a real boost to defense. It's up to you how much points you invest in R & D. Get the 'Protector sentinel' as soon as possible so that you can start building them. These things are fast and melt structures. They should not be used for combat just yet. So run away (ya wuss). We never bother with 'ark defense' as it isn't all that powerful and easy to avoid but once combined with other powers have it's uses. 'Sentinel beacon' on the other hand is very good. Have some siege turrets at the back of your base and it will make defending so much easier as every shot releases aggressor sentinels which take no scope shots at enemy units. 'Sentinel synergy' makes your protector sentinels combat worthy as they now have more health and damage plus a bonus of shields. It also adds more aggressor sentinels to ark defense and sentinel beacon. The retriever sentinel power lets you summon a retriever sentinel. This unit gets treated like the other ultimate units which is a mistake. The retriever sentinel is much weaker than the scarab and condor. It can't stand up to them nor can you send the retriever into an army and think it will win. Use it as a big support only. Anders is all about the sentinels but everyone knows this so don't be predictable as some will see you as Anders and go straight for anti air so please mix it up.
Shipmaster: His powers are teleporters mainly. Shipmaster is X35 Earthwalkers favourite leader. At first look, shipmaster seems like he has the weakest powers. His powers directly are weak. They are heavy strategic. 'Teleport' has many uses from quick travel even to dodging enemy leader powers like close air support and eradication. 'Extraction which allows you to instant transmission your slected units back to base and heals them is essential as you can attack the enemy and then when taking too much damage come straight back to base, healed and ready for another attack. We don't bother with 'Glassing beam' anymore as their are other powers that are more handy than direct damage. Advanced cloaking should only be used if you will have lots of marauders and a shroud or two as it grants marauders the cloak ability and shrouds special ability gets improved. This means a cloaked army and marauders can be used for scouting. 'Displacement' allows you to move enemy units to another location. Many use this wrongly, they just send parts of an army away while they are getting attacked. This is bad the army will just come straight back. Timing and situation is so important. X35 Earthwalker once used it to send all the engineers who were healing a scarab far away making the scarab easy to kill. Mass cloaking is powerful as your whole army gets cloaked. It's powerful but easy to counter as all the enemy needs is one detect unit, so knowing what your enemy has is essential before using. Tactical gateway is maybe the scariest power as you can use it to transport entire armies all the way across a map, even behind the enemy base. Beware as your enemies can use the portal too. Almost all of shipmasters abilities can be used for different strategies. That's why scouting is important with him. Most likely the hardest leader to use.
Sergeant Forge: His powers are vehicle based. He was the strongest leader by far because of one power, 'Rolling economy'. This reduces costs and build times for Supply Pads, Generators, and their upgrades. The worst part is that you can access this from the start making a normal supply pad which costs 150 instead cost 100. This doesn't sound bad but when you build 3 supply pads you save 150 supplies which is enough to buy another supply pad or 1 marine squad. So basically Forge players can build faster and have more resources than anyone else. In a RTS game, speed is everything. X35 Earthwalker tested this. If you could get to citadel base and 10 marines in 5 mins then with Forge he had way more marines in a faster time which is too big of an advantage. We are glad that it's getting fixed. Grizzly Battalion is not needed as you can just build the grizzlies yourself. Only get when you have no other good powers left to unlock. Other from that he almost functions like Isabel. If you are going vehicles the accelerated assembly is a most. Scatter bomb isn't that great at all either. It's so easy to dodge. We end up escaping with all out units alive most of the time. We wonder how Forge will be affected after the patch on his rolling economy power.
All the leaders are fun to use but we definitely believe that some are better than others. If you take away Forges rolling economy then he is the weakest. If you counter Anders sentinels then she becomes quite useless as well. Cutter, shipmaster and atriox is harder to counter as they are more diverse in their powers but less obvious on how to use them. Some are more support based than solo fighters. Overall we have had victories with all of them and they are quite diverse from each other. Interested to see what the new character leader will be like. Try them out… also remember to try the 'Earth Walk'!
For more information check out the link below: