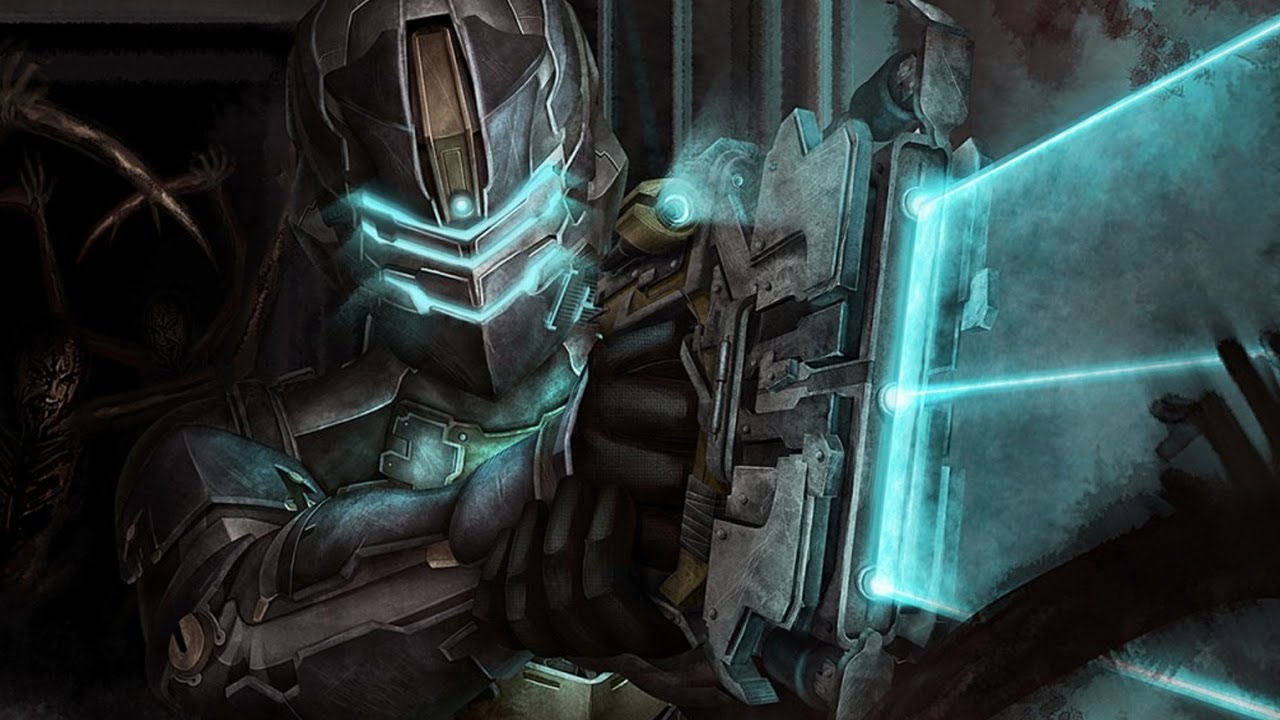 Dead Space 3 was one of those games that we were looking forward to. Dead space 3 was a science fiction survival horror third-person shooter game developed by 'Visceral Games', which came out February 5th and 8th. Now this game was known for scaring people. X35 Earthwalker has a friend who hasn't passed the first level of Dead Space 1 to this day. This game even got an award for being one of the scariest games of the year we believe. The game had some good jump scares and didn't make us play a weak and defenseless character who must run and hide all the time. Maybe one of the best things about this game is the creative idea behind the weapons in this game. Dead Space is probably best known for bringing a sort of new enemy for gamers to face and fear.
You play Isaac Clark, an engineer, who is incredibly unfortunate. Trust us, play the first two Dead Space games and you will understand what we mean. Now he is pretty much being forced into the action once again by two dudes who appear in his apartment and are quite aggressive. It turns out that many people are looking for him and it's not for good reasons. Even worse, the 'Necromorphs' are back. These are the unique enemies of Dead space. You can guess what they are from the name. They are basically aliens that are formed from dead things, mainly humans. You will eventually end up on the frozen planet of Tau Volantis where the means to finally ending the Necromorphs is there. So like with the other two prequels, you must use your engineering skills to build weapons that destroy Necromorphs like it was art, use your engineer styled brain to fix things and most importantly, survive.
The Necromorphs are the most interesting thing about the game. Ever since the first Dead Space we always wanted to know and see all the different types of Necromorphs. First things first, all the Necromorphs are mean and will try to kill you. They are capable of showing up from almost any location because they love to use vents and spaces in rooms. They for some reason are incredibly hard to kill if you don't dismember them. So make sure you have the means to cut or shoot of their arms, legs or other limbs. Lastly they are so persistent and one minded in trying to kill you that even when some are missing the lower half of their bodies, they are still alive and still trying to get you. Now that's scary.
The Infector is a crawling bat like Necromorph enemy is the one who finds dead bodies and then slowly changes them into other Necromorphs. This one only attacks you when there is no bodies to infect. The most common one though is the humanoid one with scythes for arms called the Slasher. Get use to this guy as you will see them everywhere. They can come out of vents and even worse they can play dead. That's right! Play dead! Like how do they even know how to do that? Do they even sleep? Many questions. So if you see a group of bodies be careful as you may get attacked as soon as you walk by. They will even sprint at you after a short period of time making you panic and some more. There are other humanoids ones who can spit and spray acid. The Lurker are ones that are small and move on walls and ceilings and shoot projectiles from it's three tentacles from a distance. The 'Leaper' is one we hate so much. The bottom half of their body is now a tail like a scorpion. They are capable of closing the gap between you and them by running so fast and even leaping around, most of the time on you. 'Swarms' are those annoying little ones that die from anything but attempt to jump and latch onto you. Hate them but easy to deal with. There's another one that is permanently attached to a wall called a 'Guardian' who releases 'swarms' and capable of instant killing you if you come near. There are are many more Necromorphs and each has to be dealt with different'y but dismembering them is the key for all so never forget that.
The game specialises in making you take the game slow and when you get to in to it then a jumpscare might just make you more trigger happy than ever before. Enemies can come from almost anywhere and because of this, you couldn't just sprint through. Well we mean you could but you would most likely end up regretting it. When you are in a corridor a Necromorph could come crashing through the vent from the ceiling or crawl out of a space in the wall. If you sprint there are times when they fall on top of you, staggering you for a while. Most of the time when you enter a room, it gets locked down because of quarantine as enemies are nearby and you can't leave until they are all gone. Rooms always have multiple spaces, vent and entrances all around so there isn't really a "Safe" corner but some corners are safer than others. Since there is a wide range of Necromorphs normally many types will show up causing all kinds of chaos. For example you are set up in a corner when 'Lurkers' show up and fire at you from afar, so you aim to deal with them when a 'Leaper' or two shows up and rushes you done. You are now forced to move but can't move to far as a 'Exploder' just appeared from a vent further down in that direction and so now you are trapped on getting leaped on and then exploded. Nice ending to the story. By the way Exploders are creeper thin creatures which will swing it's incredibly swollen arm at you which explodes on contact. Basically stay away from at all times but if you shoot the glowy arm then it explodes by its self. Now that's a good ending.
X35 Earthwalker's favourite thing about the game is the weapons you now can have in the game. In the previous Dead Space games you have set weapons and could have multiple. They were creative and nice but they stayed how they were. In Dead Space 3 you can create your own weapons using certain frames, parts and attachments. The options are plentiful. There are 8 different parts of the weapon that you can change. After selecting a frame you can select your upper and lower tools. Pick from: Military engine, Pneumatic torch, Survey charge, Telemetry spike, Plasma core, Rip core and Tesla core. Just find these tools or build them. Each of these grant access to different types of weapons like bullets, shock waves, energy blasts, blades, and even fire. The attachments add little boosts to your weapon with different effects like the 'Flame glaze' adds fire damage to your projectiles. 'Scope' allows you to zoom in more. There are many more. The types of combinations you could make are crazy. You could make a sniper rifle shotgun by having your upper tool as the sniper rifle and then the lower tool is the shotgun. So kill from afar and if they get close you can blow a hole through them. You could create a plasma cutter force gun or a double machine gun, or a ice and flame thrower. That's right it's that crazy. Then you can improve the fire rate, damage, reload speed and clip size of your weapons by using circuits. Do this all at work benches. X35 Earthwalker created two ultimate weapons which he kept for the remainder of the game. We won't give his secrets but one of them was a powerful almost always one shot sniper rifle with a flamethrower. The sniper had the 'Full zoom scope' we believe. What can you make? A chain gun that fires javelines? Tell us through twitter.
The gameplay was smooth, flows and easy to use. The way the jump scares work were good most of the time. The amount of panic and pressure the Necromorphs gave players is realistic and how it should feel. The action and combat was fun and when you had your powerful weapons, you felt like a boss but a careful boss. The story was interesting and of a great length so you can't call the story short. One awesome feature that Dead space 3 has is the fact that you can do the whole story with a friend who plays 'Carver'. You get scared or own the Necromorphs together. You could watch each others backs and heal each other. You don't know how satisfying it is to finally take on and kill that giant stupid spider like Necromorph thing which does nothing but cause you problems throughout the game. Man we hate that thing. The graphics and the attention to detail is a bigger improvement over the the prequels and looked nice for its time. This game is worth playing with a friend even now. The developers 'Visceral Games' did a really great job with this game. We really like Dead space.
For more information check out the link below: