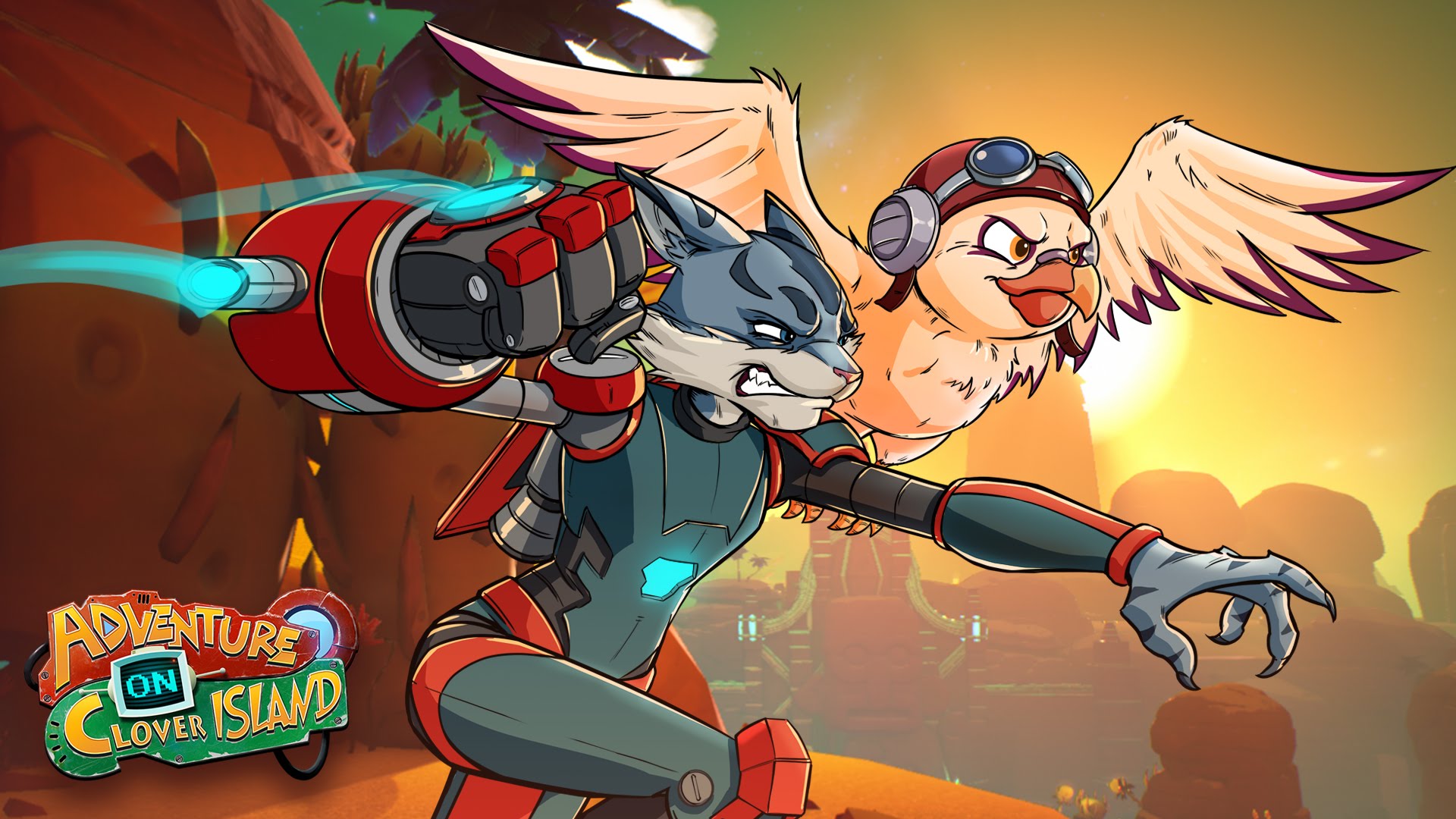 Skylar & Plus: Adventure on clover island is new 3D action platformer coming out on Xbox, PC and PS4 in January 2017. This game was developed by 'Right Nice Games'. You play 'Skylar Lynxe' who is the hero of this game who is a reluctant about it. She was captured by the villainous CRT who modified her and gave her that mechanical arm. Fighting against CRT and his henchmen will be quite the feat. Good thing she isn't alone. She has an unlikely sidekick (who's a owl by the way) called 'Plux Owlsley' and their aim is to save their newfound home from being turned into a wasteland by CRT.
Straight away you can tell that this game's strong point is the characters. Kind of like with crash bandicoot. You don't mind how wacky everything is, you just like the character and want to know more about them. If they appeared on a can of drink, you would think about buying the drink just because of them. This games graphic style is very good and looks less digital and more art like. The artistic side comes out especially when you look at the waterfalls and rocks it looks like it was drawn while other things like mechanical enemies look definitely digital. Knowing when to use one or the other is very important. The sceneries and settings of the levels all look like they are full of life and maybe theirs a squirrel nearby in the jungle area. You will travel across multiple areas in this game from beaches and volcanoes to mountains and deserts. We at X35 Earthwalker always love variety in games. It's always more exciting to travel across completely different areas so good job developers.
Off course you must collect gadgets to traverse the world and help you overcome CRT. We knew it would be gadgets as the main character is mostly mechanical. We imagine the gadgets will merge with the suit and mechanical arm. Some of the gadgets are the jet pack, time orb and magnetic glove to help you progress and fight against CRT's henchmen. The game is only single player. The game has quite a bit of comedy and does it quite well. The kind of comedy that shows just how silly some of the characters can be. It makes you chuckle whether the jokes are bad or not. So far we am liking the look of the game and want to see what becomes of it.
This game is worth checking out.
For more information check out the link below: