X35 Earthwalker has a podcast and it's on Spotify. X35 Earthwalker has many projects and things happening and this podcast is one of the newer ones. So this G Blog is going to be about the podcast for a bit. So listen up.
It's been made very clear, through the X35 Earthwalker Gaming livestreams on twitch, that wise and smart people like listening to X35 Earthwalker. Own the livestreams we be talking about a lot of stuff and sometimes just the game itself. On top of that X35 Earthwalker loves talking and has a lot to say. Who better to listen to than the smartest and wisest person on the planet.
So now there's the X35 Earthwalker podcast. X35 talks about all kinds of things but really… it's whatever he wants to talk about. Gaming, Religious, anime, news/world events and more. So you don't really know what to expect. Same with the Gaming livestreams. We got reviews on games like Cassette beasts and Starfield. We got vs debate episodes like emperors vs admirals in one piece. There's episodes about the daily biblical scriptures that X35 has posted. We loaded for sure!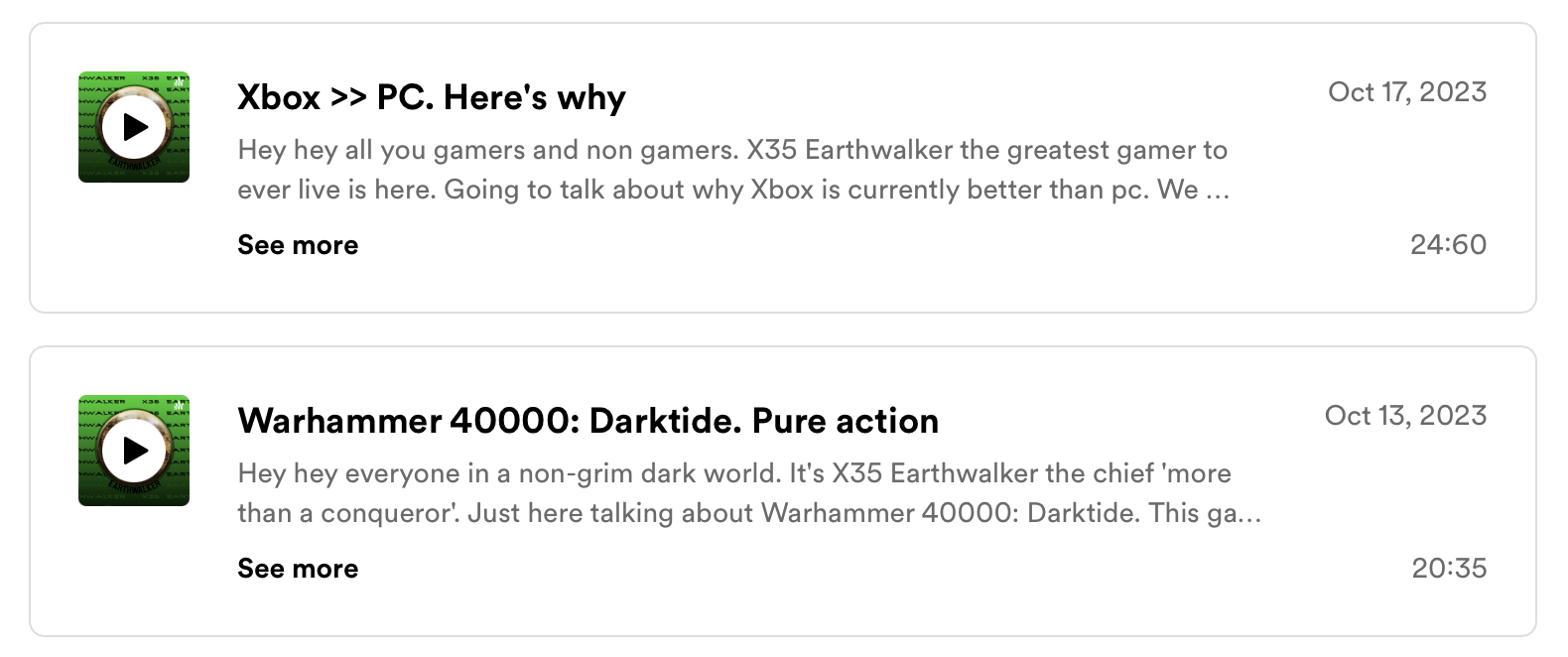 Now off there are mostly free episodes that everyone can get into but there's locked episodes that are for subscribers only. You subscribing will of course support X35 Earthwalker himself but obviously give you access to those episodes. Matter of fact, here's the link now: https://podcasters.spotify.com/pod/show/x35-earthwalker/subscribe
The best thing about the X35 Earthwalker podcast and what also makes it unique compared to others is the fact that X35 Earthwalker doesn't have a script or fancy lines on a tablet. This is all raw. This is straight talking. no fake set up scripted things like those tiktok channels and those podcasters who are reading lines. X35 Earthwalker gives it to ya straight.
So yeah, when you got free time, cooking, chilling or whatever then check out the X35 Earthwalker podcast on spotify. You will learn a lot, you will laugh, you will be entertained and you'll get good information. So listen up and make sure to do… the 'Earth Walk!'
For more information check out the link below:
Support Us: