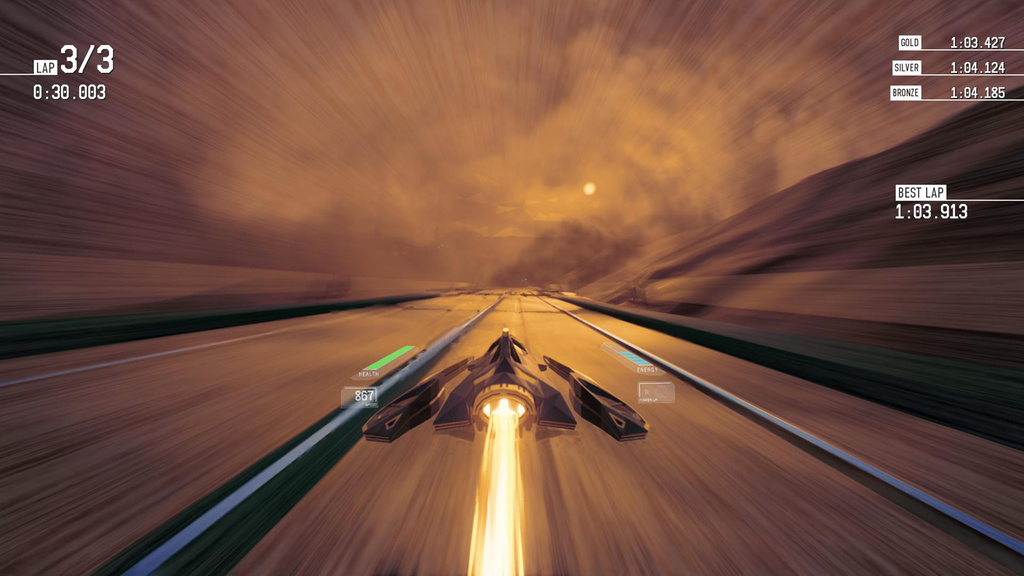 Redout is a fast paced multiplayer racing game, developed by '34BigThings srl'. It is already out on PC but Redout enhanced edition will be coming to consoles May 30th we heard. This game was made as a tribute to old racing games like 'F-zero'. So already you know what Redout enhanced edition is all about. Extreme speed!
The developers said on their website,"The floating system and driving models are based on physics: each turn, slope, hard braking, acceleration, each turn and twist of the track will apply a unique force to the ship". Basically they are aiming to create fast, serious driving experience. So this is far from a simple racing game. Every bump, clash and crash will have some real effect on your vehicle. This game was created using the unreal Engine 4.
Firstly there is the career mode which has over 100 events to race. As you race and progress you level up and can upgrade your ship. There are 25 all around in 5 different locations set in a post apocalyptic earth. To make things crazier, there are some boss circuits. We hope they are like the boss battles in 'Drome racers'. That was a great game. Hopefully it will be a 1v1 with a powerful racer. There are 6 racing teams and each one has a different style. We believe it's best to master them all.
This game does bring some variety to the racing but we hope there are more diverse modes though. There is Classic race, Arena race and Score based endurance. Will there be modes that are battle styles with weapons or is it strictly racing? Both are good depending on what the game is aiming for. This game has some large multiplayer though which for game like this is essential. You play against 12 players. There is more than 10 powerups like advanced grip system, self repair drones, additional turbo, slipstream enhancers, shields and more. The interesting part is that these powerups are upgradable. So most likely things like level 3 shields which will absorb more damage.
The developers said, "full 5.1 support and a dynamic soundtrack that will drop sicker and sicker beats the faster you go". That's one way of putting it. So better tunes the faster you go? We like the sounds of that. What's very interesting and will make things very intense for some gamers is the fact that Redout enhanced is compatible with VR. So if you have a Oculus Rift, HTC Vive or Razer OSVR then put that on and take your racing to another level.
The developers have stated that Redout enhanced edition is the fastest game ever made. Your vehicle can go at 800km/h which is pretty fast if you ask us. Could you handle those speeds and the magnetic forces working on your vehicle. The graphics are excellent and the sounds are very great.
Overall Redout enchanced edition looks like an excellent game. The enhanced edition will be even better. From some gameplay the racing looks intense. The developers '34BigThings srl' a very good job with this game. It's definitely worth checking out. Can you handle the speed? The real question is whether you can do the 'Earth Walk!'
For more information check out the link below: