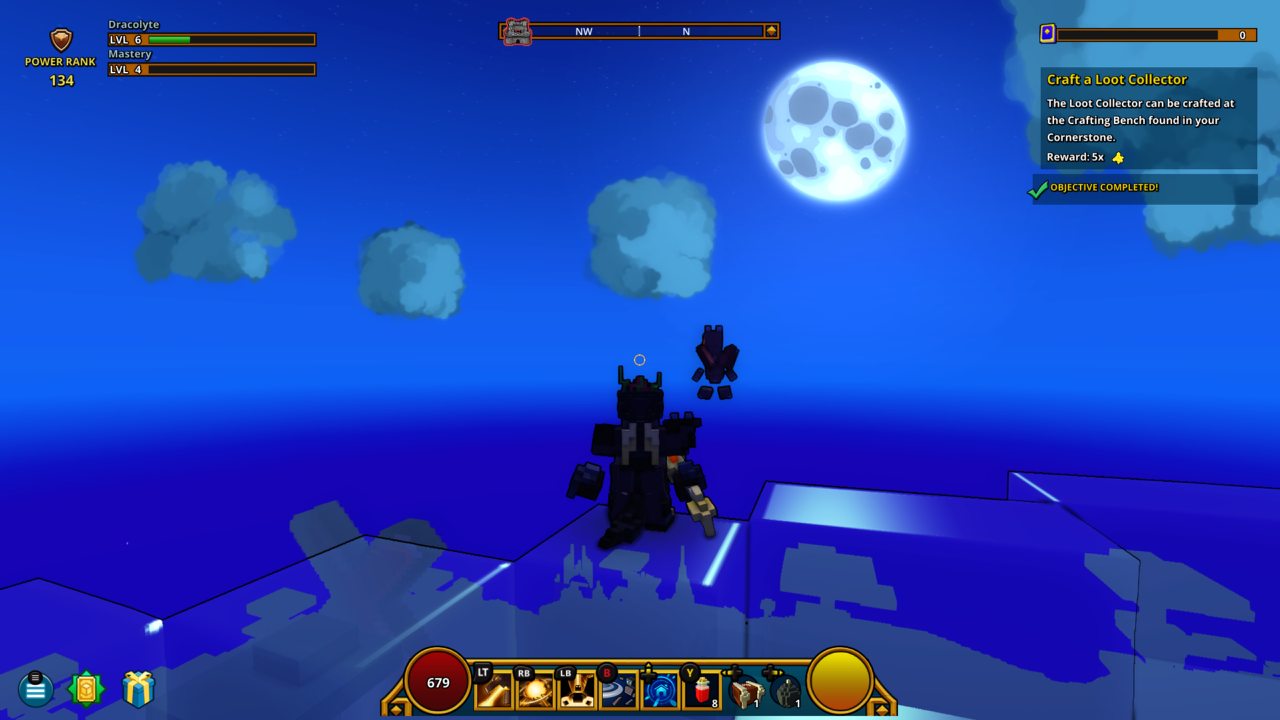 Trove is a sandbox multiplayer online role-playing game developed, by 'Trion Worlds', and is on Xbox One, PS4 and PC. This game is very large and has numerous players all roaming the lands and having their own adventures.
Straight away when you look at Trove, Minecraft comes into your head. Both are blocky everywhere. Blocky worlds come off as very welcoming. That's until you travel a little bit into Trove and meet all the dangerous creatures in that world. X35 Earthwalker and some of his gaming buddies have dived into this game to try it out. When you start Trove you can pick your class. There are many options here like mage types, fairy types, soldier types, an archer, a staff wielder, a class that's just like link having a boomerang, bombs, sword and more classes. So take your time, read each one and jump right in. There are multiple worlds to explore. Their is the hub world where every starts. You can chill and talk here. The others where the real action is are: Novice, Adept, Elite, Master, and Uber 1-9. You will pass through Novice, adept and elite pretty quickly as they are more like introduction worlds with weak monsters and easy bosses which is good for beginners. From master and upwards things can get more interesting. Each world has a power rank recommendation so you can't say you weren't warned when you get killed in a dangerous world.
X35 Earthwalker selected the Dracolyte class. Dracolyte is a short-ranged Magic user from the Prime volcanic lands of Trove. He has a flame thrower, can drop bombs, command his little dragon friend (familiar) to shoot a fire blast and the Dracolyte can even turn into a dragon and rule the battle field. X35 Earthwalker says that he is difficult to use as the fireball (spit fire) that the little dragon shoots can only be used after it is charged by attacking enemies with your flamethrower. The bomb ability (burnt offering) can only explode after you hit it with your attacks, so basically you only have one real attack which is short range which is exactly where most enemies like it. Other classes have long range attacks. So mastering the Dracolyte is only for the best.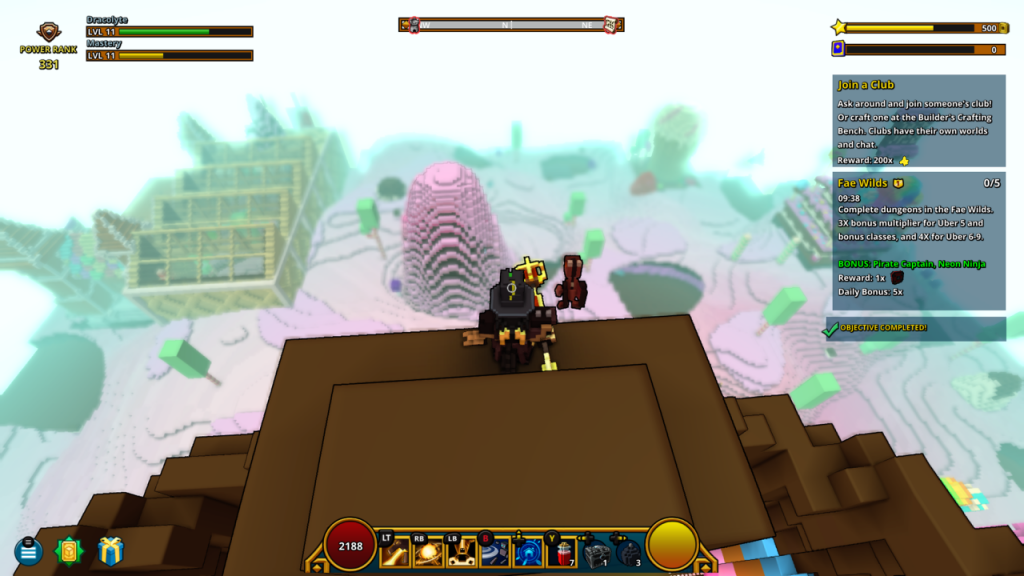 The worlds are split into certain areas. There are: Peaceful hills, Medieval highlands, the lost isles, sea of deep regret, permafrost, cursed vale, desert frontier, fae wilds, candoria, neon city, jurassic jungle and dragonfire peaks. Each one mostly looks different from the others and have different enemies. For example Candoria is a big candy land where everything is made from cakes, jelly, candy canes and some of the enemies are lolly pop men who chase you to punch your face in, a floating cake who opens up to hit you with a boxing glove, jelly worms who can split into two smaller worms and more enemies. We hate them all as they come after you as soon as you come in range. Dragonfire peak is a giant fiery land with lava, dark skies and molten caves. Each biome has dungeons and lairs. Lairs are small builds or areas that appear on the map. Inside is a boss to defeat or quest to complete plus loot to earn. These are nice places to challenge yourself and gain experience points, working your way up through the worlds. Dungeons are much bigger versions of lairs. They are far more dangerous and harder to conquer. They have many cool forms like caverns, giant pirate ships, castles and palaces. The strongest bosses are found in Dungeons and so are the rarest equipment and gear. X35 Earthwalker discovered the hard way that dungeons are filled with minions, traps, and bosses all there to ruin your day.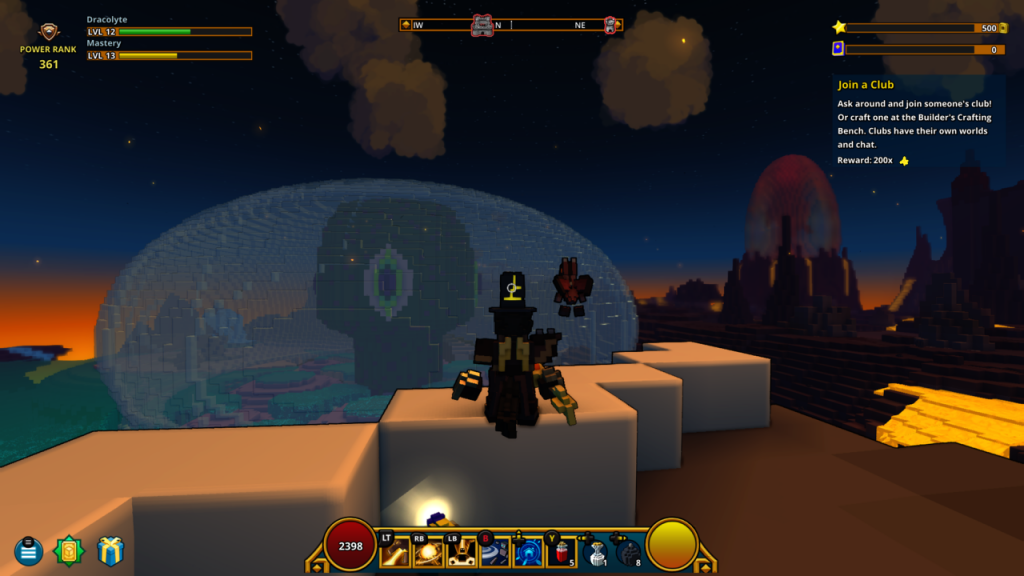 Since there are many things to craft, that means there are many ingredients to find. That means, lots of mining. There is a standard mode and there is a mining mode where you shoot a laser to mine blocks and materials that you find. The rarest and best materials are found in harder worlds. For example the Formicite ore will rarely and in some can't be found in novice and adept world but can be found in uber and master worlds. So it's about progression. The stronger you get, the harder worlds you can enter and explore. The harder the world then the better chances of finding rarer and better ingredients and ores for crafting the better and more stronger equipment. So make sure to balance your time in this game. Exploring and running wild through the world is good meaning more Lairs and Dungeons which means more loot and experience points but also make sure to spend time mining and collecting the good stuff. Some people have crafted mounts which are different transports for your character. We all start of with a simple mule which runs slightly faster than your character but X35 Earthwalker has seen players with race cars, hover cars and iron plated horses which are all superior. That's right, there is lots of stuff in this game. There are gems that power up your character, there are rings, there are familiars (pets) that follow you around and help you out, there are banners for you to equip. Literally there is so much items and things to equip, upgrade (using a forge) and more. You have to explore it all for your self.
The multiplayer experience is great. You can invite many of your friends and we mean many! The whole of you can storm dungeons and Lairs together destroying everything in your path. You can go mining in swarms and strip the land bare (you monsters!). X35 Earthwalker once was adventuring with Diamondz L45 and met two other players. They saw that we were just conquering places and they joined us. One was an archer while the other was something (we don't remember). The four of us really destroyed bosses and even turned the tables on a surprise attack from a giant purple knight monster that came out of no where and laid down the damage. It was so much fun and it's moments like that in Trove that makes it so cool.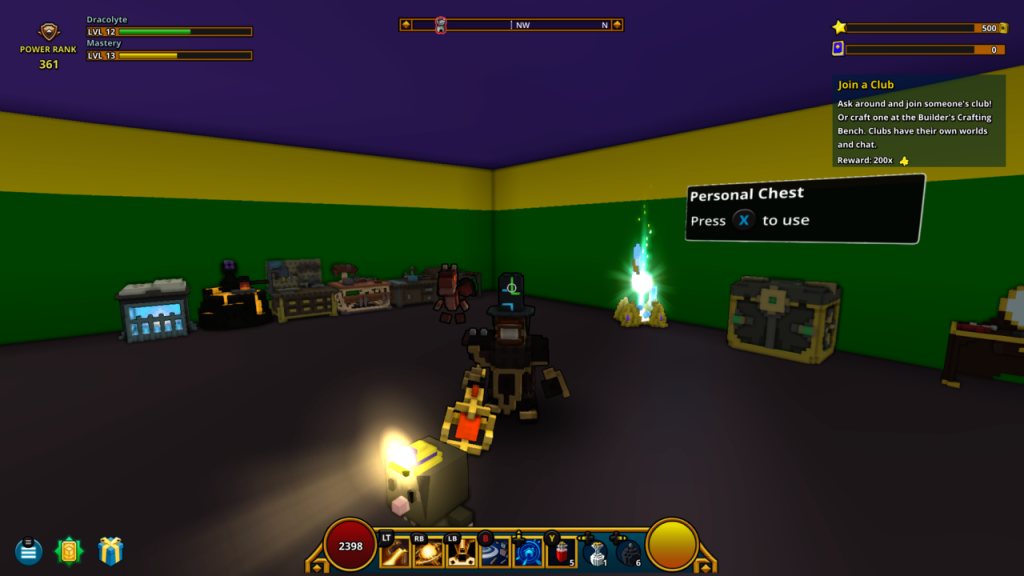 What's great is that each player gets to have their own home which they can make appear in different areas with them. These homes, or bases are called 'Cornerstones' once again another thing inspired by the bible. These cornerstones once first placed start of as little not fully built houses. Seriously who ever was the builder ripped us off as there are holes in the roof. You can break it all down and build it how you see fight. You can make it a large tower that keeps going up and up or make it a two floor apartment, it's up to you. This is where you will store your work benches for crafting, rejuvenation stations to refill your potions, trophies that you can hang on your wall. It's literally your base. You do everything there. We love the fact that all you have to do is find a sign post, approach it and with the click of a button, your cornerstone appears on that patch of land. So it sort of travels with you. Sort of. X35 Earthwalker built portals in his cornerstone to the novice, adept, elite, master and uber worlds. It looks really nice as X35 Earthwalker has multiple colours like red, green, blue, purple, orange and yellow. We hope your eyes can handle it.
Here is the big problem though. X35 Earthwalker is currently in the uber world and spent a long time travelling away from the spawn point, conquering Lairs and dungeons and searching for rare ores to mine. He keeps finding the same ores which are very limited in terms of what you can build. He has built all the needed stuff already. The next world recommends a power rank of 400. It gets kind of boring after a while, sort of quickly actually. The dungeons lose their excitement after a while, except the giant pirate ship boss and the how the dungeons look. Some of the designs are wonderful and amazing to look at, we must admit. It's like 90% of all the cool stuff are a real distance away to craft and find. The loot are called legendary but majority of them are all weaker than what X35 Earthwalker has already. Diamondz L45 and N63 prodigy are continuing there adventure through the world. Don't get us wrong. The game is a lot of fun. It's just the gap towards the better stuff and real progress needs something in there to make it not feel like grinding. Also making a club world is too difficult. It requires like 25,000 Flux and 200 Golden Souls. Why?! All we want to do is create a club for the friends of X35 Eartwalker but can't unless you spend many hours grinding in this game. Why can't everyone justcreate a world simply. A small cost at least. This really made us not happy about the game. As how the game stands right now, we find Terraria to be more fun than this game.
Overall Trove is great. It's a big adventure filled with many things to do but takes a while to do them. Some stuff needs to be worked out we would definitely say. The sounds are nice and the graphics are good blocky style. The developers 'Trion Worlds' did a very good job with this game and you can see the effort. This game is worth checking out. Whether it's for you or not… just do the 'Earth Walk!'
For more information check out the link below: